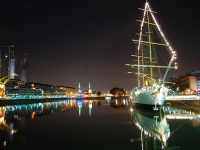 Buenos Aires Overview
Downtown Buenos Aires is as sophisticated as any European city, with its wide avenues, fine colonial architecture and rows of pavement cafes. The city was built by French, Italian and Spanish immigrants and the Porteños (locals) still regard themselves as more European than South American. Travellers walking through the leafy parks and boulevards could be forgiven for thinking they were in Madrid, Paris or Milan.
Buenos Aires was founded on the shores of the Rio de la Plata in 1570 and was named after the patron saint of sailors for the good wind or The city remained a colonial backwater for 200 years while the Spanish concentrated their attentions on wealthier Peru. During this time Buenos Aires became a thriving centre for smuggling between South America and Europe. Dissatisfaction with Spanish economic and political dominance escalated to boiling point and culminated in the revolution of May 1810 and finally to independence in 1816. Its history since then has been dogged by military coups and political mismanagement; the consequences of which are growing disaffection with the government and widespread poverty, as is evident in the sprawling shantytowns on the city's outskirts.
This turbulent history has not managed to stifle the indomitable spirit of the Porteños whose passion, charm and vibrancy have forged this great city, a place in which the fire of Evita's soul and the allure of the tango endure. A holiday in Buenos Aires is a journey of discovering the fire that pervades Argentine culture, in everything from food and conversation to music, art and dance.