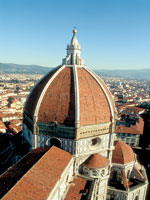 Florence Kids Attractions
Since most of Florence''s attractions are either historic or religious, many kids travelling with their parents may not at first be too thrilled about what there will be for them to do while on holiday in Florence. But with a bit of imagination and these few suggestions, parents will find there is more than enough to keep the kids occupied while travelling through this romantic city.
The Galleria dell''Accademia is not too overwhelming for children and is home to the magnificent statue of David by Michelangelo. Once the little ones are enchanted by the story of David and Goliath, the statue will come to life for them in a whole new way, while they can get up close and personal to the statues at the Piazza della Signoria.
On warm summer days, pack a picnic and take the kids to the Oltrarno district, which boasts the Boboli Gardens at Palazzo Pitti. The kids will love the open space, where they can run around, climb trees and let off some steam. The Piazza Republica, with its antique carousel, will appeal to little girls of all ages; and there are also many places to take the kids for some chocolate-tasting.
Florence also claims to be the home of the inventor of , Bernardo Buontalenti - and buying a gelato on a warm summer''s day is a great way for kids to enjoy an iconic experience of the city.