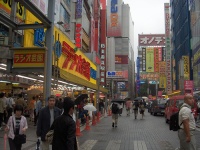 Tokyo Overview
As a modern city Tokyo, the capital of Japan, could be described as too good to be true. People dress in the latest gear, excellent restaurants serve up delicious food of all varieties, and the trendiest nightclubs keep things hopping. The public transport system is punctual and one of the most efficient in the world; and shops and vending machines provide necessities and luxuries both day and night. All this is achieved in a city that is home to 12 million people, amid the confusion of bumper-to-bumper traffic, flickering neon signs and a crush of humanity packing subways and sidewalks. In the crush and rush Tokyo remains, remarkably, one of the world's safest cities with a low crime rate and local people who are only too willing to spare the time and effort to assist a stranger.
With such a dense population, Tokyo is an urban maze of buildings that jostle for space in an unplanned jumble of grey concrete, which makes parts of it ugly and drab. The city fills a huge area that seems to go on forever, with no specific city centre, but rather a succession of districts grouped together. In the back streets, where timber houses line narrow lanes, there are reminders that this is exotic Japan: kimono-clad women prune bonsai trees and colourful neighbourhood festivals take place.
The city is an exuberant experience for visitors. It also hosts many museums and is the largest repository of Japanese art in the world. Then, of course, it would take forever to exhaust the shopping possibilities in this megalopolis. The more one explores Tokyo the more it becomes obvious that one cannot judge a book by its cover. Inside the modern buildings the cultural life of Japan is very much alive and well. Interiors reflect the tranquil minimalist Asian style and taste of Japan.