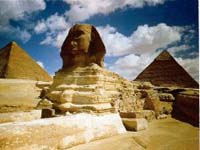 Cairo Overview
Africa's largest city with a population of nearly 18 million, Cairo is a chaotic mixture of sights, sounds and smells. It is heaving with life, volatile, polluted and boisterous, with an intensity that both exhausts and invigorates the visitor. It is also distinctive with its ancient monuments in juxtaposition to the modern and cosmopolitan. The congested streets of Islamic Cairo are full of donkey carts, traders and mosques, while camels weave their way haughtily between the crumbling pyramids on the outskirts. Taxis clamour for attention and pedestrians elbow their way past busy coffee houses, where those seeking a brief escape from the hustle and bustle sit sipping at a strong cup of coffee while contemplating the smoke rings of a 'hubbly bubbly' water pipe - in true Egyptian style.
Visitors can also practice the age-old art of bargaining for trinkets, spices and perfume in one of the world's largest bazaars, or pay a visit to the Egyptian Museum of Antiquities, which houses treasures from Tutankhamun's tomb and is one of the country's main attractions.
Situated on the Nile, Egyptians arrogantly refer to Cairo as the 'Mother of all Cities'; many visitors who have experienced its unruliness would perhaps describe it in less endearing terms. But no matter how it goes down there is no doubt that Cairo is as beguiling as it is messy, and its charm lies in the blend of African, Arab and European influences, the timelessness of the old, and the energy of the present.