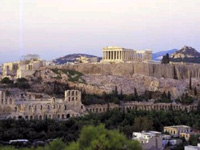 Athens Overview
Athens exudes a unique charm, its lively character winning over tens of thousands of visitors every year. Street markets, vine-covered tavernas, souvenir stalls and ancient monuments are dotted among high-rise buildings in this capital city, which one out of four Greeks call home. For tourists the greatest advantage is that most attractions are accessible on foot in the central area around the landmark Acropolis.
Athens was named after Athena, the Greek goddess of wisdom, who according to mythology won the city as prize after a duel against Poseidon. The city can chart its history back thousands of years and is regarded as the cradle of western civilisation; the place where democracy was invented and philosophy, art and architecture were refined. After a classical golden age when it was home to Socrates, Plato and Aristotle, the city declined in the Middle Ages, dwindling to nothing but a town with a few thousand residents gathered in the colourful area that is now known as the Plaka, until its rebirth as capital of an independent Greece in 1834.
Nowadays the city is busy and bustling. While the pollution, frantic gridlock and dingy buildings is of great contrast to the open beauty of Greece's coast and islands, Athens is truly the heartbeat of the country, and ancient wonders like the Acropolis, the Parthenon, and the Temples of Zeus and Hephaesus ensure that Athens will always have its attractions.