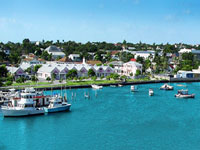 Nassau Overview
Known for its balmy breezes, sunny skies and sugary white beaches, Nassau has had a turbulent past. Capital of the Bahamas and the largest city, Nassau was first settled by the English and then became a home base for notorious pirates such as the likes of Edward Teach, better known as Blackbeard, only to have all been killed or driven out by the British by 1720. The city then went on to be burned to the ground by the Spanish on three different occasions.
Nowadays, the island's close proximity to the US gives Nassau a distinctly American flavour. This bustling hub of a city is a delightful and colourful blend of old world and colonial architecture juxtaposed by a busy port. Boasting a prized sheltered harbour, Nassau made history with its beautifully preserved Victorian buildings, 18th-century fortresses and Queen's Staircase, the 66 steps of which lead to the most breathtaking view over the whole of Nassau - a must for any visitor!
Garden enthusiasts should visit the Royal Victorian Garden, which has more than 300 species of tropical plants and exotic creatures. Enthusiastic shoppers on the other hand would be well-advised to look out for great bargains at the Straw Market on Bay Street. Alternatively visitors can relax by spending an idle afternoon watching a cricket game at one of the many local sports grounds. After dark, Nassau comes alive with a rowdy bar and club scene, and the scent of fresh seafood permeates the air in the Fish Fry district.
This stunning city can also add four guest roles in the movies to its resume, starring in three James Bond pictures as well as the Beatles film 'Help!' With bright lights of casinos, posh resort hotels and cruise liners, Nassau is overflowing with variety, colour and exciting nightlife. A favourite holiday destination for adventurers and holiday seekers alike, Nassau has something to offer everyone.