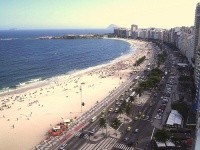 Rio De Janeiro Overview
Mention Rio to anyone and immediately the name evokes images of sultry street parades, the Sugarloaf Mountain cable car, the Christ the Redeemer statue atop Corcovado mountain, and the 'itsy-bitsy teeny weeny' bikinis on the beach at Ipanema. The exuberant cultural capital of Brazil is tucked between the mountains and the sea and is endowed with awe-inspiring natural beauty. Rio's beaches, including the famous Ipanema and Copacabana, are a main attraction due to the city's warm climate. It also contains the biggest urban forest in the world, the Tijuca Forest, which was completely replanted during the second half of the 19th century.
The city pulses to the infectious beat of Brazilian music: the choro, the samba and the bossa nova, and the funk carioca, and is the cultural capital of Brazil. Its annual carnival, known simply as Carnaval, draws together the population of the city (known as the 'Cariocas') ranging from the very rich to the very poor, who take to the streets for the world's largest samba parade on the Sambodromo.
Rio is a never-ending story made up of 150 districts, each characterised by unique features like Santa Teresa, a winding maze of streets populated by artists and musicians, which is reached by taking an old tram across an ancient aqueduct called Arcos da Lapa. In the central city area of Rio there are historic monuments and public buildings like the Municipal Theatre, the National Museum of Fine Art, the Itamaraty Palace, the National History Museum, and the National Library. There are also beautiful examples of religious architecture such as the Sao Bento Monastery. No matter how long you spend exploring the city, it will always deliver new surprises.
Rio will be overrun with international sporting events in the next few years, as it is set to be the first South American city to host the Summer Olympics in 2016, and will be the primary host city for the FIFA World Cup Soccer Tournament in 2014.
To the north of the city is the Lakes region, which has more than 62 miles (100km) of beaches and sea-water lagoons and is the site of the main tourist resorts of Búzios, Cabo Frio, Arrial do Cabo, Rio das Ostras, Marica and Saquarema.