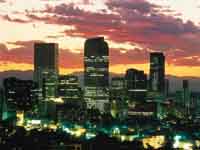 Denver Overview
Although it is literally a 'Mile High City', situated one mile (1.6km) above sea level, Denver is flat and sprawling, overwhelmed by the backdrop of the majestic peaks of the Rocky Mountains.
It was founded as a gold mining camp in 1859, and at the centre of the Old West it was filled with cowboys, gamblers, saloons, gunslingers, Native Americans, and crooked characters such as the infamous Jefferson 'Soapy' Smith. Although very little gold was discovered, a city was laid out and the name Denver attributed it.
Having since shed its cow-town image and evidence of its western past, it has developed into a modern city with wonderful museums, historic architecture, cultural attractions, shopping venues and a world-class airport. It has more than 200 parks and tree-lined boulevards and a completely refurbished lower downtown area (LoDo to the locals), where blocks of old Victorian buildings and warehouses have been carefully restored to house restaurants, galleries, antique shops and jazz clubs. Historic Larimer Square is the heart of the dining and nightlife scene. Denver brews more beer than any other city in America and most of it can be sampled in LoDo where the city's brewpubs proliferate.
Most residents are active nature lovers who take advantage of the city's setting, the pleasant climate and unlimited outdoor adventures just minutes from the centre, including skiing, hiking, mountain biking and fishing. Tourism focuses on its natural setting and the outdoors, and as such it is a major destination for tourists heading into the mountains. Visitors to Denver will be pleasantly surprised by its welcoming and friendly nature.