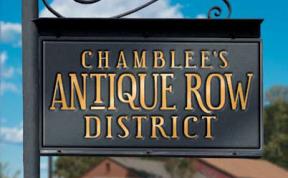 Shopping
Chamblee's Antique Row is a Charming Collection of Antique Shops Appealing to Atlanta, Georgia natives and world wide travelers alike.
This Quaint Eclectic Group of Shops is Conveniently located in Atlanta just Inside I-285 off of Peachtree Industrial Boulevard in Old Towne Chamblee.
Antique Row's Cluster of Fine Antique Shops Proves to be a Unique Shopping Experience for Seasoned Collectors and Hobbyist Shoppers offering a Large array of one-of-a-kind collectibles.
With over 500,000 square Feet of Antiques and Collectibles, Chamblee is Clearly the Antique Capital of the South. For your convenience, a brochure and walking map are available.
Antique Row Promises a Worthwhile Visit and a Most Memorable Shopping Experience. Chamblee's Antique Dealers are More Than Certain they will be Welcoming You Back, Time and Time, Again.