By Kellie Speed Sep. 21st, 2023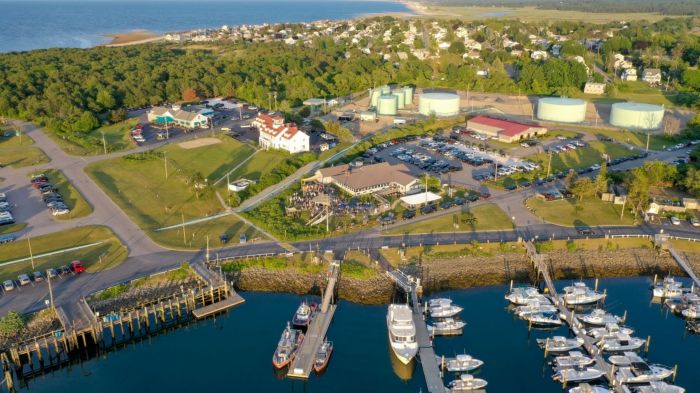 Courtesy of The Pilot House Restaurant & Lounge
While most out-of-towners think summer is the best time to visit Cape Cod, we locals know fall is the perfect season. Offering the same spectacular oceanfront scenery while adding in some vibrant autumn colors minus all the crowds makes for a perfect visit any time after Labor Day.
If you need an excuse to visit, The Pilot House Restaurant & Lounge in Sandwich offers one of the best spots on the Cape to discover some unexpected flavors.
Earlier this summer, The Pilot House celebrated its 10th anniversary located along the Cape Cod Canal at the Sandwich Marina. There is an outdoor bar along with patio seating that both offer great spots for alfresco dining during the summer months. After Labor Day, guests move inside to the main dining room, bar area, or bright sunroom that overlooks the beautiful property.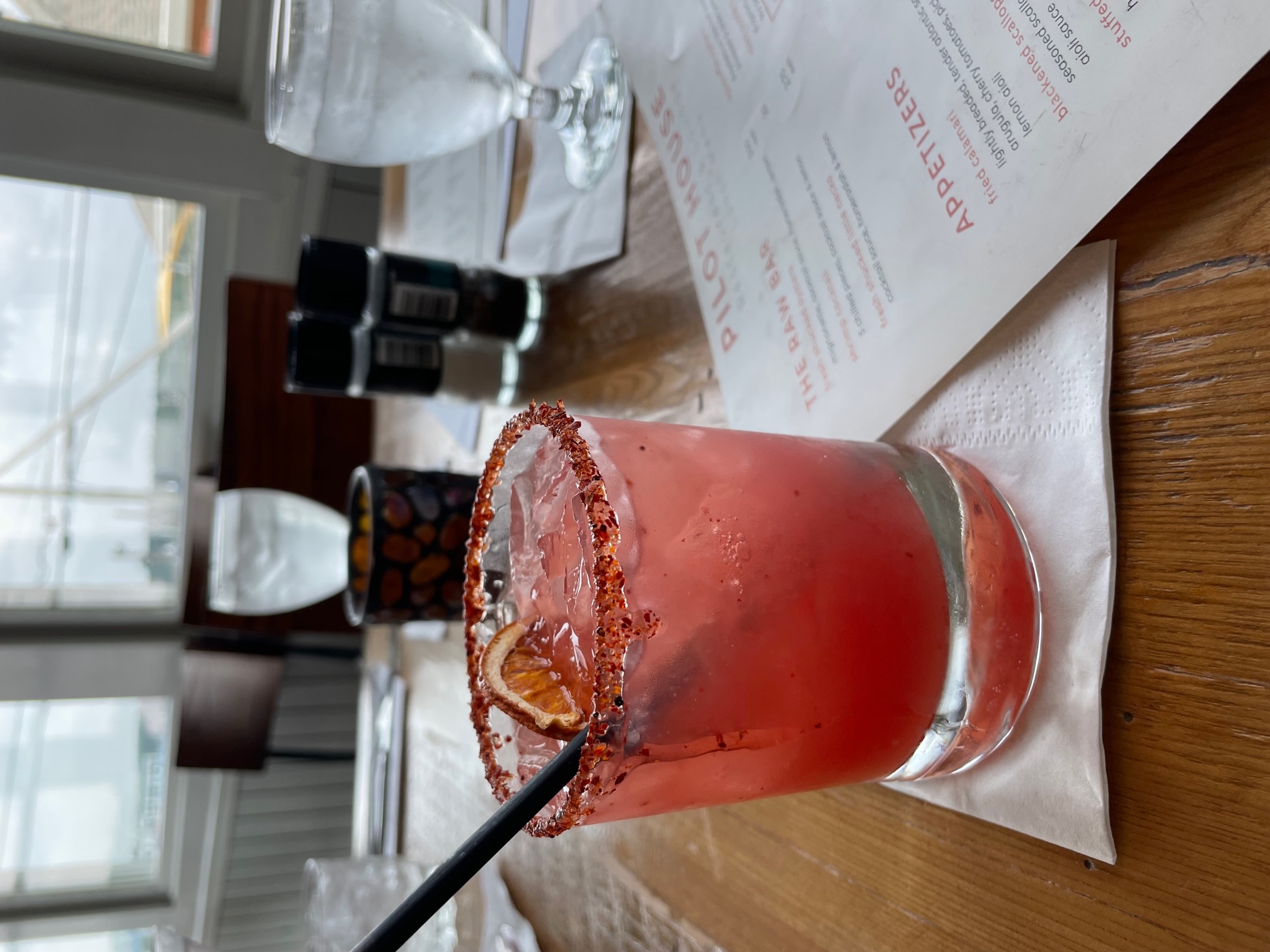 Kellie Speed
On a recent visit, our friendly server got us started with one of their creative cocktails with fun names like the Nauti Grapefruit and Smoke Rose Riptide.
The standout Sandy Neck Sippah (pronounced in your best Boston accent) was made with jalapeno-infused Herradura tequila, watermelon juice, lime juice, Cointreau, agave with a spicy tajin rim – the perfect blend of sweet and spicy.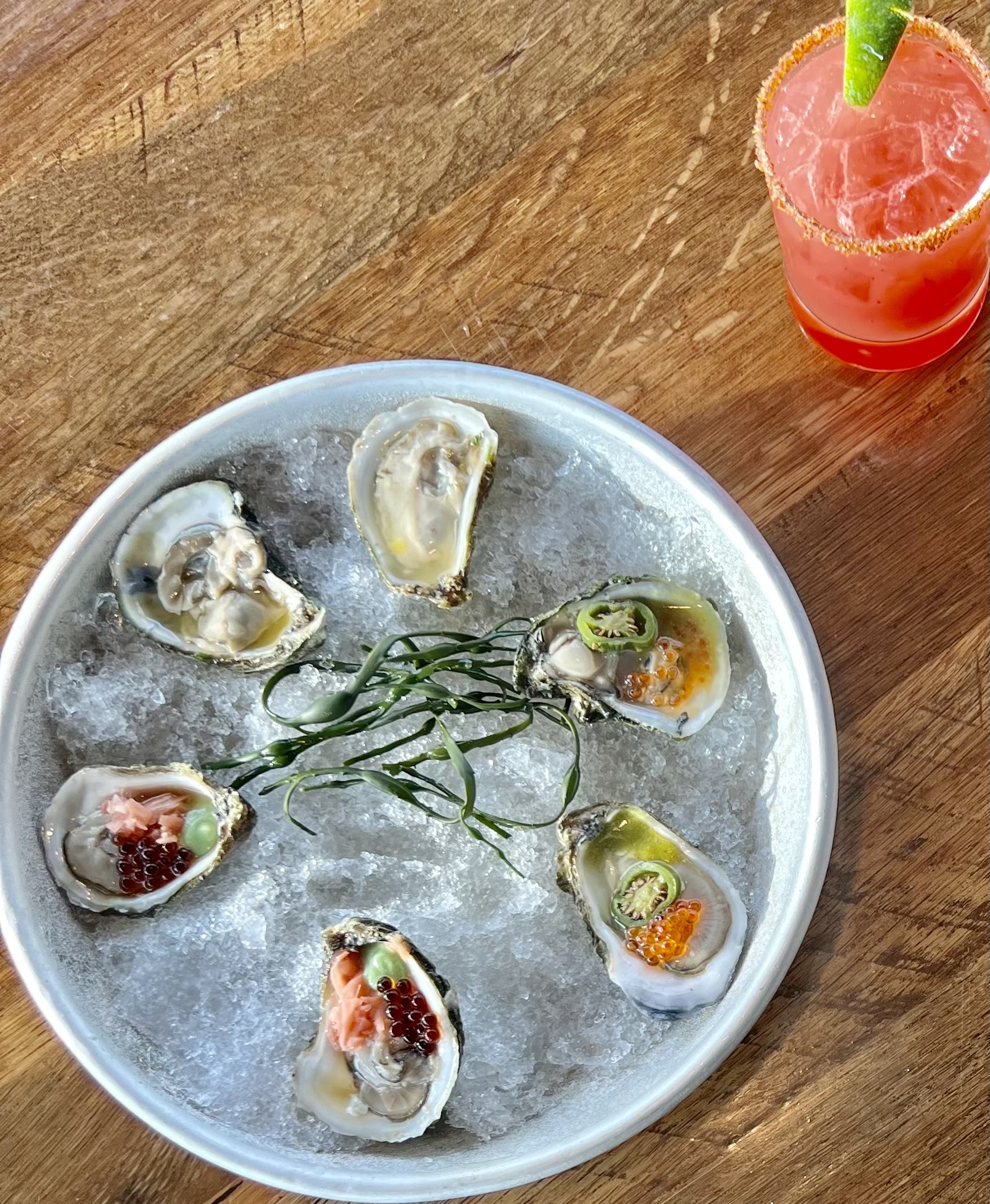 Courtesy of The Pilot House Restaurant & Lounge
Sure, you can get a sampling of Cape Cod steamers, freshly shucked oysters, and shrimp cocktail here, but the real culinary standouts can be found in dishes like Oishi oysters with pickled ginger and soy pearls, and Aguachile oysters topped with smoked trout and blistered jalapeno slices.
Keep an eye out for specialty dishes like slow-braised Korean short ribs served over wasabi whipped potatoes topped with kimchi. The restaurant is open now through October 8, so be sure to check out soon before it closes for the season.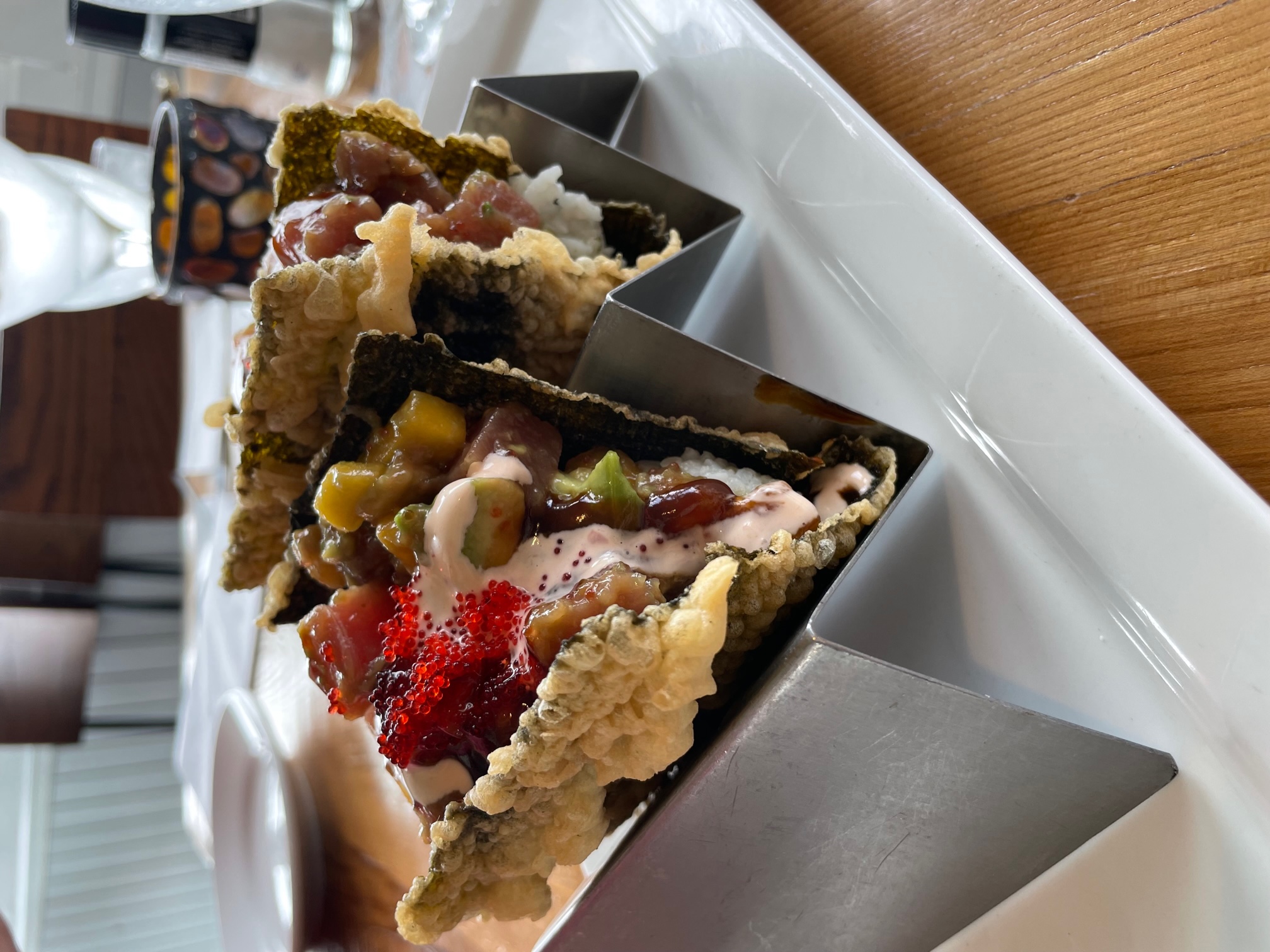 Kellie Speed
The Pilot House is best known for their selections of fresh native seafood that range from crispy golden fried seafood dinners to lobster rolls and grilled entrees.
One of their most impressive dishes, Nori sushi tacos, was offered as a lunch entrée, but we decided to try it as a shared appetizer.
Two overstuffed tempura fried Nori taco shells arrived filled with spicy ahi tuna, furikaka sushi rice, sesame seeds, avocado, and tobiko served with a delicious unagi soy glaze and sambal aioli. Trust us when we say you do not want to miss these.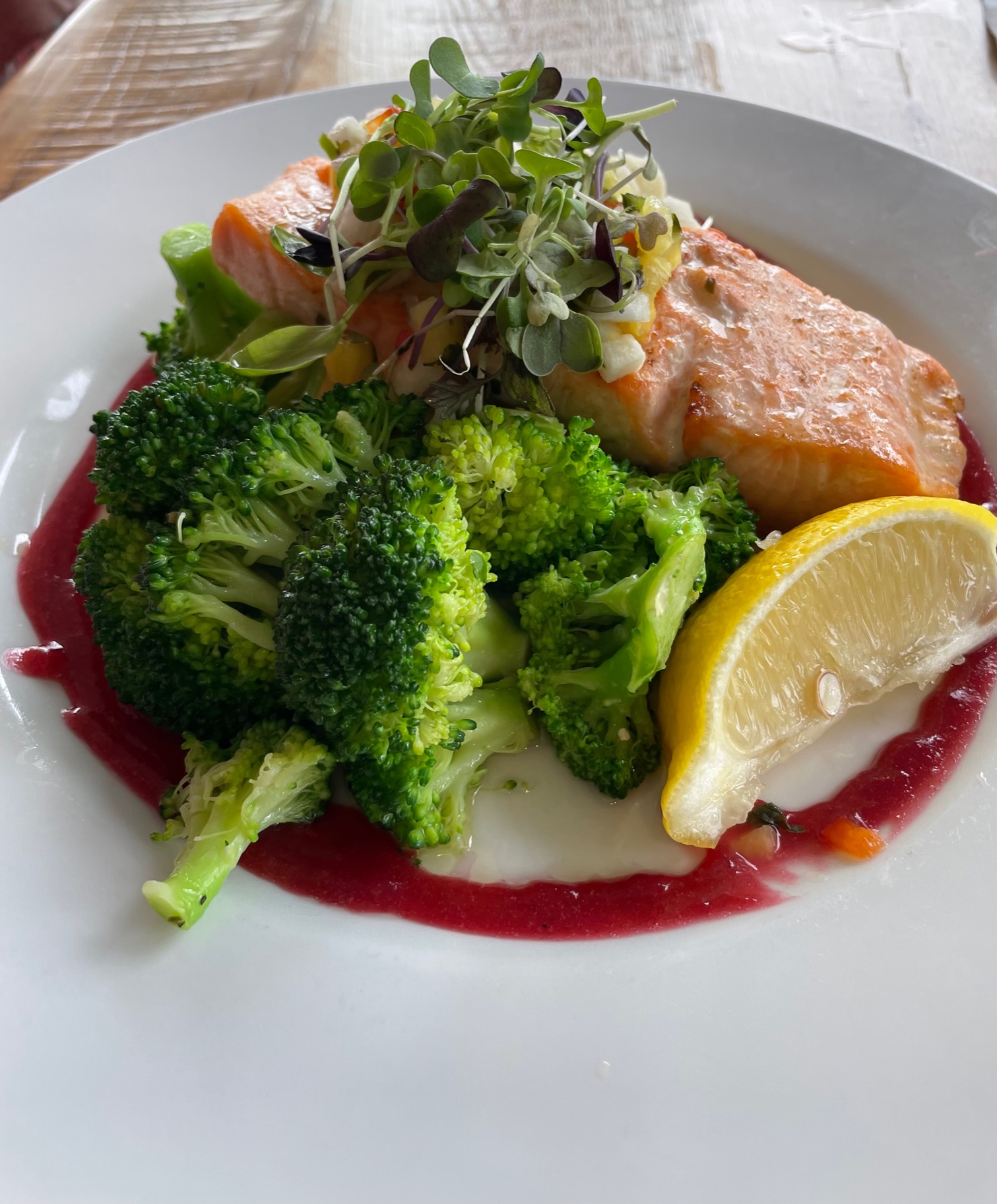 Kellie Speed
The beautiful salmon main event was perfectly plated surrounded by a bright red cranberry sauce, green broccoli, and a slice of fresh lemon. It looked almost too perfect to eat.
The scrumptious blackened swordfish entree accompanied by a side of fresh broccoli and rice was also quickly devoured.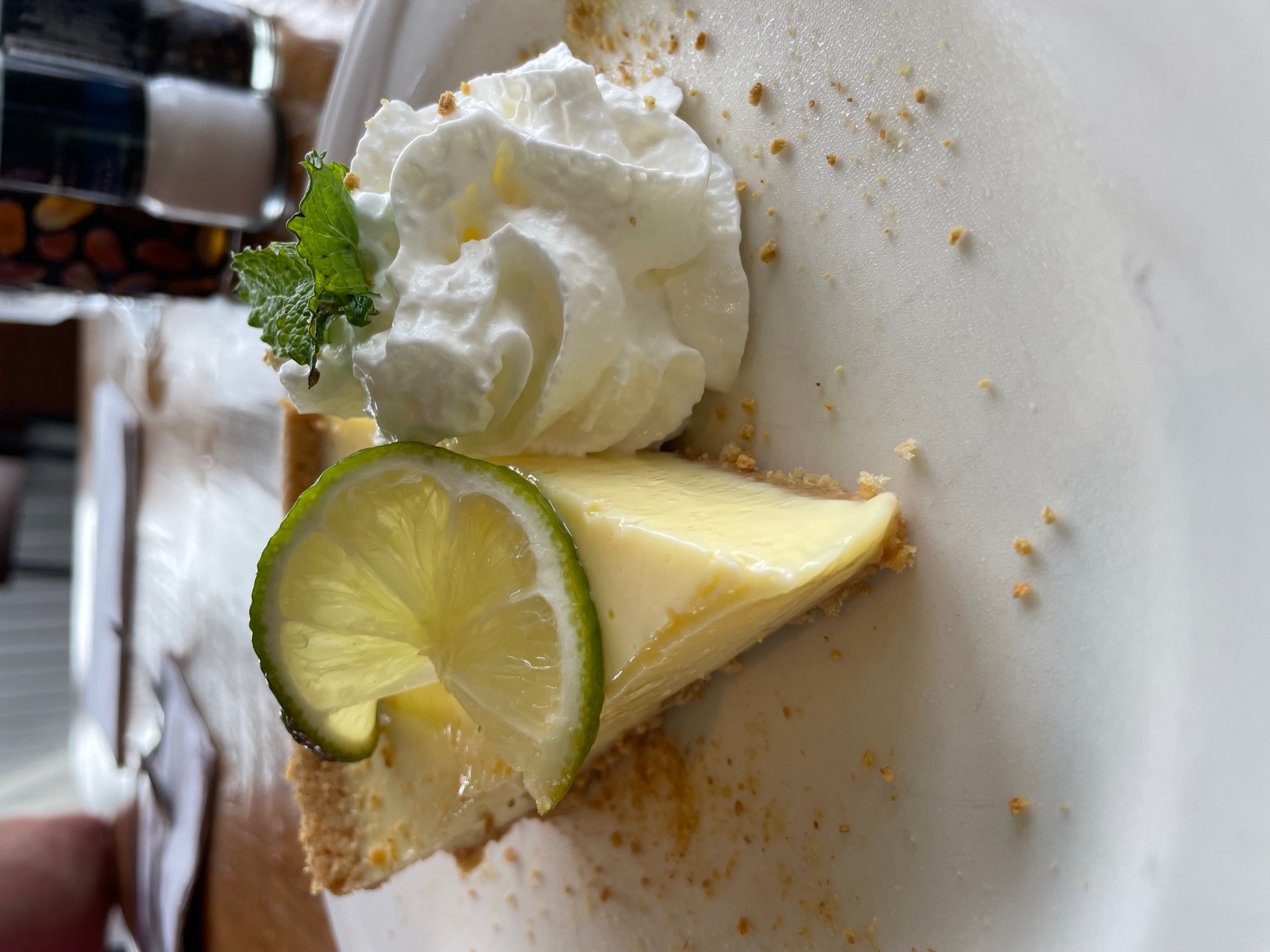 Kellie Speed
If you can save room for dessert, the tart key lime pie with side of freshly whipped cream makes the perfect ending to a memorable dining experience.
The Pilot House Restaurant & Lounge is located at 14 Gallo Road in Sandwich, Mass.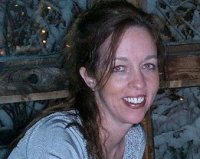 Kellie K. Speed
Kellie Speed is a freelance writer with more than 20 years' experience writing for a variety of publications, including US Veterans magazine, DiverseAbility and BestReviews. She also contributed to Moon Metro's Boston guidebook published by Avalon Travel Publishing and can be reached at kkspeed@aol.com ...(Read More)