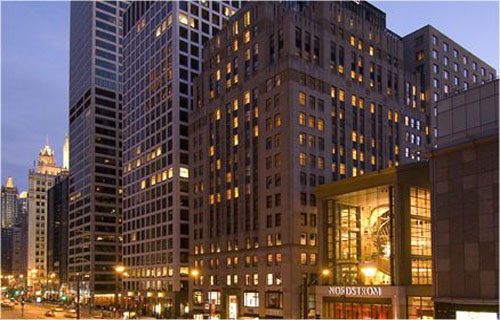 Hotels
The Conrad Chicago, the Windy City's premier luxury hotel, has completed a $5 million guest room and corridor renovation that upgraded the property's more than 300 rooms, suites and corridors with a stylish, residentially inspired décor.
Accommodations
Guests are welcomed by a warm color palette enriched by deep textured finishes and plush fabrics synonoumous with Conrad® Hotels & Resort's signature contemporary decor. Each renovated room includes a custom quilted headboard, bedding accents, ergonomic leather chair, lounge chair with ottoman, modern art, soft lighting, new floor coverings, wall coverings and window treatments. In addition to the new look, all guest rooms feature an abundance of tech-savvy amenities, including:42-inch plasma flat screen televisions complete with surround sound, Hi-fi Bose® 3-2-1 entertainment systems, complimentary wired and wireless high-speed internet access, iHome® alarm clocks with charging/docking station.
Dining
Whichever dining experience you choose, innovation and inspiration underpin the Conrad Chicago's culinary philosophy of creating the finest menus from the freshest seasonal ingredients. The Executive Chef and his culinary team select organic ingredients with the lowest possible carbon footprint to ensure the best possible outcome for hotel guests and the environment.
The Restaurant at Conrad
The Restaurant at Conrad, the signature restaurant of the Conrad Chicago, located on the 5th floor features a revitalized menu of American crafted-cuisine accented with a taste of rich diversity and unique Mid-west centric style. The cuisine also accounts for minimal carbon emissions of the menu's seasonal ingredients.
The Terrace at Conrad
Conveniently located off the Magnificent Mile, The Terrace at Conrad evokes a chill environment and perpetuates a well deserved escape 5 stories above the fray. The cool color palette, lush tropical plants, glowing lanterns, soothing water features and relaxing day beds complement the sultry cityscape of Chicago.
Awaken your taste buds with the new menu of Latin-inspired small plates. Menu selections include, Papas Rellenas - a nugget of lightly fried mashed potatoes stuffed with slowly braised chicken, whipped cheese and Guajillo salsa; Ceviche de Tigre - halibut, prawn, and crab ceviche in a Peruvian Leche de Tigre marinade, with freshly fried corn tortilla chips; Olivos Beatrice - chorizo, pork and beef stuffed green olive topped with Romesco Sauce; or the Lomo Saltado -sliced strip loin marinated in garlic and soy, sautéed sweet onions, fresh tomatoes, tossed with pomme frites and served with Jasmine rice.
Meetings & Events
In addition to the well-appointed guestrooms and hotel suites with views of downtown Chicago skyline, the Conrad Chicago offers over 12,000 square feet of meeting and conference space. All meeting space is conveniently located on the sixth, eighth and tenth floors, divisible into 13 rooms, featuring the latest technology and high-speed wired and wireless Internet connections. The Business Centre is centrally located on the hotel's eighth floor, available 24 hours each day and offering full executive services and audio-visual equipment.
The 3,388-square foot Magnolia Ballroom, located on the sixth floor, can accommodate 180 guests classroom-style. Floor-to-ceiling windows along the corridor of the ballroom entrance greet guests as they enter the ballroom, while the Magnolia pre-function area offers additional space, ideal for receptions and breaks.
The Boardroom, located on the eighth floor, offers a distinguished executive setting complemented by an executive conference table, leather wing-backed chairs, 42-inch plasma flatscreen television and gathering area outside the meeting space.
The Sycamore Room, located on the tenth floor, provides natural daylight and west views of the Chicago skyline, ideal for hosting meetings. The Willow