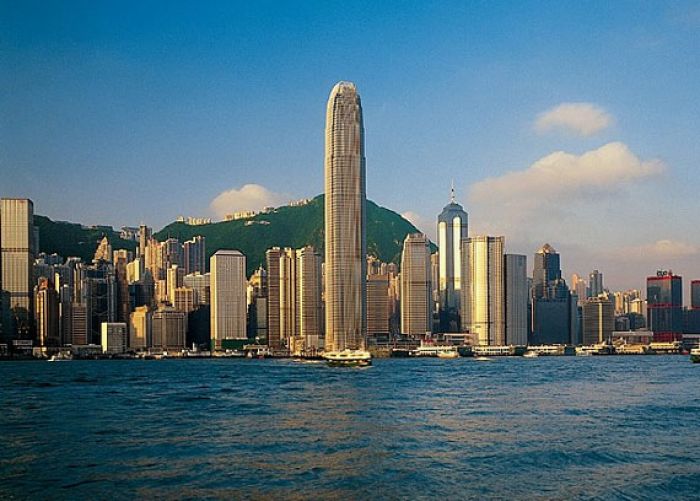 Hong Kong
is a city that can make your head spin. From its massive airport, where everyone seems to be speaking a different language - usually at top volume into their cell phones - to the trains and taxis whizzing hither and yon, to the glass-hulled shopping centers squatting over tiny, bustling restaurants and specialty merchants selling diamonds and dim-sum; it's a bit much to process.
Which is why it's such a blessed relief to come off the Airport Express and stagger, sometimes without even understanding where you're going, directly into the Four Seasons Hong Kong. In there, no one is shouting, and the staff will never look at you with raised eyebrows, even if your suit is crumpled and damp with humidity and your tie is sideways.

Things in this cool, lovely Hong Kong high rise go from hectic and foreign to calm and reassuring the minute you walk in the door. That air of comfort and familiarity is, of course, the Four Seasons' signature ambiance - another Four Seasons' motif that is understated, tasteful luxury with no cut corners. While other places in the region may go for gold-plated toilet fixtures and leather floors, this hotel brand always remembers the classic adage that those who truly "have it" (be that money, style, taste, confidence) don't need to go over-the-top.


At least, not in the lobby or in the rooms. In the fine dining restaurants, it's another story. Two of the hotel restaurants rank a three-star Michelin rating - a huge achievement for any hotel, and singular in Hong Kong. And in both, the décor goes toe-to-toe with the food. At Lung King Heen, marble surfaces, floor-to-ceiling windows and draped white linens bring elegance to the experience of dining on Hong Kong's highest-rated Cantonese cuisine.



At Caprice, the classic French gastronomic experience has been replicated with Asian big-city pomp - from the chefs in toques who preside over the exhibition kitchen to the sixth-floor harbor views to the cheese cave tucked away behind the kitchen. Everything in this secret room is sourced from artisan producers in France, while the accompanying bread is made in-house. As expats confide, it's some of the only really quality bread in the city; and this, more than the excellent wine list or the foie gras and Brittany lobster, earn it the three-star ranking in their eyes.


The rooftop pool deck has an atmosphere that's not quite see-and-be-seen, but not exactly low-key either. Though spacious, given its location, it accommodates two pools (a lap pool and an Infinity relaxation pool) plus an indoor-outdoor spa lounge. It's a snug fit, and as a result, sun loungers are placed so closely around the pools that it's impossible not to notice the people near you and across from you.

Not that one would stare overtly; people-watching here takes place in little peeks from behind your copy of Burgundy Futures, or while spritzing yourself with a bottle of purified water. One could also hide behind sunglasses, but that would go strictly against the 'Thou Shalt Not Be Ostentatious' commandment, since the Hong Kong sky is almost always dim and gray.

For many people, this genteel, expat-populated poolside scene is only a prelude to the real daytime entertainment: the spa. Featuring multiple saunas and steam rooms, indoor "Vitality Pools" and private televisions in the "pedicure lounges," this spa is the sort that allows every treatment - even a simple manicure - to be a leisurely escape.


For those who want a signature treatment, though, there are near-endless options, ranging from traditional (a clay wrap followed by a Himalayan salt scrub) to medical (the M6 Contour non-invasive anti-cellulite treatment) to downright sensual (couples' vanilla milk bath with champagne to drink, followed by vanilla/ylang-ylang body polish and couples massage).



Given all that there is to do at this hotel, plus the draw of the teeming city streets, you may not anticipate coming back to your room for anything but a few hours' snatched sleep. However, in a way, the rooms offer the best place from which to appreciate these privileged surroundings. Facing the floor-to-ceiling windows with their panoramic Hong Kong harbor display, from a high floor, even the largest ships look just the size of your palm. It really does feel like you're at the peak of existence. Every other luxuriant detail - the deep-soaking bathtub, the 42-inch LCD television, and the delicious treats brought at turndown - just confirms it. Visit FourSeasons.com to learn more.