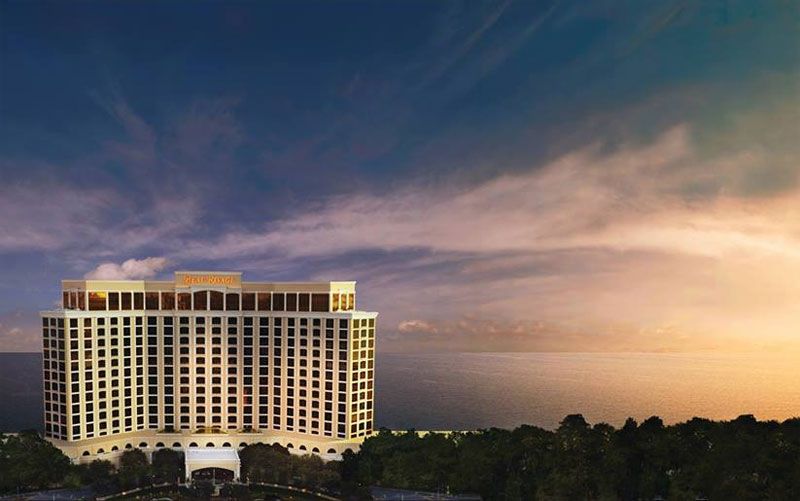 Photos Courtesy of Beau Rivage Resort & Casino
Born of Southern luxury and bathed in sophisticated charm, the Beau Rivage Resort & Casino in Biloxi, Mississippi is a waterfront casino hotel that easily claims the title of "Best on the Gulf Coast." Owned and operated by MGM Resorts International, Beau Rivage has been a Mississippi landmark since it originally opened on March 16, 1999. At an original cost of about $800 million, the 32-story building quickly became the Gulf Coast's resort showcase. It holds the distinction of having the most table games, guest rooms, and meeting space of any property on the Gulf Coast. Plus, as the tallest and largest building in Mississippi, it is also the largest private sector employer in the Biloxi area with a payroll of upwards to 4,000 employees.
Accolades also continue to be heaped on this mega-resort establishment. It is the largest resort in the Southeast to receive the AAA Four Diamond award at 3.2 million square feet, its spa and salon were named as one of the Top 20 Hotel Spas in the United States by Travel + Leisure, and it is recognized by Condé Nast Traveler and Travel + Leisure as one of the country's top resorts.
Tragically, Hurricane Katrina ravaged the Gulf Coast on August 29, 2005, leaving in its wake untold devastation and astronomical damage. Initially, it appeared that the Beau Rivage was the only casino hotel to sustain "recoverable" damage as a result of the 130 mph winds generated by the deadliest U.S. hurricane ever. Afterwards, it was discovered that though the exterior walls and core architectural structure remained largely intact, the real damage was inside due to storm surges reaching 30 feet.
Nevertheless, much like the proverbial phoenix that arises from ashes, the Beau Rivage would be renovated from the shattering effects of tsunami-like waters. The cost was $550 million. The extraordinary commitment to re-open exactly a year later on August 29, 2006, was an emblematic commitment and an attestation to the leadership role that the Beau Rivage would have in the Biloxi community. That legacy as a strong community leader and the crown jewel of the Mississippi Gulf Coast continues today.
A micro-city unto itself, the Beau Rivage Resort & Casino features 1,740 guestrooms and suites, along with 10 restaurants, four lounges and bars, an 85,000-square-foot casino, 1,550-seat theatre, offers 50,000 square feet of meeting space, an upscale shopping promenade, landscaped outdoor pool with private poolside cabanas, a world-class spa and salon, and the award-winning Tom Fazio-designed championship golf course, Fallen Oak. The course contains more than 1,000 mature oaks, pines, and magnolias.
In true southern fashion, the entrance to the Beau Rivage is nothing short of spectacular. Seasonal southern flowers are planted in gardens at the edge of Beach Boulevard and changed four times a year at the start of each season. Twenty nine majestic Live Oaks line the drive to the porte cochère, the enclosed courtyard entrance to the hotel reminiscent of southern mansions. Planted underneath the towering oaks are camellias, azaleas, and verdant evergreens.

But it's the spacious grand atrium and luxurious lobby area that completely captivated me. Owing to a glass ceiling, sunlight streams in and shines down on live trees and seasonal flower arrangements in an indoor arboretum designed on a scale to impress even the most stoic visitor. In fact, it is visually challenging to absorb the entire scenery before when you first see it. As a bonus, the grand display of evergreens and seasonal flowers are changed monthly, ensuring thematic bouquets and displays. Flower varieties include: chrysanthemums, begonias, Gerber daisies, ornamental peppers, blooming azaleas, hydrangeas, and poinsettias in the winter. Be sure to have your camera readily available, as it is one of the most photographed places in the area.
"BeauRivage's Horticulture Department is in constant motion as our annual floral budget comes in at approximately $3 million per year for flowers, shrubs, grounds and the like," said Mary Cracchiolo Spain, Regional Director of Public Relations for MGM Resorts Mississippi Operations. "The striking floral centerpiece in our retail promenade is changed out every five days. There are more than 400 stems of flowers in the arrangement including 100 roses and 120 stems of lilies, which give off the fragrant smell. On average it takes 3.5 hours to build and place the arrangement. The arrangement is maintained on a daily basis, this includes replacing spent flowers, removal of any pollen and watering."
Guest rooms and suites are luxuriously large with a sunny southern feel and contemporary décor that spells comfort at every turn. All rooms have views of the Mississippi Gulf or Back Bay; boasting original artwork, a 32 inch flat-screen LCD television, high-speed internet access.
One thing I always look for is the lighting in a room, as most places fail on this standard. Not the Beau Rivage. Lighting is ample with individually-controlled bedside reading lights, one of my favorite features. For sleeping comfort, all beds have double pillow-top mattresses and triple sheeting. The Spanish and Grecian marble bathrooms are generous in size, with a soaking tub and separate stall shower. Standard rooms include a potpourri of personal amenities such as lotion, mineral gel, mouthwash, shampoo, and conditioner, all with the Beau Rivage logo. A dental kit and shaving kit are also provided. Suites feature Verbena Shea, L'Occitane, and New Tuscan-branded products.
Beau Rivage Resort & Casino is conveniently located on the Gulf Coast in Biloxi. Only 20 minutes from the Gulfport/Biloxi International Airport, the airport offers 40 regularly scheduled flights by five major airlines. If driving by car, the Beau Rivage is about an hour from New Orleans to the west and about an hour from Mobile, Alabama to the east.