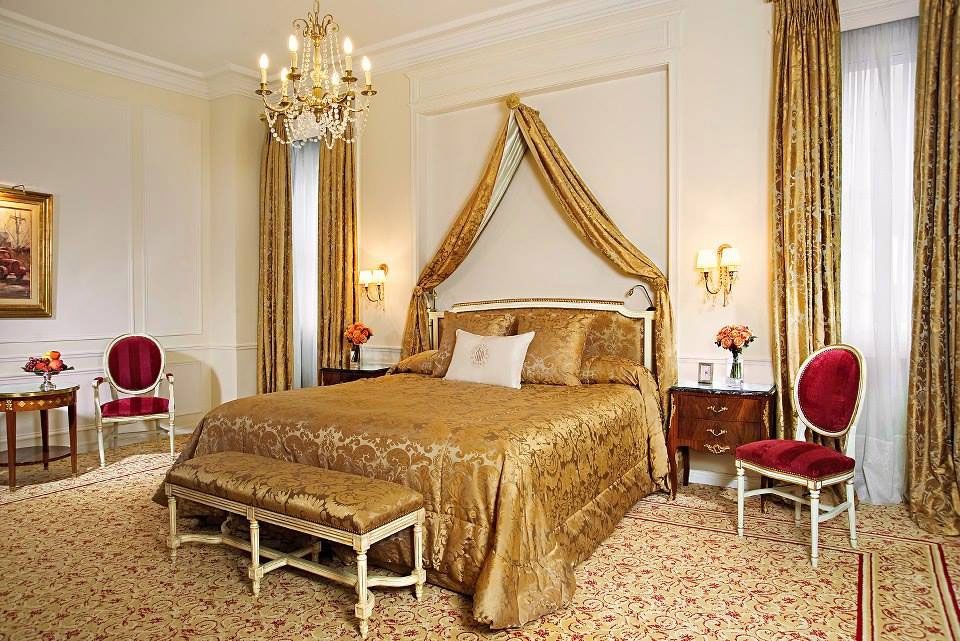 Photos Courtesy of Alvear Palace Hotel
For 82 years, celebrities and dignitaries have been gracing the doors of the opulent Alvear Palace Hotel and resting their heads in the magnificently appointed guest rooms. Built in 1932, the beauty of the hotel is found in the details with its stunning architecture and fine cuisine. Condé Nast Traveler describes the hotel as an "old-world Belle Époque landmark".
The property is situated in the heart of upscale Recoleta, Buenos Aires surrounded by the country's finest shopping. Nearby is Recoleta Cemetery where the famous first lady of Buenos Aires, Evita Peron is buried. If you plan to visit, be warned lines to view Evita's mausoleum are constant.
Alvear Palace first caught my attention after seeing photographs of its marble spiral staircase—add in the old world charm and historical roots—and an overnight stay was a must.
The hotel pays homage to a bygone era with its French attention to detail evident throughout the building and hallways have a regal feel with silky carpets leading guests to their rooms. A work desk adorned with a welcome fresh fruit basket greets guests, along with elegant décor and gorgeous flowery draperies. Imperial-styled Louis XVI furniture awaits with king sized beds outfitted with silky smooth Egyptian cotton sheets. The enormous marble bathrooms, with a fitting golden color scheme, are filled with Hermès products and bathrobes with Alvear's logo emblazoned on the front. Who could ask for more?
Each floor boasts a butler to unpack guests' luggage, draw a bath, iron clothing or turn the bed down exactly as one would wish—helping to ensure each visitor feels like a prized VIP. Featuring a wellness area with steam baths, saunas, pool and relaxation rooms, the property also includes a fitness center housing state-of-the-art exercise equipment. The heated swimming pool is located on the second floor, and is the perfect way to relax your travel-weary muscles.
There are three restaurants situated at the hotel (Lobby Bar, L'Orangerie and a haute-cuisine restaurant, La Bourgogne). The lobby bar is a great place to unwind post shopping spree at the high-end boutiques located nearby. Guests can refresh with a coffee, cocktail or delicious informal lunch. Arriving back at the hotel, coffee served with delicious petit fours is the perfect tonic. Executive Chef Jean Paul Bondoux runs La Bourgogne, a French-inspired restaurant. Arriving from the Bourgogne (Burgundy) region of France, Bondoux has established one of the top restaurants in South America.
Being a huge fan of High Tea, it's definitely the Pièce de Résistance at the hotel. Served in the beautiful L'Orangerie room by white-gloved waiters, guests can enjoy multiple teas including the in-house Alvear blend, which is aromatic and delicious. Teas are supplied by artisan specialist Ines Berton of Tealosophy. Guests can also visit Tealosophy, which has a shop in the adjoining luxury shopping complex, to buy their own blends to take home. It's worth a trip (unless you encounter the prickly owner who is averse to having photos taken in the shop).
The first course of the tea is brought tableside with a three-tiered tea service, laden with pastries, scones, finger sandwiches and savory bites. The service is very similar to an English tea, but no clotted cream is offered, instead lemon curd along with house made jams is available. In keeping with Argentina's sugar obsession, the emphasis is on sweets when the final course is rolled out, a trolley laden with multiple-level cakes of every shape and variety. Quite a few of these delicious treats are layered with Argentinean favorite dulce de leche. Personally, I don't recall ever having visited a country that takes its passion for sweets to an addictive level.
Breakfast at the Alvear is a lavish buffet affair; there's so much to choose from and to load on your plate, that it's a big dilemma (a good one at that). The beautiful spread features every imaginable breakfast item from delectable patisseries, cheese boards, eggs, fruit and smoked salmon just to name a few. Plus small jars of dulce de leche and warm, sweet sauces to smooth over your toast are on hand. Observing some guests needing a more customized breakfast order, the staff scurried to oblige. This is definitely a feast fit for a Queen.
Whether you stay at the Alvear Palace or not, be sure to drop in and take in the gorgeous architecture. High Tea is approximately USD $25 and is definitely worth the experience. After all, it's not every day you will see the grandeur of Argentina's past beautifully preserved. There are 197 guestrooms and suites in the hotel, and rooms start at USD $500 a night.