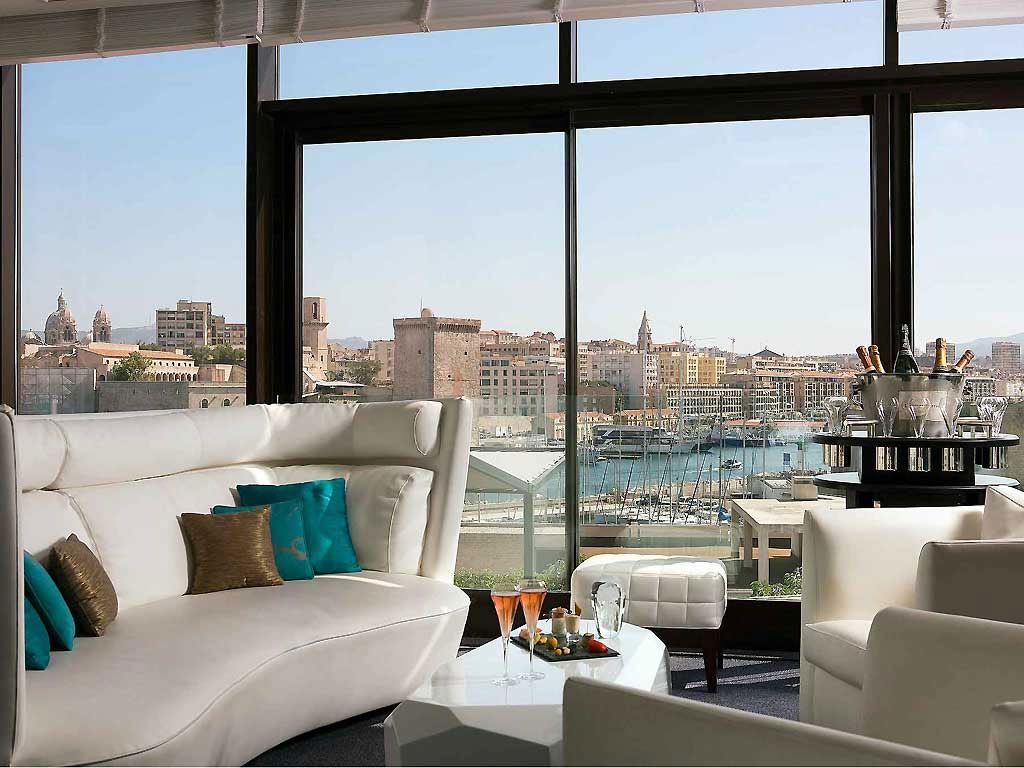 Photo Courtesy of Sofitel Marseille Vieux
An upside-down metallic stag out front represents a most unexpected introduction to the Sofitel Marseille Vieux Port, but its relevance in terms of perspective, becomes clearer upon entering the five-star property. Located beside the Palais du Pharo, a 19th century imperial residence with widespread gardens, and the city's 2,600-year-old horseshoe harbor a five-minute walk away, the Sofitel certainly offers visual and historical perspectives in abundance.
Photo Courtesy of Sofitel Marseille Vieux
Outside, broad limestone steps lead off the street, past the large inverted stag and through colorful, leafy foliage of vivid red flowers, stunted potted palms and olive and pine trees. Inside, a speckled carpeted walkway lined with autumnal-colored armchairs and small oval-shaped tables broadens to a reception area elegantly decorated with dried liane, ornamental cabbage, banana branches and flowering kale.
Photo Credit: Columbia Hillen
An impressive sculpture in the center of the lobby depicting hands offering up a bowl made of red coral is a reminder of lovers Gyptis and Protis whose ancient story forms the genesis of Marseille. It also introduces a marine theme prevalent throughout the hotel, including round windows in the restaurant resembling portholes, dried crabs framed in glass in the lounges, and coral designs on bedroom walls. In fact, from deep blue carpets to floor-to-ceiling windows, the entire hotel is designed to imitate a lavish yacht, designed under the direction of architects Marc Hertrich & Nicolas Adnet.
Photo Courtesy of Sofitel Marseille Vieux
A spacious lounge beside the reception area where live jazz is performed most evenings provides a convenient meeting point from which a door leads outside to a terraced bar and bistro and the hotel's swimming pool. One the most outstanding aspects of this 134-room hotel, are the stunning diversity of views it offers from rooms, lounges and terraces onto the busy harbor where hundreds of yachts are moored, or across the bay to medieval forts out at sea and to the rocky islands jutting out from the waters of the Mediterranean.
Photo Credit: Columbia Hillen
Room 605, classed as Superior Vieux Port, grants excellent views right along the middle of the harbor, which enabled us to enjoy relaxing moments watching rowers gliding smoothly along. Its décor matched the overall theme of the hotel with a blue coral leitmotif on the carpeting, a silver leaf sea fan paneling on the bed facing the wall, and a large hanging wall lamp resembling an oversized silver-sided olive snail. All furnishings were created by the Hertrich-Adnet studio. The deliciously decadent double bath is a welcomed addition with toiletries by Hermes, and the comfortable bed is the work of specialists Dumas and Epeda.
Photo Courtesy of Sofitel Marseille Vieux
Hosted in the Les Trois Forts restaurant, breakfast is an award-winning feast, the varied buffet granting a wonderful introduction to Provençal cuisine with a variety of locally-made sausages, ham-on-the-bone, ratatouille and honeycomb harvested in the hotel's own grounds, not to mention those exquisite French desserts, macaroons and calissons.
Photo Courtesy of Sofitel Marseille Vieux
Renovated in 2008, the Sofitel offers convenient chauffeur parking and yacht-lovers should know that it is immediately accessible by boat from the nearby Château d'If (famous through Alexander Dumas's classic novel The Count of Monte Cristo), and the calanques (nearby rocky Mediterranean fjords).
Photo Courtesy of Sofitel Marseille Vieux
The hotel also has a partnership with a sports complex, a five-minute walk away, with several indoor and outdoor swimming pools, as well as private access to the sea. Taking advantage of this, I picked up towels from the concierge and wandered there one Sunday afternoon and not only enjoyed a swimming lane to myself in an Olympic-size pool, but afterwards climbed down a strategically-placed ladder near Catalans Beach for a brisk dip in the salty Mediterranean. Facials, massages and haircuts are also offered at the hotel's spa using Carita products. A sauna, steam room and large thermal relaxation bath are housed in an adjacent space decorated in silver colors, natural stone and mother-of-pearl. The small fitness room offers bikes and treadmills for workouts.
Photo Credit: Columbia Hillen
After being selected European Capital of Culture last year, Marseille transformed itself and expanded its attractions with new museums, rejuvenated districts such as Le Panier and renovated bars, cafés and restaurants. All are within walking distance of the property including the impressive Museum of Marseille History and MuCEM, which celebrates European and Mediterranean civilizations. With so many tourist activities around, the City Passes are helpful, offering free public transport as well as entry into many attractions as well as a ferry ride out to Chateau d'If.
For efficient service, mesmerizing views and a convenient location to explore one of France's oldest ports, the Sofitel Marseille Vieux Port is highly recommended. Rates begin at around $477 per night.