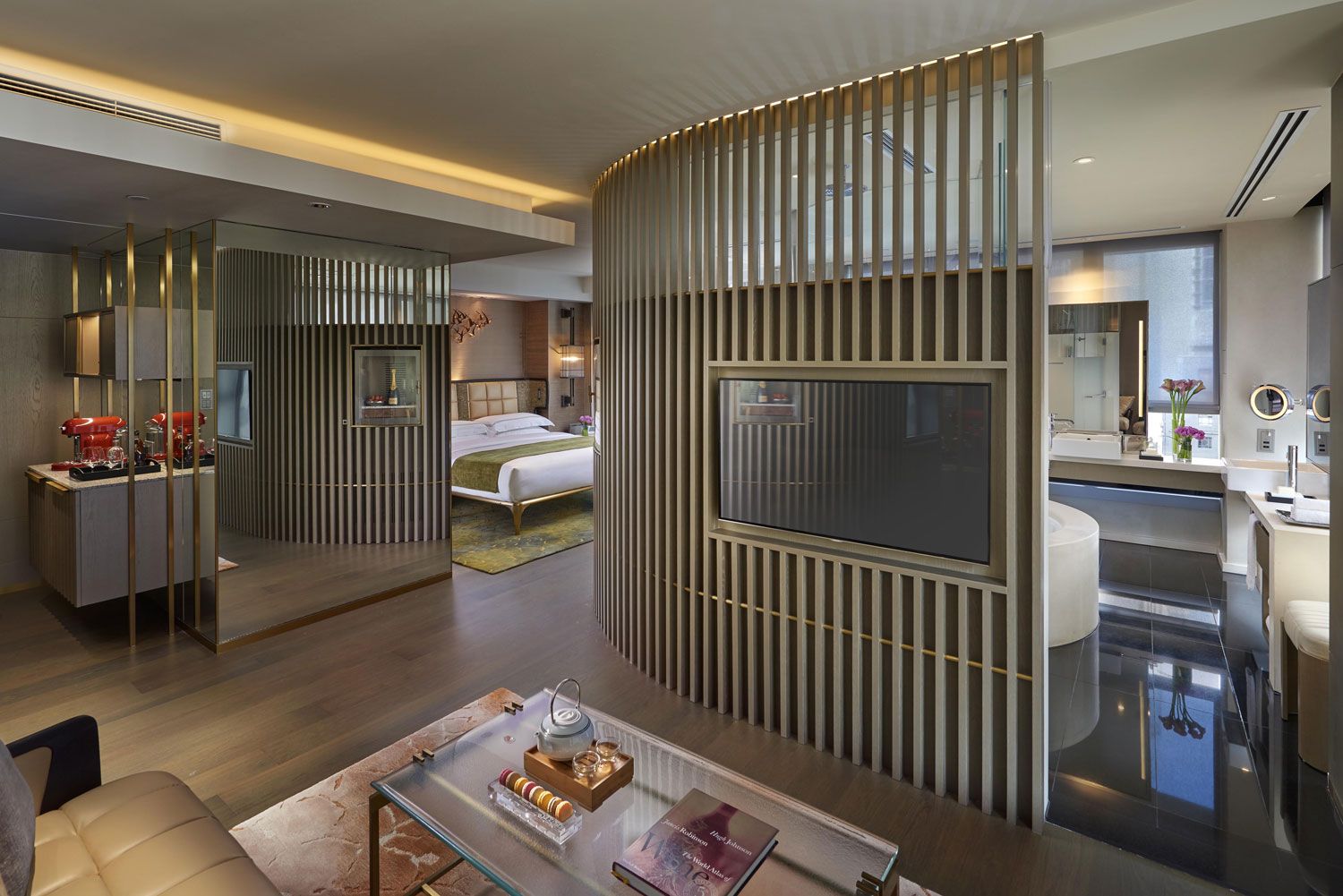 Photo Credit: Mandarin Oriental Hong Kong
This year, the Landmark Mandarin Oriental Hong Kong is marking its 10th anniversary by giving guests plenty of reasons to celebrate. The hotel has begun a complete refresh of its 113 guestrooms and suites courtesy of 32-year-old Hong Kong designer Joyce Wang. The underlying aesthetic is aimed at freeing up space, both surface area and wall space. Wang brings a touch of nature into the heart of the metropolis, and creates a more open, flowing feel to the rooms. After all, Hong Kong is the home of Feng Shui.
The overall palette of Wang's accommodations is reminiscent of a springtime forest with muted taupe, browns, beiges, light greens and golds that bring to mind sunlight filtering through the leaves. Carpets take their inspiration from watercolors of animal prints, while silk wall coverings have been hand-painted to look like fine-grained tree bark just a few shades lighter than the dark wooden floorboards.
Sumptuous beds dressed in white Egyptian cotton call to mind today's finest first-class airline suites thanks to wraparound headboards with embedded reading lights that emphasize the cocoon-like feel of the space. On either side, you'll find Art Deco-inspired square lamps suspended by brass rods, their light filtered through slender glass dowels. Above the bed, on a silvery rough-silk background, specially commissioned brass sculptures depict a flock of birds in flight. Guests will find a similar fixture in the living room, above a tufted leather love seat and armchair, as well as a glass coffee table. This sculpture is of a tree that looks like it was caught just after a gentle breeze passed by.
The minibar is an Art Deco-inspired armoire unto itself, with ribbed wooden cabinets hiding shelves of snacks and a small refrigerator stocked with beverages, a marble countertop holding a candy-apple red Nespresso machine, and frosted glass doors opening to shelves of glasses and other utensils.
While the bathrooms have undergone a few cosmetic enhancements, they are still enormous. They offer floor-to-ceiling windows fronting dual vanities, a circular bathtub that separates a glass-enclosed WC from the glass-enclosed walk-in shower, and all-natural Australian Sodashi bath products on hand.
Rooms have all the technological bells and whistles as well, including buttons to control everything from light levels to curtains, universal plugs and adapters at the bed and the desk and two flatscreen HDTVs with Bose speakers for optimal sound. One of the more unique features is a personal pantry consisting of a small, glass, temperature-controlled cabinet embedded in the wall where staff can leave snacks, drinks and other edible treats for guests.
This holiday season, the hotel is planning a series of events to kick off its anniversary festivities. Singer-songwriter Judith Hill (who has worked with Stevie Wonder, Elton John and Michael Jackson) will be performing a live acoustic concert at the hotel's MO Bar on December 11. The hotel will be hosting acclaimed Peruvian chef Virgilio Martinez of Lima's Central for a pop-up restaurant from November 30-December 2. The hotel's Oriental Spa will also be hosting two special events. The first is a Christmas Festival on December 9 with select gift sets by luxury beauty and jewelry brands on hand, while a week later on the 16, the spa will be open for a Silent Night. The evening will focus on quietness and special yoga and meditation classes will be offered, all in an effort to unplug from the busy holiday season for an evening.
Speaking of the spa, the hotel has partnered with Spanish luxury beauty brand Natura Bissé to offer an all-new Perfect Ten Diamond Life Infusion Facial. The 90-minute therapy involves 10 distinct steps to optimize the anti-aging effects of Natura Bissé's unique products including a gentle exfoliation, ultra-moisturizing mask, and a diamond-infused face cream that leaves the skin looking firmer, brighter and younger.