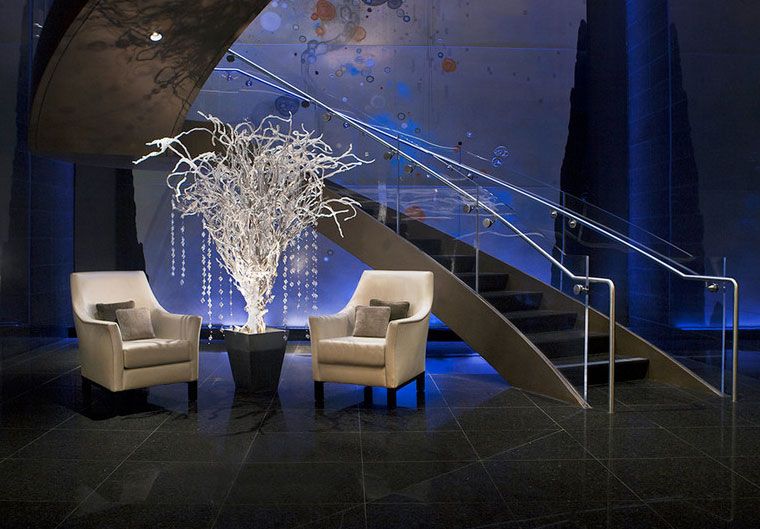 Photos Credit: Sofitel Los Angeles at Beverly Hills
There is a lot of talk about what Millennials want in a hotel and what will keep us coming back. Some properties are getting it right, others are missing the mark. We're a mix of culturally-aware, socially-connected and eco-conscious travelers who want more than technologically-advanced rooms and complimentary Wi-Fi (is that not a given yet?).
Recently we visited the Sofitel Los Angeles at Beverly Hills and were surprised at how the property succeeded in offering just the right amount of welcoming guestrooms, hip vibes and earth-friendly awareness that Millennials are seeking.
What We're Seeing: Quick, Digital Service
What We Want: Personalization
Many hotels are doing away with the check-in process at the front desk. Which, okay, it can be a hassle at times; but in this transition, properties are missing an opportunity to really connect with guests and leave a lasting impression. Upon arrival, guests checking in at Sofitel are handed a glass of Champagne right from the start. Simple enough, and yet, it leaves you feeling like you are genuinely being hosted.
Staff seem genuinely happy to interact with guests from the concierges to the bartenders and the General Manager who regaled us with stories of his family and many travels. Less robots, more personal interactions please.
What We're Seeing: Minimalistic Rooms With Digital Capabilities
What We Want: Sense-of-Place Rooms With Digital Capabilities
Digital amenities and conveniences should be standard in every room these days. There is no reason you shouldn't be able to plug in your iPhone and stream your music. However, Millennials aren't interested solely in tech offerings that are used to distract from the room's lack of real warmth and décor (sorry, AC Hotels, we're looking at you). Modern accommodations can still be designed in a way that allows guests to get a real sense of the city they're in.
Sofitel's accommodations are designed for guest comfort—outlets on both nightstands, BOSE Wave radios with smart phone plug-ins, complimentary Wi-Fi, 32' HDTVs—while still being trendy and LA-centric. Overlooking the Hollywood Hills or Beverly Hills, guestrooms are light, California-chic and a little bit naughty. Located above the beds, a voyeuristic window leads into the all-glass shower in the bathroom. Guests can choose to enable the privacy glass or ditch the frost feature and get a little playful with their guest. A chance to feel sexy in the City of Angels? Dually noted.
What We're Seeing: Stuffy Atmospheres & Grandma's-China Elegance
What We're Wanting: Instagram-Worthy Spaces & Cool Snapchat Vibes
Sofitel LA feels cool. Its lobby is full of art, interesting statues and even a step-and-repeat banner (that is constantly used). There are fresh flowers coloring the spaces and an eclectic décor that the brand is known for. Millennials want to interact with other travelers and swap Instagram accounts with newfound friends. We don't want stuffy and unapproachable, because we never know where we might meet our next business partner for our startup.
The hotel understands this. Every Monday, Riviera 31 (the property's bar and lounge) features live jazz and celebs like Stevie Wonder have been known to stop by to play a tune or two on the piano. Tuesday through Saturday nights a DJ spins in the bar, which, over our weekend stay was packed with patrons. Plus, its outdoor space at Esterel restaurant is the perfect afternoon haunt for hanging with and making new friends. Colorful and draped in foliage, during the warmer months you'll most likely have to fight for a table at this Mediterranean eatery.
What We're Seeing: More Eco-Friendly Environments
What We're Wanting: More Eco-Friendly Environments
This is pretty even across the board, and thankfully so. Over the last few years, there has been a shift in hotels working toward becoming more eco-friendly and sustainable. Sofitel is in partnership with PLANET 21 and has made 21 commitments and concrete actions within the hotels to ensure the planet's well-being. The property's list of implemented actions includes items such as eco-friendly cleaning products for rooms, faucets fitted with water flow regulators, energy-saving light bulbs, certified sustainable paper for hotel printing purposes and the use of local food products. Well done.