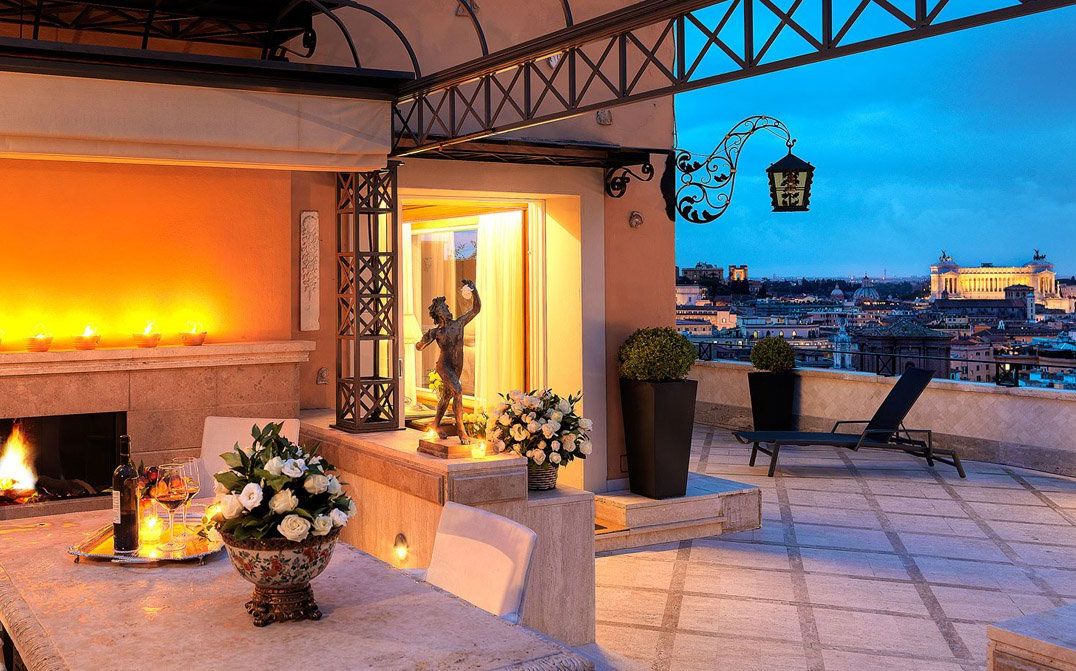 Photos Credit: The Hassler Hotel
The old-world European elegance of a grand structure built in 1893 can still be felt when you enter the Hassler Hotel in Rome. It's easy to see why notable guests such as Prince Félix de Luxembourg, Frederik of Denmark, Gabriel García Márquez, Pablo Picasso, Prince Charles, Princess Diana, Henry Kissinger, Ingrid Bergman, Deepak Chopra, and John Steinbeck have all stayed at the Hassler.
In the 1870's Franz-Josef Bucher bought and developed the Trittalp area of Switzerland and within a couple of years built several hotels including the Hassler. Joining Bucher in 1921 was Oscar Wirth who became a partner before transitioning to sole owner with his son (and current owner) Roberto E. Wirth. Today, upon entering, guests are welcomed by rare tapestries and sculptures that line the lobby and corridors. Just beyond one of the sculptures are glass kiosks displaying bejeweled sneakers for sale designed by Rene Caovilla for $1,283 per pair.
Each year, nine of the 96 rooms at the Hassler are completely redecorated. So while the antiques, art and furniture remain the same, the bathrooms, draperies, bedspreads and lampshades are refreshed. It is Roberto Wirth's vision that created the 4,300-square-foot Hassler Penthouse suite with Botticino marble floors, Hermès fabrics, a living room with a dinner table for eight, grand piano, kitchen and fine bone china tableware specifically designed for the penthouse. It also comes with private panoramic terraces and a state-of-the-art music and lighting system offering 100,000 radio stations, podcasts and shows from around the world.
If you want the same view that the Hassler enjoys but even more privacy, you can book the Palazzetto, a historical building steps away from the property, which Wirth restored in 1998. It boasts four beautiful guest rooms, terrace restaurants, a wine bar and use of all the facilities of the larger hotel next door. Either way though, you won't be disappointed in your accommodations. Rooms range from $420 to $7,800 per night.