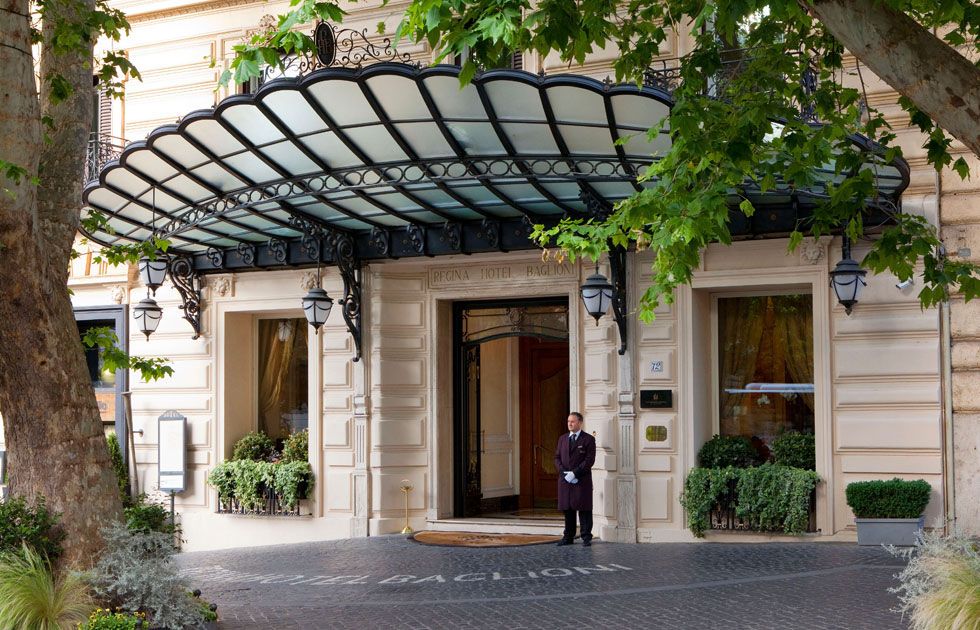 Photos Credit: The Baglioni Regina Hotel
Before you even get settled into the five-star Baglioni Hotel Regina in Rome, one of the property's butlers will request to unpack your bags for you. It's this kind of service and attention to detail that is at the forefront of a stay at this over-a-century-old hotel.
The stone building erected in 1892 was once the home of Queen Margherita, mother of Vittorio Emanuele III, where she resided for six years while waiting for her palazzo across the street to be completed. The Queen was so happy living there that she allowed the hotel to use her name as its title. The property was also the setting of the 1960's classic La Dolce Vita. Throughout the hotel photos of notable figures lines the walls including Marcello Mastroianni (La Dolce Vita), Sean Connery and Audrey Hepburn.
Regina's dining venue, The Brunello Lounge & Restaurant, is as stunningly contemporary as the building's exterior is antique, and Chef Sarzi Sartori is a master at Roman specialties such as artichokes covered in creamy parsley sauce and sea bass filet in a crust of Gaeta olives with a broth of stewed mussels, clams and squid. His chocolate specialty comes in three consistencies: biscuit, mousse and puffed. What Chef Sartori calls an "easy lunch" is veal and mortadella meatballs on potato cream whipped with Sabina extra virgin olive oil, ravioli stuffed with chicory and salted codfish with butter and hazelnuts.
Considered by many to be the most-exclusive apartment in the heart of Rome, the hotel's Roman Penthouse offers 360-degree panoramic views and 1,837 square feet of space. The residence includes a private chef, barman and limo service and features three bedrooms, each with Apple TV. The master bedroom has glass floor-to-ceiling walls on three sides and an outdoor Jacuzzi on the 951-square-foot private terrace. The Murano glass chandeliers in the penthouse are by Venetian Masters, and are not traditional fluted floral shapes, but rather contemporary glass circles.
The private fitness room, designed by Milanese interior design firm Rebosio + Spagnulo, reached by its own private outdoor staircase features a lovely indoor hot tub. The room rate runs around $15,000 per night.