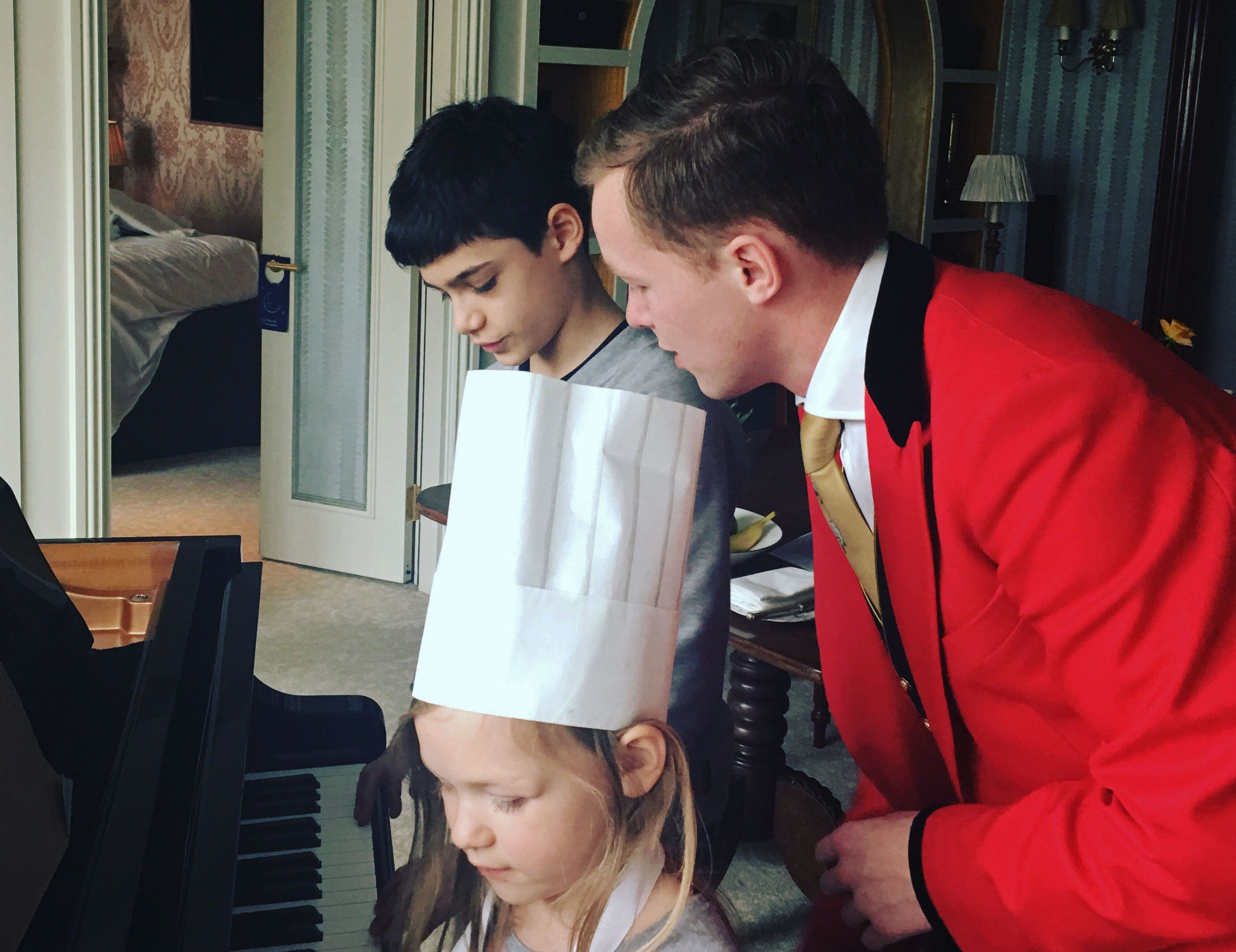 Photo Credit: Jessica Hines
Luxury hotels have long been advertised as chic destinations for affluent guests; places where kids are at worst not welcome, or at best must always be on their finest behavior. These days, however, the luxury market is becoming extremely child inclusive. Which is not surprising since the challenges that confront families are the same no matter what income-bracket you are in.
According to research done by Resonance Consultancy into the travel habits of the top one percent in America, 41 percent are planning on traveling with family in the next year. This of course aligns with the 75 million millennials now spending money on travel; the vast majority of them are of parenting age and many put a strong emphasis on the importance of travel. A fact exemplified in the results of a 2013 Disney Time Survey, where a whopping 94 percent of parents polled believe that "it's important for families to take vacations together on a regular schedule."
And hotels are taking notice. CNN noted last year in an interview with global brand leader for St. Regis, Paul James, that the brand had "seen a 20 percent increase in families at its properties," and that their villa suites were booking 10 times more quickly than the regular hotel suites.
Photo Credit: Schloss Elmau
One of the strong themes that we saw across the board during the Luxury Travel Fair in London last autumn showed a rise in the importance of concierge services, both at the hotel level but also from specialist companies. This makes sense given that we can book everything online now, and many are finding themselves without much recourse when something doesn't work out properly. And that's one thing you don't want to feel when you also have children to worry about.
We recently spoke with Anthony Lassman, co-founder of the ultra-exclusive Nota Bene, a global travel concierge service offering tailored trips for affluent travelers. "What we are finding is that our UHNW clients are no longer saying 'I want to stay at a particular brand.' More individuality, more boutique styling, more personality is what the relatively sophisticated traveler is looking for." Meaning, they are more interested in custom experiences than relying solely on a brand's name.
One of the ways that hotels like to demonstrate that they are creating child-friendly experiences in particular, is by advertising special packages for children as part of their offerings. Generally, parents want reassurances that all standard items you may need will be readily available, especially for babies. Nobody wants to worry about packing baby food, a highchair or lugging along a stroller if possible. After that, the best children's programs tend reflect something that is specific to that hotel and its location, such as the yearly, weeklong programs created by Schloss Elmau in Germany. The sessions include public speaking, film making and mountaineering, all but guaranteeing that your children get the same immersive experiences as adults.
Photo Credit: The Rosewood
On a recent trip to London with my children, we visited The Rosewood in Holborn and the epitome of luxury, The Goring, just next to Buckingham Palace. I wanted to get a sense of how hotels were meshing their traditional role as a luxury establishment while still incorporating kids into their objectives. The Rosewood is an audacious renovation of a vast Edwardian building that was originally built to house an insurance company. Inside you'll find a capacious marble staircase and lots of stone embellishments. It boasts a mishmash of American luxury and British diffidence. Since its transformation, it has become the new hub for London's film and music industries.
During the booking process, I received an email asking what my children (a boy aged 12, and a girl aged six) would like in their room. They responded: An Xbox, Haribo treats, memory foam mattresses, Abba, no parents, lots of room service, a cake, Jacuzzi and a kitten. When we arrived, we were welcomed by a re-interpreted version of the kid's demands. Their room was festooned with gold and red balloons, a cake made from chocolate and encrusted with Haribo goodies and an Xbox in front of the TV. My son was so overwhelmed that he hugged the butler while my daughter went to work on the cake. It's all in the details when it comes to family travel.
Photo Credit: Jessica Hines
On the other side of family travel are teenagers, whom not many luxury properties talk about in pamphlets and advertising. The Ritz in London has a Teen Concierge, but on exploring further this appears to be the main concierge service's commitment to doing whatever it takes to ensure the teenager's happiness.
In wondering which four- and five-star properties did a great job of catering to teenagers, Lassman shared, "I would say with older ones, it would be Singita in Tanzania for a safari. It comes with great guides, rangers, teaming wildlife and a superb staff. They really get it right here; service wise, design wise and exclusivity wise." While London can't rely on The Great Migration to snap teens from their ennui, it is still a fascinating city and what better place to be a teenager?
Photo Credit: Jessica Hines
One way The Goring Hotel is getting generational travel right is by situating all families in interconnecting rooms. We stayed in The Royal Suite where Kate Middleton slept before heading to Westminster Abby to marry Prince William. On the kids' towering beds, small stuffed sheep were waiting, their VI (little) P passports and a hotel activity pack. Boxes of Rocco Chocolates waited for them on their bedside table.
Food is a huge part of any holiday and kids can sometimes be fussy, preferring known items to local cuisine. Thus eating in restaurants with kids can be a task unto itself. I wouldn't normally think of taking my kids to a Michelin-starred restaurant, but The Goring made it apparent that they were just as embraced as adults. The experience is eased by their kid's menu of familiar foods and an old school decadent desert menu with banana splits and Knickerbocker Glories. "[Chef] Shay has a young family of his own. He therefore knows first-hand the sort of things children like to eat. His menu tries to encourage them to be adventurous, but acknowledge the need for classics," said David Morgan-Hewitt, Managing Director of the hotel.
Photo Credit: The Goring
Ultimately whatever the trends, it all comes down to the people who you encounter along the way and how they make you feel. This was summed up best on our arrival at The Goring. The Head Concierge, known as Big John, came out from behind his imposing high desk and got down to my daughter's height to shake her hand. From then on, even though he was always slightly imposing Big John, he was her new friend.