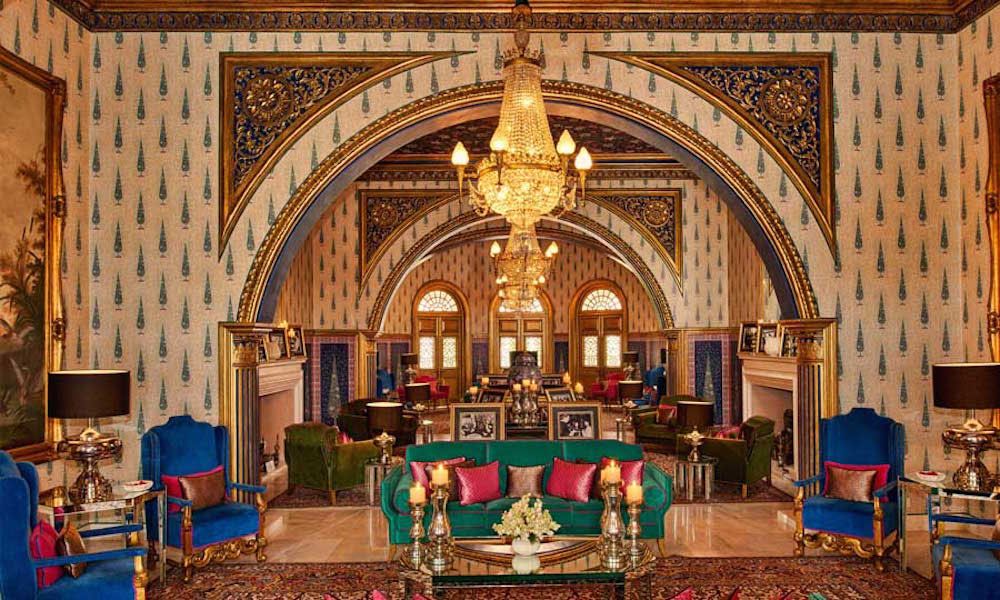 Photo Credit: Sujan Luxury
What happens when you take a maharajah's 18th century pleasure palace, open up the royal art collection and give a world-renowned designer the job of fixing it up? You get one of the world's best-decorated new hotels: Jaipur's Rajmahal Palace. Originally built in 1729, the Suján Rajmahal Palace is now one of India's most stunning city hotels. And with just 14 rooms and suites (though more are planned) and round-the-clock service, staying there feels like a royal experience.
In fact, the property still belongs to the royal family of Jaipur (and flies the royal standard). Back in its heyday, the palace played host to the likes of Queen Elizabeth II, Lord Mountbatten and Jackie O., among other luminaries, and many of the suites are named after famous erstwhile guests. The palace got a new lease on life about three years ago when the queen mother (the current maharajah is still a teenager) turned over management of the property to Suján Luxury. They also operate luxury safari camps in India and Africa, and were tasked with renovating the hotel and turning it into a new landmark property.
The palace's redecoration, complete with exotic, eye-catching patterns, technicolor-bright palates, and more than a soupçon of sass was the vision of interior designer Adil Ahmad. He took traditional floral, wildlife and geometric themes and motifs from Jaipur's City Palace as his inspiration, creating nearly 50 custom wallpapers as well as original furnishings. The overall aesthetic is a hodgepodge of Belle Époque elegance and colonial splendor—an ambiance that blends the sometimes-overwhelming opulence of royal India with a contemporary sense of energy and activity.
Guests arrive via a long, curving driveway that meanders among acres of fresh-cut lawns, a welcome respite from the dusty streets of the city just outside. Still sitting in the imposing, columned porte-cochère is the former maharani's immaculate 1958 white Thunderbird, another playful nod to the past. The welcoming Durbar Hall is all jewel-toned sofas, glinting crystal chandeliers and man-sized fireplaces, its wallpaper decorated with cypress and peony motifs is meant to convey a garden-like ambiance. Here and there, gilt frames hold photos of the royal family and their guests through the years, creating a sort of family drawing-room feeling.
The Polo Bar, by contrast, is a jewel box in teal, with mirrored surfaces, and trophy cases filled with antique silver polo trophies that you can admire while sipping on ice cold specialty martinis. Just adjacent, the Colonnade restaurant, with a wall of windows fronting the gardens, seems tailor-made for leisurely lunches and afternoon teas. For dinner, the 51 Shades of Pink restaurant serves a mix of contemporary Rajasthani cuisine and continental classics such as chicken curry with cashew gravy, or braised Indian lamb shank with mint-pea purée. The restaurant's name and palette were inspired by a 1952 Vogue magazine cover.
Among the Palace suites, the Princess of Wales is named in honor of one-time guest Lady Di. The ballroom-sized accommodation is a pastel confection, with wallpaper whose hue lies somewhere between aquamarine and eau de nil green with white and pink blossoms embossed throughout. Its sitting area, with velvet armchairs and sofas, as well as the two-poster bed, are lit by two enormous crystal chandeliers, while a side door leads to a palatial all-marble bathroom.
The Maharani's Apartment, where the last queen lived for several years, is boudoir-chic, with a bed headboard resembling an Asian fan, a shocking pink ceiling, a cavernous dressing room, its own separate dining room, and a private outdoor area complete with a plunge pool. With a more manly touch (though still with floral wallpaper featuring lotuses), the Maharaja's Apartment has its own dining room, too, but also a private bar and drawing room that opens onto a terrace for indoor-outdoor entertaining. The bedroom has a fireplace for the colder months, but perhaps the most impressive feature is its hammam-like bathroom with gorgeously intricate geometric tile work that feels like a palace unto itself.
On the leisure side of the spectrum, guests can lounge around the pool on plush lawn chairs, or book a treatment in the little spa opposite the hotel entrance. The other hallmark of a stay here is the service. The moment you set foot on the property, everyone from the on-duty manager to your lunch waiter will know you by name and make sure to note any preferences, from how you take your coffee, to the order in which you'd like to tour local landmarks. They will even go so far as to prepare special menus in advance, depending on your dietary preferences and present them to you for perusal and approval on signature pink paper.
The comprehensive, personalized service combined with the historical splendor of the palace, Adil Ahmad's stunning motifs and the familial artifacts sprinkled throughout all make staying at the Rajmahal Palace a truly unique, one might even say royal, experience in Jaipur.