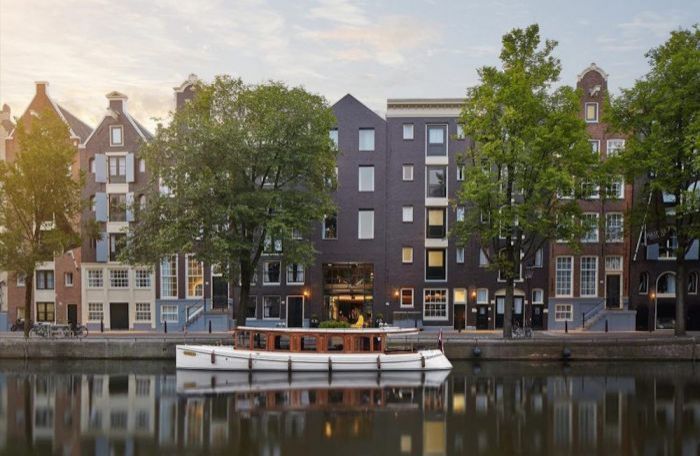 Photos Credit: The Pulitzer
The Pulitzer Amsterdam has been an institution since opening over 45 years ago, but thanks to a recent $33-million renovation, the hotel feels fresher than ever.
Taking pride of place along a stretch of land between the picturesque Prinsengracht and Keizergracht canals, the hotel is an architectural marvel. The entire structure is actually comprised of 25 restored 17th and 18th-century canal houses where the cream of Amsterdam society once lived. (Insider tip: To learn more about each house, guests can spot framed descriptions hanging on the walls in the hallways.)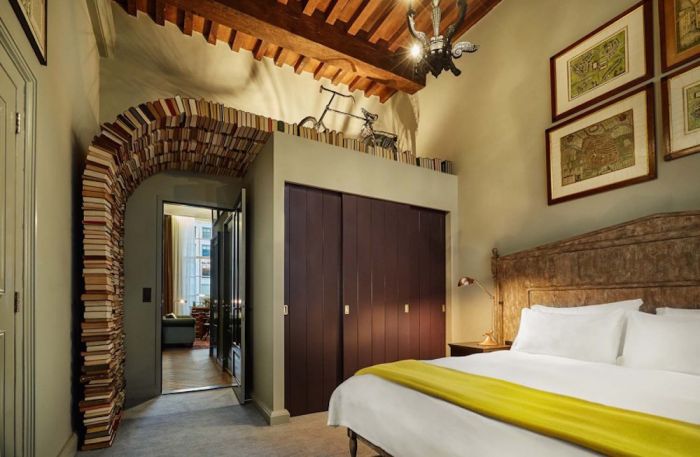 The hotel's new look, a whimsical take on Amsterdam's history and culture, was spearheaded by designer Jacu Strauss. Over the course of the renovation, the South African-born designer slept in every room in the labyrinthine edifice, learning their secrets and leaving a distinctive touch on each (because of the historic nature of the complex, no two rooms are exactly alike).
Guests will find playful features in each of the 225 rooms and suites, such as colorful, eye-catching upholstery, backlit bed headboards alluding to Amsterdam's famous gabled roofs, oversized wooden bar carts that serve as minibars, and desks stocked with colored pencils and bicycle repair kits. However, there are five suites in particular that deserve special attention…and that you should try to reserve on your next visit to the city.
The five so-called Collector's Suites are each one-of-a-kind and decorated according to a unique theme inspired by typical well-to-do Amsterdam "characters" who might have lived there at one time. Here's a look at each and the experience they provide.
For Literary Leaners: The Book Collector Suite
With a private entrance, this esoteric accommodation feels like your very own pied-à-terre on the canal. It clocks in at nearly 800 square feet, with an enormous king-size bed that looks like it was refashioned from an antique bookshelf. The pièce de résistance, however, has to be the arched bookshelf over the bedroom doorway, jauntily crowned with a bicycle.
The cozy living room is like a very hip professor's study, with an antique wooden banker's desk and chair, a retro-chic leather armchair, shelves stocked with art books (and a sliding ladder like you'd find in an ancient library or bookstore), as well as an enormous overhead chandelier. Being bookish never felt this cool.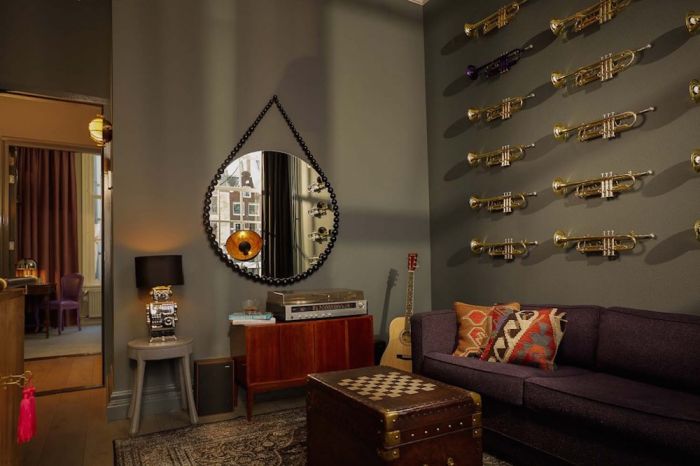 Rock Star Dreamers: The Music Collector's Suite
A wall lined with trumpets and another with drums, a guitar leaning on its stand in the corner next to a klieg-light floor lamp, a vintage turntable on which to play selections from the suite's vast record collection…this suite is almost a visual soundtrack to an Amsterdam visit, and feels like dropping in a rock star friend's music studio between concerts on a European tour. It also has a private entrance…you know, in case you want to avoid the paparazzi.
Lovers of the Old: The Antique Collector's Suite
You'll know you've reached this suite when you spot the stone busts over its door. In a city as old as Amsterdam, there are treasures to be found in the local markets, and many of them are on display here. They include artfully mismatched pieces like an ornate bronze tabletop clock, a Corinthian column capital serving as a side table, vintage barware, and a gorgeous wooden vanity in the bedroom just next to the ceiling-high windows. It's perfect for putting on those finishing make-up touches in the natural light.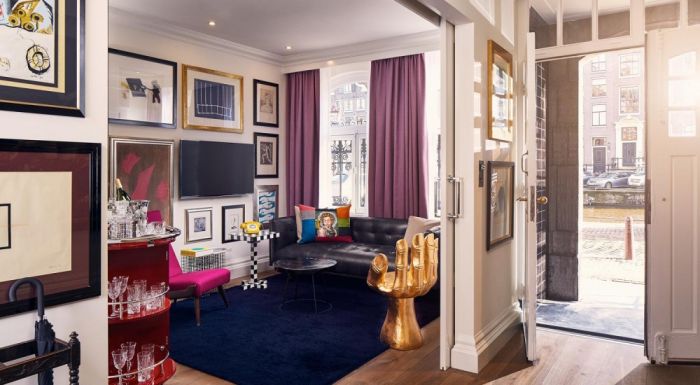 For Creative Types: The Art Collector's Suite
Almost everything in this show-stopping suite is a piece of art from the hotel's own collection, including the wall-to-wall paintings and sketches, to the golden chair shaped like a hand, bright tabletop sculptures, even the throw pillows. The centerpiece is a painting called "Hals Brunch" by Thierry de Cromieres that was created specifically for the hotel and was inspired by Frans Hals' "The Last Supper." The suite's living room is also probably the most colorful in the hotel, with a ruby-red bar cart, a fuchsia armchair, a canary-yellow rotary phone, and a royal-blue area rug, not to mention purple curtains framing enormous windows with picture-perfect canal views. It'll certainly liven up any dreary Northern European days and inspire you to get creative.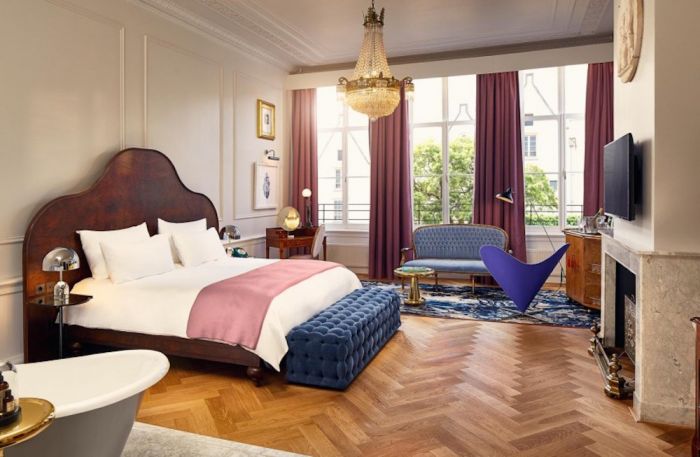 For Lovers of Living Large: The Pulitzer Suite
Though it's not the hotel's largest suite, everything about the eponymous Pulitzer Suite feels enormous and sets the mood for a honeymoon visit to the city. The suite is comprised of one colossal, parquet-floored, high-ceilinged room, the focal point of which is an open-air bathtub. Just be sure to close the curtains along the wall of windows facing out onto the central garden before you indulge in a bubble bath. But even the tub pales in comparison to the behemoth bed. Dubbed a "super king," it is bookended by a mammoth wooden headboard at one end, and a tufted blue velvet foot bench at the other, all lit by an antique crystal chandelier hanging overhead.
The sitting area along the windows is a seamless blend of antique and contemporary, with a refurbished periwinkle velvet divan and a purple butterfly chair anchored by an abstract flowered area rug. If the rest of the hotel and the city outside weren't so compelling, you'd be tempted not to leave the room at all during your stay.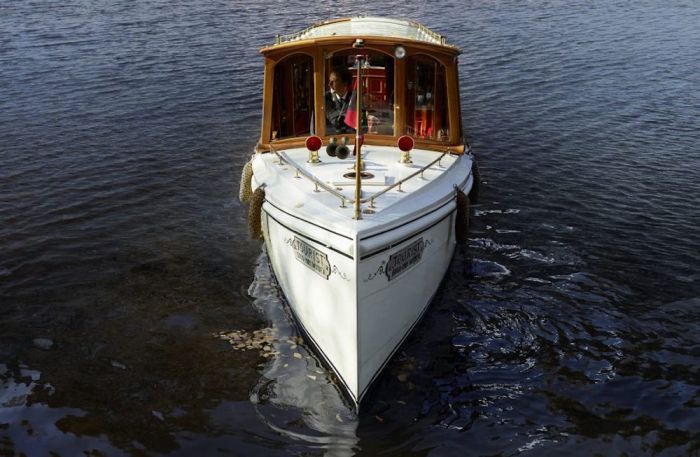 Three more experiences you'll want to have during your visit…
Order a coffee and some macarons from the hotel's bustling little lobby café, Pause, and enjoy them out in the central secret garden that links the Prinsengracht and Keizergracht wings of the hotel.
Forget the usual canal tours. The hotel has its own antique 1909 canal boat that you can rent for private tours of the city's famous waterways.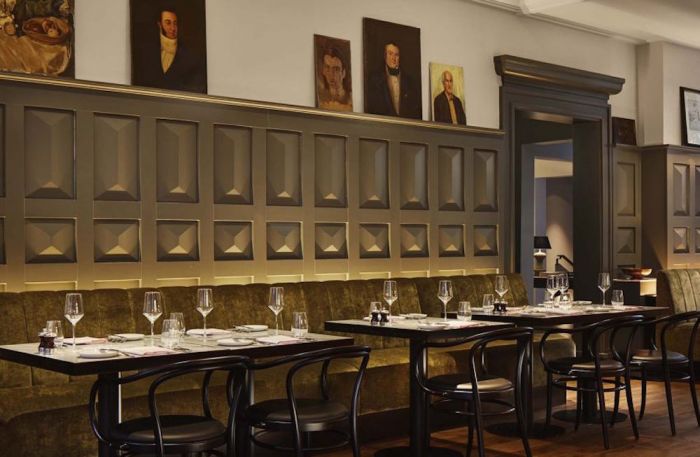 Make a reservation at the hotel's new restaurant, Jansz. It's got the usual contemporary touches like velvet banquettes and marble tables, but also copper accents that are a nod to Volkert Jansz, a wealthy copper merchant who once lived in this particular house. Even if you enter through the hotel, be sure to check out the street entrance as well, which recreates an apothecary shop that was once here.
Executive chef Cassidy Hallman's menu is a selection of seasonal delights, with highlights including lightly battered shrimp cakes served with avocado mousse, pickled radish and fennel; and glazed duck with a tongue-tingling black pepper agrodulce sauce. Just be sure to leave room for a nightcap at the sexy and swank Pulitzer Bar next door, where the barmen can whip up any classic cocktail you like, including a mean Manhattan, but are also happy to concoct something entirely new based on what you want to drink. Like the hotel itself, it's sure to be the perfect combination of old and new.