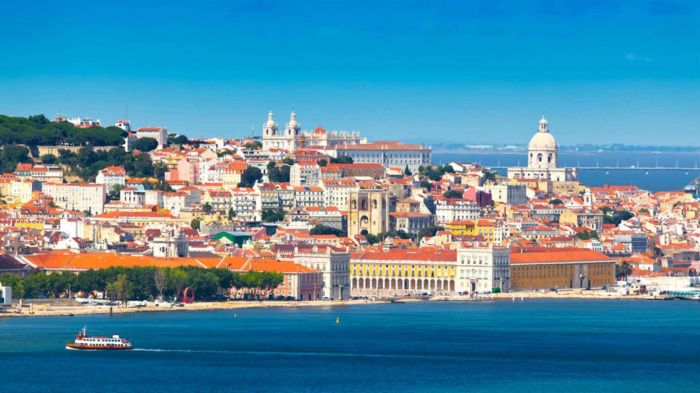 Photo Credit: Pestana
For years now, travel insiders have predicted Portugal would become Europe's next great destination. But the country, which boasts stunning coastline, world-class wine regions and a thriving arts scene, has somehow managed to avoid a tourist jam and retain a sense of off-the-beaten-path charm.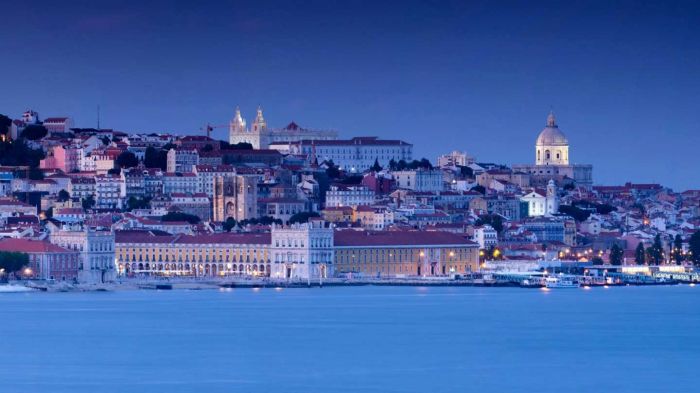 Photo Credit: Pestana
That's not to say there haven't been exciting new travel developments. In fact, the past few years have seen a spate of luxurious new hotels and resorts opening throughout Portugal. But rather than signaling a shift in the travel experience, these properties all seem to reinforce the idea that Portugal will remain true to itself. After all, when there are so many wonderful things to discover as they are, why change?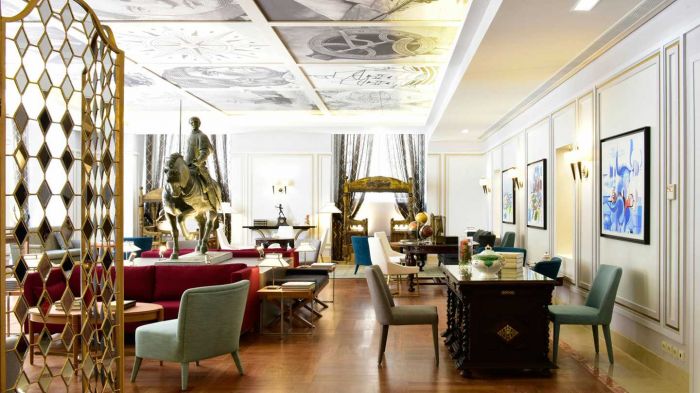 Photo Credit: Pestana
Most travelers start their journey in the capital and largest city, Lisbon. Its colorful red-roofed buildings, many of which date to the 18th century, cling to dramatic hills overlooking the Tagus River estuary where it empties into the Atlantic—once the gateway for Portugal's great age of exploration.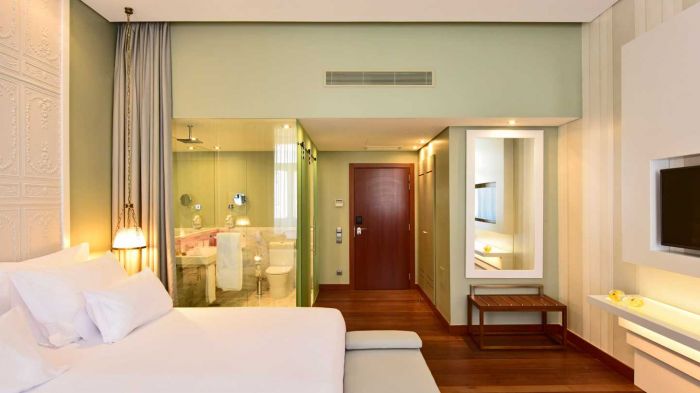 Photo Credit: Pestana
Speaking of which, one of Lisbon's newest hotels is also one of its swankiest and pays homage to that seafaring history. The 90-room Pousada de Lisboa makes its home in a monumental former government ministry building just off the central Praça do Comércio, making it an ideal choice for Lisbon first-timers. The enormous parlor-like lobby pays homage to Portugal's maritime past with a smattering of statues, antiques, paintings and maps that allude to the riches that once flowed into the city.
The hallways are likewise lined with antiques and pieces of art borrowed from national museums. The rooms themselves are filled with sunny southern light and a simple, contemporary palette of grays, whites, taupes and splashes of pale blue and green, with wooden parquet floors.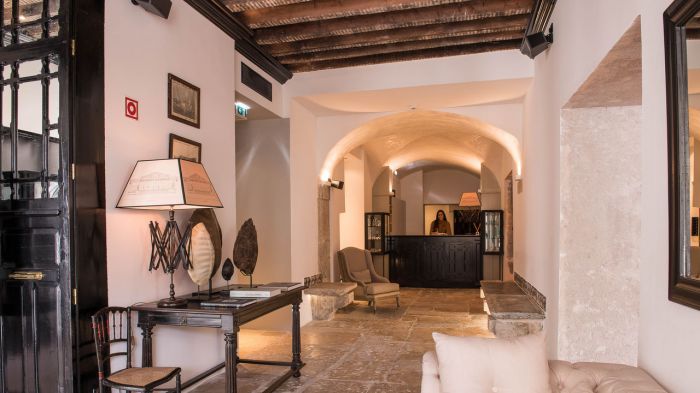 Photo Credit: AlmaLusa
Just around the corner lies a counterpoint for those seeking a more intimate, personalized experience. The AlmaLusa Baixa-Chiado boutique hotel sits at the corner of the Praça do Município in a historical building that was once a 16th century armory before housing shops like that of a tile-maker and another belonging to a wine merchant. It has just 28 rooms and suites, each unique with elements like original tiled fireplaces or hand-painted wallpaper, and even the wine merchant's sales window in one. However, they all feature all-Portuguese products down to the Colmol beds, Renova wallpaper and Lima Mayer bath towels not to mention the Castelbel soaps and lotions.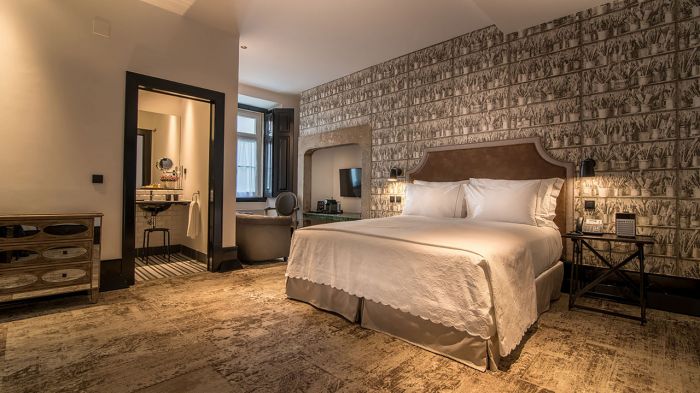 Photo Credit: AlmaLusa
The city is now home to the new Museum of Art, Architecture and Technology, but visitors should not skip the usual sights like the Castello São Jorge on its panoramic hill and the dramatic Monument to the Discoveries in Belem (while in Belem, be sure to stop for some of the famous pastéis de Belem pastries), or an afternoon spent browsing the boutiques and galleries of the hilly, boho-chic Bairro Alto neighborhood.
From Lisbon, head south to the Alentejo region. On the way, plan to spend a few nights near Comporta, which is kind of like the Hamptons of Portugal thanks to its miles-long sandy beaches, which fill up in summertime with well-to-do Europeans who love to linger at the beach cafes over seafood rice dishes and endless bottles of chilled rosé.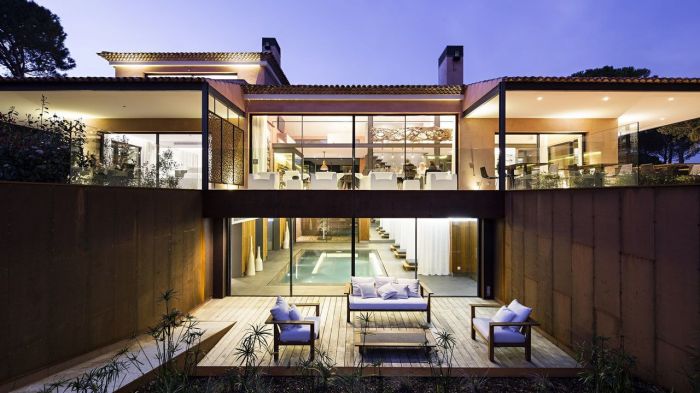 Photo Credit: Sublime Comporta
The area is also home to one of the country's finest luxury properties, the Sublime Comporta. A bit out of town, it sits on a virgin 17-acre property shaded by groves of cork trees and umbrella pines. The freestanding two-bedroom villas fanned out across the far reaches of the property come with enormous living and dining rooms, full kitchens, two separate master bedrooms with full baths and private decks, and indoor-outdoor fireplaces that can simultaneously heat the great room and the private outdoor deck with its alfresco dining set and plunge pool.
The restaurant here, meanwhile, serves regional specialties like octopus salad, rice with cod and clams, and juicy Iberian black pork prensa. Take a moment to admire the design touches like the overhead lamps made of woven reeds that resemble the stork nests you'll spot on roofs and telephone poles in the area.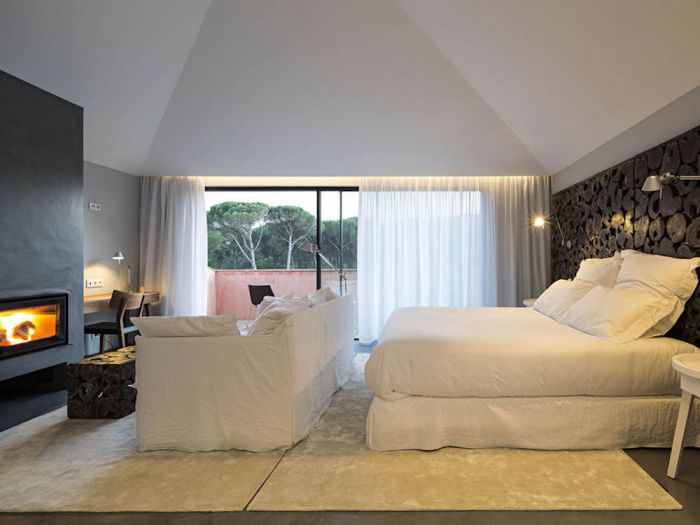 Photo Credit: Sublime Comporta
The spa is a subterranean oasis of calm and tranquility offering unique facial and body treatments with The Organic Pharmacy products such as the green coffee sculpting treatment that reduces puffiness and improves circulation with a combination of green coffee powder and chili oil that tones and firms the skin.
Inland from here are the vineyards and ancient towns of the Alentejo region. The sun-splashed town of Evora, with its Roman ruins and Moorish landmarks is not to miss, as is the fortress town of Beja, which has been occupied since the Bronze Age.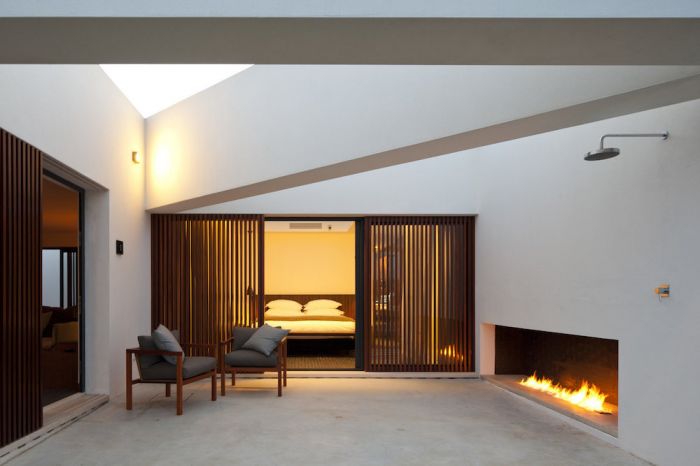 Photo Credit: L'And Vineyards
Make your base L'And Vineyards near the town of Montemor-o-Novo, with its stony crag capped by a ruined fortress. The resort was designed by Brazilian architect Marcio Kogan with guest rooms set amongst the grapevines, and orchards of citrus and olive trees, and a Caudalie spa with an indoor pool in the main building just below the mid-century-inspired wine-tasting bar.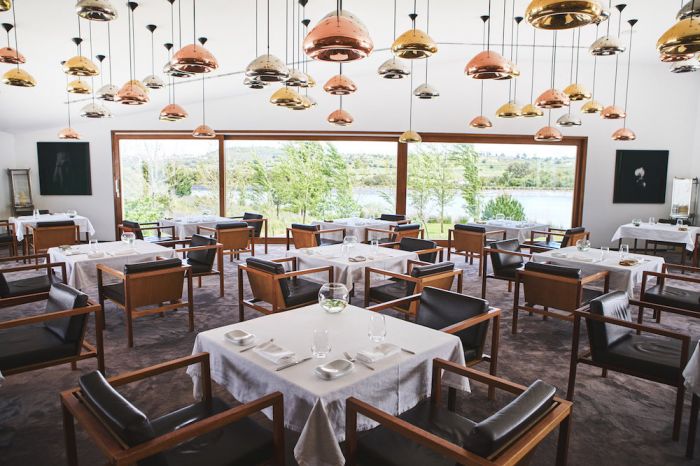 Photo Credit: L'And Vineyards
Each of the guest Sky Suites includes an outdoor patio with a fireplace, and a back patio with an open-air plunge bath. They also feature large living and dining areas and a bedroom with a retractable ceiling for nighttime stargazing – hence the name. But you'll want to spend at least one evening at the hotel's restaurant for a tasting menu of local delicacies like scallops with girolle mushrooms in a truffle sabayon; and filet mignon with mushroom duxelles, potato gnocchis and bacon jus, all paired with Alentejo wines.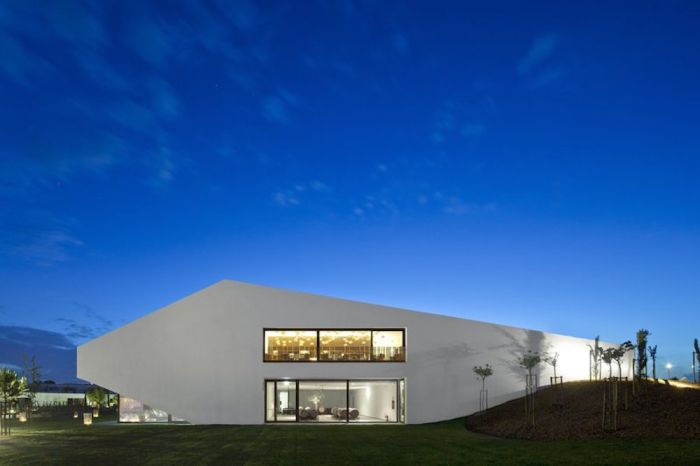 Photo Credit: L'And Vineyards
From here, you have two choices. The first is to continue down the coast to the Parque Sudoeste Alentejano and the beach towns there. But if you're pressed for time, turn north to the city of Porto and the Douro wine region.
A UNESCO-listed city, Porto is a marvel of baroque and 19th-century architecture, its pastel houses and red-roofed edifices clinging to the steep banks of the Douro River. While here, you can sample some of the world's best Port wines right at the source: the massive warehouses-turned-visitor-centers of the major wine houses in Vila Nova di Gaia across the river from the old part of town. Over the course of a day, you can take tours and taste the releases from such famous names as Sandeman's, Graham's, Taylor's, Fonseca and more. If you want a crash course on the region's wines – both Port wines and table wines from the Douro – make time for a stop at the Instituto dos Vinhos do Porto, which has a little but practical museum that spans the region's history and winemaking techniques, and a few fun, interactive exhibits. While in the city, be sure to take in the other sights including the 19th-century Dom Luis I Bridge, the soaring Cleric's Tower, the tile murals in the main train station, and the Gothic-chic Lello bookstore.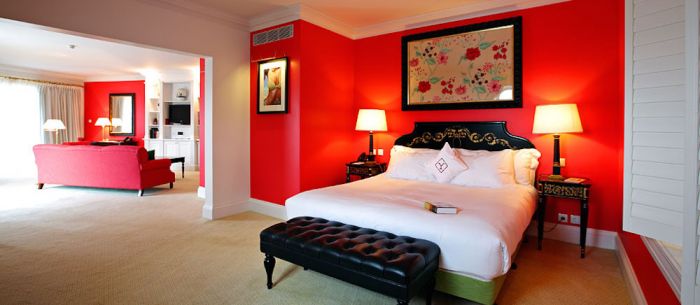 Photo Credit: The Yeatman Hotel
The city's premier luxury hotel, The Yeatman is a Relais & Chateaux property on the Vila Nova di Gaia side of the river, and thus has some of the most spectacular views of Porto itself. The hotel has just 83 rooms and suites…and offers 83 wines by the glass in its bar to match, though the property's cellar contains 25,000 bottles and over 1,300 labels including vintage Ports that date to 1927. Rooms here are each designated to individual wineries in the region and are uniquely decorated with corresponding paraphernalia, artwork and books.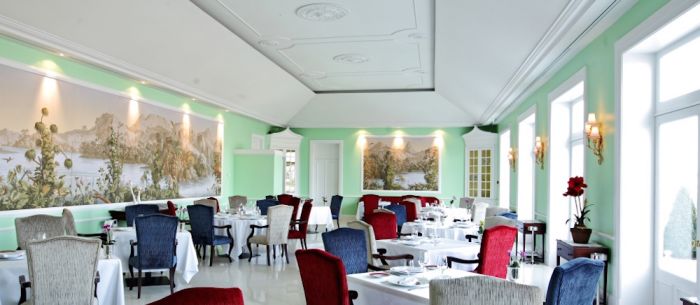 Photo Credit: The Yeatman Hotel
The spa here is another Caudalie outlet, and the treatment rooms have breathtaking panoramas of the old city. As is typical of Relais & Chateaux properties, there is a strong focus on food and wine, and the gastronomic restaurant here is one of the city's premier dining destinations. Tasting menus are multi-course affairs with avant-garde dishes such as suckling pig fritters with apple-orange purée, avocado stuffed with crab Bloody Mary and peanut-black beer foam; Algarve prawns with lime, carrot and beet purée; red mullet with seaweed crackers, cuttlefish soy dashi and olive oil dust; and macerated blueberries with mascarpone and blueberry gazpacho…and that's just a few of the dishes from a recent evening.
But the heart of the Douro wine region is about two hours west of Porto around the town of Regua. Schedule a few leisurely lunches at delectable eateries including celebrity chef Rui Paula's riverside DOC restaurant, or Castas e Pratos in a renovated railway warehouse in the town of Regua.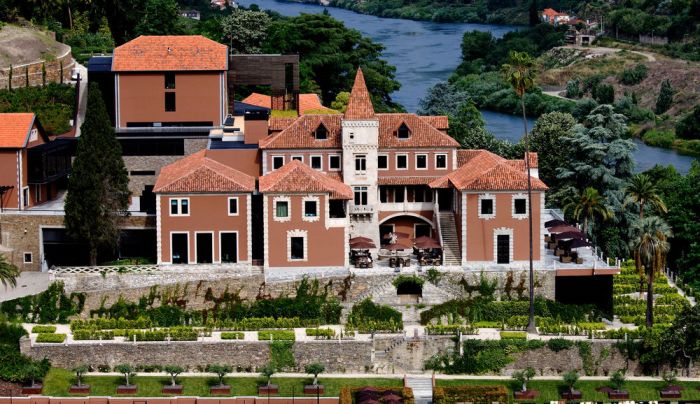 Photo Credit: Six Senses
Just a short drive outside of town, tucked away in a little valley surrounded by vines, is another of Portugal's most exciting new luxury resorts, the Six Senses Douro Valley. The hotel, which includes 71 rooms, suites and villas, blends the brand's serene Asian sensibility with the epicurean experience of visiting this particular region. Guestrooms' oversize beds face windows framed by trees with views of the river rushing below, and also feature contemplative sitting areas and relaxing gray limestone bathrooms with The Organic Pharmacy products, not to mention high-tech remotes that allow you to control the entire room at the touch of a few buttons as well as ordering room service or arranging for concierge consultations.
Photo Credit: Six Senses
Among the exciting guest experiences here are short guided evening wine tastings in the wine library and an interactive Chef's Table in the main restaurant whose walls are adorned by antique farm tools. Your own tailor-made menu is prepared by a personal chef who explains the provenance of each ingredient as he adds it to a dish such as terrine of partridge and quail with pickled fig jam, or Transmontanus couscous from the nearby mountains with vegetables from the hotel's garden.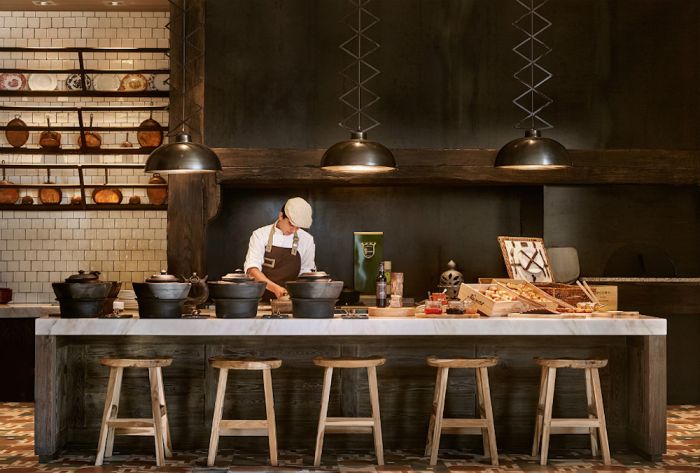 Photo Credit: Six Senses
Of course, you can't come to a Six Senses without scheduling a spa treatment or two, and you'd be missing out here since the facility is spectacular with a two-story sky-lit indoor pool, a yoga room, and treatment rooms over looking the vines. Conveying a true sense of place as it incorporates local products, the Schist Stone and Almond Butter Soother treatment includes the placement of warmed schist stones over the body's chakra points to balance the energy followed by a massage with almond essence and sunflower oil that pack a two-punch anti-oxidant effect.
The only thing more relaxing might be a morning cruise out on the river itself aboard Pipadouro's Friendship I, an antique British navy ship that was converted to a personal yacht in 1960. Guests can take in the splendor of the steep, terraced banks as they sip vintage tawny Port and glide past palatial estates. It's the perfect setting for a final toast to a trip to Portugal, and to more in the future before it truly does become Europe's next jet-set destination.