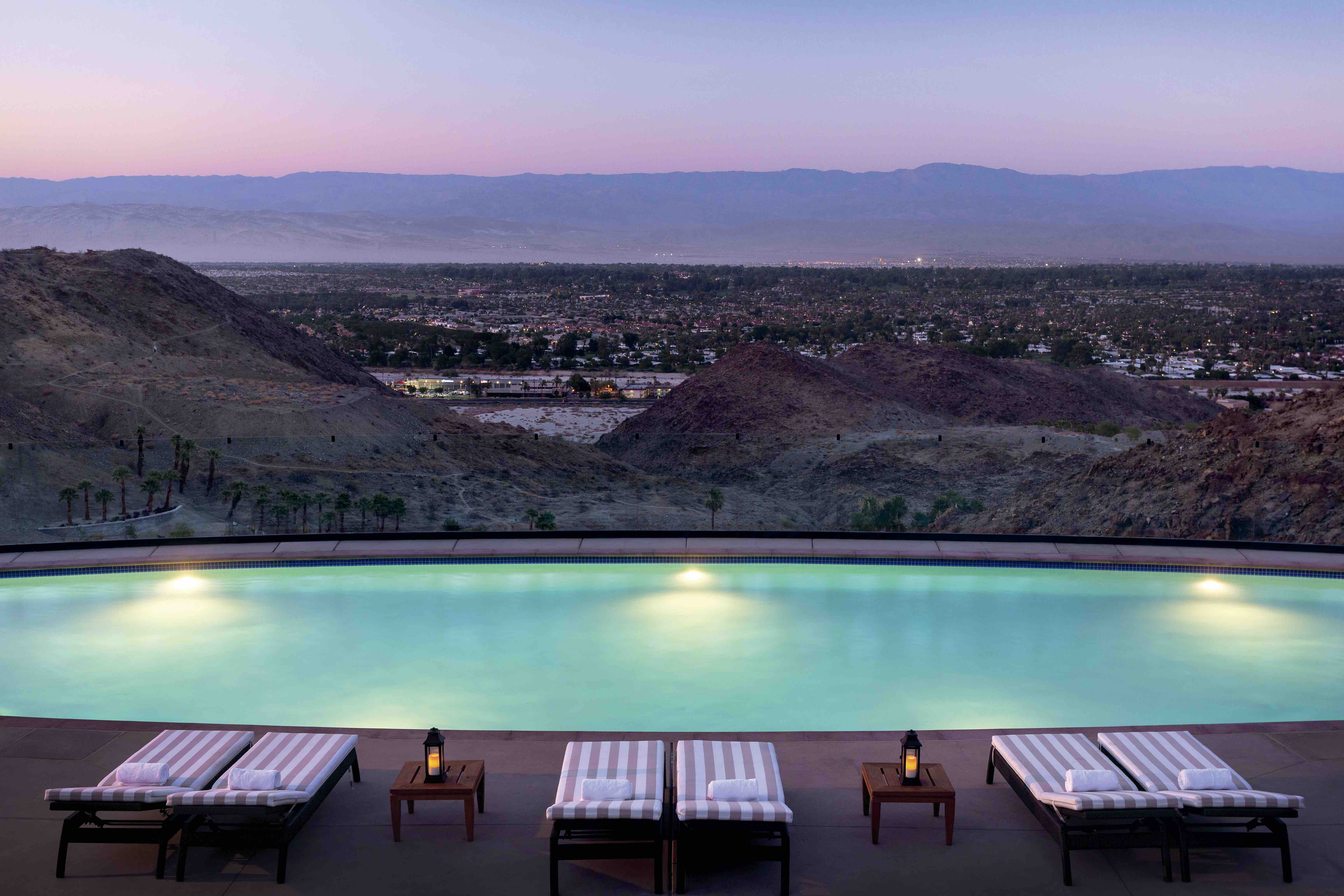 Photos Credit: Ritz-Carlton
From flower headdress festival-goers to retired presidents, everyone seems to go to Rancho Mirage. President Ford and Betty Ford retired in Rancho Mirage after his term, and the Obamas bought a home in the neighborhood earlier this year. Annually, Rancho Mirage and its sprawling Coachella Valley is awash with music lovers who showcase their wears on social media like a digital desert fashion show. I hadn't been to the oasis, just a two-hour drive or so from Los Angeles or San Diego, in a few years, and it was seemingly time to get reacquainted with the palm tree dotted town.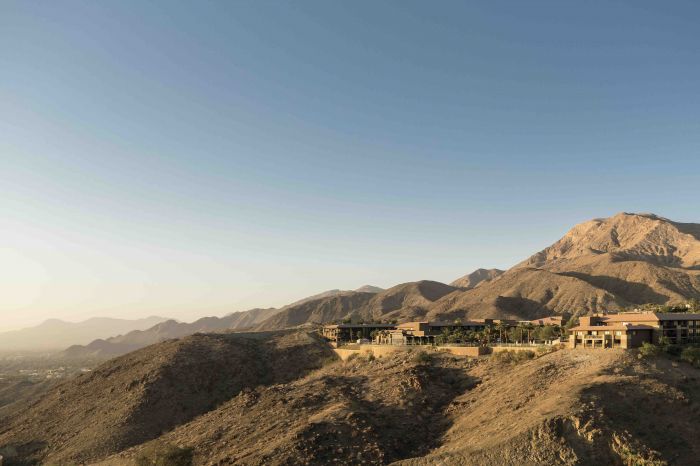 After a stunning drive over the stark and jagged desert mountains of the Agua Caliente Indian Reservation, one drops right into the green, glimmering streets of Rancho Mirage. One turn off and a quick drive up a hillside is the Ritz-Carlton Rancho Mirage, a property tucked atop a 650-foot bluff that showcases a panorama of the Coachella Valley. It's an oasis into itself, boasting 244 rooms and suites, and is certainly one of the Ritz-Carlton's gem locations among its 100 or so now in the global collection. Most vacationers like myself come to Rancho Mirage to sit under a palm tree in the sun, sleep under a pool umbrella in the sun, or do pretty nothing under something in the sun. It's a lazy and wonderful escape, and The Ritz-Carlton Rancho Mirage executes perfectly on delivering this simple vacationer's desire.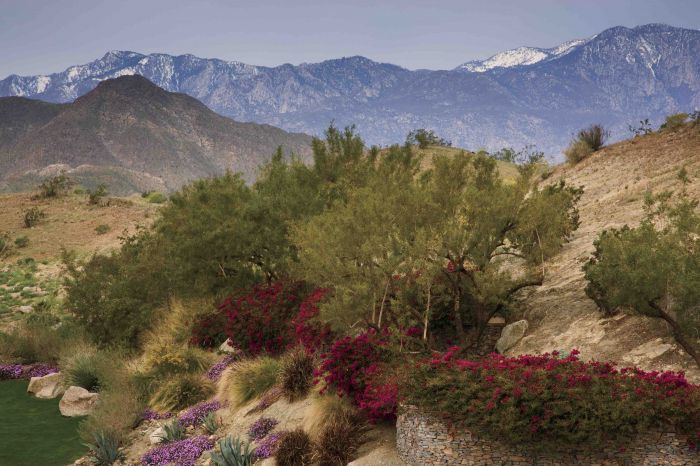 Previously the site of Lodge of Rancho Mirage, The Ritz-Carlton Rancho Mirage opened in 2014 after an extensive renovation. Boasting two pool areas, one is designated just for adults and sits snuggly on the hillside with Coachella Valley in the distance. I spent a lot of time there, lounging under the giant white umbrellas and water spritzers that kept the 110-degree heat at bay. Though the scorching summer months may seem like a slow period for the property, the Ritz-Carlton Rancho Mirage doesn't seem to experience such. Happy pool attendants circled the pool area from morning to sunset, fluffing towels and delivering chilled drinks and fruit plates to blissed out pool guests. Besides the slosh of a swimmer or the cry of a gliding hawk, hardly a sound was heard. This was my kind of pool party, for certain.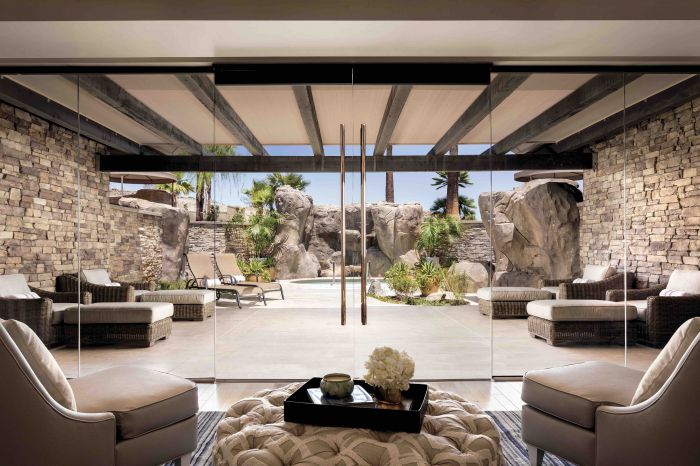 Another blissful area can be found in the property's two-story spa, a stunning 16-treatment room facility with cool plunge pools, saunas, and a half outdoor, half indoor co-ed lounge. I already love the desert for its calming quietude and spiritual essence, and I was delighted to find this spa took advantage of emphasizing indigenous rituals and desert inspired treatments. The "Spirit of the Mountains" is an all-inclusive, all-star treatment that uses desert herbs and minerals in a wrap, scalp treatment, warm stone massage, and an all-body exfoliation. For those who love the desert heat as much as I do, opt for the "Sec-he Rock Ritual" with a vigorous scrub, bath, and hot stone massage inspired by the Cahuilla Indian's name for the region, Sec-he, meaning "boiling water." The spa also has a massive gym with a boxing room and state-of-the-art equipment ideal for a workout midday, rather than one outside at the crack of dawn in order to beat summer's sweltering heat.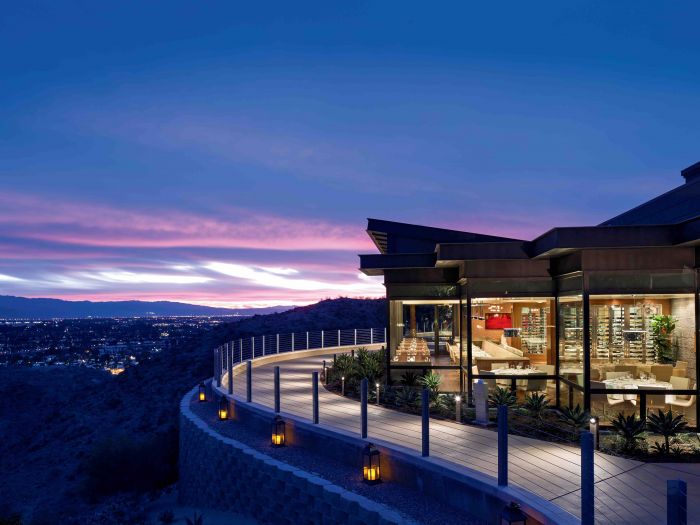 Around sunset, the Ritz-Carlton Rancho Mirage takes on a pink hue, bathed in the last rays from the sun and the mountains' growing shadows. Every Tuesday, Wednesday and Thursday night around sunset, the property's sommelier hosts a wine tasting with rotating vineyard themes. The tasting is an ideal warm up for the palate before a dinner at the property's signature restaurant, the EDGE steakhouse. The building itself is worth a cocktail in order to savor the half glass structure that lets in the immense Coachella Valley views. Servers wear cream colored jackets and have a grace about them that seems to be an intentional nod to Frank Sinatra who loved the Rancho Mirage area. Menu items are classic interpretations of steaks, seafood and more with excellent presentation by Executive Chef Bruno Lopez, a French trained chef with stints at several five star California resorts including the L'Ermitage Hotel in Beverly Hills. The charred octopus starter is particularly solid, and my date loved the scallops with red pepper risotto and toasted almonds. Steak lovers like myself will love Lopez's robust options from Australian wagyu to prime dry aged rib-eyes. A small cutout window near the restaurant's bar shows a glimpse of Lopez's impressive beef collection.
From dawn to dusk, "doing nothing" is hard to top at the Ritz-Carlton Rancho Mirage, thanks to another Ritz-Carlton property doing it precisely right.