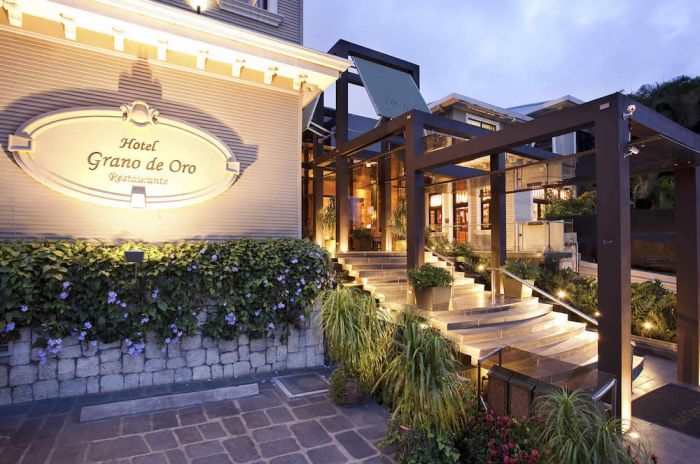 Hotel Grano de Oro
If you are considering a trip to Costa Rica, these three magical words: Small Distinctive Hotels will save you countless hours of web surfing for upscale, boutique hotel accommodations. When hunting for stylish stays conveniently located near some of Mother Nature's finest, namely Manuel Antonio National Park, Monteverde Reserve, or the capital city of San Jose, Small Distinctive Hotels has your back.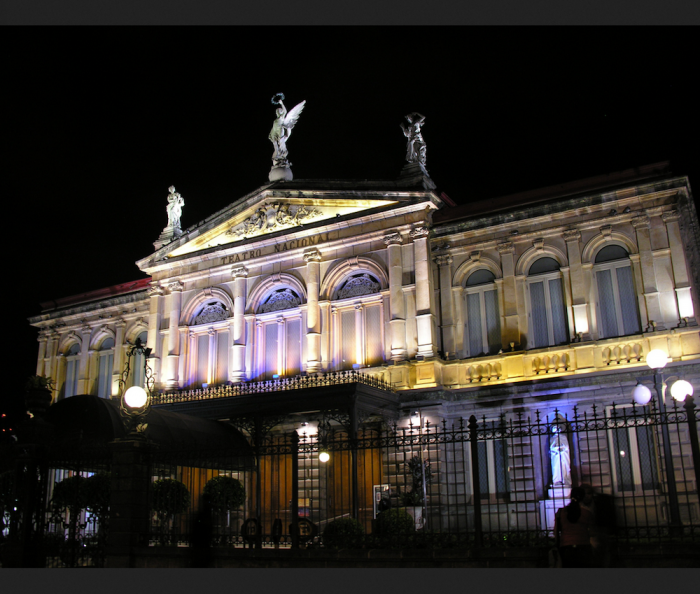 Teatro Nacional San Jose
Since most of their hotels are within a two-hour drive of each other you can easily plan your trip hopscotching between their unique properties, experiencing "Pura Vida" (the pure way of life) in high style!
SDH's diverse styles of hotels greatly adds to your enjoyment since one night you might be sleeping in an opulent gilded palace while the next night you're marveling over the emerald-green cloud forest views from your sleekly sophisticated, wood and glass enclosed eco-lodge.
Hotel Grano de Oro: from warm private home to welcoming hotel
If you're flying into Juan Santamaria Airport (SJO) about 30 minutes from downtown San Jose, you'll probably want to spend a night or two, exploring this historic capital. Hotel Grano de Oro, conveniently located on a quiet side street in the heart of the city, provides a welcome respite from the city's non-stop energy.
Once the home of Felipe Pozuelo, who owned the country's largest cookie company in the early 1900's, this tropical Victorian mansion is now a rambling 40-room boutique hotel with polished wood, antiques, striking stained glass windows, Italian-tiled bubbling fountains, indigenous plants and dramatic floral arrangements.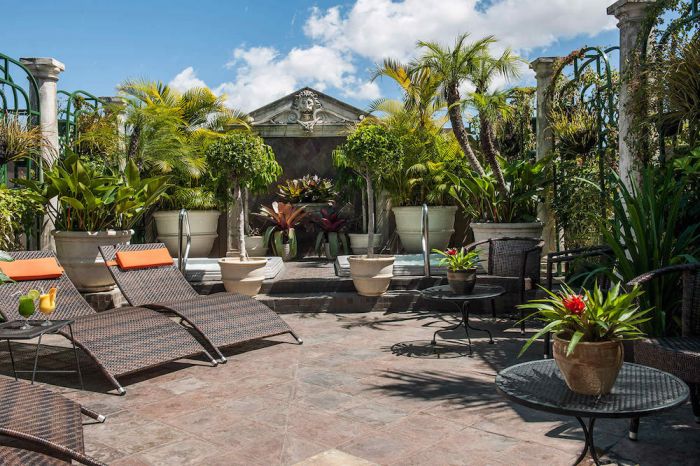 rooftop relaxation-Hotel Grano de Oro
Search out the rooftop Jacuzzi terrace snuggled in between the turrets for some primo relaxing while taking in the city view.
Explore all the nooks and crannies to fully appreciate the character of this heritage hotel, noting the black and white photos of old San Jose.
No two rooms are the same although they all feature a relaxed, old-timey elegance with wrought-iron beds and handcrafted fabrics, mixed with modern amenities including free Wi-Fi, air conditioning, flat-screen TVs and comfy pillow-top mattresses with 300 thread-count linens.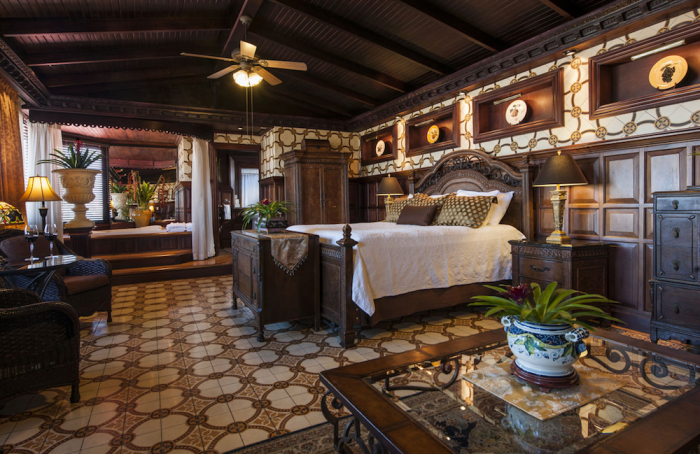 Vista de Oro Suite-Hotel Grano de Oro
If you really want to stretch out reserve the immense Vista de Oro Suite, which can only be reached by a private staircase. Highlights include dramatic wood-paneled walls, gorgeous antique furniture, and a hot-tub with panoramic city views.
In a twist on "the chicken or the egg" debate one could argue which is most touted, the Hotel or the Restaurante Grano de Oro. I didn't care which one since I was delighted that I could just trundle downstairs for a memorable meal.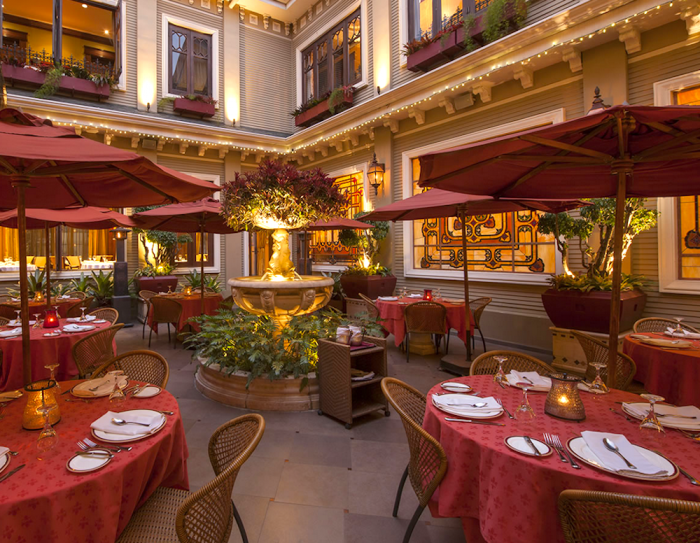 Hotel Grano de Oro
Francis Canal, the French chef whose cooking offers a refined European twist on Costa Rican classics, has wowed both local and international foodies for over two decades. I bypassed the elegant dining room for a seat in the enchanting open-air, palm-filled courtyard. The menu changes often but since I'm a rabbit lover I opted for the locally raised, rabbit redux, - starting with homemade rabbit raviolo, napped with mushrooms, carrot foam, and rabbit jus, followed by a roasted saddle of rabbit stuffed with a mousseline, which both made me very hoppy!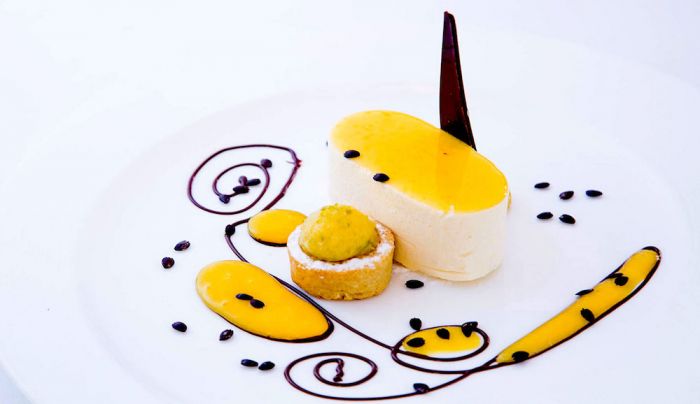 Hotel Grano de Oro
This would not be the place to skip dessert since menu enticements include a decadent Marquise de Chocolate – dark chocolate marquise, red wine poached pear, sweet Gorgonzola and an airy Tres Leches - three-milk cake, a traditional Costa Rican dessert. Restaurante Grano de Oro also houses an award-winning wine cellar, with many fine wines available by the glass.
Nice touch: To be a member of Small Distinctive Hotels the property must have a Certification For Sustainable Tourism (CST) awarded by the Costa Rican tourist board. Over and above that, each member hotel also supports their own community project. At Hotel Grano de Oro, the owners have created Casa Luz, "House of Light" as a haven for impoverished adolescent mothers who have been sexually abused.
Luxury Vacations by Justluxe