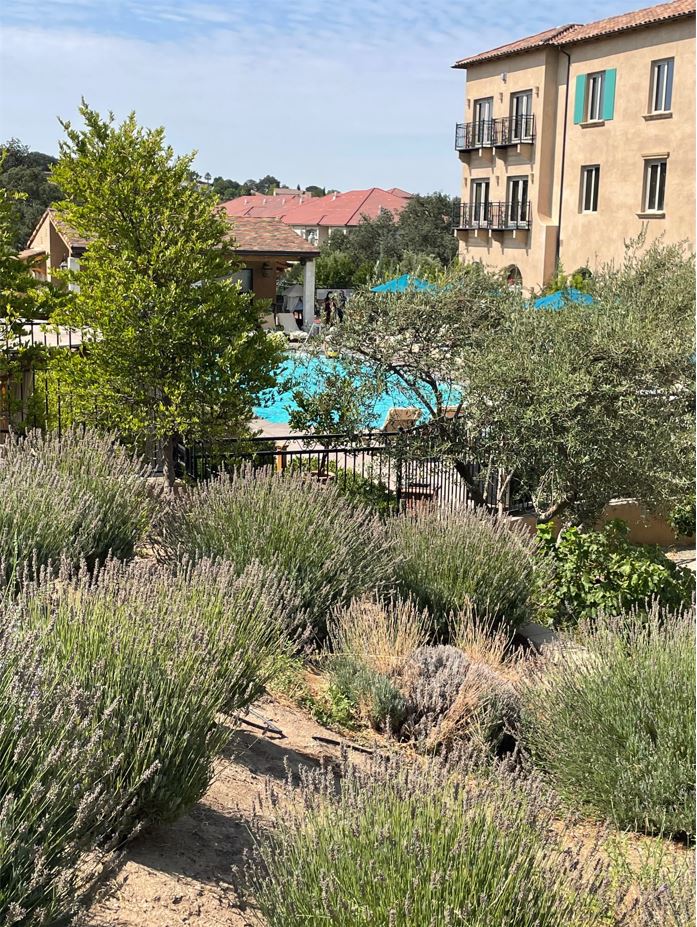 Jill Weinlein
Whether it's for a bachelorette party, a reunion, or just a weekend to get away with your BFF, Paso Robles is a picturesque vacation getaway in California. Located halfway between Los Angeles and San Francisco, there are over 200 wineries along the rolling hills. One that will absolutely wow you is Allegrettto Vineyards Resort.
The resort offers luxury accommodations with opportunities to enjoy soothing spa treatments, poolside cabanas for soaking up the sun, Allegretto red and white wine tasting, walks through vineyards, llamas and goats visits, and dining outside overlooking fire pits and vineyards at this upscale retreat.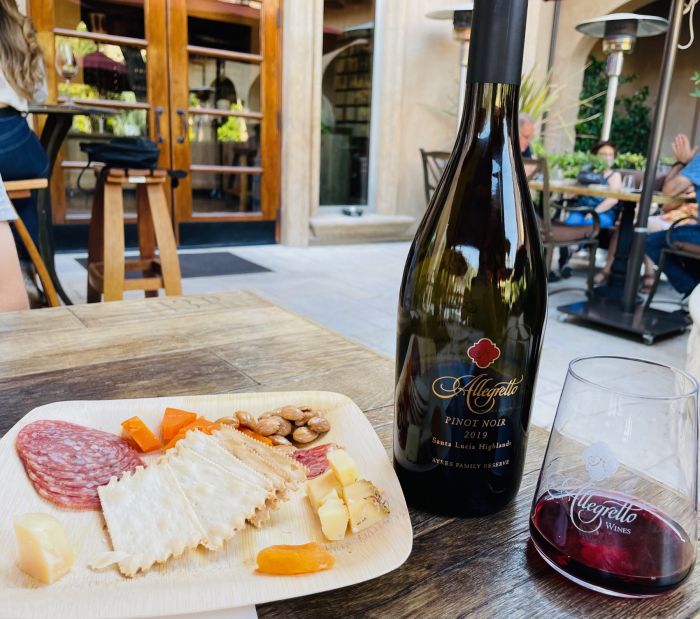 Jill Weinlein
The Allegretto Tasting Room is open daily from 11 a.m. to 6 p.m., pouring highly selective small-lot vineyard wines. The grapes are grown in two regions of Paso Robles' rich terroir. Sit outside to enjoy a flight of 5 premium wines. An informative wine host will pace out each taste of 2019 Trio, 2019 Pinot Noir, 2016 Tannat and 2017 Cabernet Sauvignon. Learn how the grapes are grown on the resorts 8 acre vineyard and nearby Willow Creek Vineyard.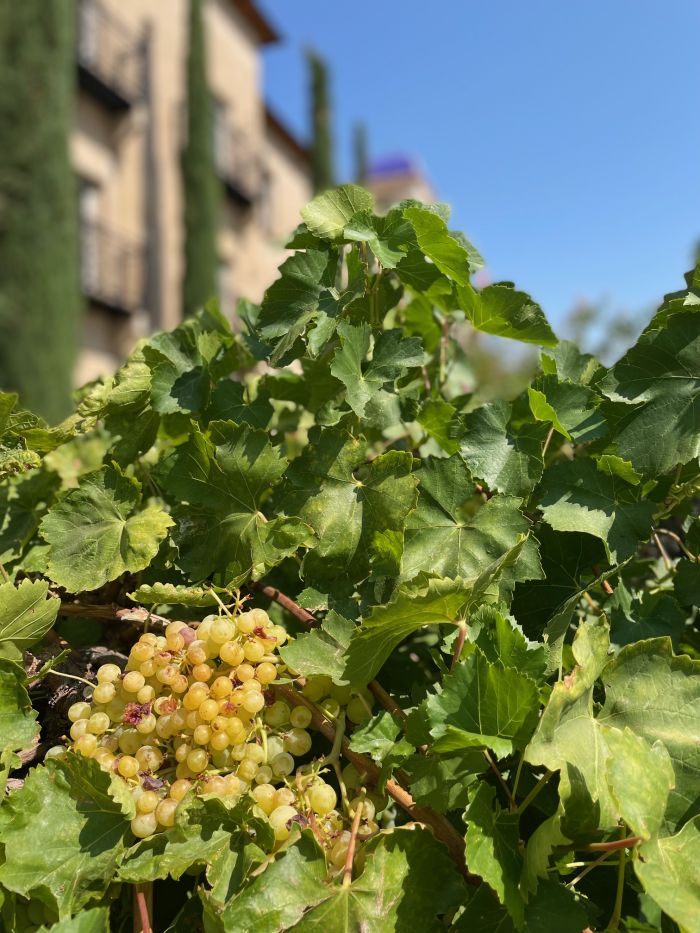 Jill Weinlein
Another wine experience at the resort is every Friday, Saturday and Sunday morning for a vineyard walk at 10 a.m. The Vineyard Tour begins at the wine tasting room and travels outside for guests to learn about the five different varietals with Malbec grapes in the front of the resort owned by the Ayres family. They practice biodynamic farming and make 2000 cases of wine a year. Herd of sheep come in the winter months to nibble on the weeds, fertilize the soil, and gently till the earth with their hooves. The guide encourages participants to pick a few grapes off the vine to taste their sweetness.
The handpicked grapes behind the hotel include Tannat, Vermentino and Cabernet Sauvignon. The area also has 5 different olive trees that are hand-harvested, pressed and blended into custom-made olive oil. Lavender bushes grow all around the resort creating beauty everywhere you look.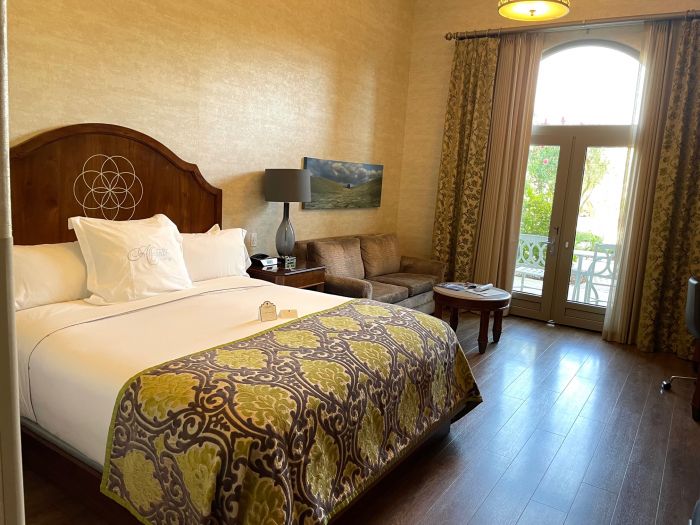 Jill Weinlein
The decorating details in Allegretto's 171 rooms and suites, accentuate harmony and relaxation with European-inspired features and calming colors of the vineyards including greens, soft golds and jewel tones.
There are 14 two-room suites ranging from 590 to 1,000 square feet, with optional fireplace, patio and balconies. Ground floor guestrooms have an outdoor terrace and range from 425 to 450 square feet.
Within steps from the rooms are a plethora of outdoor activities including a giant chessboard, bocce ball garden, and ping-pong. The Adirondack chairs in various garden settings are made from the used staves of wine barrels, purchased up the coast in Cambria, California.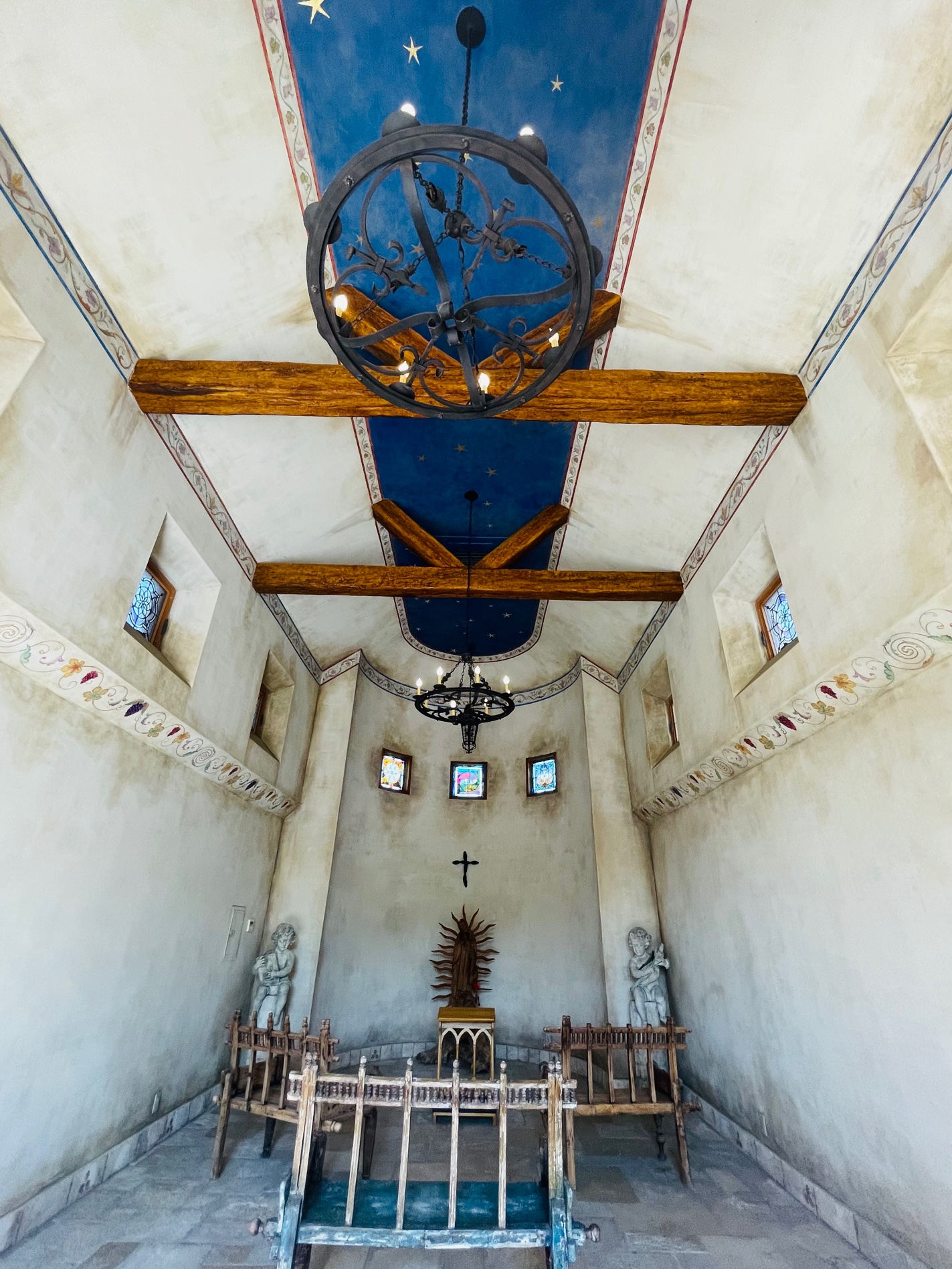 Jill Weinlein
Stroll around the gardens to the Abbey, a popular place to worship, gather for a small wedding and to admire the colors from the stained glass windows. Modeled after the rustic chapels of Europe, the Abbey blends ancient symbols with contemporary artistry to bring a sense of harmony and peace to those who visit.
The owner Doug Ayres is a spiritual man and provides indoor and outdoor music in the gardens, especially at his sonic labyrinth. This 'Sound Circle' area utilizes music and space to evoke harmonic tones encouraging guests to slow their pace and become more mindful.
On Saturdays there is a 30-minute guided meditation offering meditative techniques that guests can practice at home. Also on the weekends, a staff member leads guests on a curated art tour of the owners' museum-worthy art collection throughout the resort.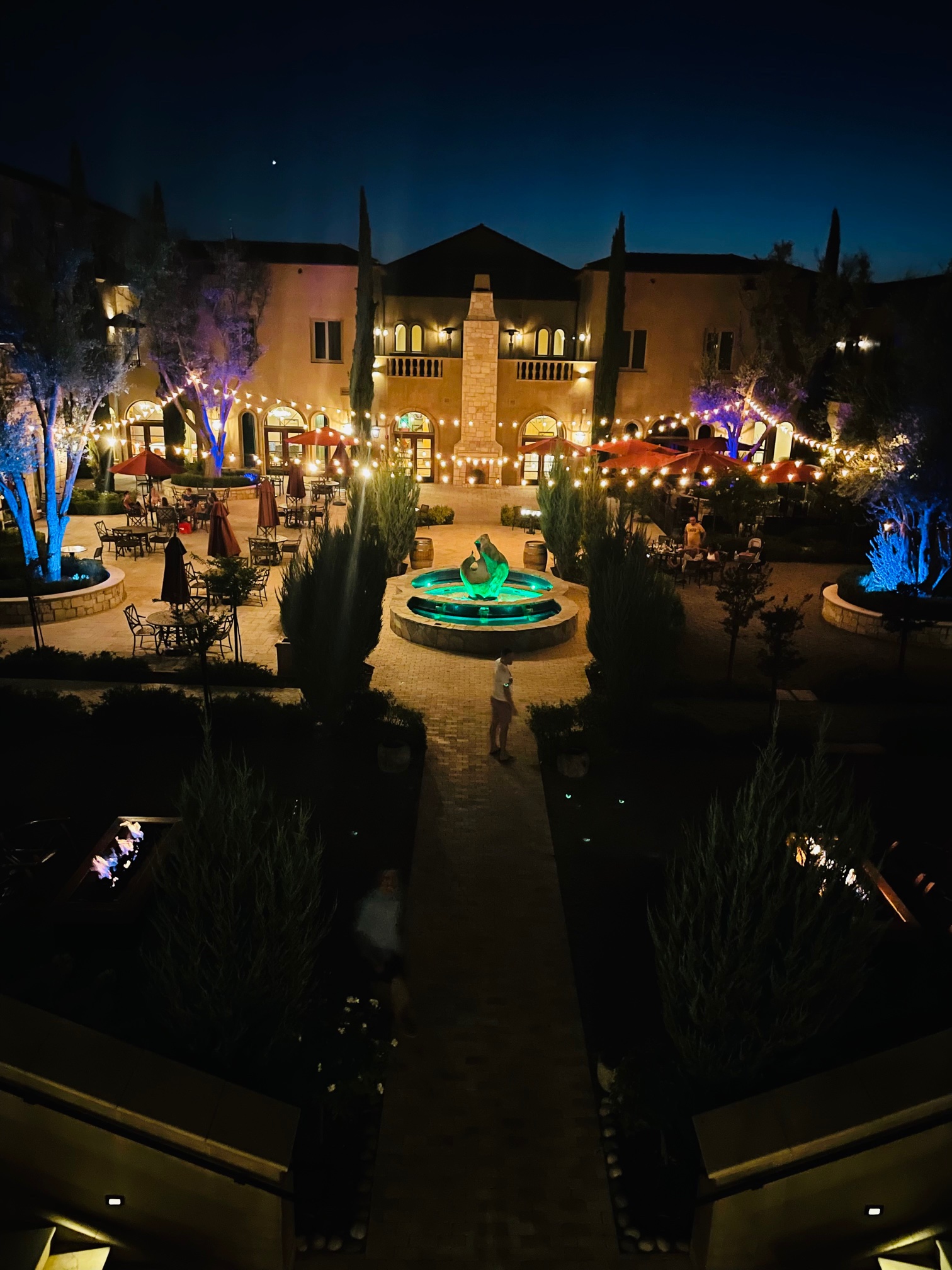 Jill Weinlein
In the evening Allegretto Vineyard Resort transforms into a festive retreat with blazing fire bowls curated from Rajasthan. Guests congregate to the warmth these fire pits provide, while chatting, sipping wine, roasting s'mores and taking in the beauty of the Italian inspired architectural design.
Dine outside at Cello Ristorante to share creative rustic Northern Italian regionally foraged and farmed salads, pastas, and proteins. There is an extensive domestic and international wine list, garden-to-glass cocktails and craft beers. Dishes also include spices from Allegretto Vineyard Resort owner Doug Ayres' world travels, offering distinctive and flavorful dishes.
There are seasonal specials at Allegretto Vineyard Resort in Paso Robles for girls' getaways, weddings, engagements, birthday celebrations and this pet friendly hotel welcomes dogs to stay with their owners for a fee.