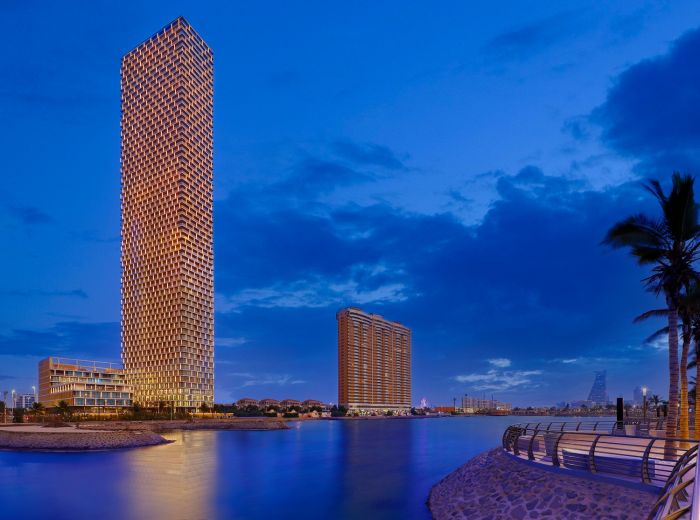 (credit: Shangri-La Jeddah)
The iconic flagship brand of the Shangri-La Group opened its first property in Saudi Arabia, Shangri-La Jeddah. Opened in conjunction with the Kingdom's inaugural Founding Day, the hotel is just a stone's throw from the Jeddah Corniche Circuit. Marking a dawn of a new era in the country as a luxury leisure destination, the hotel is situated in the exclusive Burj Assila (Jeddah's tallest building) and offers 220 new light-filled accommodations, three exceptional restaurants and extensive wellness facilities.
Being located in the exclusive Burj Assila - a 64-story, 260-meter tall architectural icon of a building - marked an ideal fit for the luxury hotel. Alongside their 148 deluxe guestrooms and 55 suites, the hotel features 17 serviced apartments ranging in size from1916 sqfto3121 sqf. These apartments provide a birds-eye view over the Red Sea and the Jeddah skyline with spacious balconies and sophisticated room design. Each accommodation features floor-to-ceiling windows which illuminate the light color palette and includes marble-clad bathrooms as well as provide a sense of place steeped in centuries of Arabian hospitality, artfully blended with the heartfelt hospitality that is part of Shangri-La's Asian roots.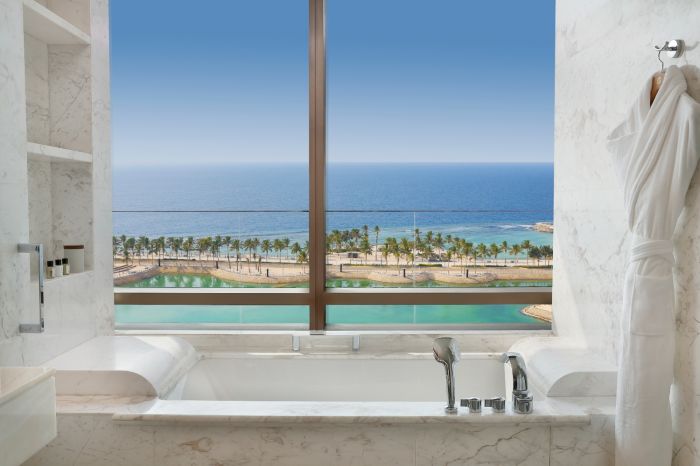 (credit: Shangri-La Jeddah)
The Royal Suite is a massive 6,286 square feet of unparalleled luxury and encompasses the entire 22nd and 23rd floors. Connected by an internal elevator and staircase, the three-bedroom suite has a spacious living room and a separate dining area that can comfortably seat up to 12 guests. Some of its other unique amenities include the central glass-walled study as well as a private gym, en-suite sauna, seaview jacuzzi and wraparound balconies.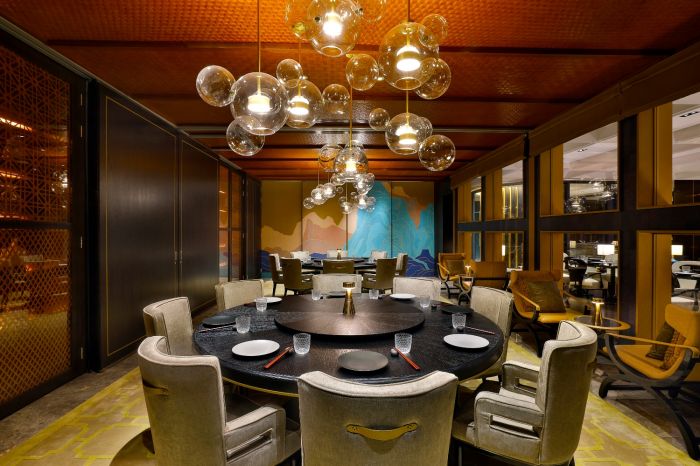 (credit: Shangri-La Jeddah)
Shangri-La Jeddah's restaurants, there are a total of three, blend traditional flavors with local influences and modern techniques for a one-of-a-kind experience. Award-winning restaurant Shang Palace, presents soulful modern Chinese cuisine in a see-and-be-seen space inspired by traditional courtyard-siheyuan houses where the service and ambience are as exciting as the food. The Waterfront Kitchen, a yacht-inspired all-day-dining restaurant, offers a truly interactive culinary experience with a range of global delicacies. If guests are looking for a quick bite or to stop for a coffee, the exquisite boutique patisserie COPA is where the fine art of coffee and chocolate pairing meet.
(credit: Shangri-La Jeddah)
Across two floors, the Wellness Club at Shangri-La includes a full range of state-of-the-art equipment in its state-of-the-art gym along with being home to the impressive The Spa at Shangri-La. Featuring a bespoke menu by award-winning experts Natura Bissé, a sauna and Jacuzzi, as well as a Hammam and treatment rooms, spa rituals focus on effective beauty and wellness therapies. On the seventh floor, their serene 25-meter outdoor swimming pool offers spectacular sea-views, while the Kids' Club offers an immersive roster of activities and entertainment.
Be among the first to enjoy a unique and unforgettable experience at the new Shangri-La Jeddah and take advantage of one of their offerings like the Jeddah's Ultimate Wellness Retreat which combines a spa treatment and daily breakfast buffet with your stay.