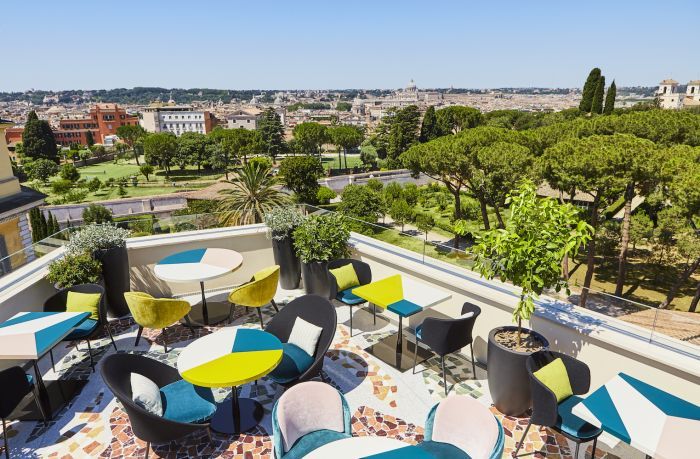 Settimo Roman Cuisine & Terrace, Sofitel Rome Villa Borghese
As a guest at Sofitel Rome Villa Borghese, one undoubtedly finds contentment while ensconced in the chic luxury of this Borghese Garden bordering hotel. Located on a quiet street in one of the poshest regions of the Eternal City, the hotel is a sanctuary within the hustle and bustle just beyond its doors, and is within walking distance of Rome's greatest attractions. A map is all one requires for exploration and discovery. But imagine how much more satisfying a stay might be if one's exploration were led by an expert in his or her field. Interested in Italian fashion, but flummoxed about where to shop? Sofitel Rome Villa Borghese knows the ideal fashionista to guide you. A fan of gelato, but confused by the many corner shops offering the creamy treat? Sofitel Rome Villa Borghese knows a gastronome who leads guests to the best.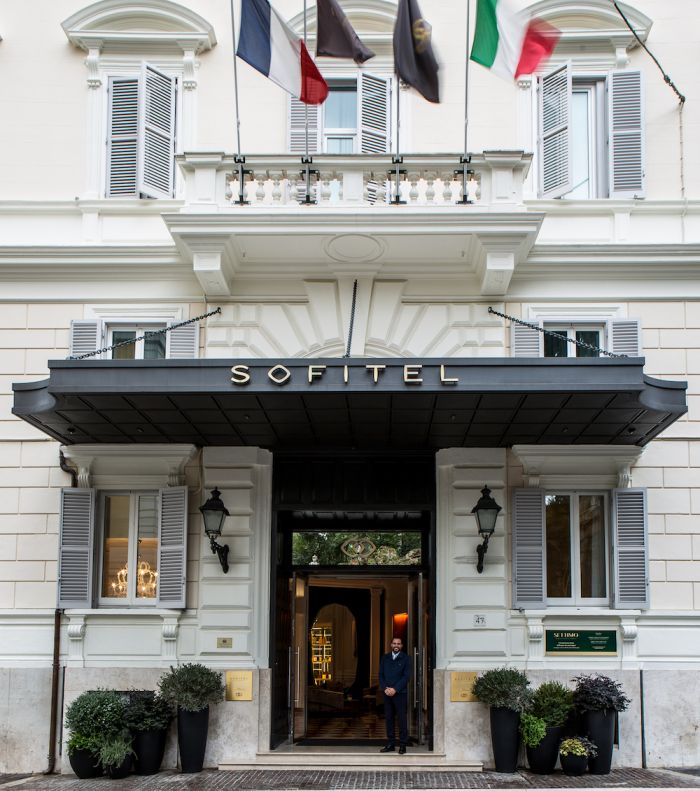 On its own, the hotel - featured among the 190 historic buildings of Italy - is a destination. The 7th floor Settimo Roman Cuisine and its outdoor terrace overlooking the whole of Rome make sure of that. 78 spacious rooms and suites with Baroque-inspired frescoed ceilings reflect the building's former life as a 19th-century Roman palazzo - originally a guesthouse belonging to the aristocratic Ludovisi Boncompagni family. Each features contemporary design elements that cater to comfort, including the ultra-luxe signature Sofitel MyBed* bed, and marble bathrooms featuring Diptyque bath amenities.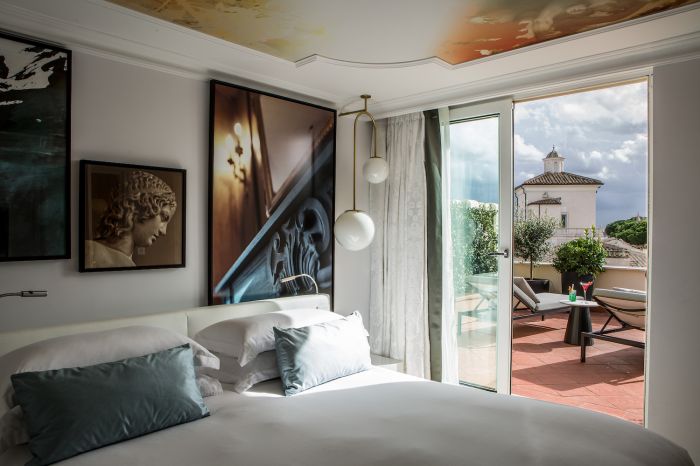 Prestige Suite
The hotel's designer, French contemporary architect Jean-Philippe Nuel, found his inspiration in the landscaped gardens of the hotel's adjacent, namesake Villa Borghese, over which west facing rooms are poised. Nuel's overall design in a neutral color palette with nature inspired tones is a fusion of 'La Dolce Vita' Italian heritage fused with French classicism. Public spaces are anchored by statement pieces such as the marble mosaic floor that contrasts with the building's original checkered tiles. The lobby features a glittering wall of French champagne bottles and a rotation of vibrant artworks, sourced from partner galleries.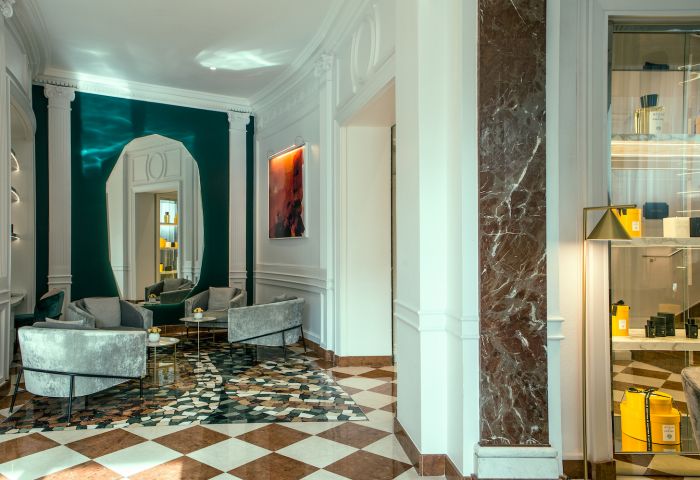 Sofitel Rome Villa Borghese Lobby
Sofitel Rome Villa Borghese Champagne Bar
At Settimo, the restaurant's fine dining restaurant, the Villa Borghese inspiration is readily apparent. Resembling a garden greenhouse with floor-to-ceiling glass doors that fully open in warmer weather, the panoramic views here are as spectacular as Chef Giuseppe D'Alessio's Roman cuisine is delicious, and as the breakfast offerings are plentiful. D'Alessio offers the pasta about which visitors to Italy dream, such as the Primi Piatti cacio e pepe and spaghetti carbonara, but it's the Secondi items that reveal his culinary artistry. His pan-fried chicken supreme with pumpkin cream and roasted artichokes provides a lighter alternative to Roman fare such as his succulent roasted rack of lamb with sauteed mushrooms. Hard as it might be, save room for the traditional tiramisu. As is Italian tradition, pre-dinner aperitivo is nearly mandatory, and 'when in Rome' there is no better spot to enjoy a glass of Chianti or Brunello than Settimo's small outdoor terrace overlooking the Borghese Gardens and the Vatican. Without question one of Rome's best rooftop bars, it is reason alone for a visit to Sofitel Rome Villa Borghese.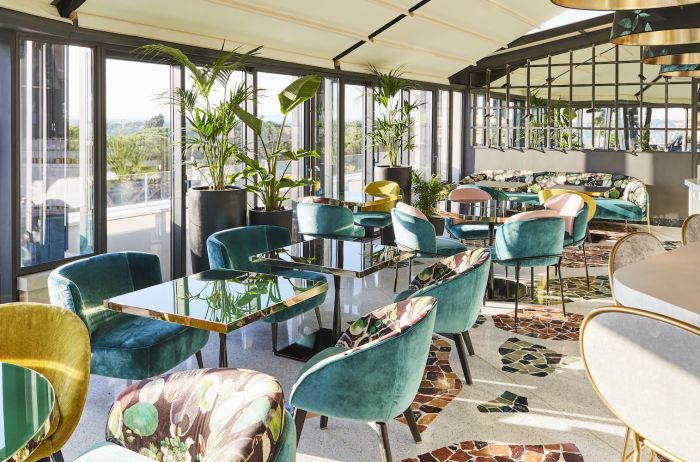 Settimo Roman Cuisine & Terrace Dining Room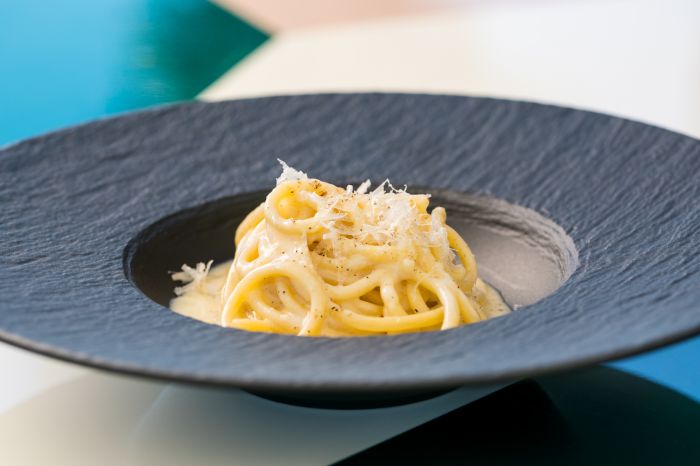 Tonnarelli Acqua e Farina al Cacio e Pepe
But alluring as are the hotel's inherent offerings, what truly sets Sofitel Rome Villa Borghese apart is its plethora of unique, curated activities that cater to every travel desire, including a collection of Mini Viaggi day trips in luxury supercars, yoga around Rome at some of the city's most scenic locations, and a Bellissima Experience with a top Italian fashionista that features everything from wardrobe curation to hair and makeup by a celebrity stylist. This experience is led by Italian fashion influencer Selvaggia Capizzi who accompanies guests to historic boutiques such as Bottega Veneta, Fendi, Marni, and Margiela. Included is a private jewelry experience at the family-owned Cazzaniga studio that has serviced Rome since the 1920s. Guests will meet Paolo Cazzaniga, son of founder Angelo Giorgio Cazzaniga, to collaborate on a custom design. If a selection is purchased, it can be worn during a night out amongst Italian society with Angelo's grandson Giorgio Cazzaniga where the evening begins at Cazzaniga's luxury private residence.
Food lovers will want to partake in the five-day New Roman Foodie Tour developed with Rome's leading culinary influencer Lauren Caramico of Davvero Rome who starts things off with a sampling of three different gelateria styles and flavors. Additional highlights include a visit to Mercato Trionfale, one of the best local food markets in Rome, a pizza making class and Roman street food tour in Campo de' Fiori and Trastevere, a picnic lunch at Ostia Antica, an aperitivo tour around the Prati neighborhood by the Vatican, a truffle hunting expedition, wine tasting in Frascati, and coffee at Rome's oldest café.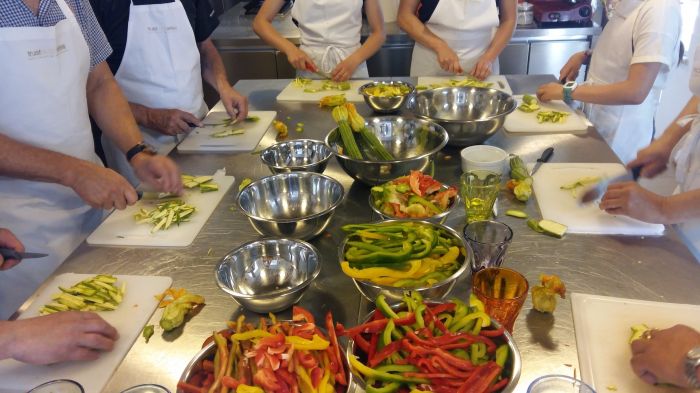 Sofitel Rome Villa Borghese Roman Cooking Tour
Runners will love ArcheoRunning's Hidden Rome Tour. Founded by Isabella Calidonna, art historian, certified tour guide, and Italian Athletics Federation and italian National Olympic Committee coach, ArcheoRunning combines all of her passions to showcase Rome in a new light. While running or walking, participants can immerse themselves in the narrow streets of Rome while getting lost in places they've likely never seen. Completely customizable, highlights include the Vicolo del Biscione - the ancient passage of the Pompeo theater, excavations of the Stadium of Domitian – which later became Piazza Navona, Farnese Palace - one of the most important High Renaissance palaces in Rome, the legend of Torre della Scimmia (Tower of the Monkey), and more.
Additional Sofitel Rome Villa Borghese experiences include a Rome for Repeat Visitors Tour, offering a deeper dive into Rome's history and culture, a Floral Experience with Rome's premier floral designer, Blind Wine Tasting, Roman Cooking Tour, and so much more.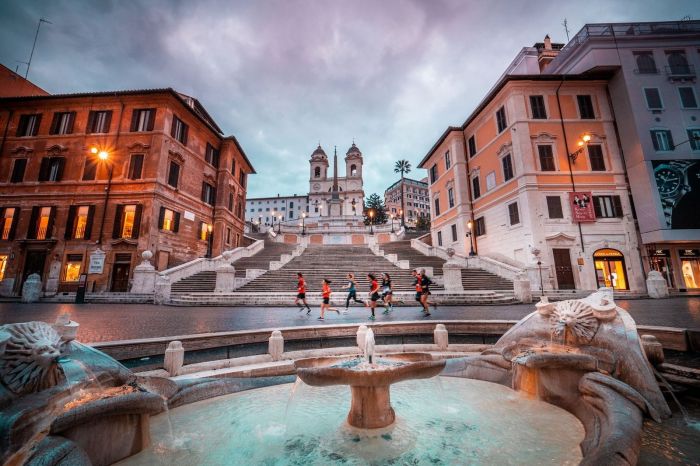 ArcheoRunning Hidden Rome Tour
It's certainly not necessary to partake in these experiences in order to enjoy the luxe hospitality of Sofitel Rome Villa Borghese, but it is gratifying to know that this new hotel (opened 2019) is already so well connected to the heartbeat of The Eternal City.
Sofitel Rome Villa Borghese: Via Lombardia, 47, 00187 Roma RM, Italy
Photos courtesy of Sofitel Rome Villa Borghese