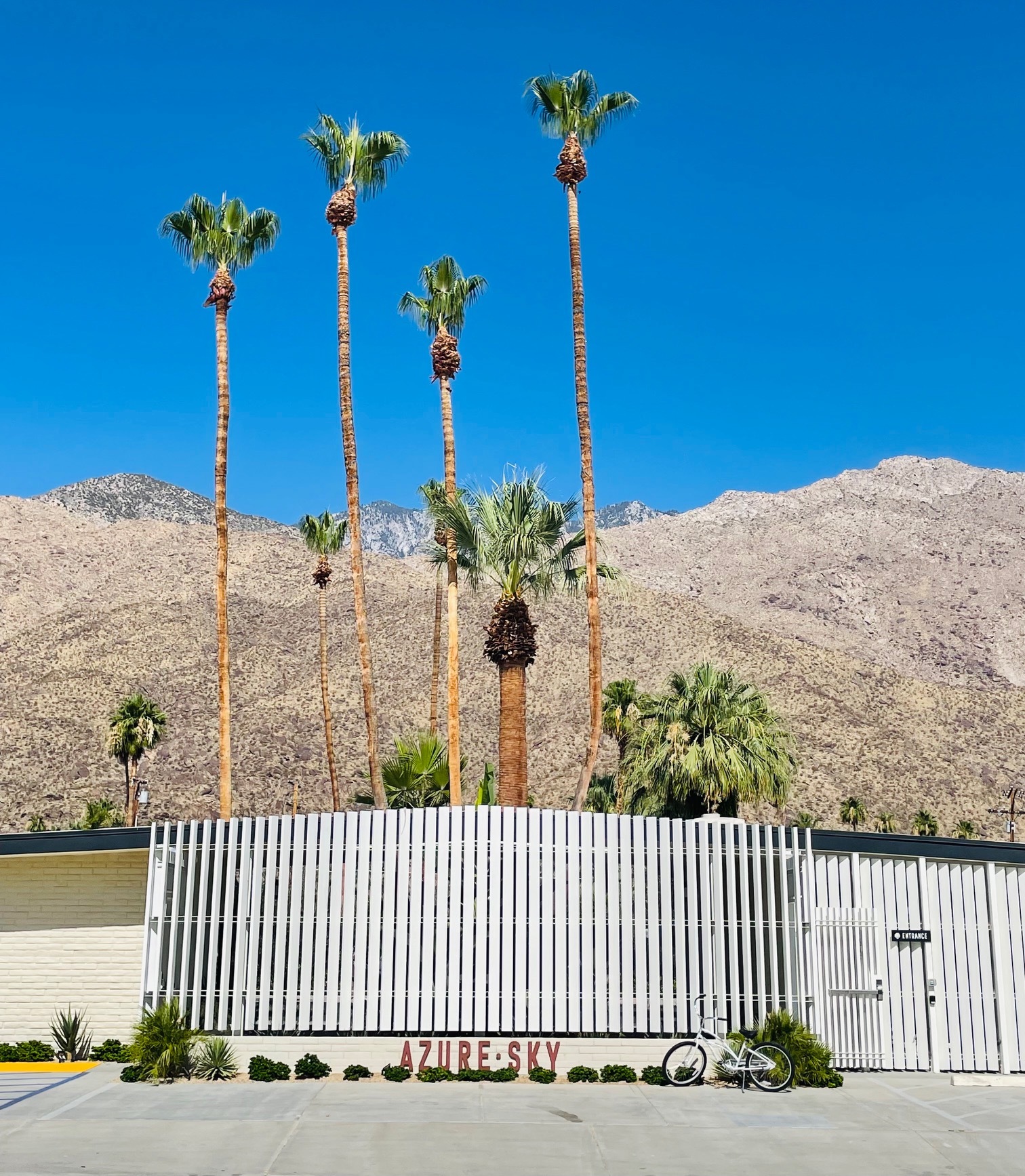 Jill Weinlein
Driving out to Palm Springs during the summer, the car's temperature gauge can reach up to 107 degrees or even higher. Getting out of the car, and walking into the lobby of Azure Sky, you will forget about the heat as the temperature and atmosphere immediately changes to cool.
The front screen entry, adjacent to the lobby was created by Palm Spring's Cioffi Architects and built by Hoffman Steel. It's a nod to the quintessential breeze block walls seen throughout the city. This new entry was integrated into the overall design of the original property.
After an extensive two-year floor to rafter renovation, Managing Operator Acme Hospitality and partner Real Estate Developer Henry Courtemanche have brought the 1959 mid-century hotel back to her glory days inside and outdoors.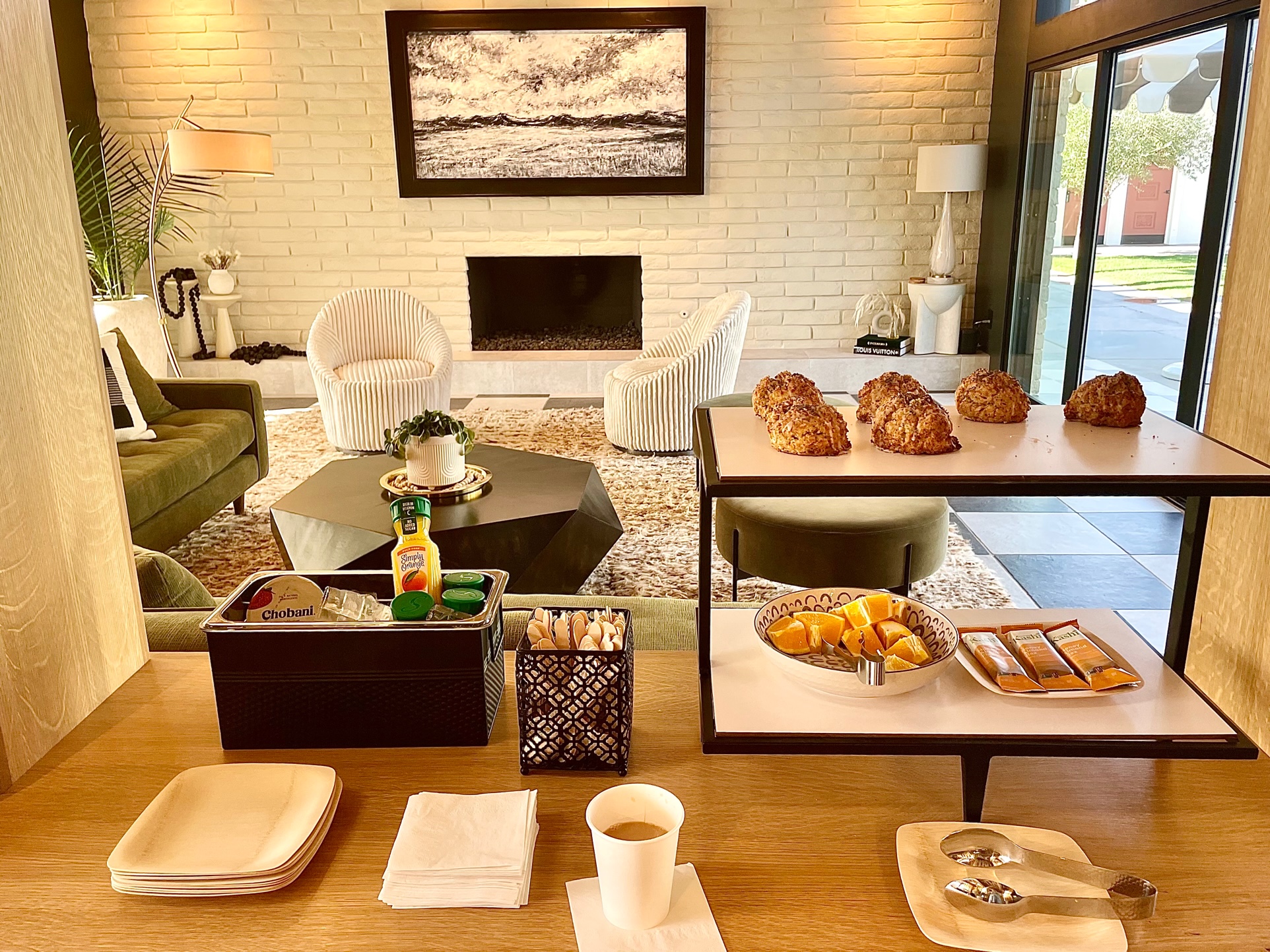 Jill Weinlein
This 14 guest room boutique hotel offers bespoke pieces that speak of the past, present and future in the lobby and guests rooms. The 800-square-foot lobby has a premium cocktail bar at the reception desk and beautifully furnished living room with textured upholstery and a cozy fireplace area. The mirror beam ceiling in the lobby offers a mirage of height and color.
Guests receive a complimentary breakfast in the morning to be enjoyed out on the expansive green lawn, by the sparkling swimming pool or in their private room.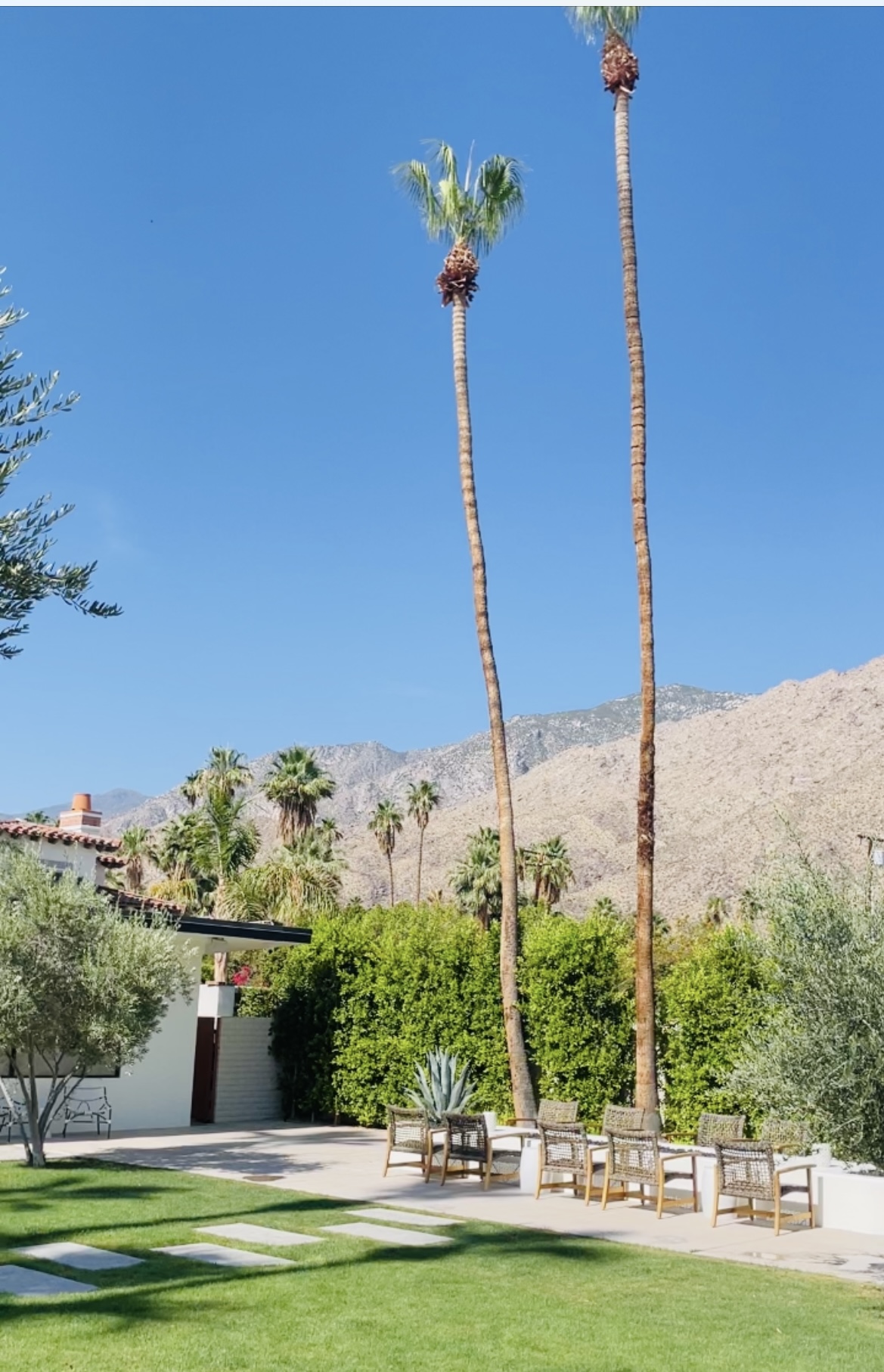 Jill Weinlein
The General Manager Sarah Martinez enjoys escorting guests out to the green lawn overlooking the San Jacinto Mountains. This is an ideal party venue or wedding destination offering 1500 square feet of lawn, courtyard and a long fire pit conversational area to gather for evening cocktails.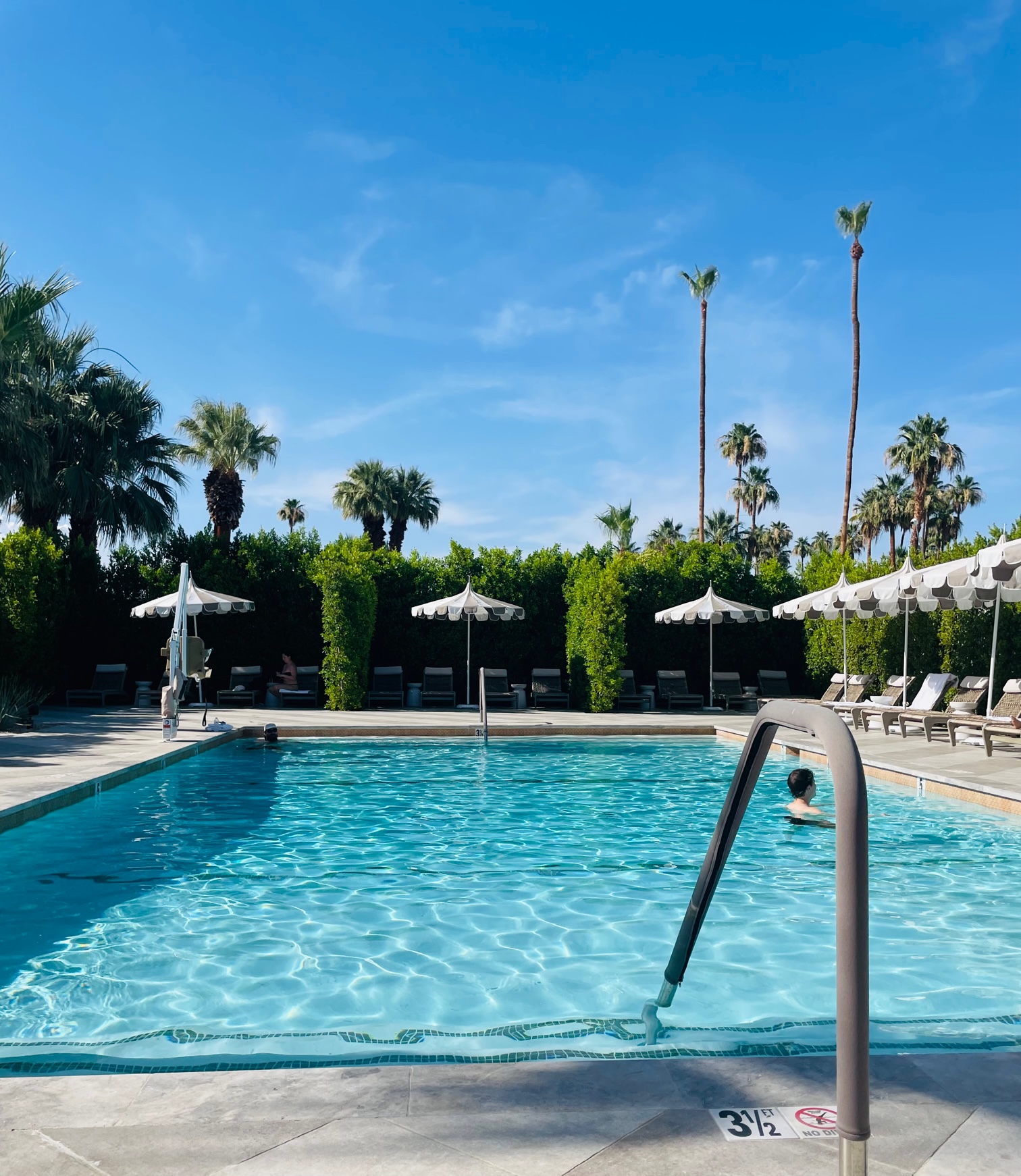 Jill Weinlein
The guest rooms are located in four individual courtyard buildings with two to four rooms in each section. Winding your way through the grounds, the brand-new pool area is a focal point of the property. Among the 4500 square feet sprawling pool deck is an outdoor bar, fire pit and ample seating areas. The elegant wood and jute chaise lounge chairs are grouped under black and white umbrellas.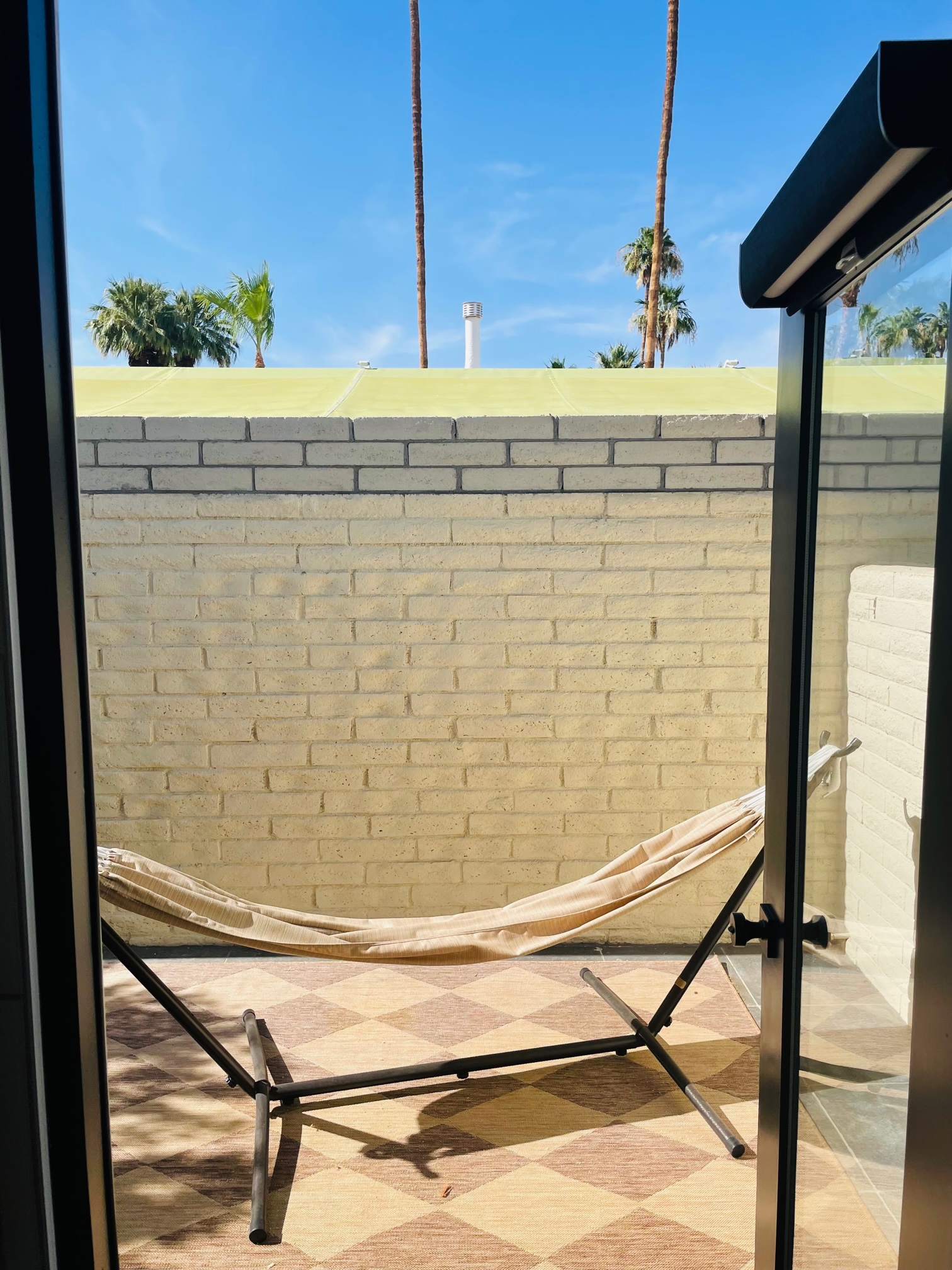 Jill Weinlein
Guests staying in room number 113 will appreciate the spacious one bedroom suite that John Janulis of Lighting Bar Palm Springs and Anne L'Esperance of An Ellipsis Design, along with Cioffi Architect teamed up to enhance. The 620 square feet room offers a stylish living and dining area, and fully equipped kitchenette for ensuite cooking.
Shelves hold plates, cups, cutlery, a tea pot, cooking pot and pan. Inside the refrigerator is a variety of cold beverages and local snacks are arranged on the counter.
Attention to detail includes the color of the suite's front door. It's inspired by the color of the towering mountains when the sun first hits them at dawn. There are two back doors that lead out to an expansive patio with a sitting area and hammock for star gazing in the evening.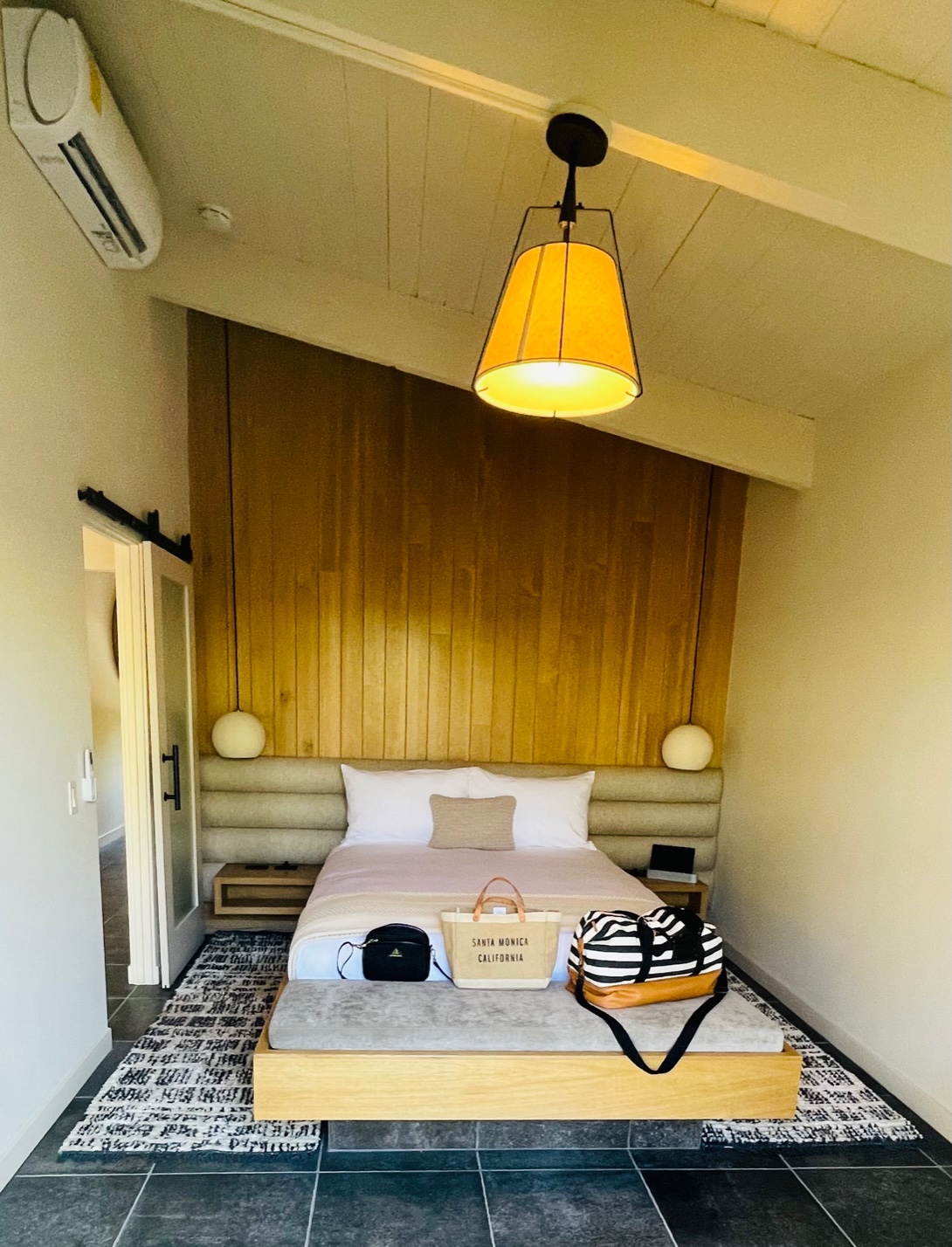 Jill Weinlein
Other design details include the eye catching tile work in the large walk-in showers, and along with stone flooring and countertops. Custom millwork includes the sleek built-in floating bed fitted with cozy and comfortable bedding and nightstands on each side of the bed.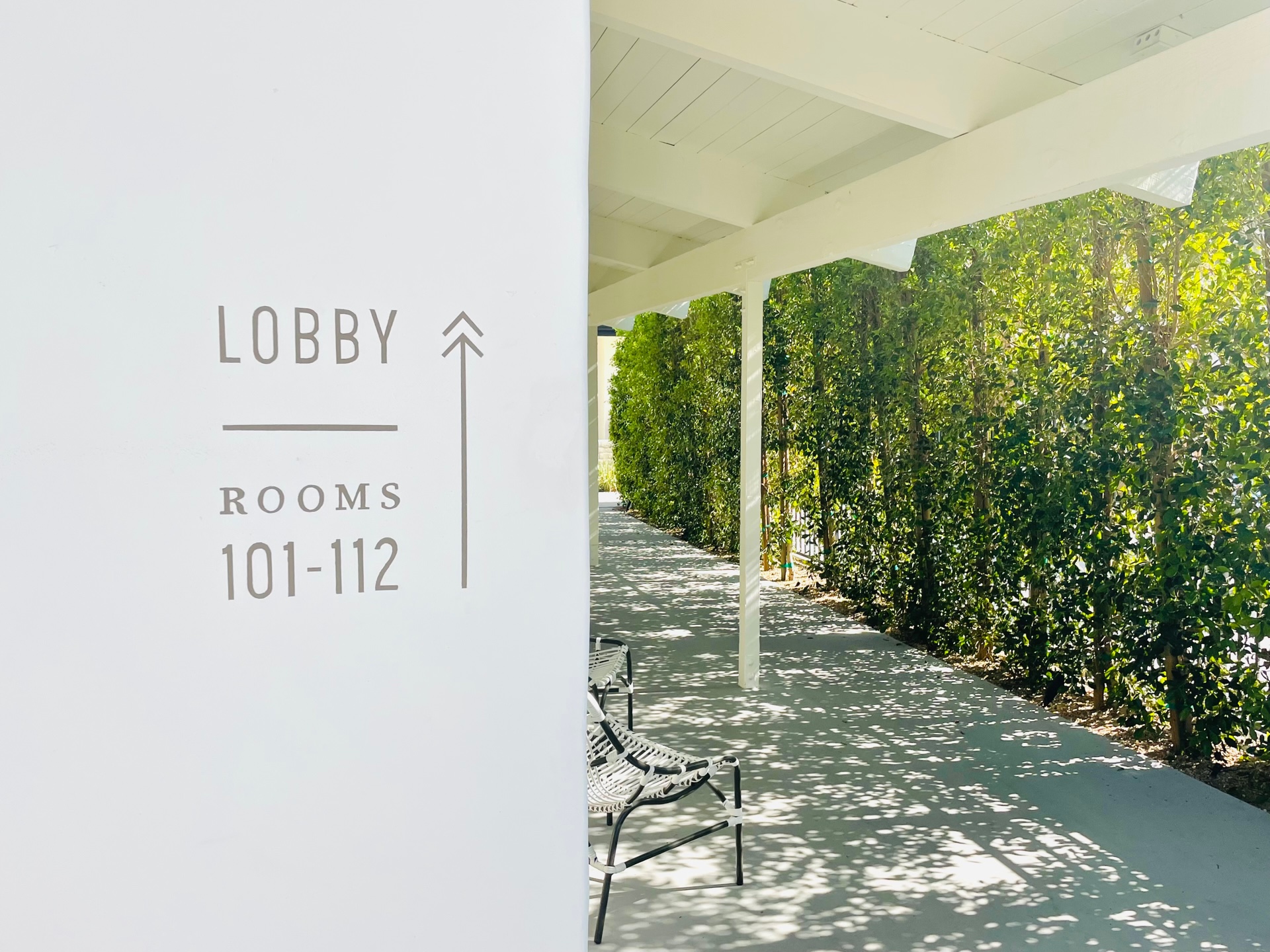 Jill Weinlein
A hedge of ficus, palm, olive and banana trees softens and cool the resort, as well as add privacy. Also a variety of drought-tolerant desert plants add a pop of color throughout the grounds.
Jill Weinlein
The property has an array of cruiser bikes that guests can check out at the front desk to explore Palm Springs with a breeze. Riding around the Tahquitz River Estates over to Moorten Botanical Garden, one can explore the one acre "cactarium" featuring an array of cactus and other desert plants. A longer ride is into Tahquitz Canyon to see rock art, canyons with trickling waterfalls, roadrunners and other wildlife.
Designated bike paths lead to Downtown Palm Springs for a cold iced tea, gelato or shopping excursion for a new bathing suit.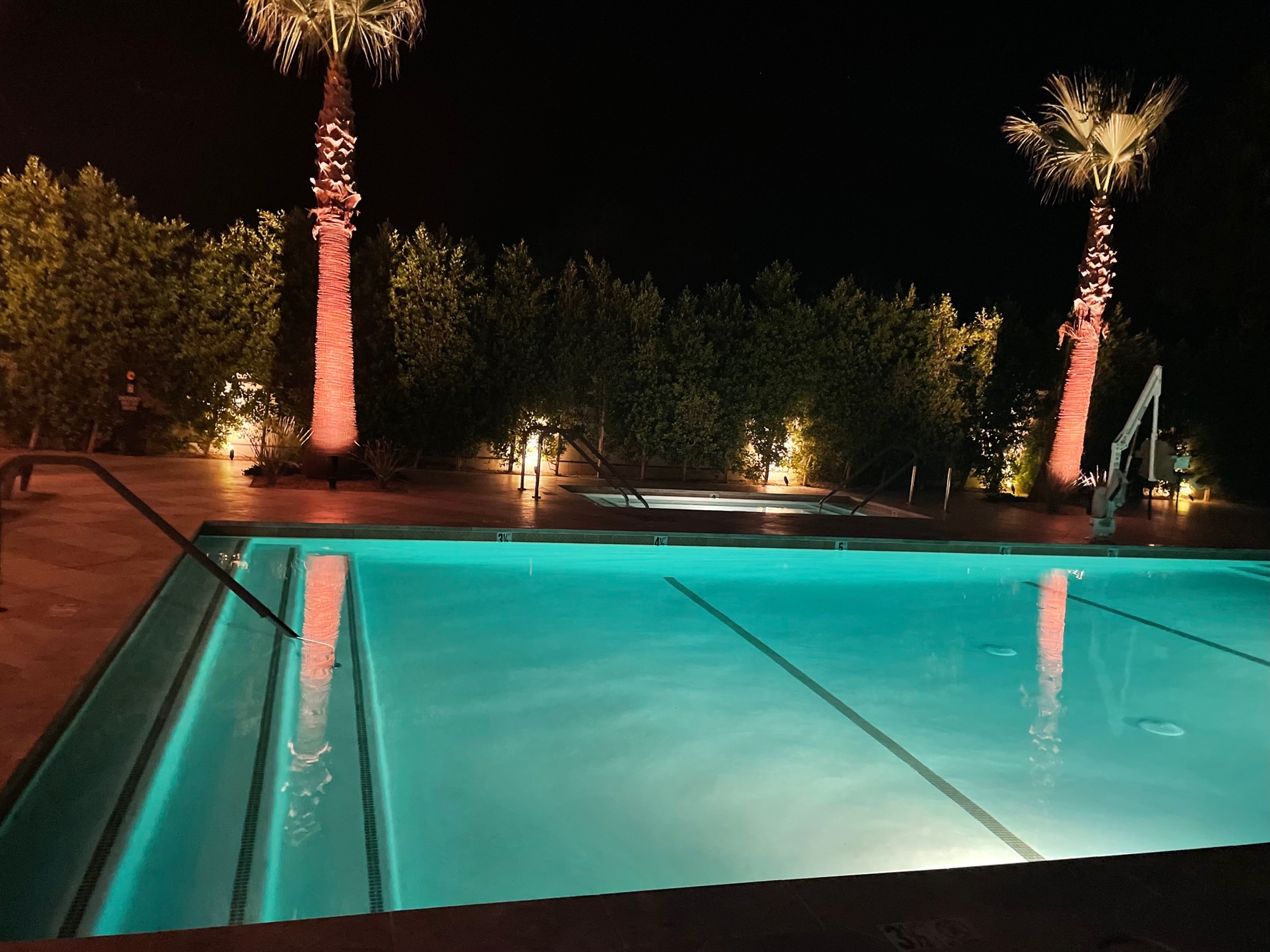 Jill Weinlein
In the evening the lights strung among towering palm trees are lit and the firepit encircled with chairs is a popular spot for some guests to discuss their desert adventures. Others soak in the warm Jacuzzi after returning from a hike in Joshua Tree.
For dining options, guests are within walking distance of Villa Royale for a dinner at the fabulous Del Rey restaurant and bar. Across the street is the Ace Hotel offering all day dining at Kings Highway, or meet up for drinks at neighboring Bar Cecil.
Guests staying at Azure Sky must be 21 and over to ensure a sense of tranquility throughout their stay.