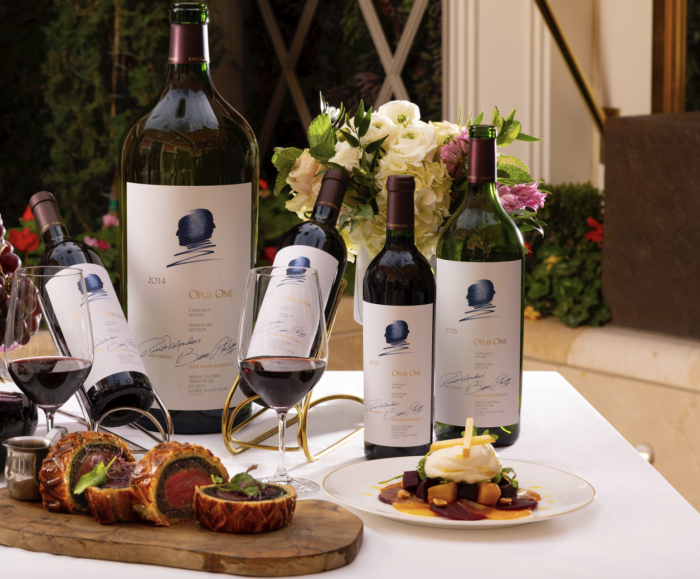 Opus One and Wynn Las Vegas
The first of its kind luxury wine weekend will take place at Wynn Las Vegas from Friday, April 28 to Sunday, April 30. Guests will have the opportunity to go on a pilgrimage featuring Napa Valley's famed Opus One Winery, tasting different vintages, including some of the most exclusive Bordeaux-style blends.
Two legendary winemakers California Robert Mondavi and Baron Philippe de Rothchild, a member of Bordeaux's Chateau Mouton Rothchild united in 1979 to create Opus One wines. With the desire to combine their talents and passion for wine, when their 1984 vintage was released, it was the most expensive California wine. To this day it is still one of the most desirable wines to drink.
Lakeside at Wynn Las Vegas -Jill Weinlein
Planning for this special Opus One weekend has been orchestrated by Brian Weitzman, Executive Director of Wine for Wynn Las Vegas and members of the Wynn culinary team. Since the resort has some of the finest chefs in the world, creating some of the most spectacular dishes in beautifully appointed restaurants and lounges, there will be a variety of wine, dining, and social interaction venues to meet with Opus ambassadors. 'Guests will get to taste 21 of the 41 Opus One vintages,' shared Weitzman during lunch at Wynn's poolside restaurant Tableau. 'That's over half their production.'
Throughout the weekend, guests will never taste the same wine twice. Some of the Opus One wines featured include a 1982 vintage in formats from 750mL to double magnum 3L bottles. "Our goal when developing these events was to foster an atmosphere where those passionate about wine can connect in a fun and engaging environment," said Weitzman. 'As an avid wine enthusiast myself, I'm excited to join our guests in exploring the Opus One library in new and unique ways at a caliber that only Wynn can deliver.'
Some of the wine tasting experiences include wines from four different decades. Guests will learn about the character of each vintage, the advantages of the terroir for growing the grapes, as well as the climate and human element in making each wine.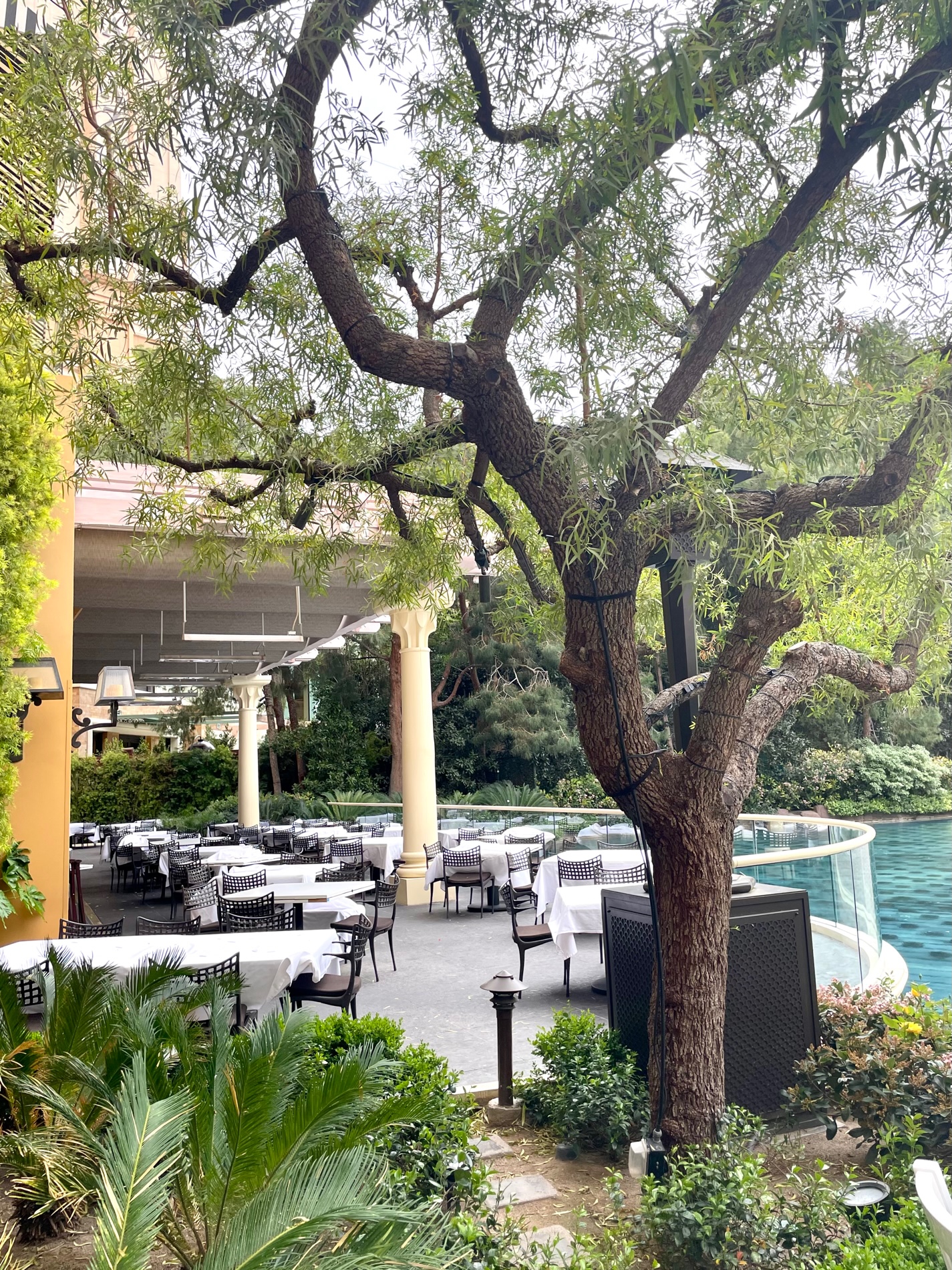 SW Steakhouse - Jill Weinlein
Starting on Friday, April 28, Wynn Las Vegas is re-creating the Opus One Napa Valley tasting room experience. Guests will be led on a 60-minute multiple-tasting experience with Opus One ambassadors. A small group of about 30 individuals will enjoy this experience on the patio of Wynn's famed SW Steakhouse from 2 to 3 p.m. Set at the water's edge at the 'Lake of Dreams', guests will enjoy the serenity of the 90-foot cascading waterfall framed by over 1,000 pine trees, around the three-acre lake. Nowhere else in Las Vegas offers this bucolic setting.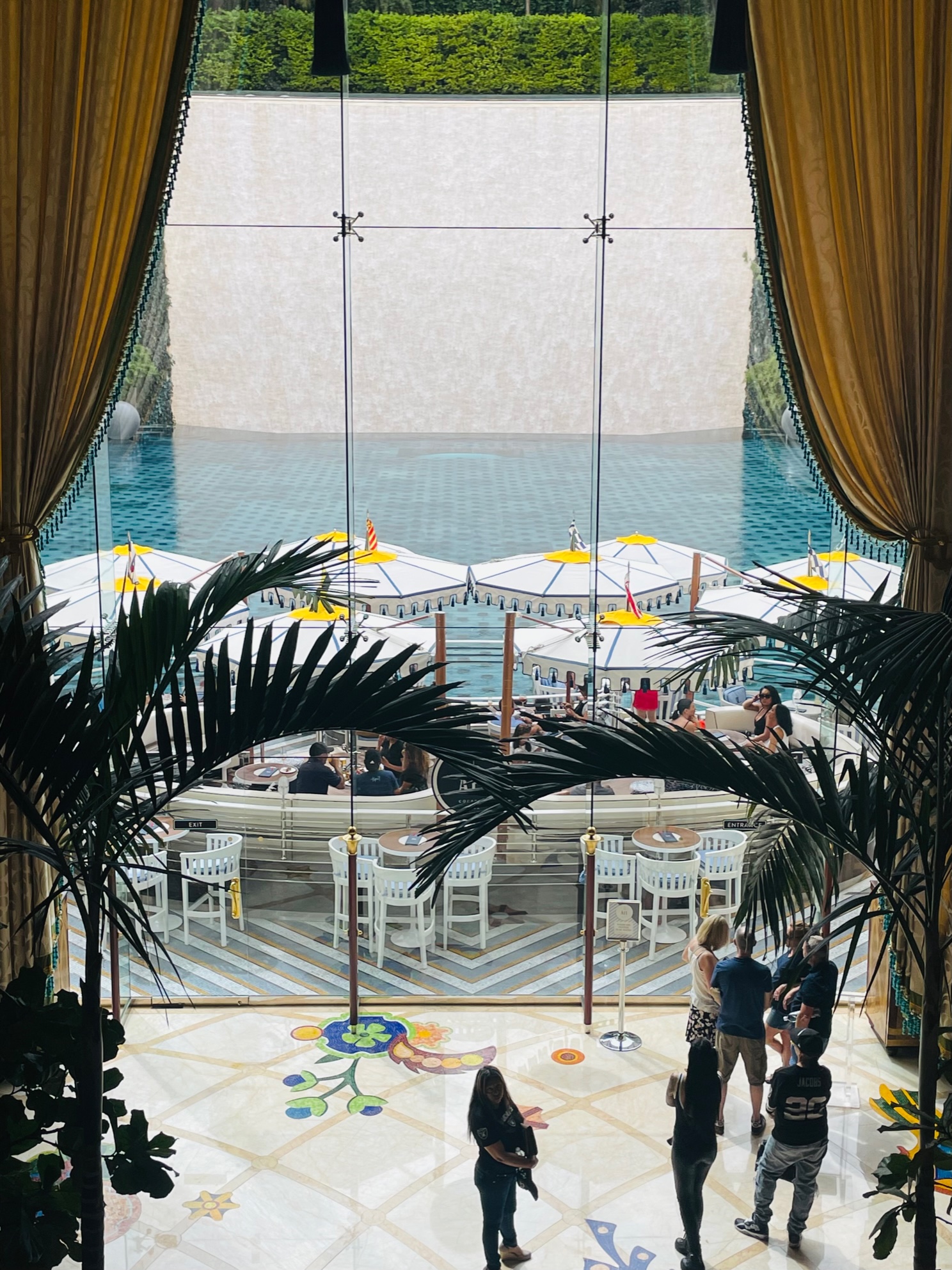 Aft Cocktail Bar - Jill Weinlein
At dusk the 'Lake of Dreams' becomes one of Las Vegas' most spectacular multi-sensory outdoor shows. The immersive state-of-the-art music system, larger-than-life animatronic puppets, and sparkling 5,500 LED lights create a variety of entertaining shows. Designed by a world-class team that includes Emmy-winning director Kenny Ortegam production designer Michael Curry and lighting designer Patrick Woodroffe, the two minute show can be viewed for those with dinner reservations at SW Steakhouse and Lakeside. For those who prefer cocktails and light bites, Aft Cocktail Deck will have a table and chairs at the water's edge to sit back and take in a new show every 30 minutes.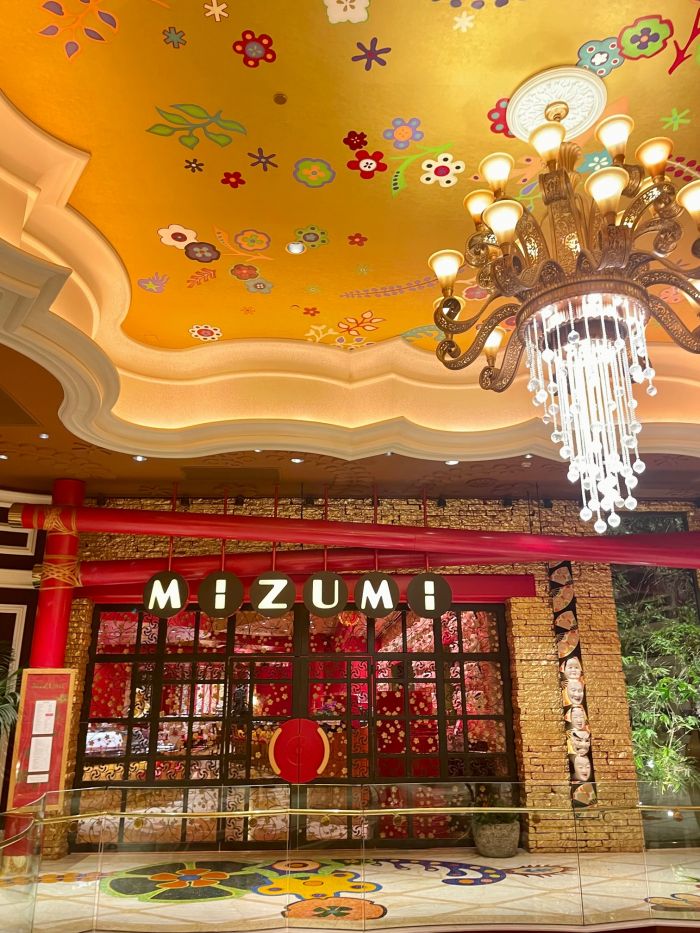 Mizumi at Wynn Las Vegas - Jill Weinlein
Also on Friday, April 28 is the 'Improbable Pairings Tasting' at the beautiful Mizumi restaurant. Executive Chef Min Kim will highlight a decadent multi-course signature Japanese dinner, as three different Opus One wines will be served from 3:30 to 5 p.m.
Also on Friday, James Beard Award-winning Wynn Executive Chef Christopher Lee will feature a special nose-to-tail dinner at Tableau, starting at 7 p.m. This Master Tasting is only available to Collector's Experience ticket holders. Chef Lee is Wynn's VP of Culinary Operations and will feature an elaborate, five-course menu of 'whole cow' cuts that include A-5 Kobe Beef tartare, beef cheek cappelletti, slow-poached beef tenderloin and a dry-aged NY Strip trio. These dishes will be paired with four rare vintages of Opus One poured from large format 3L bottles.
A special VIP viewing package event is also available on Friday, the 'Opus One Awakening'. This elite circle seating experience will have small bites or desserts paired with special wines or Champagne.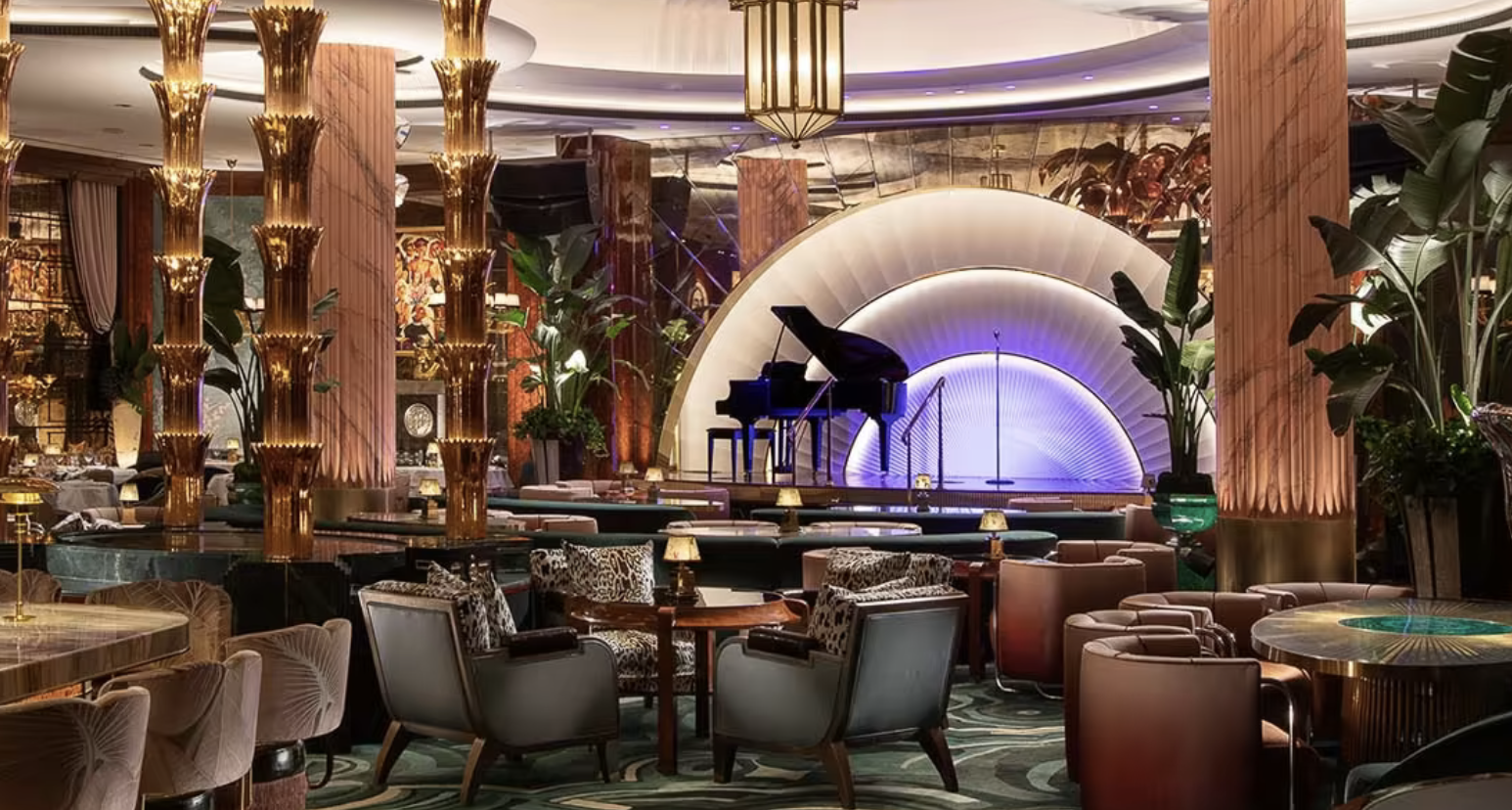 Delilah at Wynn Las Vegas
Delilah at Wynn Las Vegas in the exclusive Tower Suites enclave, is where 'The Art of the Table' will take place on Saturday, April 29, from 12 to 1:30 p.m. The interior is inspired by the early showrooms of Las Vegas in the 1950s, and is an ideal setting for a special Opus One luncheon. Four different vintages will be paired with seasonally inspired cuisine from Delilah's executive chef, Joshua Smith. This 90-minute event highlights Opus One's philosophy that fine wine and exceptional food are best enjoyed while surrounded by art and beauty.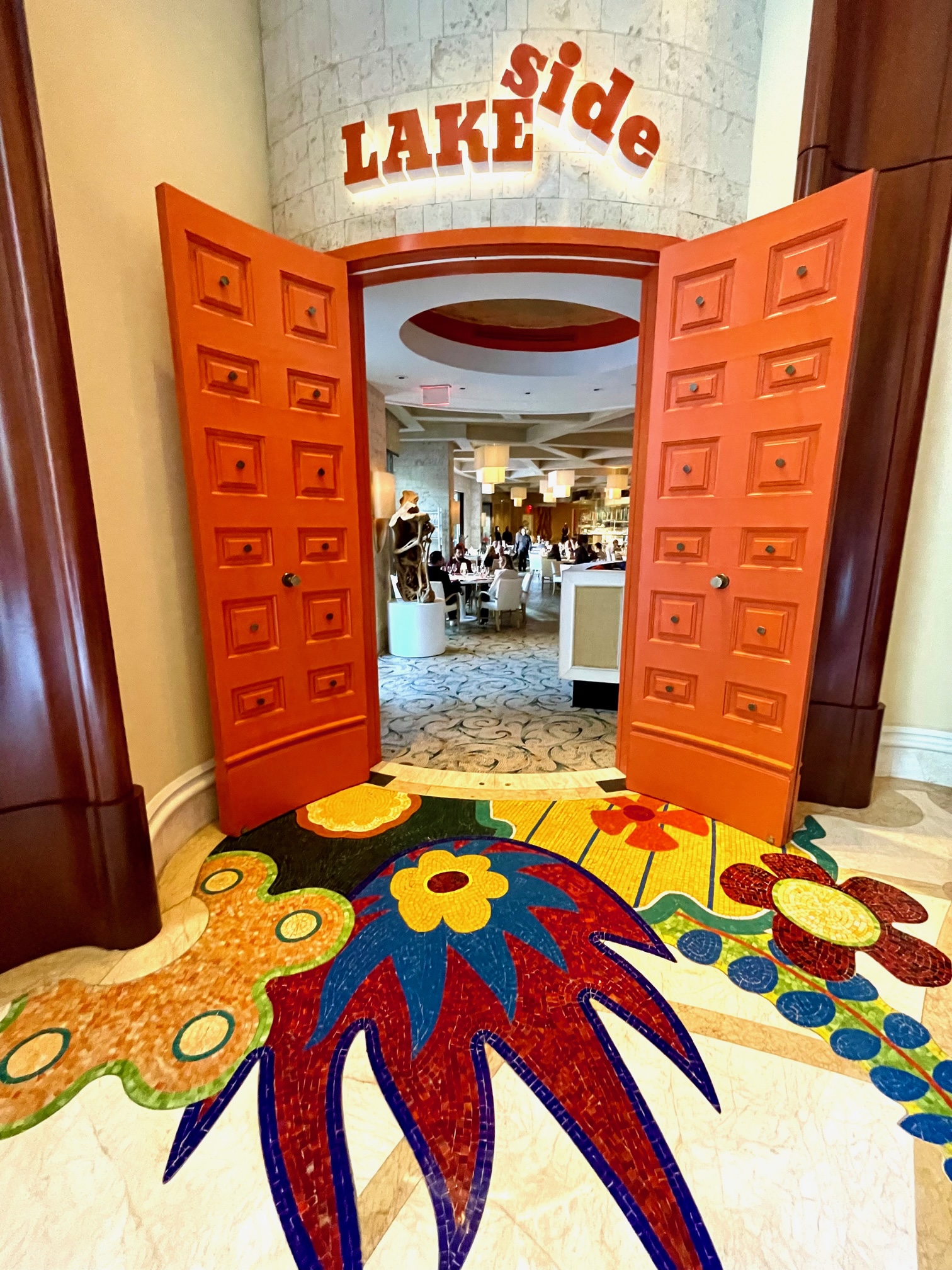 Entrance to Lakeside - Jill Weinlein
Also on Saturday, Wynn's Lakeside restaurant will host an elegant Master Class offering guests a rare opportunity to meet Opus One winemaker Michael Silacci. A special meal curated by Executive Chef David Middleton will be paired with four unique vintages poured from magnum bottles. Guests will learn about Michael's holistic vision of wine growing from 2 to 3:30 p.m.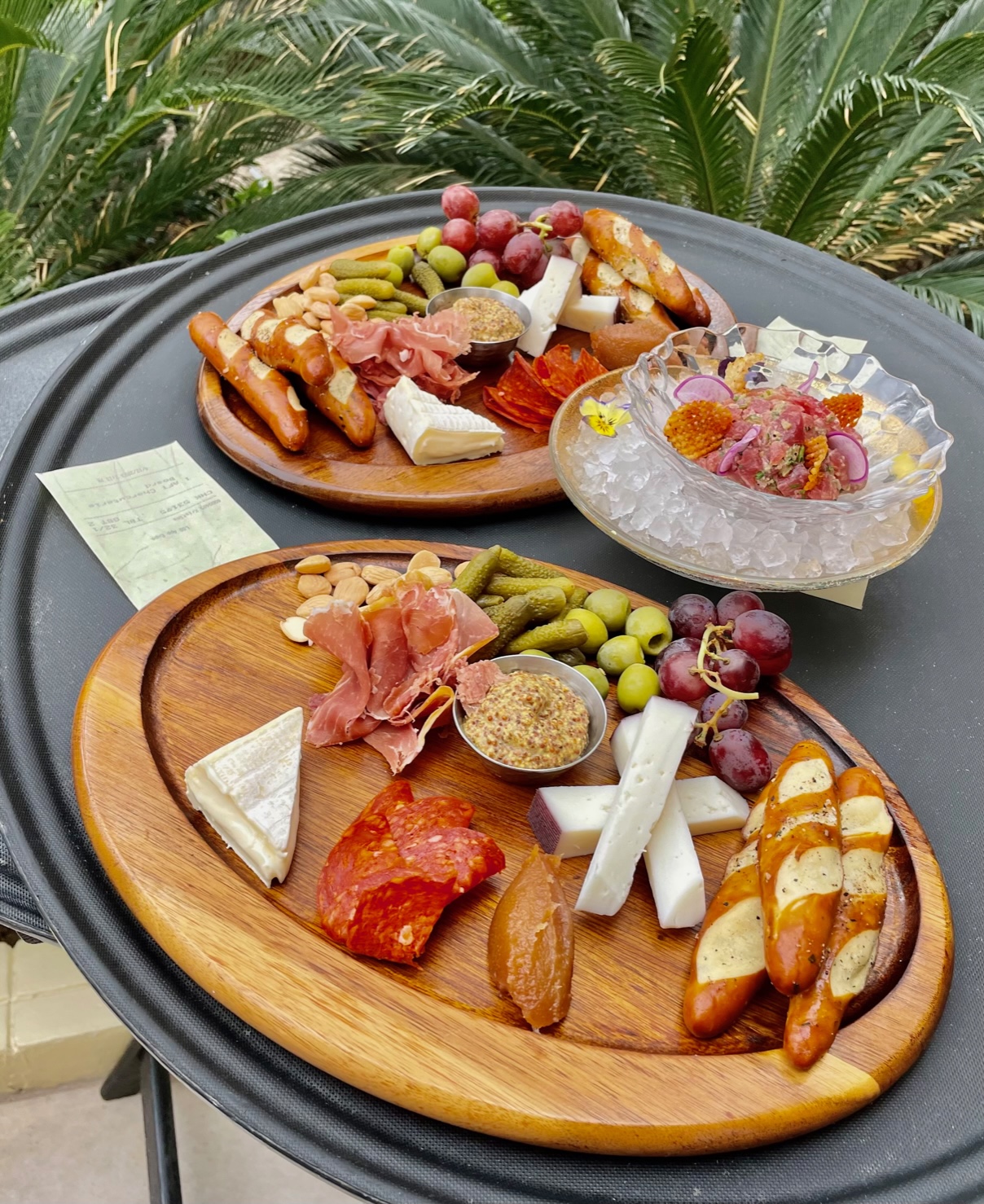 Charcuterie - Jill Weinlein
At the newest cocktail lounge inside Wynn Las Vegas, Aft Cocktail Deck, between JW Steakhouse and Lakeside, Opus One will have a Happy Hour celebration on Saturday, April 29, starting at 4 p.m. The elegant yacht atmosphere takes inspiration from worldly destinations such as Rio de Janeiro and Ibiza. Besides learning about the winery's French and American origins, guests will also be enlightened about the winemaking practices. Wynn Chef Mark LoRusso will prepare charcuterie and small bites to pair with these fabulous wines.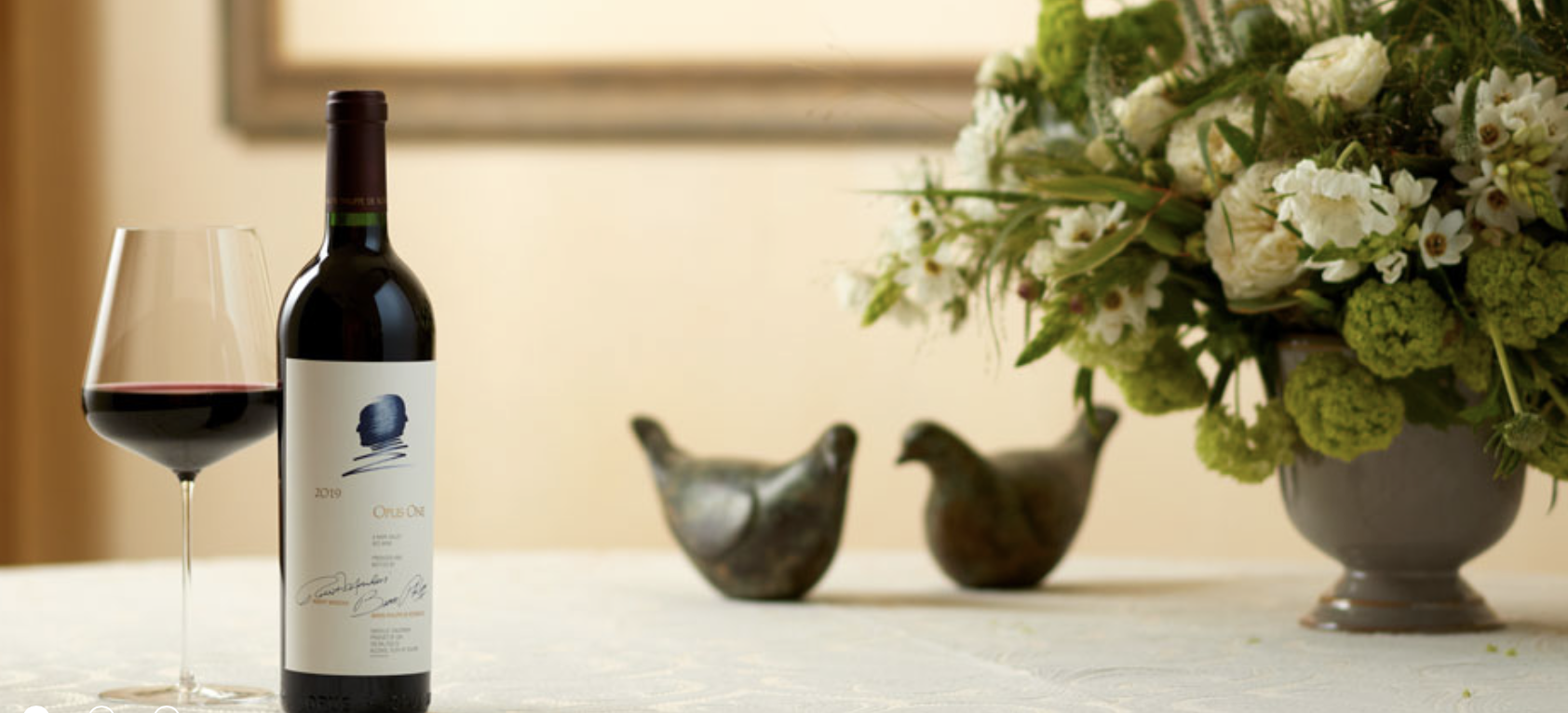 Opus One Wine Weekend
The final event of the weekend will take place on Saturday evening outdoors next to the Wynn Golf Course. 'Opus One Under the Stars' takes place overlooking the verdant fairway greens. Chefs Christopher Lee and Sarah Thompson, the Executive Chef at Casa Playa, have built an open-fire grill to prepare Argentinian fare. Fresh produce and proteins are grilled in front of guests, offering an exciting culinary experience, paired with Opus One wines poured throughout this event.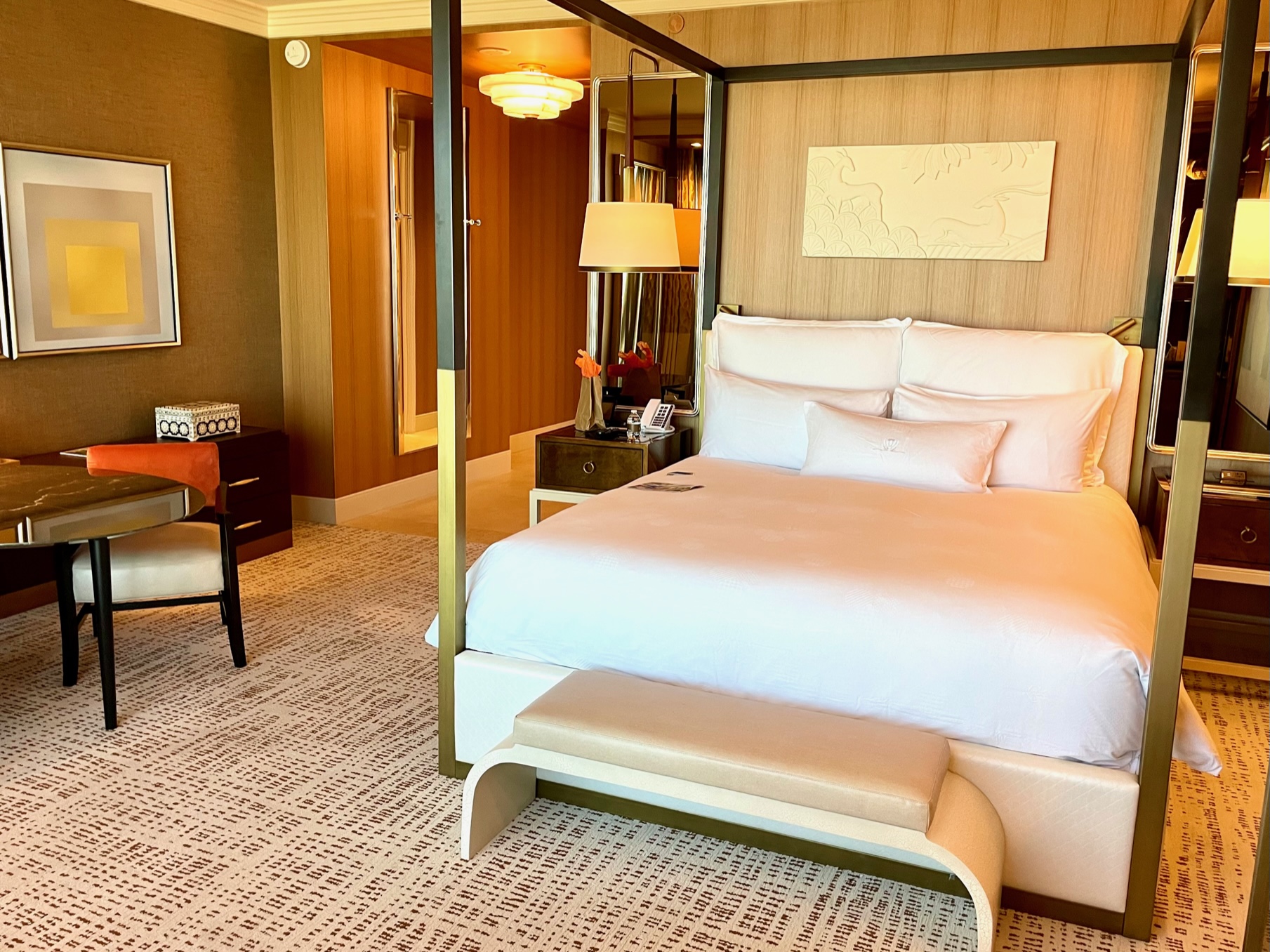 Tower Suites Room - Jill Weinlein
Tickets for select individual events are available starting at $500 per guest. A limited number of Collector's Experience packages will be available for $15,000 for a single guest or $25,000 for couples. These packages include an all-access pass to the weekend's complete programming, plus a two-night stay in a Wynn Tower Suite room, private concierge service, ground transportation to and from the airport, special welcome amenities, tax and gratuity and more. Go to Wynn Opus One Wine Weekend.