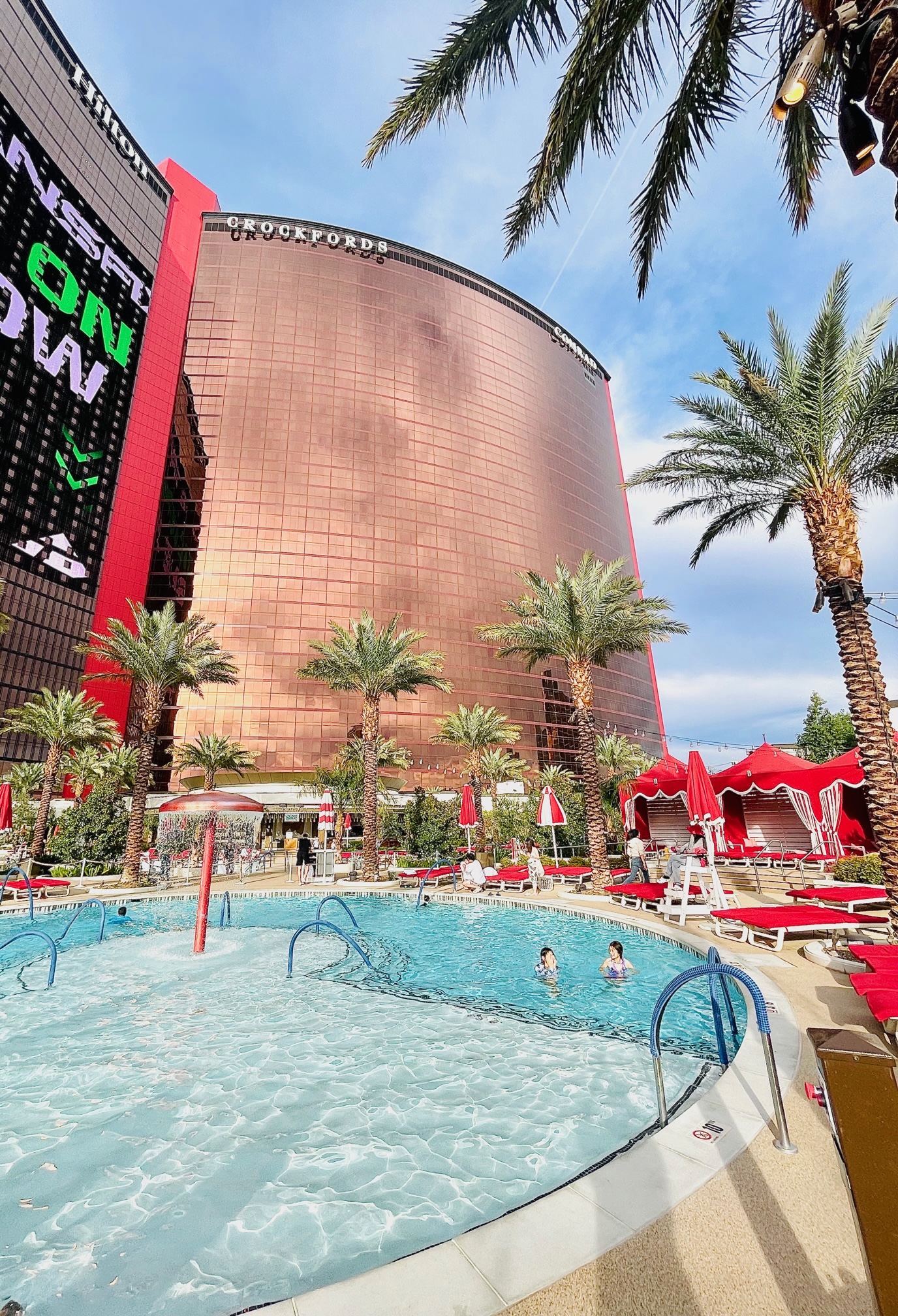 Resorts World - Photo by Jill Weinlein
The newest property on the Las Vegas Strip is Resorts World Las Vegas, a consortium of three hotels - Hilton, Conrad, and Crockfords. Each are slightly different in price, design, service and amenities. Accommodations range from guest rooms to suites, villas, and palaces. All guests are welcome to over 40 dining options, numerous swimming pools, outdoor terraces, shopping, world-class theatre, and 117,000 sq. ft. gaming casino on the ground floor. Take the elevator up to the 66th floor for a more intimate private casino in Alle Lounge.
Hilton offers 1,600 stylish rooms and attentive service. Deluxe rooms offer contemporary decor, plush bedding, an intimate seating area and spacious bathroom with a walk-in shower. There is a mini bar and refrigerator in every room.
Conrad Las Vegas offers 1,496 stylish suites and rooms featuring curated art and a Mid-century modern design. The King bed or two Qeen beds are dressed in elegant plush bedding. Floor to ceiling glass windows provide million dollar views near the work desk and sitting area. The spa-like bathroom has a walk-in shower and upgraded bath amenities. Conrad also has one and two bedroom suites ranging from 1,100 sq. ft. to a 3,000 sq. ft. two bedroom, two bathroom suite.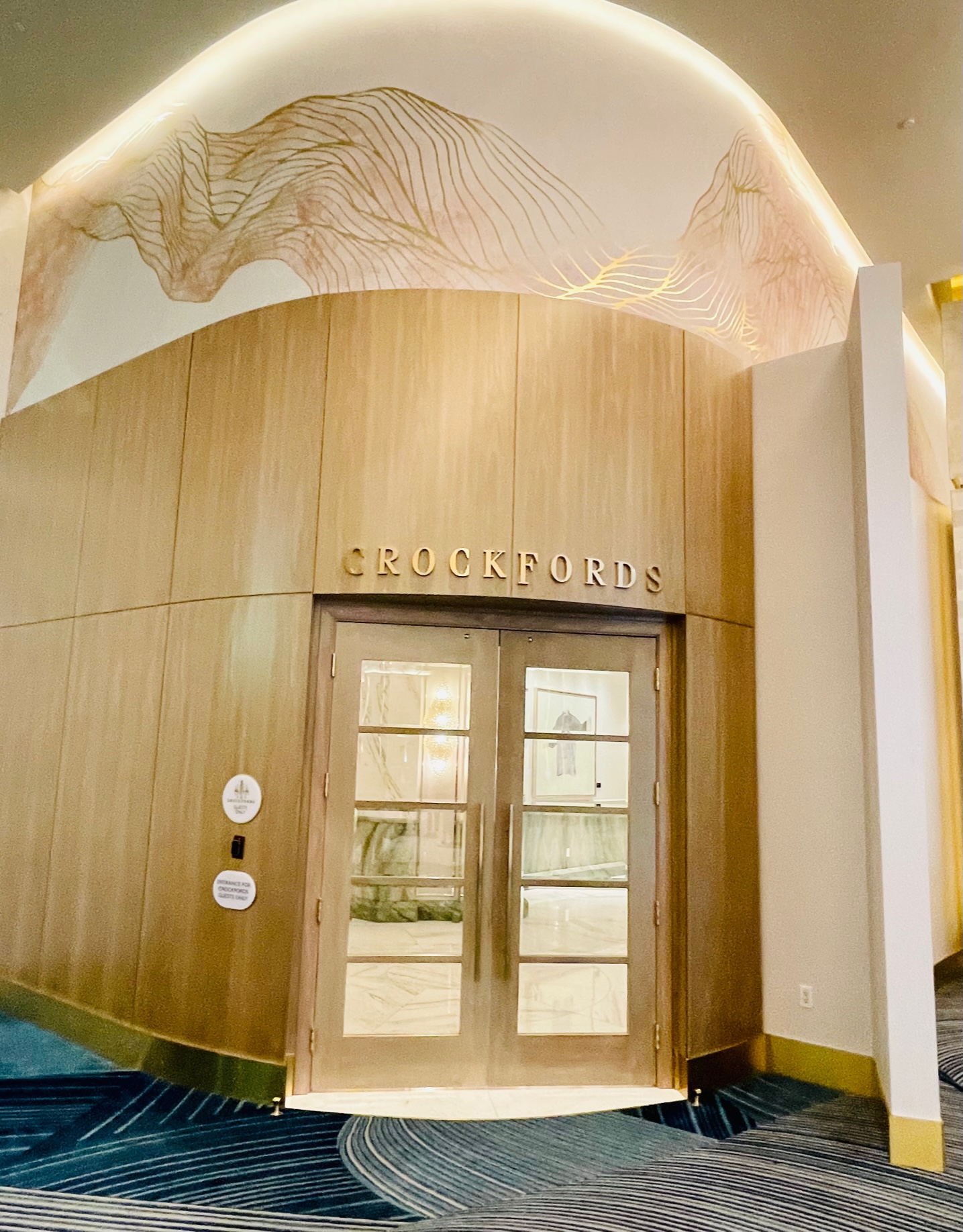 Crockfords entrance
Guests who reserve a room, suite or villa at Crockfords, part of LXR Hotels and Resorts, will discover this hotel offers the ultimate in luxury accommodations. A dedicated pre-arrival team, and gated entrance to a private porte-cochere awaits with valet service and curbside meet-and-greet hospitality. Enter the private lobby and receive light snacks and beverages. During the evening, the luxurious lobby bar offers top-shelf cocktails and spirits.
Crockfords three and four bedroom palatial palaces are complete with a grand foyer, formal dining room, state-of-the-art media room with cinema-style seating and a game room complete with billiards and a wet bar. Four luxurious master suites include spa-inspired ensuite bathrooms with soaking tubs and custom walk-in closets. Outside, a tranquil and spacious terrace with a private pool, spa, manicured gardens and gourmet patio kitchen invites guests to lounge under the sun, moon and stars.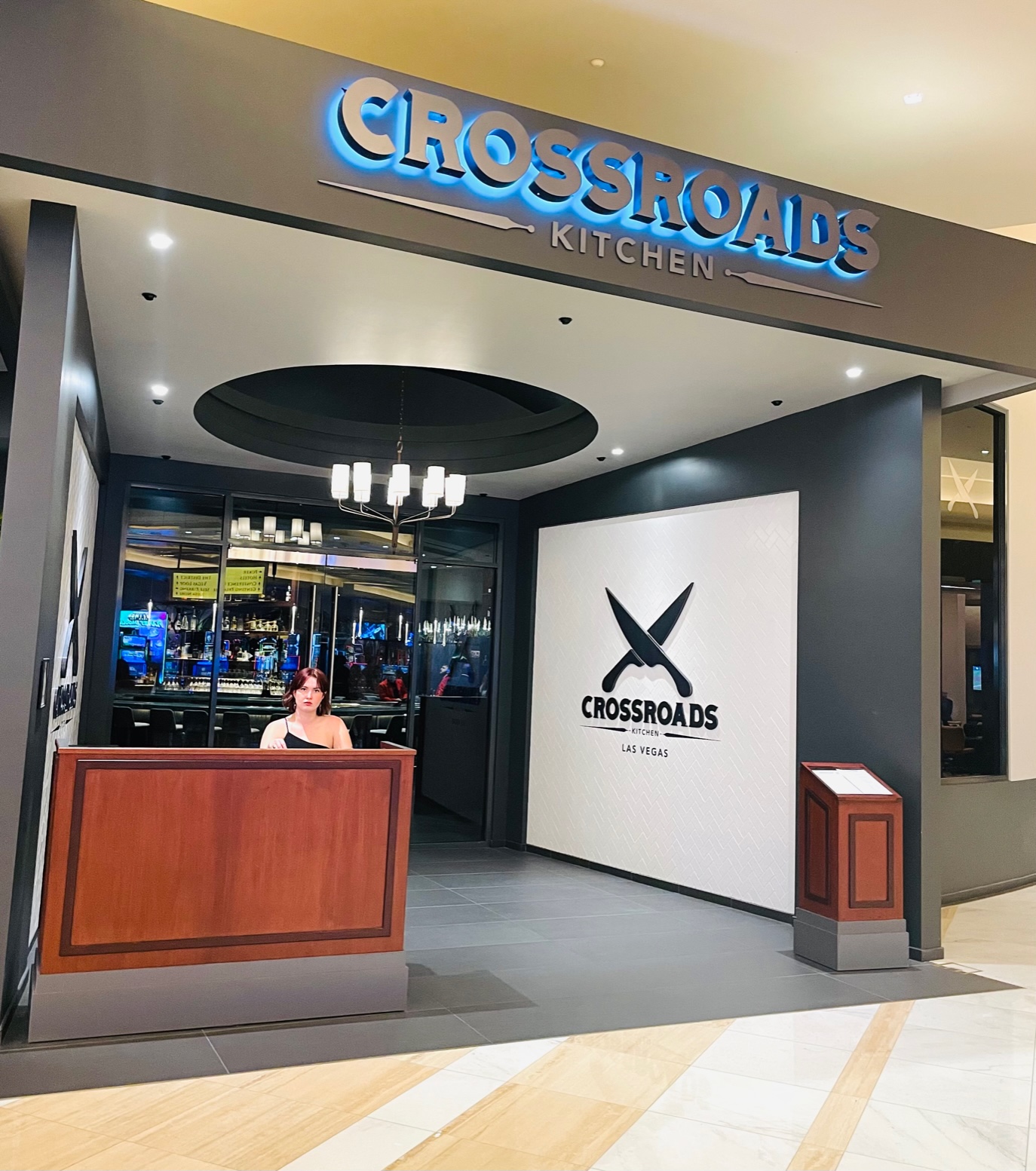 Crossroads Kitchen- Photo by Jill Weinlein
EAT
There are more globally inspired restaurants at Resorts World than any other destination on the Strip. Options range from fine dining to fast casual. Many of the restaurants are concepts by well-known celebrity chefs such as Tal Ronan at Crossroads, Latin cooking at VIVA! by Ray Garcia, named Esquire Magazine's "Chef of the Year," plus Executive Chef Nicole Brisson's Italian focus Breeza and globally-inspired Bar Zuzu. Executive Chef Daniel Ontiveros' offers a classic steakhouse experience at Carversteak, and Michelin-starred chef Shaun Hergatt opened Caviar Bar Las Vegas designed by Roman Vnoukov. There is a Chinese inspired FUHU restaurant and
One of the premier vegan restaurants with a celebrity following is Crossroads Kitchen. He has prepared meals for Oprah Winfrey's 21-day vegan cleanse. He catered Ellen DeGeneres and Portia de Rossi's wedding, and a U.S. Senate dinner.
The original Crossroads opened in Los Angeles by owner and Executive Chef Tal Ronnen. Next he opened a Calabasas location, and now he has Crossroads in Las Vegas at Resorts World. This is the first plant-based fine dining restaurant on the Strip.
The menu offers an array of clever Mediterranean-inspired plant-based dishes that include stuffed zucchini, chestnut foie gras, homemade pastas, pizzas, and during brunch a bagel tower that serves four to six people. It's presented with mini bagels, olive and pimento cream cheese, chive cream cheese, kelp caviar, smoked carrot lox with capers, smoked whitefish salad (made from fresh hearts of palm), sliced tomato, sliced onion and marinated cucumbers.
Currently Crossroads is offering a 5 and 7 course Spring Tasting Menu for the table, so guests can taste some of his fans favorites including sweet pea ravioli and eggplant short rib. Guests can enjoy this with a wine pairing with each course.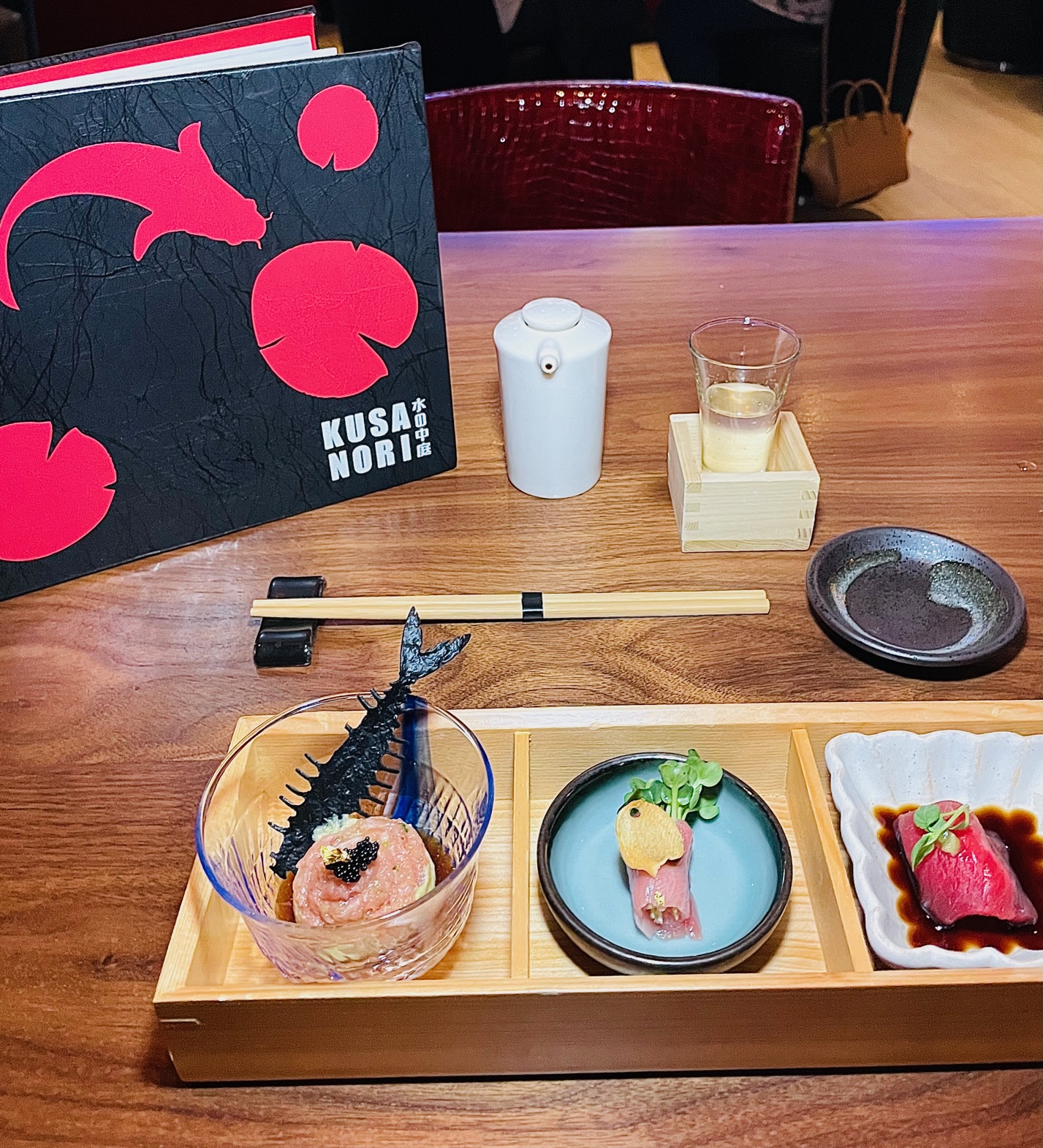 Kusa Nori - Photo Jill Weinlein
Kusa Nori is a modern Japanese bistro that offers an exquisite multi-course Omakase dinner with wine and sake pairing. The restaurant also has a sushi bar and teppanyaki grills. Menu highlights include oysters, specialty rolls, sashimi and nigiri, robata meats and seafood. The presentation of each dish is a feast for the senses.
Kusa Nori offers Happy Hour with discounted signature bites, handcrafted cocktails and sake bombs daily from 4 to 5:30 p.m. Seating starts at 5 p.m., for a Kusa Nori Teppanyaki experience where a chef will prepare at your table seasonal vegetables and a choice of certified Angus beef, Wagyu beef, Jidori Chicken and fresh seafood.
Desserts include freshly spun cotton candy and a yuzu citrus cheesecake shaped as a yellow lemon.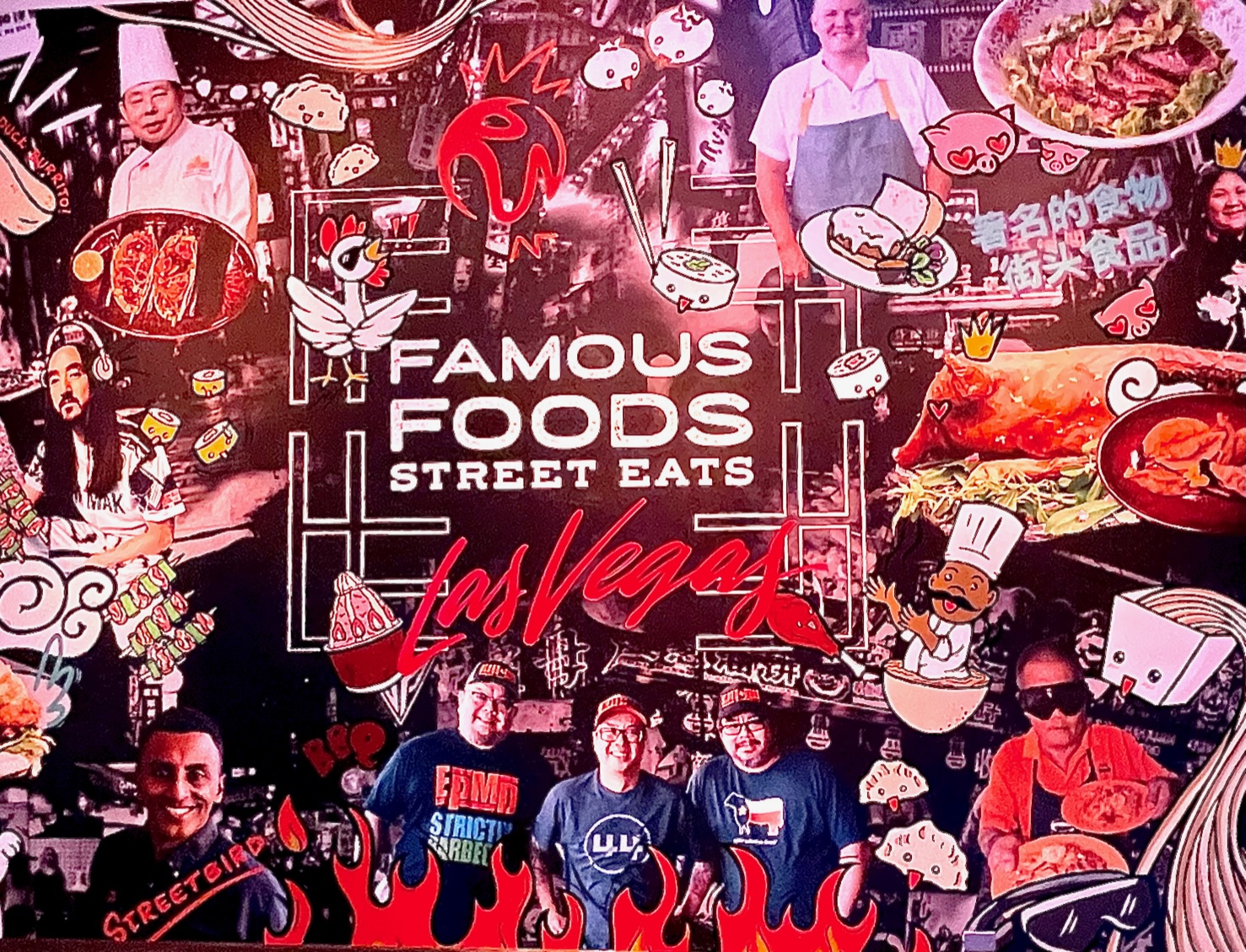 Famous Foods Street Eats
Famous Foods Street Eats offers Resorts World visitors a new level of exciting and exotic culinary adventures. The curated pan-Asian eateries are almost replicas to the energetic street markets in Southeast Asia.
Award-winning chefs from around the globe prepare their favorite dishes for guests to order and dine in a creative and appealing dining setting. Some of the chefs participating in this unique culinary venue include:
Celebrity Chef and James Beard Award Winner Marcus Samuelsson's Streetbird. He takes America's favorite hot and spicy fried chicken and turns it into hot honey chicken and waffle, wild wild wings and mac & greens.
Su Chun Shandong Dumpling serves Shanghainese Pulled Noodles and Sheng jian steamed meat bao buns. It's the favorite street snack in Shanghai earning Au Chun restaurant a Bib Hourmand recognition in the 2020 Michelin Guide.
Founded over 40 years ago, Geylang Claypot Rice earned a Michelin Plate in 2016 for it's traditional savory Southeast Asian rice dishes cooked slowly in traditional claypots. It is one of Singapore's favorite claypot eateries.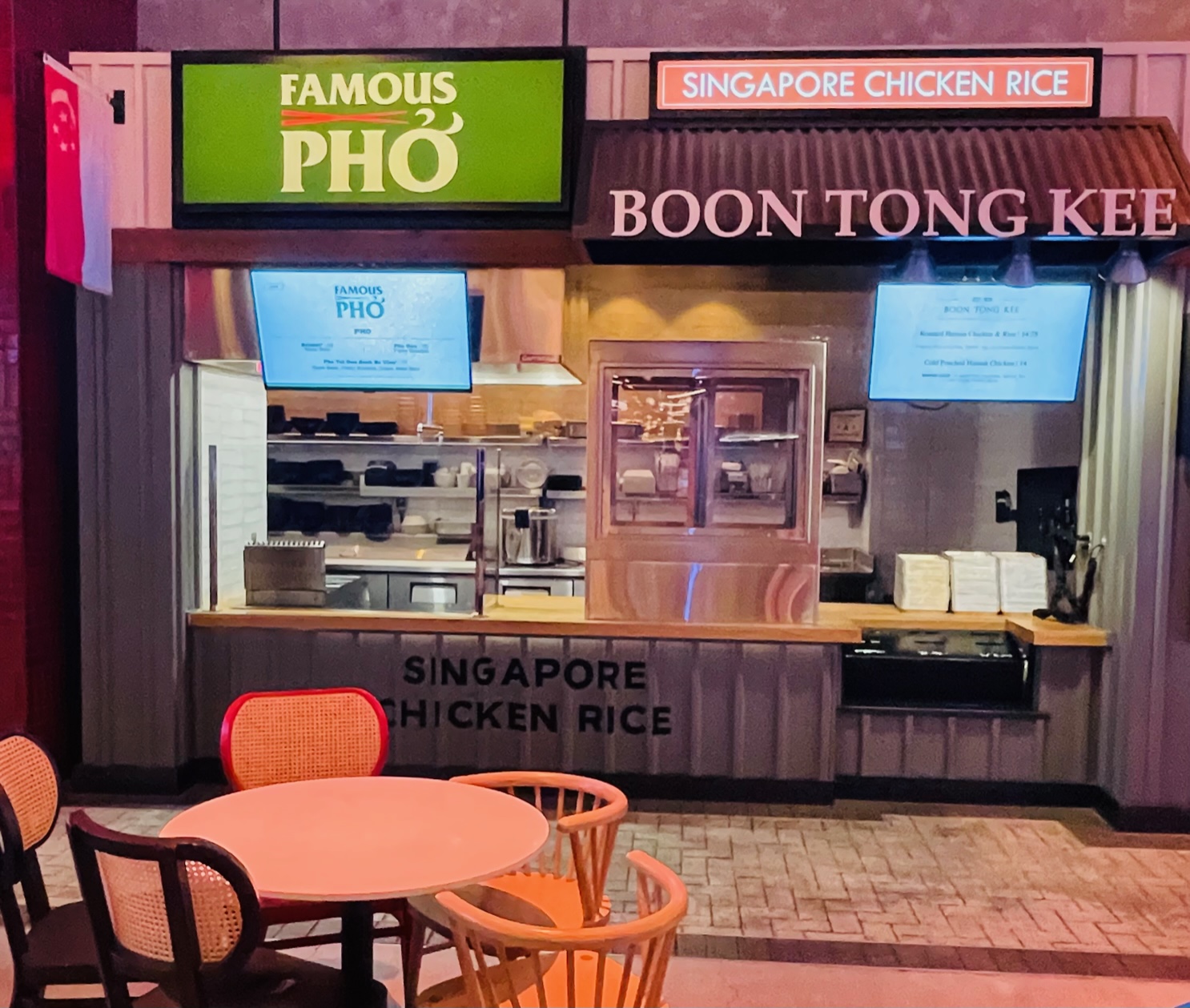 Famous Foods - Photo by Jill Weinlein
Tender chicken recipes at Boon Tong Kee originating in Singapore's Chinatown food stall in 1979, serves traditional Singapore chicken rice.
Blood Bros. BBQ is a popular Houston dining spot serving classic Texas BBQ with an Asian twist. Brothers Robin and Terry Wong, along with their best friend since high school, pit-master Quy Hoang, are kings of BBQ for their Gochujang pork ribs now at Resorts World.
An array of sweet treats from around the world can be discovered at Sweet Eats featuring gourmet pastries, customized dipped apples, and flavored ice.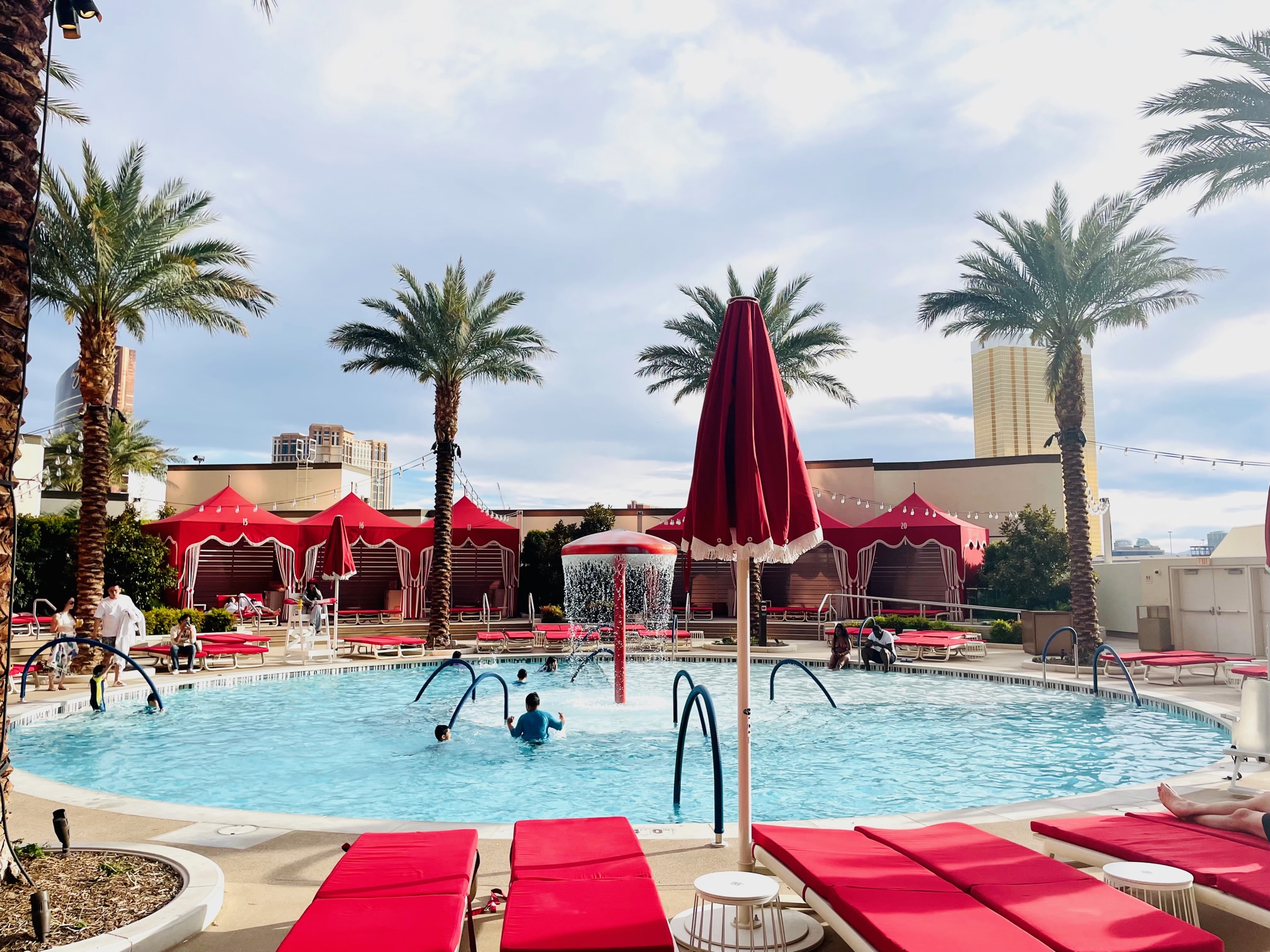 Pools at Resorts World - Photo by Jill Weinlein
SWIM
The Cabana Pool has 13 private cabanas and deck chairs reserved for Crockfords guests. The pool is refreshing for swimmers and sunbathers. Reserve a private cabana and receive bottled water, refrigerator, personal safe, ceiling misting fan to stay cool, television, couch, table and lounge chairs.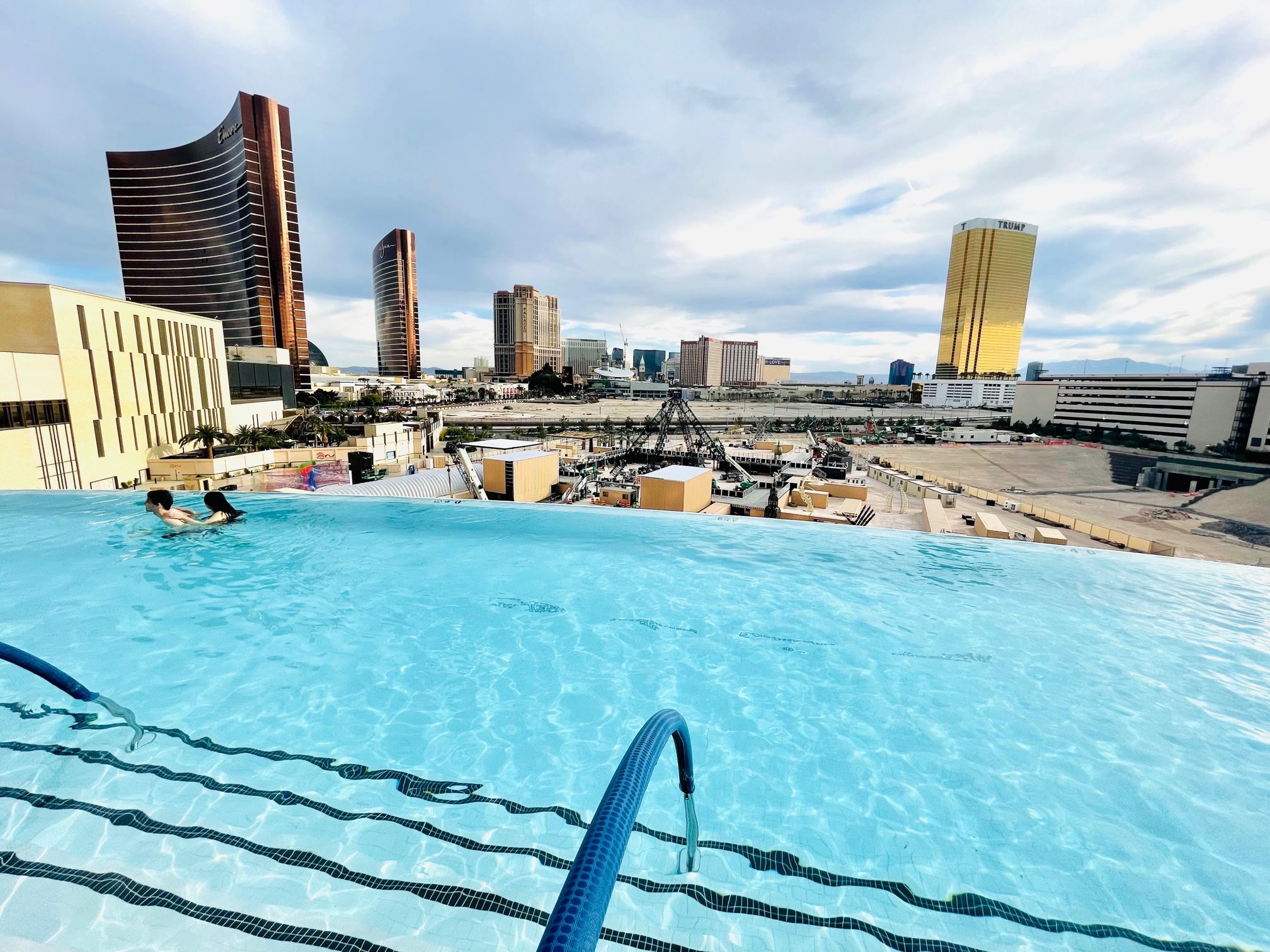 Infinity Pool at Resorts World - Photo by Jill Weinlein
Resorts World offers the first ever adult-only Infinity Pool on The Strip. Athena Infinity Ultra Pool offers complimentary lounge chairs or adults can upgrade by reserving a daybed or bungalow.
This pool offers the most stunning birds-eye views of Las Vegas and the world's largest touring immersive art experience TRANSFIX below.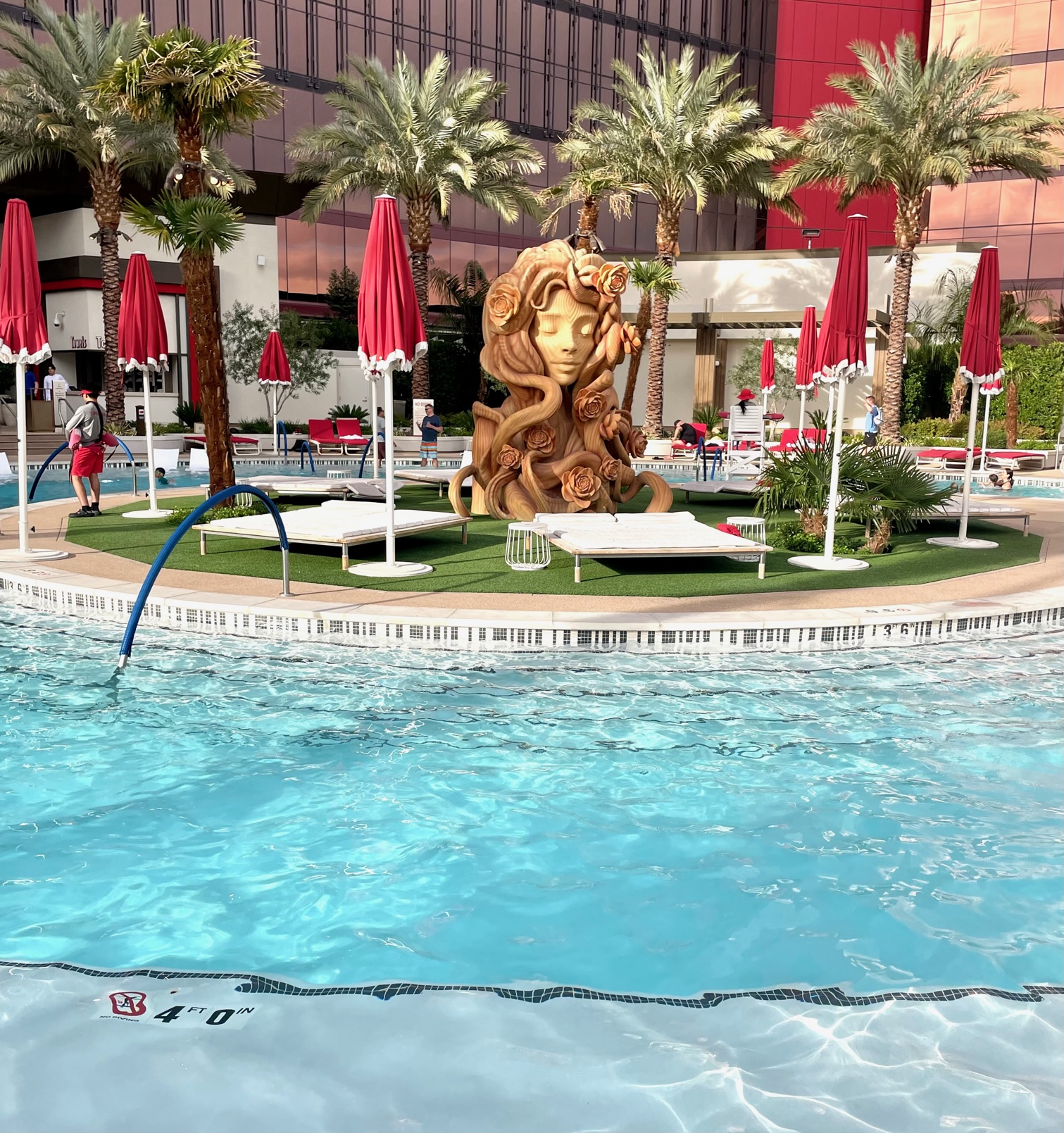 Main Pool at Resorts World
There are other pools at Resorts World including the Main Pool offering red lounge chairs and white chairs inside the entrance level of the pool. A beautiful art sculpture on an island has day beds for guests to rent that includes a dedicated server and poolside concierge, towel service, a side table and shade.
A playful area on the pool desk is at the Bimini pool with oversized chess board and cornhole. Relax at the Bimini Bar and lounge area for a refreshing drink.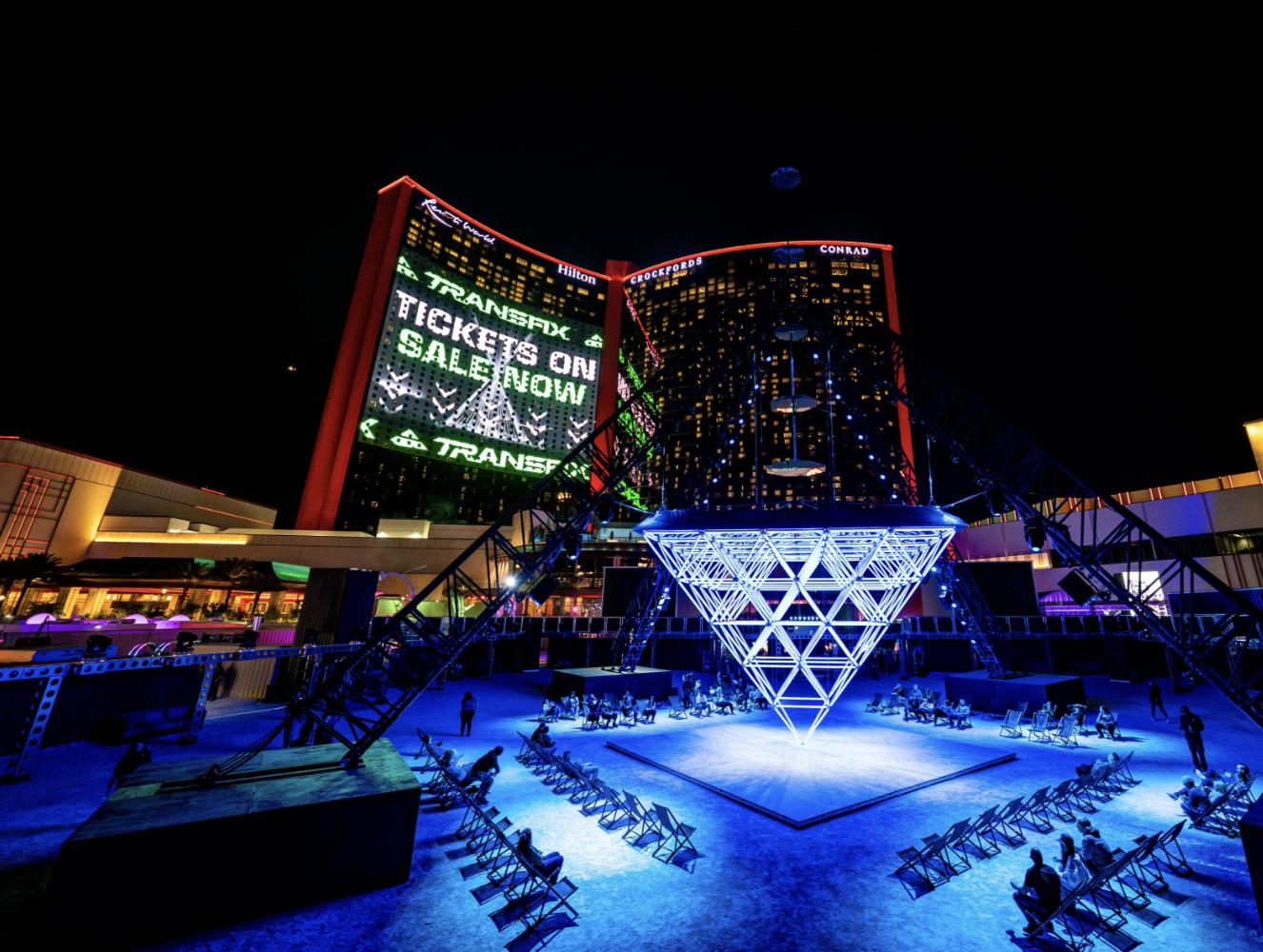 Resorts World TRANSFIX
PLAY
Officially opened on April 21 to the public, this new Resorts World Las Vegas TRANSFIX experience offers over 50 interactive, kinetic, illuminated, and fire-breathing artworks by international artists across a 200,000 square-foot multi-level venue on four acres of land. This playful experience is designed to be an encounter unlike any other as ticket holders embark on their own 90-120 minute journey through a labyrinth. There are also 10 artist-designed bars and speakeasies, including Hand of Man, Control No Control, and Shrumen Lumen. Each location provides a unique environment, offering guests the opportunity to enjoy a selection of exclusive signature cocktails.
Artworks range from monolithic, shapeshifting kinetics, mesmerizing tunnels, and mind-melting video installations by participating artists who include Christopher Bauder & KiNK, Marco Cochrane, Foldhaus Collective, Kate Raudenbush, Christopher Schardt, PLAYMODES, HOTTEA and Pablo Gonzales Vargas.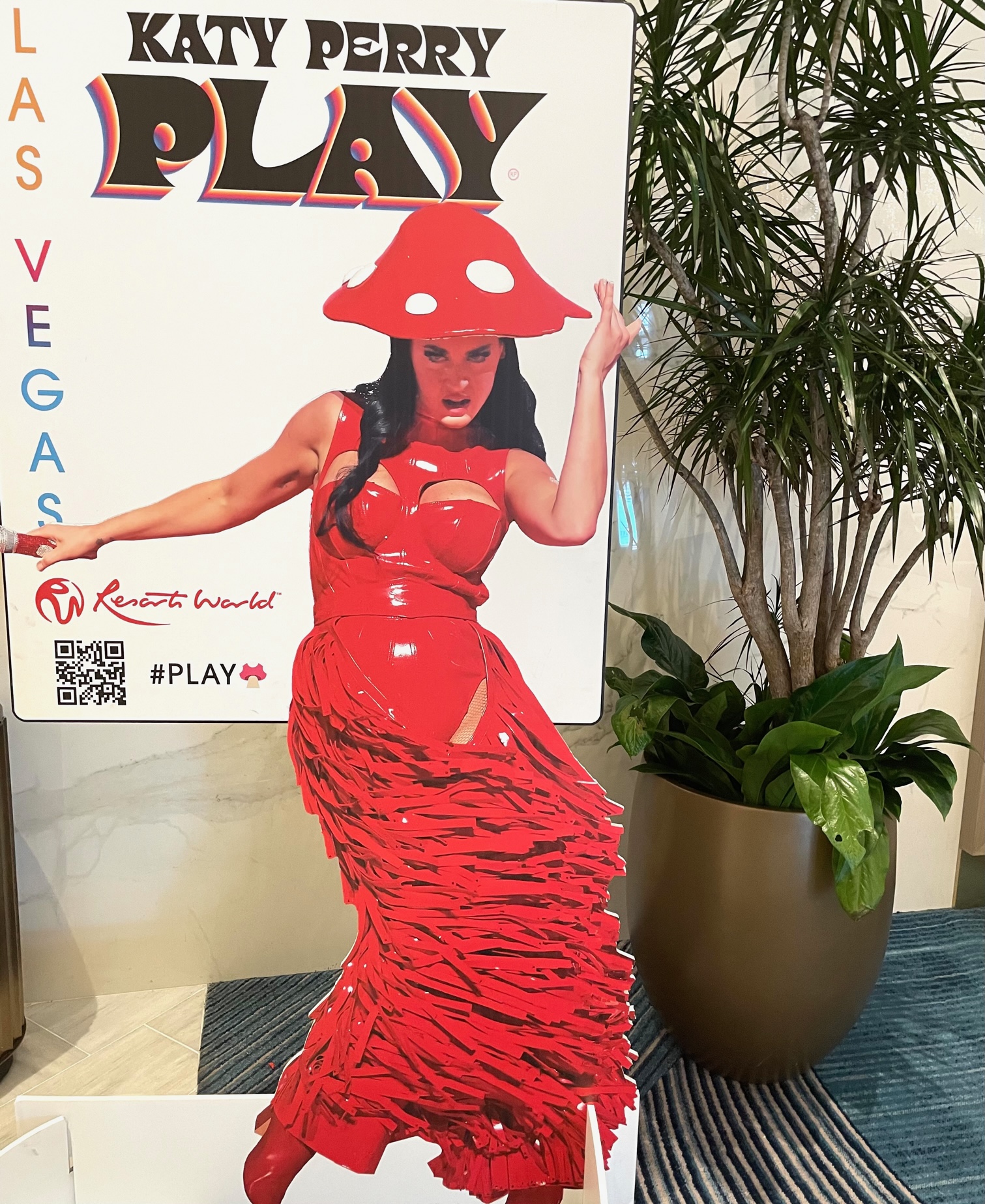 Resorts World Theatre accommodates 5,000 people to watch A-List performers such as Katy Perry (final shows on select dates on May 12 - Nov. 4, 2023), Carrie Underwood (on select date from June 21 - Dec. 16, 2023), Luke Bryan (select dates Aug. 30 - Sept. 9, 2023), and David Blaine (on select dates on April 28 - July 15, 2023).
Staying at Resorts World Las Vegas offers some of the best accommodations, culinary experiences, and play time for adults and families visiting Las Vegas.