By JustLuxe Sep. 4th, 2023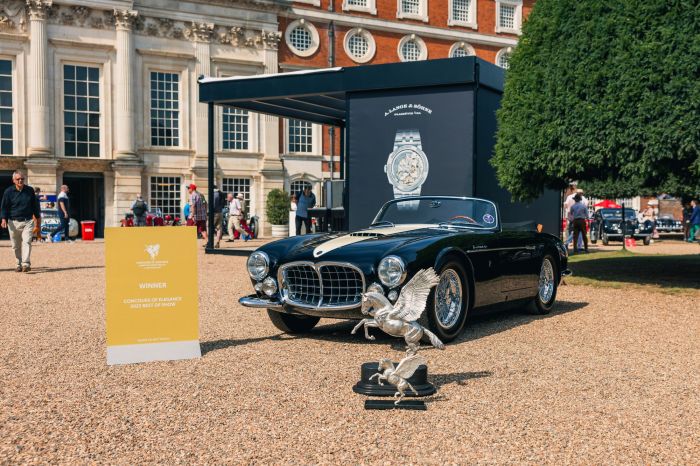 Images John Cooke
The Concours of Elegance, presented by A. Lange & Söhne, concluded yesterday after yet another fabulous automotive extravaganza, held over three days at Hampton Court Palace in west London. The 12th edition of the annual event welcomed 15,000 visitors to the stunning Palace gardens, for a landmark display of rare and significant road and competition machinery. The Best in Show winner – uniquely chosen by the Concours car owners themselves – was the irresistible 1955 Maserati A6GCS/53 Frua Spider - a masterpiece of Italian design, making its debut appearance on British soil.
Record attendance and most spectacular array of concours cars yet for Concours of Elegance 2023, at Hampton Court Palace
The Concours of Elegance further affirms its position as the UK's top concours d'elegance and among the top three in the world
Best in Show – uniquely voted for by owners themselves - goes to irresistible 1955 Maserati A6GCS/53 Frua Spider
Show included landmark Le Mans centenary celebration – with 10 winning cars and 4 double winners
'Decades winners' include Bentley Speed Six 'Old Number One', Bugatti Type 59, Ferrari 250 GT California Spider, and Aston Martin Valkyrie
Other highlights include women-only Levitt Concours, 30 under 30 concours, and Gooding & Company Auction
Dates announced for next year: show will run from 30th August to 1st September 2024
Best In Show: 1955 Maserati A6GCS/53 Frua Spider
Our best in show winner for 2023: an exceptionally rare vehicle, one of just three completed with delightful Frua coachwork, and two that survive. The Frua Spider is widely considered to be among the most beautiful and desirable 1950s cars of all.
The wonderful A6GCS Frua Spider was conceived by Gugliemo 'Mimmo' Dei, the official Maserati dealer for Rome, who commissioned a small series of exquisitely coachbuilt cars based on the high-performance A6GCS platform. The A6GCS/53 - the 'CS' standing for 'Corsa Sport' – had originally been developed for the 1953 World Sports Car Championship, and featured motorsport-honed mechanicals. It featured a potent 170bhp in-line six-cylinder engine – initially developed by famed engine builder Columbo for Formula 2 racing – and a similarly race-bred, lightweight tubular chassis by Gilco. The resulting car, weighing just 740kg, was a real work of automotive art, the perfect blend of delicate spider styling, delightful handling, and potent, race-car performance.
Full List of Winners
Best in Show: 1955 Maserati A6GCS/53 Frua Spider
Pre-1920: 1913 Hispano-Suiza 14/45HP 'Alfonso XIII'
1920s: 1929 Bentley Speed Six 'Old Number One'
1930s: 1934 Bugatti Type 59
1950s: 1956 Jaguar XKSS
1960s: 1961 Ferrari 250 GT SWB California Spider
1970s: 1971 Lamborghini Miura P400 SV
Future Classics: 2023 Aston Martin Valkyrie
Le Mans - 1920s and 1930s: 1929 Bentley Speed Six 'Old Number One'
Le Mans - 1950s and 1960s: 1964 Ferrari 250 LM
Le Mans – 1970s to Present Day: 1972 Ferrari 365 GTB/4 Daytona Group 4 Competition
Club Trophy: 1968 Aston Martin DBS
Classic & Sports Car Trophy, Saturday: 1967 Aston Martin DB6 Volante
Classic & Sports Car Trophy, Sunday: 1972 Marcos Mantis M70
Junior Concours: Bugatti Type 13 Brescia
Levitt Concours: 1955 Frazer Nash Le Mans Coupé
30 Under 30: 1981 Porsche 924
Prince Michael of Kent Award: 1962 AC Shelby Cobra 'CSX 2001'
Chairman's Award: 1937 Peugeot 302 DS Darl'Mat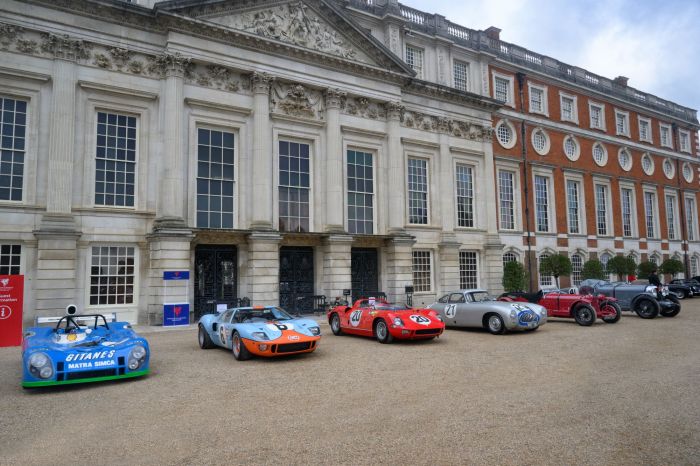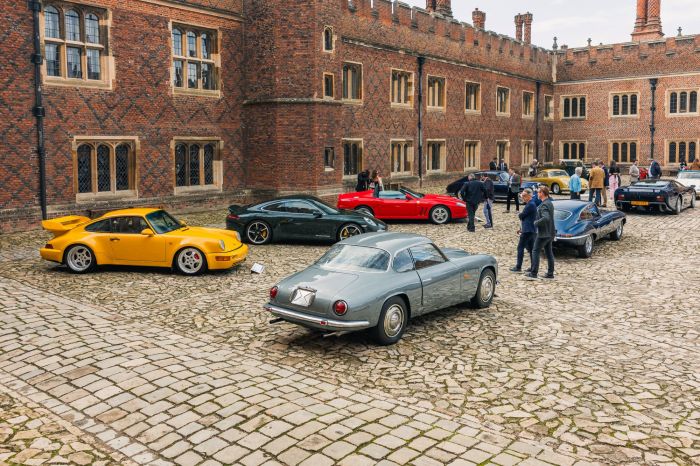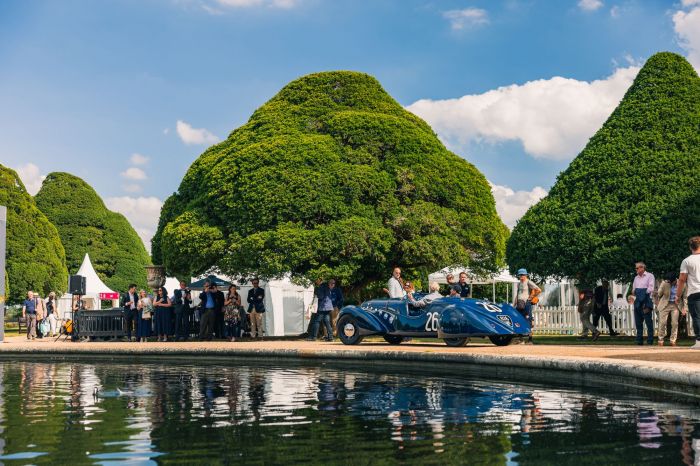 JustLuxe Team
The JustLuxe Team strives to bring our members and readers the very best in luxury news and conversations. We love to hear your opinions and suggestions, but most of all, we love to interact with you. ...(Read More)