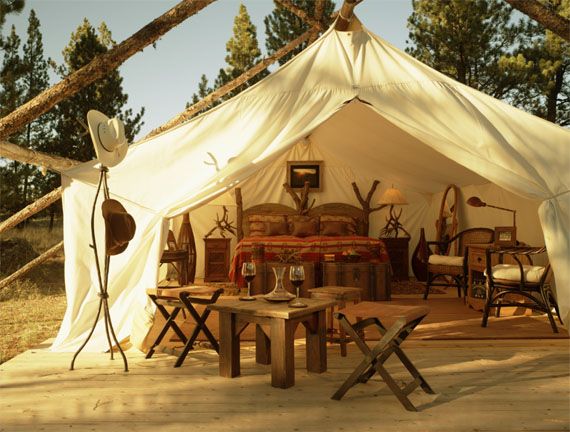 Photo Courtesy of Resort at Paws Up
"The Last Best Place" is a prodigious claim for any resort to make. But for the Resort of Paws Up, the claim is as true as the big blue skies of Montana that it rests under.
Few places have delighted me like Paws Up, a luxury ranch found on 37,000 acres of wondrous wilderness, filled with meandering cattle, spunky elk, a barn or two, and rolling hills of prairie grass. Here's my recount of just a few aspects that made my stay at Paws Up one to cherish.


Home, Home on the Range
There are no room numbers or hallways at Paws Up. Instead, each guest stays in a home, nestled within a forest of tall timbers that overlook a pleasant meadow. If there is such a thing as "cowboy couture," then Paws Up is the master designer. Our home was gorgeously appointed with luxurious wood furnishings, leather backed chairs, a full, stunning kitchen, and rustic artworks. I love attention to detail, which often distinguishes a very good luxury resort from an outstandingly impressive one.


Our home was brimming with discreet, delightful details, such as a basket stocked with hiking goodies, heated bathroom tile and towel racks, pre-cut wood and newspaper for the real fireplace (this is Montana, of course the fire is real), and a golf cart buggy for resort roaming. I noted the picture frames filled with photos of actual guests. As the staff told me, Paws Up places your most recent photos from your last stay in the frames. How much cozier could this home away from home get?


The pre-heated Jacuzzi was a nice touch as well.





Spa Town
Was I ever looking forward to a deep tissue massage after hours of horseback riding on the prairie! I plopped into my golf buggy to head to Paws Up's "Spa Town," a colony of pristine white tents, just past an authentic babbling brook. Paws Up has certainly redefined my notion of what a tent could be. Some tents had full baths and showers, while my individual treatment tent was fashioned with a lovely sink, a heated massage table, and a view of the meadows, spotted with horses. A typical "spa" sound track was hardly needed because the brook, chirping birds, and a rustle of the wind were just ideal.


One thing Paws Up excels at is giving guests the most intimate, unfiltered connection with the natural beauty of Montana, while in the most luxurious comfort possible. Covered with a heated heap of fluffy blankets, savoring the foot rub from my therapist in a perfect little tent, I was scant feet away from grazing elk and plunking pine cones. For the ultimate tent experience during an entire stay at Paws Up, "glamping" is available in several regions of the resort, complete with a private camp butler to cater to your canteen or, honestly, anything.



Real Ranching
Authenticity is paramount at Paws Up and one of its best attributes. The reception desk is in a barn, each house is made of real wood, and the cattle and horses are there to work. Not surprisingly, Paws Up's extensive activities roster reflects an adventure bound, down-to-Earth Montanan approach. Our horseback ride was led by a horseman with 30 years of riding, training, and show experience - quite a treat.


For three hours, we rode on the prairie, across the river, and through majestic forest areas where we spotted a newborn elk. Cattle driving is offered for riders with a little more experience. Deer hunting, fly-fishing, level three rafting, and mountain rappelling - mostly anything an outdoor enthusiast's heart could pitter-patter for - is offered at Paws Up. Winter is a time to return as well to the resort: dog sledding (with real Huskies) and sleigh rides through the snow are a few of the magical offerings.