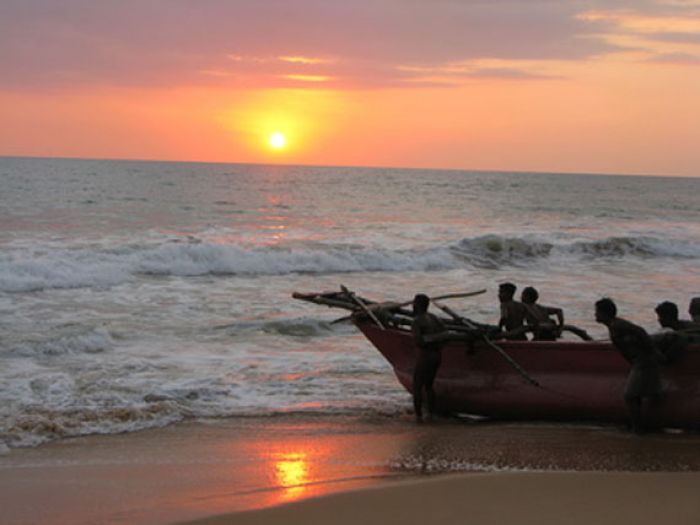 Hikkaduwa, [also called "Hikka" (slang)] is located in the south of the island of
Sri Lanka
. A three hour drive from the capital city, Colombo, the beach and the sea are what beckon people to this coastal beach town.
Every day in Hikkaduwa, there is a feeling of celebration as locals and travelers flock to a popular bathing spot nestled among a reef that acts as a shield from deep currents plunging in from the Indian Ocean. The reef is the ideal place to snorkel or explore the sea floor on a glass bottom boat, where you are at a perfect vantage point for the regions exotic and vibrantly colored fish, sea turtles, and symbolic blue coral — with finger-like tips that glow like lightening bugs.



The main road runs right along the sea, where rows of tiny huts sell souvenirs, beach clothes, and diving equipment. Restaurants that serve a diverse range of fresh seafood catches open their doors to hungry beachgoers, offering up the local favorite, "roti," a bread like wrap that usually — in other parts of the country — enfolds only an egg. Here in Hikkaduwa, they have pushed the envelope to delight epicurean fanatics by filling roti with cheese and tomato, avocado and cheese, or even chocolate and banana — think of it as a Sri Lankan crepe.

Hikkaduwa is the home to beach festivals and parties that last well into the night, making it a choice spot for a younger, more celebratory crowd who travel in from the capital city and beyond to indulge in the pulsating, lively beach atmosphere.

This post originally appeared at CityRoom.com.