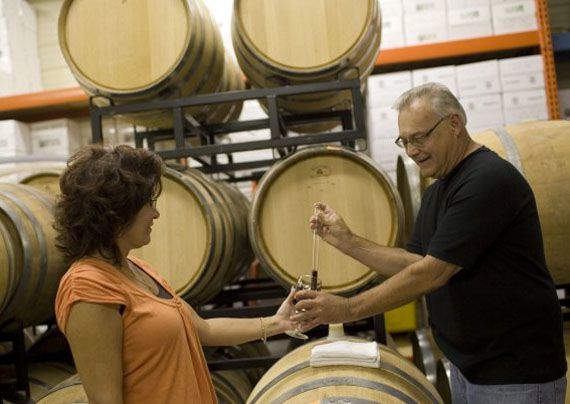 Photo Courtesy of Mason Dixon Wine Trail
George Washington with his whiskey and Sam Adams with his Boston beer set great traditions on the East Coast hundreds of years ago, but in the last 50 years, California's "Crush" season has stolen all the beverage-industry harvest headlines.

However, that doesn't mean that an East coaster wanting a fun, tipsy weekend needs to book a ticket out west. Though they may not get as much national attention, East Coast tasting trails from the Canada border all the way to North Carolina provide an unpretentious, easily accessible wine country experience.


Niagara Wine Trail
Thanks to its ice wine and a certain famous water feature nearby, the Niagara wine region is one of the area's most famous and quite diverse in its non-wine agri-tourism offerings. The Niagara Wine Trail is a collection of about a dozen wineries, all located between the Niagara Escarpment and Lake Ontario, with tasting facilities ranging from stately manor homes to classic red barns. Homestead farms, orchards, inns and berry patches are along the trail, though not officially "part" of it. Niagara's harvest season begins the last weekend in September. (Photos courtesy of Niagara Wine Trail)


Hudson Valley
All rolling hills, quaint farmhouses and picturesque pastures, the Hudson Valley is lovely in a peaceful, understated way. It's an easy drive from New York City, and seems to be in an altogether different dimension — one where everyone goes to bed by 10 p.m. and the strongest thing anyone drinks is sweet wine. First-time visitors may be surprised by how developed for wine production and tourism this region actually is. It claims the distinction of being the first region in the United States to grow grapes, with one vineyard tracing its (literal) roots back to 1677. There are multiple trails, but the Shawangunk Wine Trail, with 11 member wineries and a fun, well organized event schedule, may offer the best route to start exploring the region. For those who enjoy rural festivities, the next event is Wreath Fineries at the Wineries, November 20, 2011. (Photos courtesy of Shawangunk Wine Trail)


Mason Dixon Wine Trail
This is the newest trail on our list — it just debuted in September, 2011, with fourteen member wineries throughout south-central Pennsylvania and all the way into Maryland. This is an expanded new version of the UnCork York trail, and is incorporating not only the wineries of its predecessor, but also some of the more popular events, including Wine Just Off the Vine weekends starting in November. In a pairing suggestion that would make more established wine regions draw a collective gasp, the Mason Dixon association recommends that visitors follow up wine tasting with factory tours of a potato chip factory, soft-serve ice cream, or any of 15 others. This may be an unknown region for wine, but it's the "Factory Tour Capital of the World." (Photos courtesy of Mason Dixon Wine Trail)


Mountain Road Wine Experience
One of the unsung benefits of the East Coast is that certain regions produce micro-brewed beers, ciders and other non-wine drinks alongside wine. In California you never see this, and in Colorado and Oregon, they keep the beverage trails separate. However, on Virginia's Mountain Road Wine trail, visitors can trip and sip from Foggy Ridge Cider to AmRhein Wine Cellars to Blacksnake Meadery. There are six wineries on this trail, plus a tasting room (called, helpfully, The Tasting Room) in the town of Floyd. The trail follows the Blue Ridge Parkway at times, which makes for a stunning high-altitude drive. (Photos courtesy of Foggy Ridge Cider and Chateau Morrisette)


Cooperstown Beverage Trail

Cooperstown is a little town in upstate New York, a four hour drive from New York City, in the northern foothills of the Catskills. It used to be the hops-growing capital of the world, so it has a surprising number of breweries for its tiny size, as well as a cider mill. The Beverage Trail only leads to six venues, but these are quite diverse. You can get Belgian-style ales and rustic food at Brewery Ommegang, hard cider and specialty snacks at Fly Creek Cider Mill, and wines at Bear Pond Winery or Rustic Ridge Winery. Cooperstown is quite well known for its leaf-peeping season, which conveniently overlaps with the harvest. (Photos courtesy of Fly Creek Cider Mill and Ommegang Brewery)