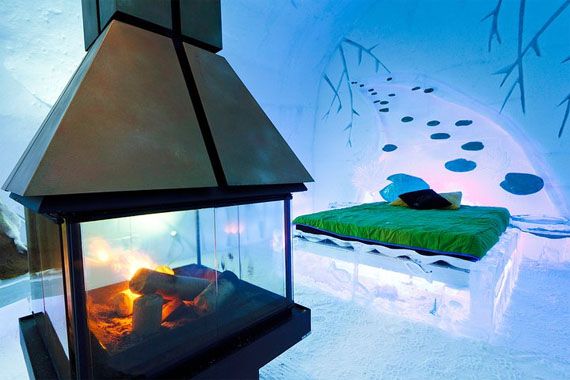 Photo Credit: Hotel de Glace & Karin Leperi
Whether we admit it or not, we all have them — bucket list items we'd like to check off and experience before we depart ways with mother Earth. Admittedly, one of mine is to embrace winter in a way that celebrates snow and ice and to...well, sleep on ice. Yes, there I said it.


Imagine my thrill when I discovered I could do both in Quebec City, and in the dead of winter. The Ice Hotel, also known as the Hotel de Glace in French Canada, just opened up for a new season on January 6, 2012 and will be open for business until March 25, 2012 when the warmer temperatures of early spring can no longer sustain a hotel constructed of block ice.

Now in its 12th season, the Ice Hotel is built anew every winter for overnight stays and getaways. Over the years, more than a half million people from around the world have visited this frosty architectural glory and unique ice wonder. Some have been married here, and many have risen to the challenge of sleeping on ice, including myself.

From weddings and honeymoons to family gatherings, couples retreats and girlfriend getaways, this Ice Hotel has hosted them all. This year features the addition of the longest covered slide of ice and snow, where you can feel like a kid again. There is also an ice-skating rink where you can practice your figure eights.



Located only a few minutes from downtown Quebec City, the 2012 theme is the fascinating world of Northern Quebec and the First Nations of the North. "The Northern Quebec is far from being a vast desert region since it has been inhabited for centuries. The territory defines the culture and the identity through which men and women perceive their world. This year, the design of the Hotel de Glace, will communicate the art, culture, knowledge and values of the First Nations," explains Serge Peloquin, Artistic Director at the Ice Hotel.


After over-nighting at the coolest place on earth, what better way to celebrate the throes of winter than by visiting the largest winter carnival in the world? Less than 10 minutes from the Ice Hotel, the Winter Carnival is open from January 27 through February 12, 2012 and features fireworks, parades, dog sled and horse races, snow slides and rafting, sleigh rides, arctic spas, snow sculptures and snow bathers. You can't help but have fun at this gleeful celebration of the season. Refresh at the sugar shack, play giant table soccer on a human scale, and zipline through crowds on the Plains of Abraham. And be sure to try the local drink called Caribou, which you can enjoy hot or cold.

Don't miss an encounter with the grand host of Winter Carnival, the iconic Bonhomme. A life-size snowman sporting a strange grin and wearing a red waist sash, the revelry easily rivals festivities in Rio and New Orleans — only cooler. It's easily another bucket list adventure worth the check-off. To learn more about Hotel de Glace, visit HoteldeGlace-Canada.com or Carnaval.qc.ca for more about Carnaval de Quebec.
Karin Leperi
Ice Hotel Chapel
Karin Leperi
Blue Room at Hotel de Glace
Karin Leperi
St. Hubert Derby at Winter Carnival
Karin Leperi
Snow Tubing
Karin Leperi
Winter Carnival Night Parade
Karin Leperi
Winter Carnival Night Scene