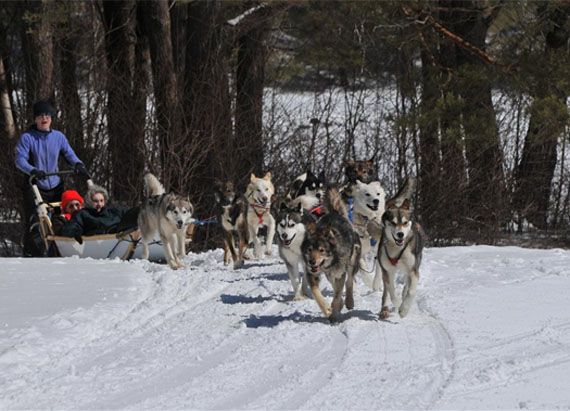 Photo Credit Muddy Paw/Ruth Mitchell
What a rush it is to be pulled behind a team of 12 powerful sled dogs. Even though I had a bucket list long before I even knew what a bucket list was, dog-sledding was certainly not on it. However, the experience ranked as some of the
best adventure travel
to date.
My companion Mitch and I recently had the opportunity to join Muddy Paw Sled Dog Kennel on an amazing trip through the countryside of the White Mountain Region near Jefferson, New Hampshire. At the kennel they have provided homes for over 150 sled dogs, ranging from Alaskan Huskies to more traditional breeds such as Siberians and Malamutes. This non-profit organization will not turn any sled dog away. They offer these animals a "job for life" by focusing on rescuing Alaskan Huskies in need of a home.
We arrived believing we were well bundled, but our mushers took one look at us and offered us additional clothing. To our surprise, we were encouraged to embrace the dogs rather than offer a cautiously extended hand for them to sniff. These dogs were raring to go. We were also quickly encouraged to help harness the 12 dog team and Mitch jumped right in. The dogs were led out on two hind legs, which we were informed doesn't harm them. This is a necessary practice for the handlers to counteract the strength and enthusiasm of a sled dog who is ready to run—and boy were these dogs willing to run.
We were also a little surprised to see some of the dogs chained to platforms with small houses on top. We were told this was perfectly kosher for the outdoor "working dogs" who often sleep outside on straw they have thrown out of their small shelters. We would soon find out that these dogs were real athletes.

What ensued was an adrenaline-filled, 20 mile journey along an old railroad trail. The dogs are controlled solely by verbal commands and on the way home our driver commented, "I hope they don't shortcut through the hay field." One of the biggest challenges, besides staying warm, was going between the balusters that were set up to control motor traffic on the trail reserved for cross country skiers, snowshoers, and of course, dog-sledders. There was only a few inches of clearance on either side, and at times we went up to 15 or 20 miles an hour.
Muddy Paws offers a variety of adventures. For an overnight experience try the "Mush-Inn Longest Dogsled Ride in New England" tour that begins in Jefferson and ends in Milan with a two night stay at the Mahoosuc Inn. The "Presidential Range Ride" covers 7-15 miles of trail along the historic Rail Trail in the White Mountains and offers incredible views of the Presidential Mountain Range. There is also the "Pond of Safety" option which explores 15-22 miles of authentic back woods and trails. But perhaps the biggest thrill of all is learning to be a musher yourself with the "Drive your Own Team" excursion.
Summertime adventures include the "Paws & Paddles" adventure package which combines a rafting trip and buggie ride. This package is advertised as being "designed for those guests that want to pack in as much adventure into one day as humanly possible."
The White Mountain Region of New Hampshire offers a variety of winter activities and our adventure with Muddy Paw ranked high on our list of fun during our visit. For more information visit
Dogslednh.com
. Happy winter fun!
Ruth Mitchell
We were encouraged to help harness the dogs