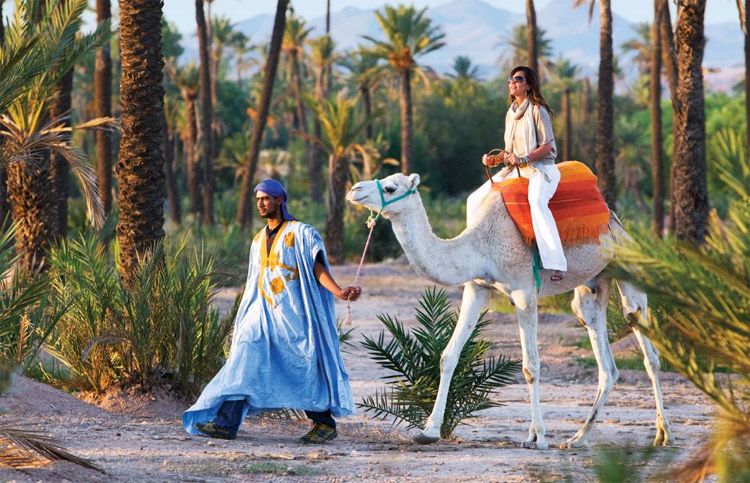 Photo Courtesy of Four Seasons/Christine Kirk
Things are not always what they seem, and Morocco is a
luxurious travel destination
that has been branded in a way that doesn't do it justice. Morocco is always billed as a destination with sand dunes as far as the eye can see, and camel rides to dinners in the desert.
The Real Housewives
TV show and
The Sex and the City
movie release did little to dispel such images—and instead, simply added Manolo Blahniks to the mix.
Morocco is a country steeped rich in Arab culture. As an American, if you don't have much experience with Arab countries, Morocco is a good place to start. It allows you enter into that world without the hostility or turmoil that exists in other Arab nations. However, as a traveler, be prepared to dress accordingly. Regardless of temperature, don't expect to walk around in shorts and tank tops. Especially if you're a woman, pants below the knee and shirts that cover your shoulders (and not just inside the mosques) will make you feel comfortable around the locals.
Getting to Morocco is no easy feat. Royal Air Maroc is one of the only airlines to fly in and out of the country—it's a necessary evil, as flights from the U.S. are long, the planes are filthy, flight attendants are nowhere to be found, and no soap or basic paper amenities are provided in the lavatories. Also, bring your own water on the flight. In nine hours, water in a Dixie cup was handed out just once. However, the mess of the airline is well worth experiencing Morocco for yourself.
Aside from historical landmarks, to truly understand and explore a locale and its people, you have to explore its cuisine. Traditional Moroccan cuisine is based on two main staples: tagine and couscous. What varies in each dish are the ingredients—a tagine is a Berber dish from North Africa that is named after the special earthenware pot in which it is cooked. It can be made with chicken, fish, lamb, goat, or beef.
Tagines are slow-cooked stews braised at low temperatures, resulting in tender meat with aromatic vegetables and sauce. The meat of choice is stewed with a medley of ingredients and seasonings including olives, quinces, apples, pears, apricots, raisins, prunes, dates, nuts, with fresh or preserved lemons, honey, and a complexity of spices. Traditional spices that are used to flavor tagines include ground cinnamon, saffron, ginger, turmeric, cumin, paprika, pepper, as well as the famous spice blend ras el hanout.
Couscous, a North African dish of semolina is always the main side dish and traditionally is served with the tagine stew spooned over the top. The main lunch and dinner meals in Morocco consist of a variation on tagine and couscous so expect to get your fill of them both. However, a surprising aspect of Moroccon cuisine is the bread—perfectly prepared, crusty on the outside, airy and light on the inside, it truly rivals any brasserie in Paris.
Beyond riding camels through the desert, here is an itinerary that will give you a much more immersive experience of Morocco, and reveal a few hidden gems along the way.
Fès, Morocco
What to Do:
The ancient city of Fès is like taking a capsule back in time. Home to some of the largest souks (or markets) in Morocco, the medina (or city center) here is a UNESCO World Heritage Site with 187 quarters, each with its own mosque, Koranic school, fountain, public bath, and communal bread oven. Fès, the former capital, is one of the country's four "imperial cities," the others being Rabat, Marrakech and Meknes. Its medina is believed to be the world's largest contiguous car-free urban area.
Spend days getting lost inside this ancient city where you'll find stalls with local vendors selling everything from butchered meats, cured olives, and snails, to delicate pastries that would rival any French bakery, crusty bread with pillow-ey soft centers, strong Moroccan tea traditionally served highly sweetened, shoes, jewelry, ceramics, spices, incense and perfumes, candies, luxurious Moroccan lanterns of all shapes and sizes, rugs, and fabrics…of every shape, color, and size all hand woven, and providing a shock of color to the medina's otherwise earthen landscape. Walking through this Moroccan medina is nearly hypnotizing with all the sights, sounds, and smells.
Where to Stay:
The Sofitel Fès Palais Jamaï is a gem among luxury Moroccan hotels and a great example of Moorish and Arabic architecture. The palace is located in the heart of Fès and features a lush Andalusian garden and opulent guest rooms. The true draw of this 5-star hotel, however, is the front row seats with a view of the ancient medina right from the guestrooms. This birds-eye view gives you a perspective of the medina you won't find anywhere else in Fes. (Photo courtesy of Sofitel Fès Palais Jamaï)
Rabat, Morocco
What to Do:
In addition to Fès and Marrakesh, Rabat is one of the four imperial cities of Morocco. Rabat is an important stop in the itinerary of Morocco as it houses many of the country's embassies as well as the Theatre Mohamed V, a variety of galleries, and an archeological museum. Also, it is home to some of the best barbecue in Morocco. Stop for lunch at Chez Ouezanne for a nice change of pace from the tagine and couscous. Their skewered meats grilled over an open flame is juicy and tender, with the perfect taste of char. Paired with fries, local cured olives for some acidity, and a cold beer, it will be one of your better meals.
Where to Stay:
The Sofitel Rabat Jardin des Roses hotel's primary draw is its sleek, ultra-modern design, and prime location in the heart of Morocco's capital city, just a stone's throw to the Royal Palace and the Mausoleum of Mohammed V. This 5-star luxury property features an immaculate 17-acre garden, sophisticated design and a luxurious spa featuring the world-famous Hamam bath. (Photo courtesy of Sofitel Rabat Jardin des Roses)
Marrakesh, Morocco
Marrakesh rises out of the foothills of the snow-capped Atlas Mountains like a shimmering mirage of ocre-colored buildings and perfect palm trees. Now, the most modern of the cities in this itinerary, Marrakesh is a seamless blend of old and new featuring three golf courses, an ancient medina, world-famous souks, and nightlife to rival any cosmopolitan city in the world.
What to Do:
If luxury is about experiences and creating memories, then visiting the souks of Marrakesh is a must. While the souks of Fès make you feel as if you've gone back in time thousands of years, the Marrakesh markets are the modern-day version. While the set up is much the same, the volume of people is that of any busy metropolis, and the items inside the souks are much more varied. There is great shopping to be had in the souks of Marrakesh, such a Moroccan furniture, mosaics, lanterns of all shapes, colors, and sizes, clothing, bedazzled and sequined raffia slippers, fabrics, jewelry, and much, much more.
There are gimmicks and tricks as well, like snake charmers, monkey trainers, and fortune tellers. Be prepared that if you make eye contact with any of them, they will take it as a sign that you are interested, and expect you to pay them for any interaction you have with their animals...or tarot cards. The atmosphere of the Marrakesh souks is different than Fès. In Fès, you feel like you understand a piece of Morocco, its people and past by visiting the souks. In Marrakesh, it's a festival or carnival-like atmosphere with music, sights, sounds, and smells to take over all your senses.
Aside from exploring the souks, also make time for a gem within Marrakech the Jardins Majorelle, or also commonly known as the garden of infamous fashion designer Yves Saint-Laurent. The YSL Garden is a twelve-acre botanical garden and artist's landscape garden in the heart of Marrakech. It was designed by the expatriate French artist Jacques Majorelle in the 1920s and 1930s, during the colonial period when Morocco was a protectorate of France. The garden has been open to the public since 1947. Since 1980 the garden has been owned by Yves Saint-Laurent and Pierre Bergé. After Yves Saint Laurent died in 2008 his ashes were scattered in the Majorelle Garden, said to be his favorite place on Earth. (Photo credit: Nicolas Mathéus)
Where to Stay:
One of Morocco's newest luxury hotels, the
Four Seasons Resort Marrakech
is truly a gem in the Four Seasons crown. Impeccably designed with Moroccan architecture and colors as inspiration, the hotel is at once authentic to Morocco but contemporary in its design, customer service, and amenities. Vast blue water pools appear to be mirages in the landscape but thankfully they are very real. The hotel has outstanding kids programs and a Young Adult Center with its own private pool, and is a great destination for adventurous families traveling to exotic locations like Marrakech. The souks of Marrakech can seem like an oppressive maze, never-ending in their depths, and crowded with people.
The Four Seasons Marrakech is a retreat and escape from the hustle bustle of the city, but nothing will help you escape more than a traditional hammam massage at the resort's spa. One of the best hammams anywhere, it has long been a tradition in Morocco, and the site of a bathing ritual that has evolved over thousands of years. Private hammams are available or share the experience with friends or family. The hammam bathing ritual traditionally features a combination of water and steam elements, heat, and cold.

The hammam begins in a room (known as the warm room) that is heated by a continuous flow of hot, dry air, then moving to an even hotter room typically with steam, before splashing themselves with cold water. After performing a full body wash and receiving a massage, retire to the cooling-room for a period of relaxation and massage. The Four Seasons Wet Spa features access to a heated pool, cold pool, outdoor whirlpool, and relaxation lounge overlooking the spa garden. (Photos courtesy of Four Seasons Resort Marrakech)