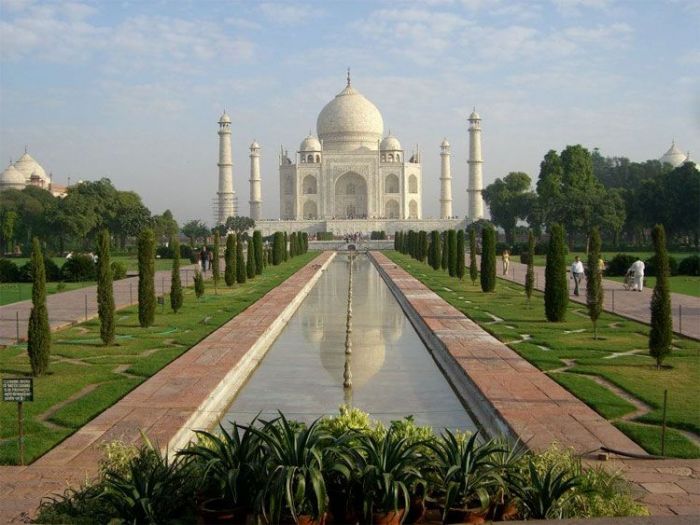 Photos Courtesy of Greaves Tours
What to do with that million dollars burning a hole in your pocket. You could donate it to a worthy charitable cause. Buy your parents their dream home, and hey, why not throw in something shiny for yourself? Don't be silly, you're going on an extravagant tour of India! YOLO right?
The 19-day journey, hosted by
Greaves Tours
, will make stops in 10 of the country's most famed locations and sightseeing staples. With only 10 spots available at $100,000 a person, make sure to invite only the most tolerable and affluent friends and family members if you don't want to get stuck fronting the entire bill.
Why trust Greaves Tours company with the big bucks, you ask? Well, for over 30 years they've been creating custom vacation experiences of the highest caliber in exotic locations like Nepal, Tibet and the Maldives. They like to take first-timers to the most popular tourist destinations, while also exposing them to more unknown cultural, spiritual, and recreational aspects of the location.
Did I also mention this is the
only tour operator in India boasting its own private plane
? And yes, your group will make good use of it, as it will be the main form of transportation from one colorful and difficult to pronounce city to the next. Bandhavgarh anyone?
Since this is quite the extensive itinerary, allow me to condense it for you and highlight some of the most interesting and unique activities that you can expect to take part in. Keep in mind, Greaves Tours offers up a 'suggested' itinerary that can be changed to suit the needs of your demanding in-laws should you be forced to invite them.
Tour Delhi with local author and historian William Dalrymple where he'll bring you to his favorite places, one-of-a-kind sights and famous landmarks
Take private tours of museums and art galleries alongside their curators, including those from the Prince of Wales Museum in Mumbai and the Sarnath Museum in Varanasi
Sail on a private yacht to UNESCO World Heritage Site Elephanta Caves, dating back to 450 AD
Savor private meals including a Mughal dinner in Agra, dinner on a rooftop terrace in Mumbai, and dining on Mehrangarh Fort with members of the Royal Family in Jodhpur
Find jewelry, designer clothing, antiques, rare books and more alongside your own personal shopper
Join an afternoon safari to see the elusive tiger at India's premier wildlife reserve
Cruise under the stars aboard the 150-year-old royal barge in Ranakpur
Go on an early morning hot air balloon ride across the city of Jaipur
Travel to Dera Amer camp for some adventurous elephant polo, camel rides, and henna painting
Stay in the country's best hotels and resorts including The Imperial Hotel in Delhi, The Oberoi Amarvilas in Agra, The Taj Nadesar Palace in Varanasi, Taj Falaknuma Palace in Hyderabad, The Taj Mahal Palace in Mumbai, The Oberoi Udaivilas in Udaipur, The Taj Umaid Bhavan Palace in Jodhpur, and The Rambagh Palace in Jaipur

If any of this sounds appealing to you then perhaps you should start narrowing down your list of travel buddies and give your financial advisor a heads-up. Then get ready to return a walking, talking travel guide on India. Eat your heart out
Frommer's
.