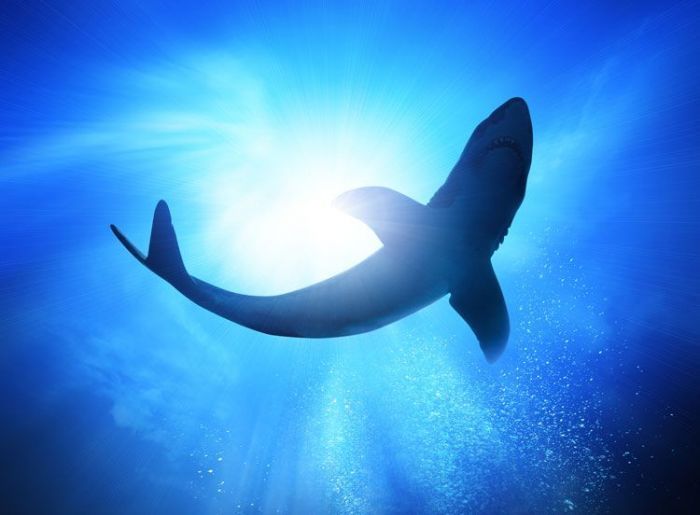 Photo Courtesy of Shutterstock
If you're a thrill seeker, chances are you have shark cage diving on your bucket list. And, you probably have every episode of Discovery Channel's Shark Week recorded on your DVR each year. Imagine coming face-to-face with the largest predatory fish in the world, seeing up close-and-personal their 300-serrated, triangular teeth and observing their massive 15-foot size and 5,000-pound weight. With their powerful tails, they can shoot through the water at up to 15 mph. Who's ready to cage dive with great whites? For those brave enough to still jump in the ocean with these animals, we rounded up the only four reliable destinations in the world for for interacting with these carnivorous beasts of the sea.
Photo Credit: Shark Diver
Guadalupe Island, Mexico

Cage Provider: Shark Diver
Best Season: September to October
Cost: $3,100 for 6-Day Trip

Featured on shows like Shark Week and National Geographic's Great Migrations, Guadalupe white sharks have long been locals in Mexico's waters. Over the years, the team at Shark Diver have been following the history of this unique site and its pristine 15-foot inhabitants. Over the years, the company has maintained a lasting partnership with the city's original shark vessel, the M/V Horizon. Shark Diver's cage dives are a six-day cruise leaving from San Diego. The vessel's accommodations boast private air conditioned staterooms and are outfitted with full-time, experienced great white crews. While on board, Chef Mark will prepare all meals, utilizing the freshest of ingredients and fish; the kitchen also accommodates dietary restrictions. In the water, the clear blue sea allows for up to 100 feet of visibility with temperatures ranging between 67-76 degrees Fahrenheit. Dives consist of two 4-5 person, 50-square-foot dive cages, the largest in the world. Pricing includes all shark diving permits, wet suits, meals, snacks, weight systems, unlimited beer and wine, soft drinks, on board accommodations, and transfers from San Diego airport.
Photo Credit: Great White Adventures
Farallon Islands, San Francisco

Cage Provider: Great White Adventures
Best Season: September to November
Rates: $775 Full Day

Located just 20 miles off the San Francisco coast, divers are invited to partake in one of the top diving destinations on Farallon Islands. With cages almost as big as Shark Diver's, Great White Adventures has been leading successful expeditions in the U.S. and Mexico for over a decade. Boarding at the famous Fisherman's Wharf, the journey on the New Superfish is around 12-hours long. The island, however, is not a dive location for the faint of heart. During the fall, the rocky promontory is a breeding ground for many marine mammals. Therefore, many sharks go to feed on Elephant Seals before their trans-Pacific migration. Though a very natural event, divers and viewers may find themselves watching sharks partake in their daily feeding. Included in each voyage is a continental breakfast, lunch, snacks and beverages. The boat carries groups from 5 to 17 people with cages accommodating up to four divers at a time.
Photo Credit: Shark Cage Diving
Neptune Islands, Australia

Cage Provider: Calypso Star Charters
Best Season: Year-round
Rates: $350 Full Day

Australia is a hot spot for great white expeditions and the Neptune Islands provides the perfect backdrop to your adventure. Over 4,000 of New Zealand's Fur Seals make their home on the islands, due to this, the surrounding waters are filled with sharks embarking on their migratory travels. Shark Cage Diving - Calypso Star Charters offers closer-than-average shark experiences because of their skillful use of baits. Divers will be able to have the most intense cage dive possible and those on board will be afforded the same opportunity with their baiting techniques. Starting at 6:30 a.m., the tour begins with breakfast followed by a 3-hour cruise. Upon arrival to the islands, guests can jump into cages, six at a time. Once sharks arrive, viewers will spend 45 minutes viewing the great whites.
Photo Credit: Shark Dive Africa
"Shark Alley," South Africa

Cage Provider: Shark Dive Africa
Best Season: March until September
Rates: Approximately $150 Full Day

Shark Dive Africa takes divers to to any of three popular shark-sighting locations: False Bay, Gansbaai and Cape Point, commonly known as Shark Alley. Shark Alley is one of the top commercial cage-diving destinations given that it holds one of the largest populations of great white sharks in the world. After arranging all your transportation via a helicopter or a personal shuttle, the expedition will take off from the V&A Waterfront. Depending on which location you choose, each trip offers something unique for divers. False Bay is known for putting great white's behavior on display, you'll see many flying sharks there. At Cape Point, cages are available, but for those brave enough, this spot is best for free diving with the sharks. Set against the Agulhas current, it is also a great place for seeing a wide variety of different of fish that attract the great whites. Marked as the capital of great whites, Gansbaai is the prime spot for shark cage diving. There you will also catch Jackass penguins, whales, gannets, fur seals and dolphins. All dive gear is included as well as a light meal, snacks, fruit and refreshments.

These four places are referred to as the world's best and most reliable places for viewing the ocean's most intimidating predator, the great white shark. Many tours do not require dive certification ahead of time so novice divers can easily join the fun as well. One thing is for sure, none of these encounters are for the weak-stomached and we tip our hats to those brave enough to jump in and meet Jaws.