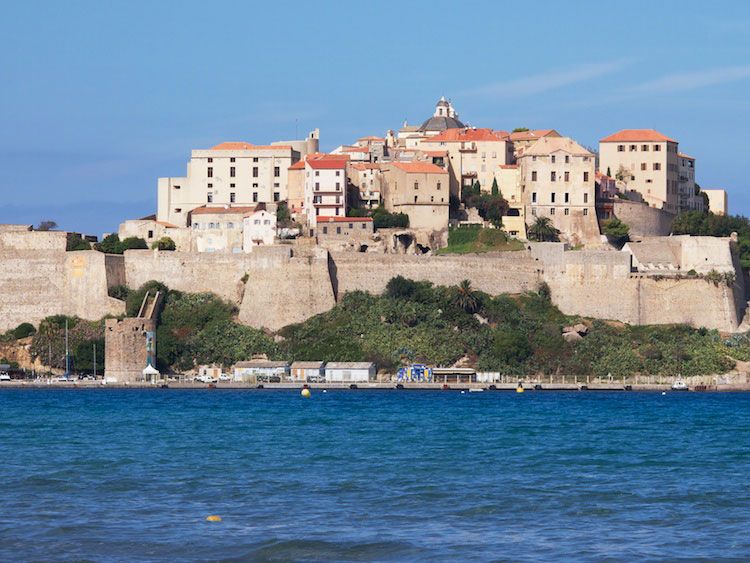 Photos Credit: Columbia Hillen
With lush vegetation, sheer rocky mountainsides and stunning land and seascapes around every heart-stopping, hairpin bend, Corsica — a French island off the coast of Italy — holds a special place in the Mediterranean. But navigating it effectively can get a little tricky. Instead of sending you out on your own, below are suggestions on activities, dining options and hidden gems discovered from my own travels.
Fare
To enjoy local taste, ask the chef at Le Caroubier restaurant at Sofitel Golfe d'Ajaccio Thalassa Sea & Spa for his special starter, Oeuf Poché à la Mode Corse' or, poached egg, Corsican-style. This dish is a blend of local cheeses, including the well-known Brocciu, egg and a mix of charcuterie with dill presented in a tasty, pudding-like mound. For something more substantial, veal and lamb on the French island are too good to miss, so try the roasted lamb with rosemary accompanied by tender chicory. Or opt for the roast rack of lamb with autumn vegetables and garlic preserve at La Palmeraie restaurant in La Signoria Hotel in Calvi.
As for sea offerings, few can compete with the variety at La Gaffe restaurant in Saint Florent – from botargo (salted, cured fish roe) served on freshly baked bread, to Corsican-style bouillabaisse and Denti fish (a family of sea bream) slightly pan-fried and served with young turnips. For dessert-lovers, head to Calvi and enjoy chestnuts and pear sorbet or roasted figs with local lemons and white cheese sorbet at the Michelin-star restaurant La Table de Bastien at La Villa Hotel.
The island is also cheese heaven, among the best being Brocciu, a sort of ricotta; Calenzana, a soft, strong tasting sheep variety; U Fium' Orbu, a soft washed rind; or A Filletta, unpasteurized sheep cheese, usually decorated with a young fern leaf with an earthy, herbal taste. Try them at the stalls of the makers at the many open markets and sample the varied charcuterie while you're there. Or choose from forty different varieties at La Palmeraie. Near Porto Vecchio, La Table restaurant at the Grand Hotel de Cala Rossa offers 'tomme fume,' a delicious smoked cheese made outside Sartene, with a texture like aged Parmesan.
Wine
While wine-making is an ancient craft on Corsica, practiced by successive inhabitants since the Phocean traders in 570 BC, only in recent decades have commercial vineyards really gotten started — and boy, are we glad. The result are hearty reds, fragrant rosés and sharp, dry whites, many of which stand up well against mainland French varieties. Today, Corsica has nine AOC regions including the island-wide designation Vin de Corse, with the three leading grape varieties being Nielluccio, Sciacarello – a black grape unique to Corsica–and Vermentino. Of the eight wine-making regions, the most well-known is Patrimonio, established as Corsica's first Appellation d'Origine Controlee in 1968 and located on the northern coast, west of Bastia, on chalk and clay-based soils. A convenient tasting venue for its products sits roadside between the bustling harbor town of Saint Florent and the sleepy mountain village of Nonza.
Of the various wine-tastings experienced, the most enjoyable was at Domaine Orsini at Calenzana in the Balagne region. We were escorted to a small wooden table deep inside a well-designed cave and presented with a plate of nougats and gelées (also made by the company) and a comprehensive printed menu of wines and flavored 'eaux de vie' to choose from. After half a dozen samples, we were naturally feeling quite content with the world and left particularly impressed with the complexity and heavy tannins in the reds.
Along a dusty road leading into Calvi is the village of Lumio where one can stop to taste wines from the 148-acre vineyard, Clos Culombu. Facing south towards the gulf with the mile-high Monte Grosso as a backdrop, the winery could not be in a more delightful spot. On many occasions, the vineyard hosts different events. A modern art exhibition filled with colorful works that focused playfully on the various spellings and meanings of the name 'Culombu' previously took place here for example. Calvi claims the explorer Columbus is its native son; not surprisingly, my wife, Columbia, was particularly delighted.
Historical Sights
Corsica is a tapestry of intrigue with Romans, Greeks, Etruscans, Moors and Goths among many leaving their mark, not to mention the island's revolutionary sons, Napoleon Bonaparte and Pasquale Paoli. Its prehistoric era is also fascinating; and there are no better places to delve into this mysterious epoch than at the archaeological sites at Filitosa and Cauria. Filitosa, a two-hour drive south from Ajaccio, is the site of the island's largest grouping of megalithic tombs. They are grouped apart amidst gently rolling hills that grant picturesque views over the surrounding countryside. The purpose of the megaliths still remain unknown, with theories ranging from deity worship to tributes and tribe leaders, but the skill and strength needed to transport these huge rocks, weighing many tons, very long distances is mind-boggling.
Cauria is an hour's drive south of Sartene and is comprised of three sites: the menhirs (standing stones) of Stantari and Renaghju and the tomb of Fontanaccia, otherwise known as 'A Stazzona di u Diavulu' and made from six giant slabs of granite. These ancient artifacts stand at the end of a winding 500-yard dirt track leading from a makeshift parking lot. Inside, bucolic interiors with an impressive line of menhirs greets guests in a valley of olive.
Towns
Corsica offers many secluded spots for quiet contemplation but also colorful little towns with diverse activities. Of the former, Erbalunga and Centuri, both in the most northerly region known as Cap Corse, are two highlights. The small, rustic fishing villages with old stone harbor walls and little outdoor cafés provide delightful vantage points to watch the world sail by.
Bastia, Calvi, Ajaccio, Bonifacio, Corte and Porto Vecchio are also worth visiting. Bastia for its cafés and restaurants gathered in an arc around its central marina and Calvi for its spectacular Genoese citadel complex which provides panoramic views over the coast and countryside. Ajaccio features the house-cum-museum where Napoleon Bonaparte grew up and the Palais Fesch-Musée des Beaux-Arts with its famed Italian collection. Bonifacio, a hard to find lofty old town, with its warren of winding, cobblestone streets is a treat to wander through. Corte is a lively student town in the northern interior, stronghold of former revolutionary leader, Pasquale Paoli, and capital of the Corsican Republic established in 1755. Bullet holes can still be seen on walls and the local museum grants interesting insights into Corsican culture. Lastly, Porto Vecchio, a chic old center with a mix of gift stores, fashion boutiques, restaurants and cafés cluster together along its warren of streets.
Transporation
With treacherous, winding coast roads that would challenge even the most formidable skills of Formula One champions, driving in Corsica is not for the faint of heart. But the effort is well worth the reward with incredible views over the edge into the abyss below. Cars are easily rented through Hertz to suit any size group. The approximately 46-mile stretch from the northerly town of Calvi to Porto and particularly the segment from Galeria to Porto boasts a twisting road that nudges rock walls on one side and a sheer drop into the Mediterranean on the other. The vistas are stunning, especially over the village of Girolata, which can only be reached by sea. In the southern half of Corsica, the mountain village of Zonza and onward to Col de Bavella, are a mountaineer's paradise with a mass of towering rippling rock formations shaped much like a huge church organ.