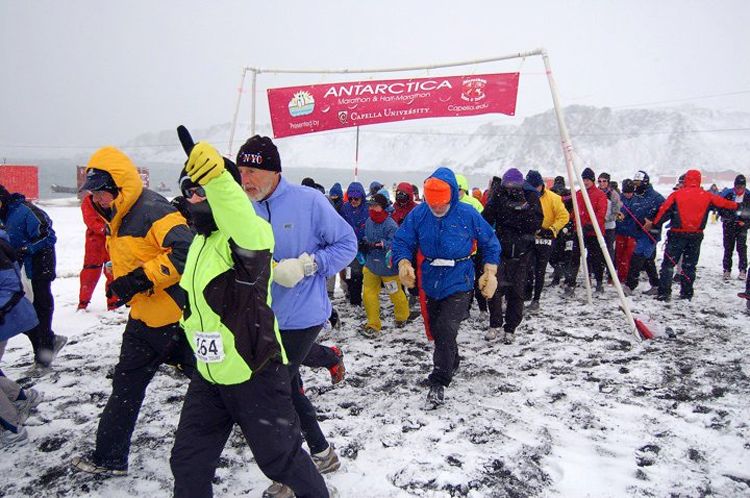 Photos Courtesy of Marathon Tours and Travel
Marathon Tours and Travel is the official travel agency for the event that most athletes in the runner's world view as the crème de la crème of the sport: the Boston Marathon. The firm is also the creator and organizer of the Antarctica Marathon and Half Marathon, which combines distance running with deluxe travel packages to create fantastic vacations for marathon runners, including an opportunity to run races on all seven continents.
When the first Antarctica Marathon was held in 1995, it became possible for runners to compete in marathons on all seven continents, prompting the formation of the Seven Continents Club. Since then, more than 390 people have completed the challenge to run in at least one race in North America, South America, Europe, Asia, Africa, Oceania, and Antarctica.
In 2003, a special half-marathon division of the club was formed in recognition of the popularity of the 13.1-mile distance races, which enabled them the same privileges as the full marathon runners. In addition to receiving a special medal, members of the Seven Continents Club also are privy to members-only travel deals.
London, Athens, Honolulu, New York, Paris, Berlin, and Tokyo are some of the exotic destinations where runners can compete in marathons via the niche travel agency. The Last Marathon, which is held in Antarctica, is considered by many to be the most difficult race on the planet and benefits a charity. Likewise, the Antarctica Marathon and Half Marathon benefit the work of Oceanites, a non-profit science and educational foundation dedicated to measuring the flora, fauna and wildlife. It also measures the impact of tourism on Antarctica.
Due to the extreme sensitivity of Antarctica's ecosystem, only 100 passengers can be ashore for the event at once, which leads to a select race field that quickly sells out. The event is already sold out through 2016 but deposits are now being accepted for 2017.