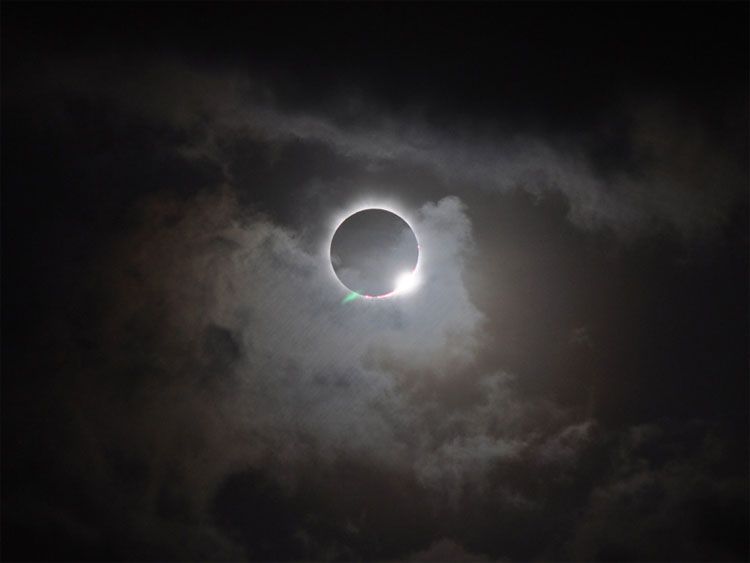 Photo Courtesy of Discovery Magazine
Discover Magazine, a periodical focusing on "Science for the Curious," has partnered with TravelQuest to offer a small, select group of adventure travelers a once-in-a-lifetime opportunity: viewing a total solar eclipse from the top of the world.
The total solar eclipse will occur on March 20, 2015, and will be the last solar eclipse visible from Europe until August 12, 2026. While a partial eclipse will be visible over a range of hundreds of miles, only those located in a narrow path across the Earth's surface will experience totality, meaning total darkness as the sun is completely obscured by the moon.
The Svalbard Arctic Eclipse Adventure will take travelers to the tiny village of Longyearbyen on the island of Spitsbergen. From this remote area, a full two minutes and 24 seconds of totality will be experienced. The island is part of Norway's Svalbard archipelago and is located less than around 700 miles from the North Pole. It is considered Scandinavia's "Gateway to the High Arctic."
The trip begins on March 17 in Oslo, Norway, where guests get an entire night to explore the Norwegian capital before journeying on the next day to Longyearbyen. Travelers will spend four full nights in Longyearbyen. In addition to the eclipse viewing, guests will participate in a number of both included and optional activities, such as a "Wilderness Evening" held the first night on the island, nightly viewings of the Aurora Borealis in the pristine Arctic sky, dog sledding, ice caving, snowmobile safaris, and a Champagne tasting in the world's northernmost wine cellar, which is beneath the Spitsbergen Hotel.
According to organizers of the trip, Spitsbergen Island offers the best land-based weather prospects for the eclipse. Average cloud cover at Longyearbyen is at 56 percent, with a very low probability of overcast skies. Additionally, the high latitude of this eclipse means that viewers in Svalbard may get a special treat: a glimpse of the aurora, or possibly ice halos, during totality.

Organizers note that these extras are indeed long shots, but are possible should the magnetosphere be particularly active on the hour, or if a thin cirrus overcast is present, containing just the right orientation of ice crystals. Regardless, this is one of the two optimal destinations on the planet for "totality" viewing, and an event that you'll remember long after it's over.
Rates begin at USD $5,780 per person for triple-occupant rooms and include TravelQuest exclusives, arrival and departure airport transfers from the Svalbard Airport, accommodations, ground transportation, partial meals, sightseeing tours and admissions as noted in itinerary and English-speaking local guides.