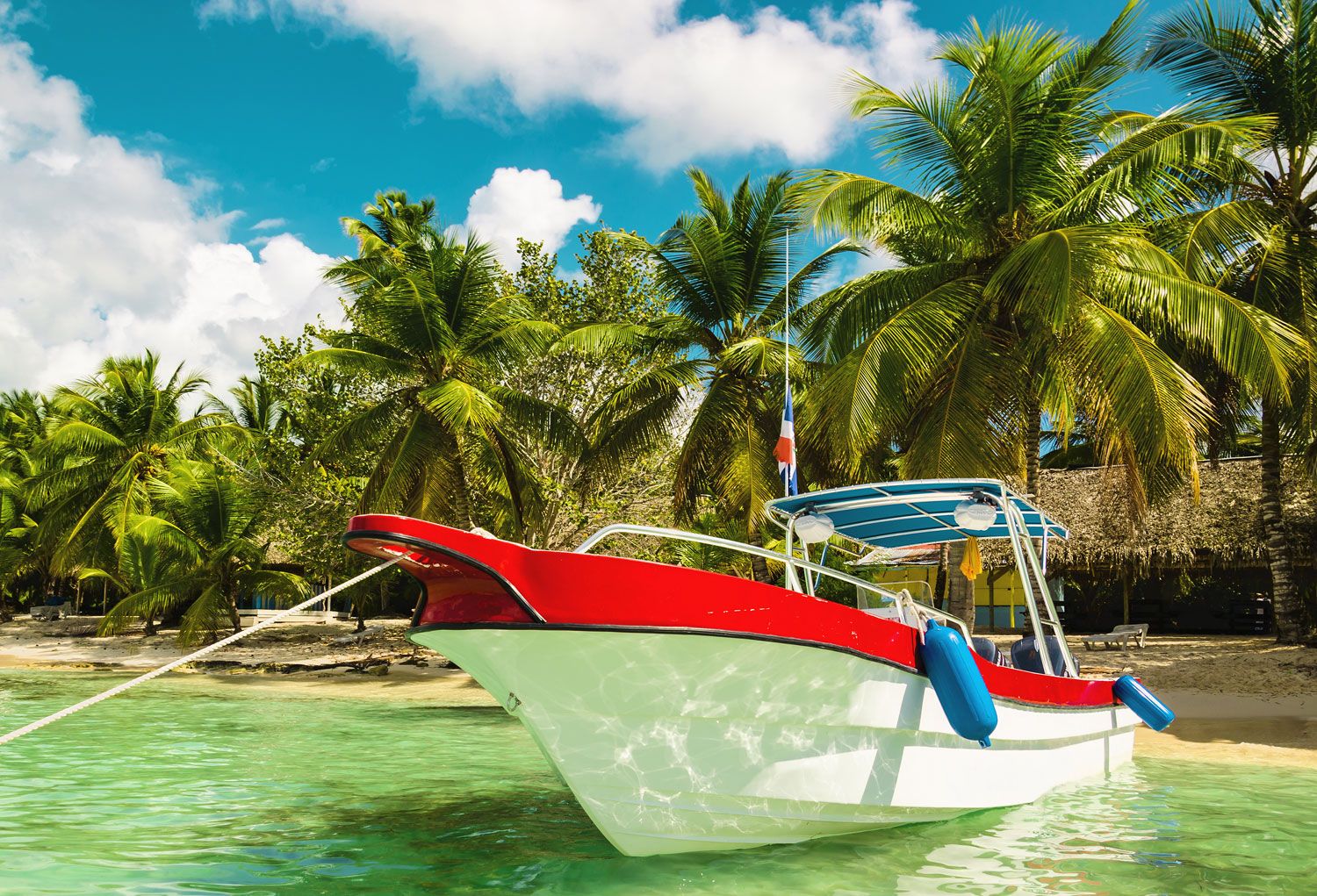 Photo Courtesy of Shutterstock
The motto at Mango Bay Barbados is a simple one: "Nothing is a problem." When it comes to places to stay on the Caribbean island of Barbados, nicknamed "Little Britain" for its many British influences, you would be hard-pressed to find a resort where the personalized service meets or exceeds the Mango Bay experience.
Celebrating its 20th anniversary this year, the 76-room all-inclusive resort has a room type for everyone; but for a taste of luxury on the island, their penthouse suites guarantee A-list accommodations and treatment. Measuring 1,200 square feet each, the two identical suites are glass-enclosed on two sides featuring breathtaking views of the Caribbean sea and coastline. A tastefully-furnished patio and private plunge pool allow guests to cool off while sipping a cocktail and taking in one of the island's breathtaking sunsets. The room also features a fully-furnished living room, two 42-inch plasma screen TVs, and the updated bathroom has many spa-like features including a deep soaking tub and separate stall shower with a waterfall shower head.
Photo Courtesy of Mango Bay, Barbados
The hotel treats all guests like VIPs no matter what level of room they choose, but penthouse guests are given the celebrity treatment with additional features like a fully-stocked wet bar and on-call butler for special requests like unpacking luggage, drawing a bath or anything the imagination can dream up.
"When you have the penthouse, the sky's the limit," said Kavita Sandiford, Mango Bay Marketing Manager. "Nothing is a problem. We don't want you to lift a finger at Mango Bay."
The hotel recently underwent a seven-month government-sponsored beach restoration project, known as the Holetown Waterfront Improvement Project, increasing the size of the beachfront and preventing future erosion by installing breakwaters about 30 feet from the shore. The work is continuing just north of the property through October, which is why the property is offering guests a 35 percent discount on booking from August 23 to October 21, 2014.
Photo Courtesy of Mango Bay, Barbados
"Although the government's next beach restoration project will not take place on the beach at Mango Bay, we do want to extend a courtesy to guests by offering them a significant discount on accommodations during this time when there may be disruptions from construction noise and machinery in sight," said Peter Odle, chairman of the Mango Bay Hotel Group.
The hotel, which boasts an impressive 75 percent guest-return rate, includes gourmet meals and a variety of alcoholic and non-alcoholic beverages in its room rates, but that is just the beginning of what guests can enjoy at no extra cost. Also included is use of snorkeling gear, stand up paddle boards, kayaks, wakeboarding, water skiing and even a glass-bottom boat ride for guests as well as a catamaran trip featuring a snorkel with wild turtles. If guests simply want to spend their day beachside or poolside, the resort's beach ambassadors cater to guests with everything from cold towels to fresh fruit kabobs to refreshing sorbet.
Photo Courtesy of Mango Bay, Barbados
There are plenty of things to do on the property, the majority of which do not require an extra charge, but there are also plenty of options within walking distance and around the island. Within two-blocks is the luxurious Lime Grove shopping center, which features stores like Louis Vuitton, Cartier and others. Plenty of fabulous restaurants and bars are also a block or two away, which makes venturing out at night very easy. And don't worry, the island is ultra-safe. The Prime Minister can often be seen grocery shopping, pushing his own cart through the aisles without security detail, according to locals.
Below, a list of other must-do activities for the full Barbados experience:
Photo Credit: Nicole Hellmers
Swim with Wild Turtles
Included in Mango Bay's all-inclusive package for guests is a two-hour catamaran cruise, complete with the experience of snorkeling with majestic Hawks Bill and Leatherback turtles. Not only is the boat ride a beautiful way to spend a morning and catch some rays, but swimming with close to 10 different wild turtles at once, some the size of a cantaloupe and others the size of a wheelbarrow, is an unforgettable experience.
Helpful Hint: Don't forget an underwater camera because the turtles like to cozy up to snorkelers, making for some fabulous photo ops.
Photo Credit: Chelsea Craig
Wear Your Flip Flops to Dinner & Eat With Locals
Oistins Fish Fry is an outdoor fish market that comes alive on Friday nights, attracting locals and tourists alike, making it the perfect place to absorb the Bajan culture while not treading too far off the beaten path. With live music and a wide variety of local specialties including fried flying fish, macaroni pie (the hard-to-believe and secret ingredient is ketchup!) and fish cakes, this area even includes local artisans where shoppers can find handmade souvenirs. Mango bay organizes this experience for guests, making it as easy as (macaroni) pie.
Helpful Hint: If you're a beer drinker, this is the perfect place to try a bottle of the local beer: Banks. And keep your eyes peeled, when The Princess of Pop Rihanna is in her native Barbados, she oftentimes pops up at Oistins, say the locals.
Photo Courtesy of Mango Bay, Barbados
Dine Above Crashing Waves
For a fine dining experience in the trendy and lively St. Lawrence Gap area of the island, make a reservation at Waterside restaurant. It's owned by the Mango Bay Hotel group, so diners receive the same high-level of personalized service in a romantic, picturesque setting. The "Caribbean chic" location features everything from seafood to lamb with a local Bajan influence.
Helpful Hint: Don't miss the Bailey's-infused fried chocolate cheesecake. It's not your standard slab of thick NY cheesecake, and the balance of sweet and savory flavors makes it a stand-out dessert on the island.
Photo Courtesy of Mango Bay, Barbados
Indulge in a Spa Treatment
Elements Spa, located at Mango Bay, is a cozy, pristine one-room spa facility offering a wide variety of pampering options from Aromatherapy massages to the French Body Polish Skin Refining Treatment to the Spa Prestige Facial. There is truly something for everyone and for every skin type.
Helpful Hint: book your spa appointment in advance. It's one of the best in the area, but small, so plan ahead.
Photo Courtesy of Barbados CCVB
Squeeze Science into the Trip
Harrison's Cave is a crystallized limestone cavern deep below the earth that visitors can tour via a tram, which offers breathtaking views of rushing streams, glass pools and naturally-formed almost artistic stalactites and stalagmites.
Helpful Hint: Expect to get a refreshing spray from cave showers, small droplets of water that fall from the stalactites above. Bring a camera in a waterproof bag and leave designer purses at home.