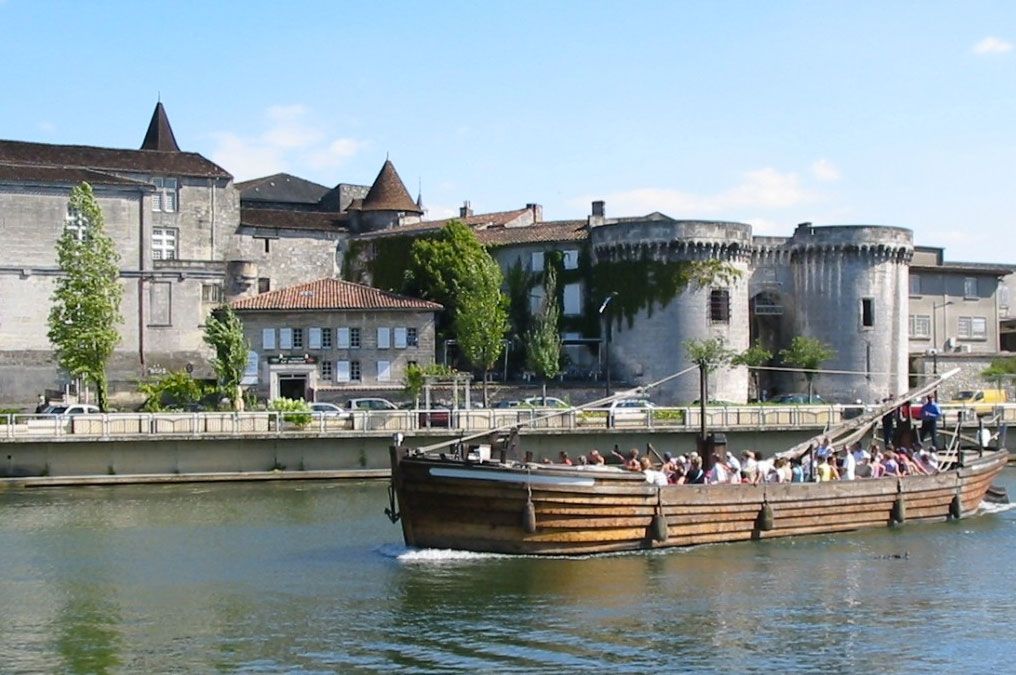 Photo Courtesy of Cognac Tourism
You don't have to be a cognac lover to love spending a few days in Cognac, France, though it's quite probable you will become one by the end of your stay. From the breathtaking views of more than 170,000 acres of vineyards to the local cuisine to the historically rich cognac houses, this French city is a hidden gem in the countryside that delivers a much-needed break from the country's overcrowded tourist attractions.
Photo Courtesy of Shutterstock
Cognac is close enough to a few of France's major cities, making it totally accessible for a quick trip, but far enough away that this sliver of the countryside feels like a world of its own. Located just 80 miles from Bordeaux, France's fifth largest city known for its red wines, Cognac is approximately 90 minutes by car. There is also a train from Angouleme station, which is a 25-minute drive that puts visitors in Paris in three hours.
With only 20,000 people living in the area, the vast majority of residents work in the cognac industry and know one another. So it's not uncommon to go to dinner one night and see your waiter walking in town the next day. It's part of the charm of this picturesque place. Spend just a few days there and you will feel like a local! Below are tips on exploring, learning, eating, playing and shopping here:
Photo Courtesy of Shutterstock
Explore
A trip to Cognac would not be complete without enjoying the area's postcard-perfect river La Charente in what is known as a Gabare, an old-style flat-bottomed river boat once used to carry goods to main ports. The town can easily be explored by foot, but a two-hour cruise provides an additional perspective on the breathtaking beauty of this unique area.
Photo Courtesy of D'ussé Cognac
Learn
There's no better place to learn about the area's rich history of cognac-making than at the Château de Cognac (a.k.a. Baron Otard), which has been blending some of the world's finest spirits for the last 200 years. One of its brands, Baron Otard, is sold exclusively in Europe and Asia, and in the last two years, a new cognac called D'ussé was created. D'ussé, which also launched stateside, has easily grown as one of the most popular cognacs on the market due to its bold character and its high-profile endorsements. It has been heavily promoted by rap mogul Jay-Z and enjoyed by A-listers Will Smith, Salma Hayek and more during Jay-Z and Beyonce's On the Run tour. The VSOP (Very Superior Old Pale) has been aged four years or more while the newer XO (Extra Old) has been aged a minimum of 10. The edgy design of the bottle bears the cross of Lorraine, which stands for courage, perseverance and honor. These are several themes of the château throughout its history dating back to the 12th century.
Photo Courtesy of D'ussé Cognac
The tasty cognacs are certainly the stars of a visit to this place, but the château's rich history steals the show. In 1492 the first king of France, King Francois I, was born and baptized in two private rooms on the upper levels, both of which can be rented out for parties and catered dinners. A guided tour takes visitors through arches designed by Leonardo da Vinci and rooms that have hosted world-renowned philosophers like Voltaire in 1720. Not only does the château provide a riveting history lesson, but it takes visitors step-by-step through the cognac-making process with cellar visits containing demijohns dating as far back as 1820. Château de Cognac's uniqueness stems from its close proximity to the Charente River, which creates two very different climates in which to age the cognac: a humid cellar that produces fruity, floral notes and a dry cellar that brings out woody, spicy flavors.
For those looking for an even more intensive education on the process, the château can arrange for a tour of a nearby distillery and vineyards where the grapes are grown with their own rich history. The fascinating double-distillation process that's part of the making of cognac results in an eau-de-vie (water of life), and is worth seeing firsthand.
Photo Courtesy of La Ribaudiere
Eat
La Ribaudière is one of the best if not "the best" place to eat in the area. This Michelin star restaurant by Thierry Verrat has a modern feel with all white furnishings without seeming sterile, and while the décor and ambiance, including river views, is part of the draw, the food is the real reason to visit and return. The menu is ever-changing with dishes using vegetables grown in the garden on site, but a few examples of recent offerings include king crab salad with slow-dried tomatoes and yuzu or poultry tournedos stuffed with foie gras and Jarnac truffle with cep mushroom cream. The presentation and flavor combinations make this modern French fare worth the price tag.
Photo Courtesy of Shutterstock
Play
Just across the Pont-Neuf Bridge is the le Parc François 1er with a swimming pool, water slides, mini golf and a playground for the kids. Grab a baguette and cheese from a local store (maybe even a bottle of cognac!?) and spend an afternoon picnicking and playing like the locals do.
Photo Courtesy of La Cognatheque
Shop
La Cognathèque is a small store in the main square of François Place where visitors can see and buy over 450 different cognacs spanning over 100 brands. From the outside, the store is unassuming, but once you step foot inside, visitors are like kids in an adults-only candy shop. A trip here makes for the perfect spot to grab a souvenir before returning home. For visitors who want to learn more, there is also a tasting room available and a 2.5 hour cognac discovery workshop for small groups.