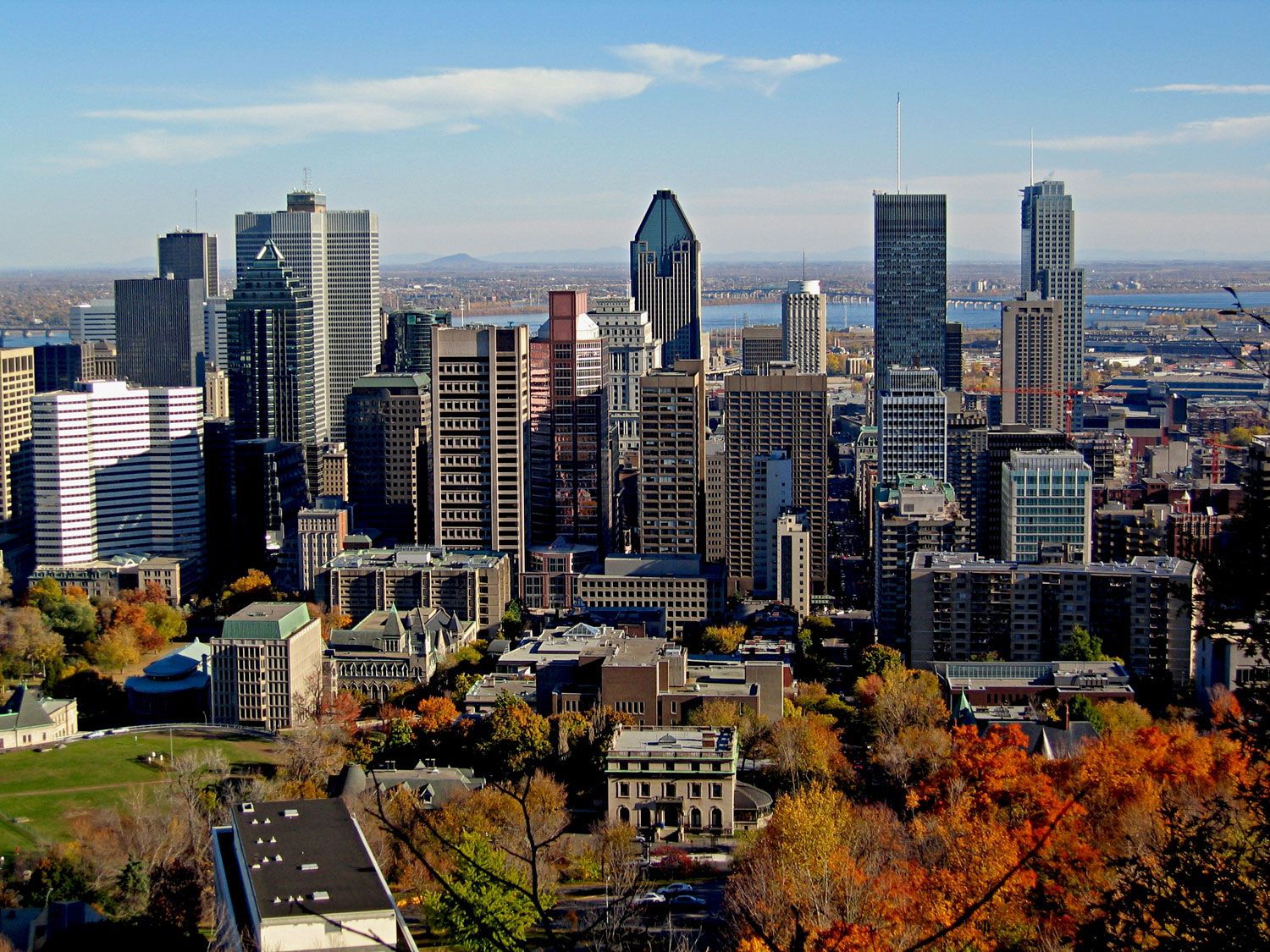 Photo Courtesy of Shutterstock
Montrealers have three obsessions, I'm told. The first is the Canadian's hockey team, the second is food and cycling takes third place. Though I'm an avid sports fan and bicycle rider (albeit back in the day), my trip to Québec involved numéro deux: its food. My mission was twofold: to forge an edible journey beyond Montreal's traditionally tried-and-true poutine (fries and cheese curds topped with gravy), and to take a physical journey past the metropolis to what locals call authentic Québec.
My first stop was Montreal. Canada's second largest city and a UNESCO city of design, it's an appealing blend of North America and Europe. The population of Greater Montreal is 3.8 million—moderate by international standards—but it's one of the world's largest consumers of red wine and rivals New York City for the title "North America's greatest number of restaurants per resident." This is a city where even Starbucks has its own flair; it is called Café Starbucks.
Photo Credit: Bouillon Bilk
A stroll along most streets can translate to a tasty tour of the world, for Montreal has progressed from a city of simple eats to a gastronomic getaway. Bouillon Bilk presents fine dining and white tablecloth service within a non-descript setting on a seemingly past-its-best-days street block of Saint-Laurent Boulevard. Hidden within a former electronics store (the signage remains), Chef Francois Nadon serves up dishes that are anything but average, such as sweetbreads and veal tongue with pineapple and celery root.
In 2001, Chef Martin Picard began an affair with food-loving locals by introducing his signature dish, duck in a can. The relationship continued with such creations as foie gras poutine, foie gras tart, foie gras hamburger and cassoulet with foie gras (do you notice a trend here?), capturing everyone's taste buds along the way. Considering the menu, it's no surprise Picard uses one-third of the entire continent's foie gras.
Photo Credit: Hans Laurendeau, Shoot Studio
Another not-to-be-missed chef and restaurant is Normand Laprise's Toqué!, which launched their own cookbook in 2012. The goal of this top-tier restaurant is simple: "Our ultimate pleasure is to make the last bite just as memorable as the first." The CAA/AAA Five Diamond restaurant offers a first-class experience with their tasting menu priced at C $120 (around USD $101) with or without foie gras.
Regardless of the restaurant, a repeated theme emerges here: farm-to-table cuisine with an emphasis on local products. Acknowledging this commitment to freshness, Montreal's public markets are front and center, for restaurateurs and residents alike. Of the city's four major markets—Atwater, Jean-Talon, Lachine and Maisonneuve—all provide produce of which 90 percent is grown less than a one-hour drive away and distinguished by a fleur de lys (grown here), maple leaf (from Canada) or an airplane (made out of the area).
Photo Credit: Cynthia Dial
When it's time to recalibrate, a visit to Lanaudière and Mauricie (two of Québec's 22 touristic regions) is the easy answer. Traveling from the city of Montreal, the urban vibe dissipates quickly on the north shore of the St. Lawrence River. Equidistance from Québec City and Montreal, this area is known for its native roots, French customs and a long tradition of hospitality (among names on its guest list are President Kennedy and Prime Minister Churchill). Self-described as, "so close and so real," it's billed the "place to come to experience Original Québec."
For lovers of country back roads and less-traveled corners, it's your kind of setting—endless corn fields, lavender-scented countrysides, scattered silos, stone churches, white wooden porches and garments swaying from clothes lines. Geographically blessed with vast forests, forging rivers and pristine lakes, here it's possible to take a scenic seaplane flight, swim in calm lake water and spend the evening around a campfire in summer. In winter, there's downhill skiing, dog sledding and horse-drawn sleigh rides.
Photo Credit: Cynthia Dial
The region is fertile. Lanaudière and Mauricie are known for products that are grown on the land and crafted by the people, creating opportunities for visiting workshops to speak with the artist and experience the area as an agritourist. Whether participating in a seasonal harvest or picking your own, every time of year is bountiful, from summer's berries to autumn's gourds.
Beyond seasonal harvest, agritourism additionally includes guided farm tours, tastings and local produce sampling. Follow the signage to the yellow and white house sitting amid 440 acres, the setting of Terre des Bisons. Located in Rawdon (Lanaudière), this bison and elk farm offers guided visits by covered trailer into the field for feeding (winter tours are on foot). The gift shop sells meat products (fresh from its butcher shop) and handmade bison hair scarves. Bonus: You can meet Buffy, the farm's resident pet bison.
Photo Credit: Cynthia Dial
Novelle-France, Sainte-Angèle-de-Prémont (Mauricie) is a family farm "in the heart of its rural and agricultural heritage." Known for its micro-brewery, which produced North America's first gluten-free beer, it sits aside a sizable fruit orchard dotted with bird houses, hammocks and picnic tables. The best farm experience is a 2.5-hour guided golf cart tour (another option: rent a cart and go on your own).
Surrounded by fields of lavender and adjacent to a red barn museum filled with a collection of tractors, Vignoble Saint-Gabriel, Saint-Gabriel-de-Brandon (Lanaudière), is a winery. Original art hangs near its tasting room and black wrought iron tables and chairs sit on its outdoor porch, making it possible to shop and sip at the same time. Reminiscent of an old-time tavern crossed with a new-age beer garden, you can sample beers brewed in house at Le Temps d'une Pinte microbrewery, Trois-Rivières (Mauricie). With a beer garden in back, cider always on tap and swing dancing twice a month, it always promises fun.
Photo Credit: Cabane Chez Dany
A gastronomic landscape driven not by Michelin stars, guidebook ratings or celebrity chefs, Lanaudière and Mauricie are known for regional specialties that showcase the land, from duck burger, braised deer and beer chili to bison tartar and rabbit corn dog (pogo).
Not-to-be missed meals are found at Dany's Sugar Shack, Pointe-du-Lac (Mauricie). Open January to mid-October (one of few with such a long season), this welcoming and typical family sugar shack (historically where maple sugar is made) has a menu in eight languages and serves 72,000 visitors a year. The family-style meal includes: grandmother's pea soup, pork rinds, meat pie, maple ham, baked beans and a maple syrup pancake. An optional enhancement is caribou (port wine, whiskey and maple syrup). So potent, local legend purports: "After one, you'll speak French."
Photo Credit: Le Baluchon Éco-villégiature
Though lodging can be as genuine as a yurt, log cabin or tipi (reached by dogsled), Auberge's Le Baluchon Éco-villégiature, Saint-Paulin (Mauricie) encompasses several lodges over many acres. In sync with its riverside location, winter offers snowshoeing and horseback riding (the no-motors edict means no snowmobiles), fall provides a painter's-palette of foliage along the property's boardwalk and summer serves up canoeing and kayaking. But its irresistible warm-weather perk is an outdoor massage upon a floating river platform with the privacy of white gauze curtains. Of its dining options, Chef Claude Girard says, "If you are looking to widen your gastronomic horizons, your table awaits."
Prosperous and peaceful, these dueling realities perfectly describe the splendor of Québec.