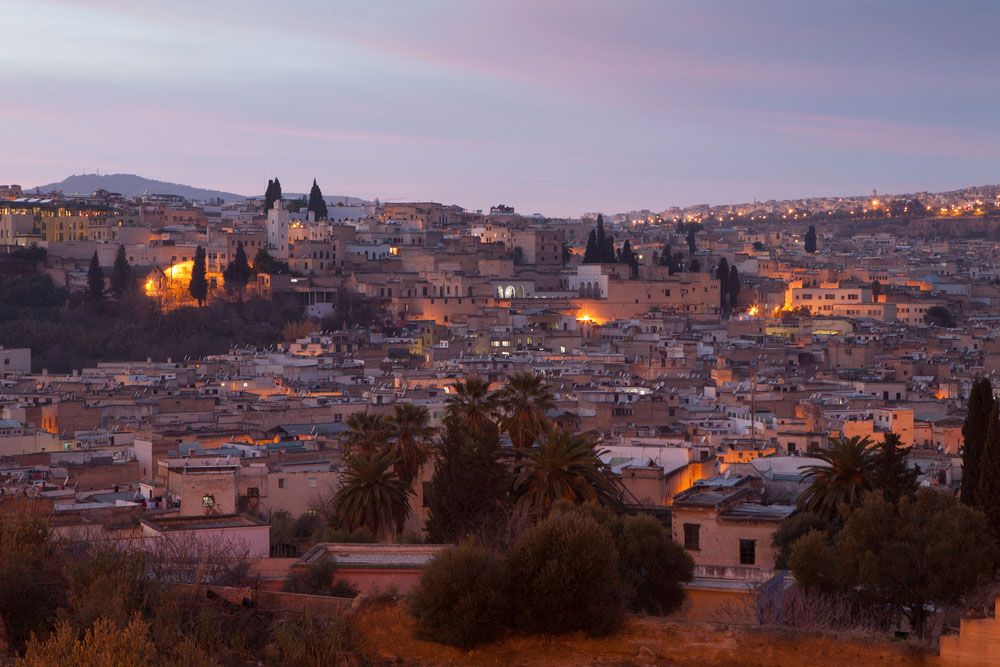 Photos Credit: Dream My Destiny
You may recognize Linda Kozlowski from her role as Sue Charlton in the popular 1980's Crocodile Dundee movie trilogy. But these days, following her divorce from husband and actor Paul Hogan of 24 years, Kozlowski is more focused on Morocco than Hollywood. In the fall of 2014, Kozlowski combined her love of the African country with her passion for travel and formed Dream My Destiny, a luxury bespoke tour company designed to give travelers a customized vacation in Morocco.
Her partner, longtime tour specialist Moulay Hafid Baba, has 25 years of experience assisting blockbuster movies filmed in Morocco, including Sex and the City II, Gladiator, Alexander, Black Hawk down, The Mummy II, Kingdom of Heaven and Inception. He not only assists with locations, scouting, permits, actors, crew transportation and housing, but also connects Hollywood's biggest production companies to Morocco's finest producers and personnel.
Through Dream My Destiny, Kozlowski and Baba are using their longtime film industry experience to not only design custom trips for travelers but also to make sure Morocco remains a movie-making mecca. We recently spoke with Kozlowski about her company, must-see places, the similarities between being an actress and tour operator, travel tips and more. Here's what she had to share:
JustLuxe: You went from Hollywood actress to Moroccan luxury tour operator, that is a big change! How did this second chapter of your life come to be?
Linda Kozlowski: I always had a desire to go to Morocco. I'm sure "destiny" was calling! When I finally got there I fell in love with the country, the people and one man in particular [Moulay Hafid Baba], all at once and by surprise. Together, with my partner, longtime tour specialist Moulay Hafid Baba, we formed Dream My Destiny. With Baba's 25 years of experience in private tours and the film industry, and my well-traveled, discerning eye we make a formidable team. Plus, we both love meeting new people and travel. So it all made sense.
JL: You split your time between Morocco and Los Angeles. Are there any similarities between Hollywood and Marrakech?
LK: The only similarity between Marrakech and Hollywood is the climate! Marrakech is ancient and modern all at once and the pulse is more NYC then LA. The people are out in the cafes and strolling the streets along with the hustle and bustle of horses, mopeds, donkeys, cars and wooden carts. Hollywood is sleepy by comparison.
JL: Are there any similarities between acting and running Dream My Destiny? Do they require similar strengths/passion, etc.?
LK: Both acting and running DMD require that you love people and that you have a sensitivity about them, a true instinct. For example, knowing if a guest is getting tired or has taken an interest in someplace or something and needs to spend more time there. We go-with-the-flow on our tours, changing plans if needed at the drop of a hat. We are the antithesis of tours that require everyone on the bus at 2 p.m.; Dream MY Destiny is completely opposite of that!
JL: You are high profile yourself and you were married to a very high-profile man for many years. How is life different now that you are not together?
LK: Having spent many years actually losing jobs because I lived in the shadow of my high-profile ex-husband, it's exhilarating to feel I'm doing something I love and am proud and happy to be involved in, introducing more people to a beautiful spot in the world that is just 6.5 hours away from NYC!
JL: What is the one place in the world you feel everyone should visit and experience once in their life that you've visited and why, besides Morocco of course.
LK: If possible, everyone should experience the Great Barrier Reef and/or an African Safari because there is less and less of these natural wonders to see. I feel blessed to have experienced both.
JL: What are some of your best travel tips and secrets to a great travel experience?
LK: I love to stock up on local magazines and newspapers from the destination. Even if they're in another language, you can get a head start on shopping and dining ideas as you're flying there.
JL: How do you decide what kind of itineraries to put together for clients?
LK: Our tours are all bespoke so it's really important that we chat and e-mail with our guests to know their interests, likes and dislikes. Every trip is different depending on many things. Is it a romantic honeymoon or a family adventure? Are the people athletic or shoppers, photographers, artists, musicians, golfers or foodies? Where do their interests lie? Maybe the husband wants to dune buggy in the Sahara and the wife wants to spa (otherwise known as Hammam) and shop. We try to make everyone happy, and can even split people up and have them meet for dinner.
JL: What are your three must-dos for anyone visiting Morocco?
LK: My top three would be to spend at least one night camel trekking and glamping under the stars in a bivouac through the Great Sahara desert. You'll definitely want to come back again. Also, experience a Hammam where they bathe you, scrub you and douse you with scented oils. You never knew your skin could be so soft and actually breathe! And lastly, watch the sunset as the call to prayer echoes throughout the ancient Jemaa el-Fna Squarein Marrakech just as the drumming, music and fires heat up. Have a glass of wine and take in the ancient atmosphere.
JL: As a luxury tour company, what criteria do the hotels, activities and restaurants have to meet to be included in clients' itineraries?
LK: We want our guests to really experience Morocco and not the Disneyland, chain-hotel version. We want them to have a luxe experience but a real one, to soak up the atmosphere, meet good people, taste the best food and learn something about the culture. Depending on their tastes, we handpick their hotels with the utmost care. Do you want to live like a king? Or go to someplace artsy and hip? Are you a writer or an artist? Do you want peace and quiet and huge grounds with gardens like paradise or do you want to be right smack inside the Medina? We LOVE to give our guests a little taste of it all. And we are not tied to any specific riads or hotels, like some of the bigger companies, so we are free to choose what fits your lifestyle and your budget.
JL: What kind of local experiences do you connect clients with so they are really immersed in the culture, the people, and the local traditions and customs?
LK: Baba knows a lot of people all over Morocco, so inevitably we are invited for tea or a meal by some of the locals in many of the places we visit. Sometimes we bring guests to lunch at a friend's house in a small village, [or Baba's] mom will stuff you with couscous so you can barely move while one of his sisters decorates your hands and feet with henna. The culture is always all around.