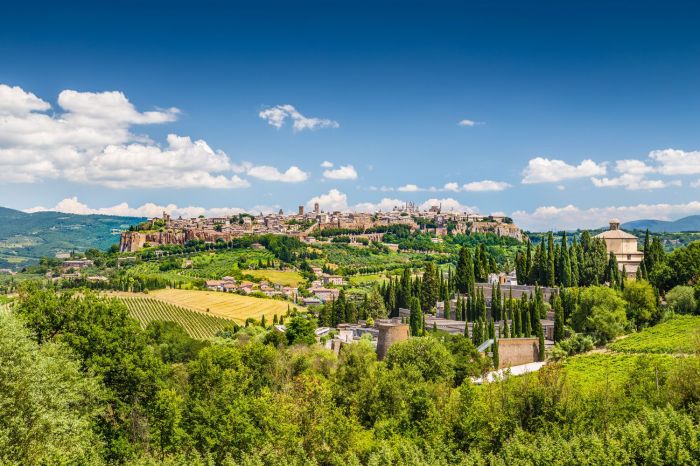 Umbria is quite possibly my favorite region of Italy. Having lived in Milan, Umbria could not be a greater contrast. Milan is productive, fashionable, hurried and formal. But in Umbria, the pace is slow, the people are inviting and warm, and the food is simple and sumptuous.
Italians are passionate about love, food, fashion and their wines. Umbria is giving Tuscany a run for its money as the premier wine region in the country. Personally, I find the Umbrian wines to be much more complex and I love the fact that the same grape varietal can vary from one town to the next. If you're headed to the region, here are three can't miss wineries and their luxury resorts.
Photo Credit: Lungarotti
Lungarotti in Torgiano
Founded by Giorgio Lungarotti, Lungarotti is now led by his daughters Chiara Lungarotti and Teresa Severini, while his wife Maria Grazia runs the foundation. We met both Chiara and Teresa who are actively involved in the day-to-day activities at the winery and resort. We had a scheduled tour at Lungarotti for 10:30 a.m., and I was a bit concerned about getting in the mood for wine that early. But the tour took well over an hour, and was so detailed and educational, that a cool glass of Grechetto sounded like a great mid-morning idea.
Lungarotti produces a number of wines: Sangiovese, Canaiolo, Cabernet Sauvignon, Merlot, Pinot Nero, Colorino and Syrah as red varietals with Trebbiano, Grechetto, Vermentino, Chardonnay and Pinot Grigio as the whites. In the winery's safe vintages leading back to 1962 are stored, and some years, there were only four bottles remaining (a good year). During other years, there were dozens of bottles in the bin. They're all, however, stored, sold and enjoyed for special occasions with some bottles commanding upwards of $1,000 each.
Photo Credit: Lungarotti
The estate's five-star luxury resort and spa, Le Tre Vaselle is the perfect location for touring and tasting in the region. The rooms are quite spacious and are filled with elegant antiques and furnishings. We dined at the resort's upscale Le Melograne, where the chef personally gave his menu recommendations. The property also includes a spa, where guests from all over the world go for vinotherapy treatments. A short drive from the resort in Poggio alle Vigne is a country house set among the Lungarotti vineyards, a great destination wedding spot. The nearby town of Torgiano is also a popular shopping destination for cashmere, and the hotel can also arrange for cashmere shopping tours as part of their packages.
Photo Credit: Cantina Franco Todini
Cantina Franco Todini in Todi
I was first exposed to Grechetto wines in Umbria last year, and as a foodie who prefers bold reds, I can say that these varietals have certainly expanded my palate. Winemaking is more of a hobby for the Todini family as they run a very successful construction empire. Their production is small, but the quality of the wines make the trip worthwhile. The drive to Cantina Franco is like a quintessential Italian postcard, with its scenic winding path lined with cypress trees.
I find that Grechettos can vary greatly from one town to the next, which makes them even more interesting. Cantina Franco Todini won me over with the Bianco del Cavaliere, a 100 percent Grechetto in which the skins are macerated to make it more full bodied. It is perfect for sitting by the pool enjoying those unending views of the Umbrian countryside. The property's namesake Relais Bianco is a much lighter Grechetto Riesling blend. The Nero Della Cervara, a 50/50 blend of Merlot and Cabernet, is a bold, peppery wine aged a full eight years, and is certainly one to try.
Photo Credit: Cantina Franco Todini
For accommodations, the historic country home of Relais Todini sits high on top of a hill, offering a stunning 360-degree view of the Umbrian countryside and the family's 300 acres of vineyards. The 12th century hotel features eight rooms and four suites with frescoed walls, fireplaces, tapestries, and antique furniture. The restaurant is the place to be at sunset, and serves traditional Umbrian cuisine including ravioli di zucca, risotto, tagliata di Angus Argentino (a cut of Argentinean beef) and veal. The restaurant also has vegetarian dishes, which is a fairly new offering in Italy. The spa at Relais Todini offers several treatments using products made of wine extract, which are also sold onsite.
Photo Credit: Roccafiore
Roccafiore in Todi
The tiny rural town of Todi is home to Roccafiore, a winery committed to sustainability and producing organic wines. Roccafiore is a real blend of technology and traditions, as the company goes to great pains to maintain the traditions of Italian virology, but also employs some of the latest technology to produce great sustainable wines. We were fortunate to be at Roccafiore in mid-September as grapes were being harvested, all by hand. We tasted the Grechetto and Moscato grapes fresh off the vine, and watched as the workers poured barrels of grapes into the presser to extract the juice. After savoring the grapes, you'll move into the main production facility underground, another Roccafiore tradition of maintaining original winemaking standards. As the grapes are processed through the pressing machine, the juice falls directly into tanks below ground, using gravity to move the musts and skins from the upper floor to the lower floor. This is all a part of Roccafiore's commitment to maintain the traditions and best practices of wine production.
Our tasting of took place in the estate's very modern and industrial commercial building where they host special events from art exhibitions to winemaker dinners to weddings. Roaccafiore produces a number of wines including Sangiovese, Grechetto, Sagrantino, and Montepulciano.
Photo Credit: Roccafiore
The winery's luxury resort, Roccafiore Residence, and its famed FiorFior restaurant are located on a hill, just a quick drive from the winery. The property includes 13 guest rooms, all with 360 degree views of the countryside. The resort's spa features a Roman sauna as well as a menu of relaxing and luxurious body treatments. For a true Italian food and wine experience, choose the resort's Slow Wine & Food package featuring an enogastronomic tour of the winery's different productions.
On your next Italian adventure, skip the tourist attractions and spend a few days exploring the countryside and wines of Umbria. The region is a throwback to the old Italy that's laid back, friendly, unhurried and tranquil. The Umbrians take great pride in their rustic foods and handcrafted wines and they're always inviting whether you join them for a wine tasting, a vinotherapy spa treatment, or a romantic weekend in a luxury resort.