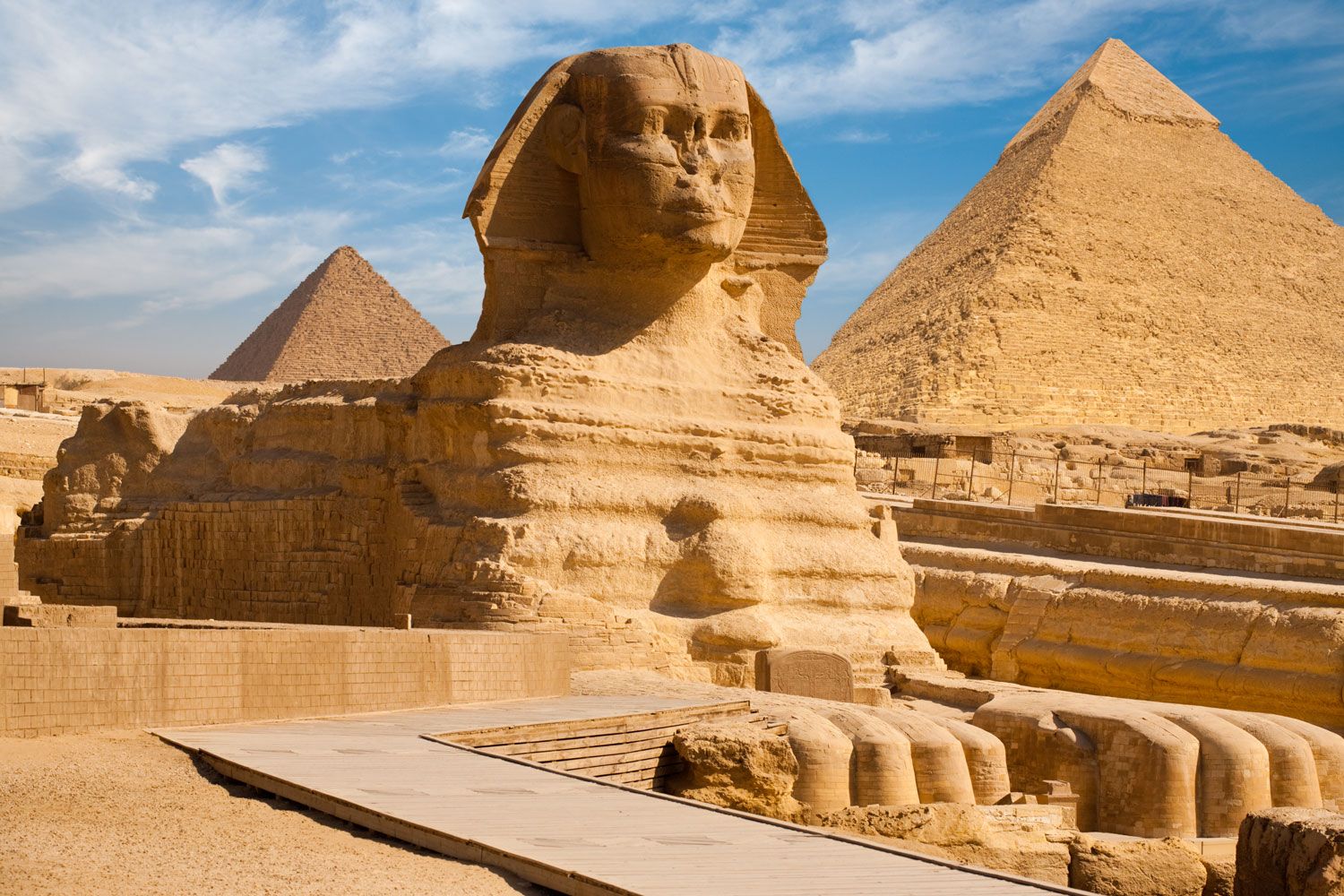 Photo Courtesy of Shutterstock
Shouts of one-million protestors vibrated through the air, anti-government supporters on horseback marched onto Tahrir Square demanding President Mubarak's resignation, and black armored vehicles filled the streets—this was the scene in Egypt in 2011. Known as the Arab Spring, or the Arabic Revolutions, this wave of demonstrations, civil wars and protests lasted from December 2010 until early 2014.
In this time, the distressed country—known for the Great Pyramid of Giza, The Great Sphinx, Temple of Luxor and the Nile River—became recognized as a very unsafe place to visit. Tour operators, hoteliers and businesses that had previously relied on tourism monies were no longer offering trips and began cutting prices to attract guests due to economic downturn.
Photo Courtesy of Shutterstock
But that was then, and this is now. If you've been reading the news or travel sites, you may have noticed headlines proclaiming our glorious return to Egypt. My own inbox has begun getting flooded with trips being offered in the country and new hotel openings in the region.
"Egypt had in 2008, 2009 and 2010, 15 million visitors, now it's down to 9, 8 [million]. In Luxor, there are at least 250 boats on the Nile, you know how many are operating right now? Maybe five," says Peter Greenberg on his Travel Today podcast this past February. "[…] My camera team wanted to go see Giza, I said 'Great!' They got there at 9 or 10 o'clock in the morning, usually a very crowded time, and with very few exceptions, they were the only ones there. So this is truly a time to go. […] People are literally thrilled to see you."
Photo Courtesy of Shutterstock
Sharing his sentiment, Amr Badr, Managing Director of Abercrombie & Kent Egypt said that, "Egyptians are extremely welcoming and are happy to see Americans again." And that, "this is the last chance for Americans to see these amazing sites without the crowds."
Are Badr and Greenberg right? Should we return? In researching the best answer to our question, we queried a number of experts and analysts to get their thoughts on the subject. Here is what we found out:
Photo Courtesy of Shutterstock
Quick Recap of the Arab Spring
In February 2011, President Hosni Mubarak finally gave into protests and stepped down, ending his 23 years in power and handing his power to the army council. A year later, Muslim Brotherhood candidate Mohammed Morsi was elected president and in September 2012, the US Embassy in Cairo issued a terror warning for Americans heading to Egypt.
As tensions grew, Westerners stopped booking trips to the country "due to the risk of civil unrest and the threat of terrorist attack." Having ruled for only a year, Morsi was overthrown by the military in June 2013. Come October, the US suspended $1.3 billion in aid to Egypt, and the country's government declared the Muslim Brotherhood a terrorist group. Morsi was charged with terrorism in December.
This past May, almost four years later, Morsi was sentenced to death over his mass breakout of Muslim Brotherhood prisoners. His successor, Abdel Fattah el-Sisi, former head of the armed services, celebrated his one year in office this month. Which brings us to today.
Photo Courtesy of Shutterstock
A New Government, A New Hope
Under Sisi's rule, things seem to (somewhat) be looking up. Many countries are even downgrading their alerts, including the US. What's also evident, is that residents are regaining their optimism in regards to the state of their nation. "The last few years in Egypt have been really hard," Mohamed, a Cairo guide, told The Washington Post. "We had nothing and now we need everything. But it is getting better as people start seeing hope."
This year, reporter Andrea Sachs of The Washington Post polled international risk-management analysts, experts and Egyptian travel companies to gather info on the subject of Americans returning to Egypt. "They all told me that the country was safe and stable. Calm had been restored. It was time for Americans to return," wrote Sachs. Her article details her firsthand experience visiting the country, alone and as a female. She says, "Overall, I had a long leash with few restrictions. I could freely walk around the cities and towns alone (following street-smarts protocol, of course) and dress liberally (but not á la Kardashian)."
Photo Courtesy of Shutterstock
"Depending on the company," Sachs continued, "I could broach topics (religion, politics, gender relations) often considered indelicate at company holiday parties. In return, I felt that many Egyptians were eager to share their opinions and recent experiences."
Yet, at the same time, other analysts still consider the region to be unsafe, such as Dan Richards, CEO and Founder of Global Rescue—a travel risk and crisis management firm. "There is a high threat from terrorism in Egypt. Since January 2015, there have been at least weekly terrorist attacks scattered throughout Egypt. Most attacks have consisted of bombings with the trend shifting from police and government targets to more public venues with a higher risk of civilian casualties" said Richards. "The majority of the attacks have been in Cairo, Giza and Alexandria but recent attacks have also occurred in more outlying areas. […] Holidays, anniversaries and sensitive events often serve as a catalyst for protests and demonstrations."
Photo Courtesy of Shutterstock
Be Wise, Use Tour Guides
So if you do go, what is the best way? Well, just as we suggested to those visiting Iran, the safest way to head to the North African/Middle Eastern country is to go through a tour operator. While there are safety concerns, travelers would be remiss to miss out on some of Egypt's most intriguing monuments and attractions. If you do go, do so without caution, and do your homework. Look into ratings and reviews of tour companies, talk with representatives, and find out what kinds of activities you'd be experiencing.
"As one of the most interesting and historical destinations in the world, it is great to see Egypt on the rebound from the past security concerns for potential tourists. Egypt is now considered both safe and stable, which is very important both for the travelers, and for the travel industry," said Dave Herbert, Chief Experiential Officer of Great Safaris.
"From our own experience, we have seen a recent return of interest, and a pent up demand. The ground operators we partner with in Egypt have been tried and tested, especially for the American Market," remarked Herbert. Right now, Great Safaris offers a 13-day trip (USD $3,995-$5,195 per person) through Cairo, Luxor, Aswan and Alexandria plus a four-day Nile River cruise. Travelers will get to discover the pyramids, the old Cairo Museum, Cleopatra's city, the Greco-Roman Museum and other notable sites.
Photo Courtesy of Anton_Ivanov/Shutterstock
There are also other benefits to booking now, as tour operators are using additional safety measures and making tourists' safety a priority. Anthony Berklich, Founder and Host of Inspired Citizen, who has been to Egypt several times (both before the Arab Spring and after), shared that luxury hotels are even throwing in extra perks for those who book this year.
But if you do decide to go solo, avoid walking alone at night and avoid shortcuts or secluded areas. Elizabeth Avery, founder of Solo Trekker, also urged women to be vigilant at all times. "If you plan to go out alone at night for dinner, have your hotel recommend a roundtrip taxi/driver and a restaurant that is accustomed to international visitors," said Avery. Some business are also men-only, and its best to know this ahead of time. The areas around the pyramids may not be open to taxis after 5 p.m., so be sure to know how to and where to get alternate transportation. As scams are common in Cairo, beware of those trying to persuade you to change your set plans or itinerary.
Photo Credit: Hilton Hotel Luxor Resort & Spa
Stay With Brands You Know
Since we're still in the early stages of the country being deemed safe again, we recommend booking your stay with established brands. In Cairo, there is the Conrad Cairo, the Four Seasons Cairo at Nile Plaza or the upcoming Nile Ritz-Carlton, Cairo which will open later this summer. Designed by interior designer Frank Nicholson, the Ritz will include 331 rooms and each of the 50 suites will offer Nile River views. The property will include an Olympic-size pool with 17 private cabanas, a spa and an array of dining venues featuring Arabian, Italian and Continental cuisine.
For those traveling to Luxor, look to the Hilton Hotel Luxor Resort & Spa, Old Winter Palace or the Sofitel Winter Palace Luxor. The five-star Hilton sits along the Nile and their infinity pool offers prime viewing of the stunning river.
Photo Courtesy of slava296/Shutterstock
Best Times To Visit
With all the back and forth, it is clear, that not everyone is 100 percent on board with a return to the country. However, we are excited about the possibility of a safer Egypt in the coming years. This year at least marks the beginning of a new era of tourism for the country. The best times to visit Cairo are from March to April when temperatures are at a more comfortable level. Late fall is also ideal, from October to November, when daytime temps range from the mid-70s to mid-80s. Currently, it is best to avoid the month of Ramadan (the Holy Month) around June and July, as most sites close two hours earlier than normal. Tourist visas are required for travel.
As a final word of caution, Berklich says, "Visitors should try to blend. Look like you know where you're going and what you're doing - even if you don't. Do not look lost. Know basic language skills to ask questions. Pay attention to how you dress, do not dress in a way that is inappropriate for the local culture. And, above all else, do not sacrifice your safety for money. Always choose the safer and most reliable option when it comes to ground transportation, guides and tours. Your safety is worth more than a few hundred dollars."