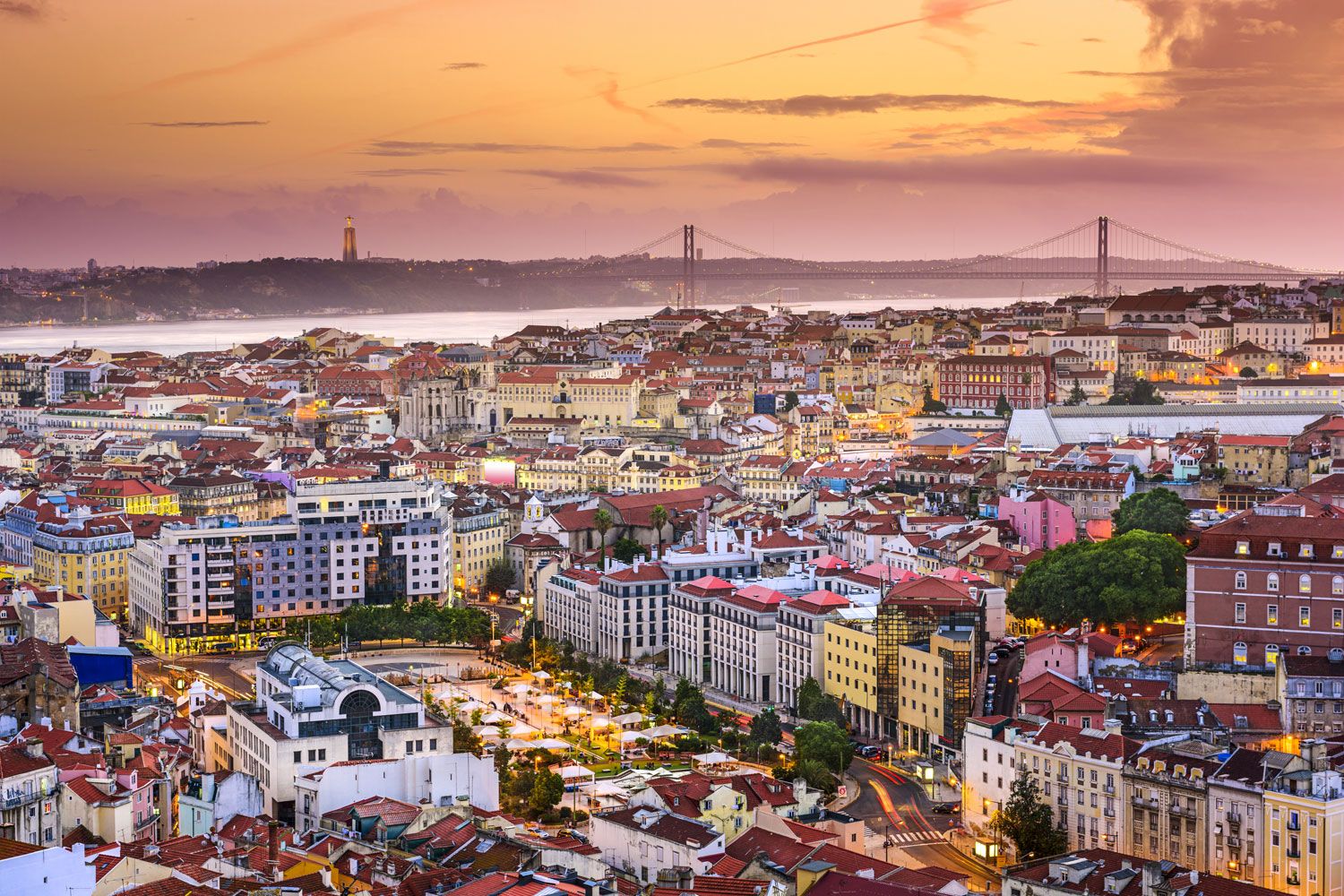 Photo Courtesy of Shutterstock
Conquests by Phoenicians, Romans, Moors and Christians have left Lisbon with a fusion of cuisines and cultures merging together in one city. The diverse destination is home to castles, luxury hotels, museums, fine dining restaurants and plenty of great attractions scattered around its neighborhoods. Whether it's your first time or tenth, here is a list of must-do activities while visiting Portugal's capital city.
Photo Credit: Columbia Hillen
Lisboa Story Centre Audio Tour
No better place for insights into the city's evolution than the innovative Lisboa Story Centre on Terreiro do Paco Square, featuring elaborate, computer-operated sets with light-hearted audio guides. Upon entering a simulated 16th century warehouse filled with barrels, visitors are immediately met with the sweet smells of coffee, cardamom and saffron. These products were transported via Caravela ships centuries ago and offer an aromatic look at the city's past. On the tour, you'll learn why Lisbon became the capital in 1253, how the crow was selected as its symbol, when it became the center of world exploration producing adventurers such as Vasco de Gama and Columbus, and how a devastating earthquake in 1755 changed the city forever.
For a post-museum treat, head over to Mini Bar restaurant where nothing is as it seems. Having trained at El Bulli, Chef Jose Avillez opened Mini Bar (his first venture) inside the Teatro Nacional de São Carlos where a lively, casual atmosphere prevails. Cocktails include Caipirinhas presented as bon bons and Ferrero Rocher foie gras and hazelnut chocolate tastings. Adopting a theatrical theme, the minimalist menu features six acts, tapas ranging from avocado tempura and veal croquettes to tiny slices of mackerel smoked tableside under a glass jar.
Photo Credit: Castel De S. Jorge
São Jorge Castle
Since Lisbon's downtown area is compact, it's best to travel by tram rather than car. The number 12 travels up steep streets granting not only panoramic views over the Tagus River and the red rooftops of Alfama, it also drops you off near the most famous castle, the 18-tower São Jorge Castle. Dating back to the 6th century and having formerly been occupied by Romans and Visigoths, it was then used as Moorish royal residence. Captured by in 1147, it then became the property of Portugal's first king Afonso Henriques.
The castle is home to the city's oldest map and a beautiful 15th century mosaic while the Tower of Ulysses contains the Câmara Escura, a periscope that projects sights from around Lisbon. Wander around the archaeological digs where Phoenician and Moorish artifacts were unearthed, the oldest from the 7th century B.C. A special Lisboa Card offers free entry to the castle as well as other museums.
Visiting a seat of royalty deserves a regal reward and the two-Michelin star Belcanto restaurant provides the perfect backdrop. Located opposite Sao Carlos Square, it offers inventive haute cuisine. The atmosphere is classically-elegant with wood-paneled walls, crisp white linens and impressive gilt-framed mirrors. Here traditional Portuguese ingredients are transformed into eclectic forms such as lupin bean, tofu, kaffir lime and piri piri served on a silver spoon beside an olive. The minimalist presentation draws your attention to the pure tastes of bean and olive.
Photo Credit: Columbia Hillen
Museum of Design & Fashion
Among Lisbon's museums, the Museum of Design & Fashion (MuDE) is among the best in the area. Its collection spread across several floors includes works by over 230 designers including Philippe Starck, Masanori Umeda and Tom Dixon, while also embracing furnishings, glass and jewelry from the '30s to the present day. Among its vast fashion displays are those by Jean Paul Gaultier, Vivienne Westwood and Yves Saint Laurent. We were impressed to find a Jean Dessès gown worn by Renee Zellweger to the 2001 Oscars, Christian Dior's landmark 1947 New Look and António Lagarto's costume designs from the Matrix and Sleeping Beauty.
Photo Credit: Columbia Hillen
Fado Museum
At the Fado Museum visitors are offered a comprehensive insight into Fado, the 19th century music characterized by mournful melodies and lyrics. The melodic genre is inextricably linked to Portuguese culture. Though originally associated with leisure parties (cegadas), then with theatrical performances, Fado has taken on modern dimensions, an evolution the museum illustrates through photographs, video material and musical recordings.
Having spent over an hour there we realized a performance was a perfect follow-up and chose Parreirinha de Alfama Fado (Little Vine of Alfama) restaurant because of its live music. The eatery is located on a tiny alleyway on Beco Espirito Santo Street near the museum. Founded by Argentina Santos, a popular singer in the '50s, it is run by Paulo Valentin and Bruno Costa, both skilled guitarists. Decorative tiled walls, framed photos of Fado greats, guitars hanging on the entrance walls and a bar-counter lined with ceramic carafes and miners' lamps emanated a sense of authenticity. The food is high quality, traditional Portuguese and the grilled prawns with Azorean sauce is an excellent choice. Try a bottle of Casa de Canhotos Alvarinho from the Vinho Verde region. The intimate setting and hazy lighting created a cozy atmosphere in which five performers sang with rich, expressive voices in both solo and group performances.
Photo Credit: Columbia Hillen
Coastal Road Trips
After exploring Lisbon, take a short, 30-minute drive along the scenic coastal road to Cascais and Sintra. The former was once a quaint fishing village—it still boasts a lively fish market and brightly colored boats—before becoming a popular resort for nobility. Now it is a cosmopolitan town with pretty pedestrian streets, luxuriant villas, fashionable shops and restaurants. A visit to the Castro Guimarães Museu grants glimpses into the lives of 18th and 19th century aristocracy. The nearest beach is Guincho, a surfing mecca backed by high dunes.
Hemingway, a local restaurant owned by Pedro Vaz Moura, stands right on the marina with a wood-floored semi-enclosed terrace bordered by potted flowers. Vaz Moura, one of the eatery's mixologists, offers an impressive nine-page drink menu that includes 29 gin and vodka cocktails and 14 mojitos. Chef Bruno Soares Povoas matches Moura's imaginative drinks with his own inventive dishes. The menu includes dark chocolate-covered foie gras lollipops, a Thai diptych of seafood ceviche with scallops tartare and crispy prawns on a bed of corn and coconut, plus tender Portuguese veal with mushrooms. As for dessert, it is simply too hard to resist Bruno's Boat of Discovery, a sinful concoction of chocolate, coffee, cinnamon and almond.
Photo Credit: Restaurante Romaria de Baco
Nestled amid rolling hills and a 20-minute drive from Cascais, is Sintra, a beguiling town of narrow streets filled with palaces, castles, monasteries and monuments that have earned it several UNESCO World Heritage designations. Among them are Sintra National Palace, a mix of Gothic, Manueline and Moorish architecture; the Moorish Castle, notable for its unique setting, perched high on an outpost of the Sintra-Cascais Natural Park; and the Queluz National Palace, one of Europe's last major examples of Rococo architecture. Nearby, the Museum of Modern Art features a collection of 20th century European and American works housed in a restored 1920s building.
For convenient dining, try Romaria de Baco. Opened four years ago, this restaurant close to the tourist office, is the tale of two Pedros: the owner, Pedro Miranda an electric engineer and his head chef, Pedro Castro. Using his construction skills, the former renovated the one-room space, creating an intimate ambience with low lighting, terracotta floor, wooden tables, pinewood ceiling and a semi-open kitchen. The latter creates dishes with a distinct Azores influence (the place he was born). Be sure to sample several tapas such as tempura prawns, cuttlefish and homemade pies oozing game sausage and stewed octopus.
Photo Credit: Columbia Hillen
When to Go
The best time to visit Portugal is from either March to May or September to October. During these months, the weather is warm and there are fewer crowds vying to get into attractions. From archaeology to fashion and Fado, as well as innovative cuisine and historic castles, Lisbon is one of the most exciting destinations to visit.